No one needs to tell you to hold on when you drive Wipe Out Hill.  Dennis Boxdorfer takes us to Moab with his Palomino truck camper, Jeep, and a full roll cage.

The time any of us get to enjoy a hobby is very precious.  Everyday, life seems to create time devouring challenges that rob us of our free hobby time.  Sometimes I feel hobby mugged by a surprise something or other that needs my attention now.
It may seem selfish and trivial when people are struggling with natural disasters and the economy, but time to enjoy what makes us feel connected to our hobby passions is important.  Hobbies that were once so fulfilling can be hard to rekindle if neglected for too long.  If there was such thing as a Hobby Doctor, they would tell you, "Use it, or lose it".  Or, as I like to say, "Passions put on pause, can disappear".
For Dennis Boxdorfer, Jeeping is his passion.  As the owner of a busy construction company, his truck camper is the tool of choice to escape the pressures of work (and other pesky time bandits) and steal away to the Jeep trails where his bliss can run wild.  You go Dennis.  And we should all follow your lead, at least until we hit Wipe Out Hill.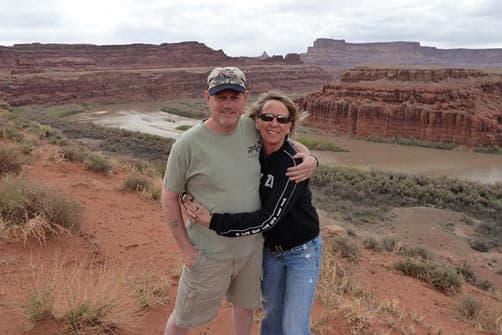 ABOVE: Dennis and Cindy in Utah

TCM: How did you get into truck camping?
Dennis: It's kind of funny story.  The reason I have our truck camper is because of Jeeping.  We go Jeeping as often as we can.  We'll go someplace and spend a weekend or week Jeeping.
I was originally going to buy a toy hauler for our Jeep, but it was $75,000 and it was huge at 35-38 feet long.  Then one Sunday morning it came to me.  I Googled, "truck camper" and your magazine came up.  So, I started reading it.  I told my girlfriend, Cindy, "This is what we need".  We wanted one that fit our budget, so I did a lot of research.
I corresponded with Gordon a few times and he was very helpful.  Ever since that day, and you can look when I subscribed to Truck Camper Magazine, that was the day I figured it out (Editor: It was September 5th, 2010 at 10:51am).  I'm sold with the camper.  Both of us are really happy with our decision.
TCM: Why is your camper named Luella?
Dennis: That's my mom's name.  She died when I was fifteen years old.  Cindy loves that name.  My Jeep buddies teased me when I painted my Jeep purple, and they nicknamed it Barney.  I didn't like it but eventually gave into it.  When we got our truck camper, Cindy thought we had to name it as well.
ABOVE: Thousands of Jeeps invade Moab every year at Easter for the Easter Jeep Safari sponsored by the Red Rock Four Wheelers Association, Inc.
TCM: Tell us about what you love about truck camping and Jeeping in Utah.
Dennis: We go out to Utah for the Easter Jeep Safari.  There are a lot of people who go to the Easter Jeep Safari and we've made lots of friends from all over the country there.  When we first went to the Jeep Safari, we went on organized trail rides almost every day.  Now, we go on two organized trails during the week and the rest of the time we hang out with friends and do our own stuff.