Alaskan Camper owner, Maggie MacPherson, reveals where to go and what to see in Capitol Reef National Park.  Don't miss her stunning photographs and off road tips.
The first time we went to Capitol Reef National Park, we had a Mazda truck that was front-wheel drive.  We got to a place that said that four-wheel drive was needed.  We were disappointed.  Afterwards we bought our Pathfinder and explored Utah again.
In 2005, we took our Alaskan Camper and four-wheel drive 2003 GMC Sierra 2500 to Utah for the first time.  I had been there before, but there are always new roads to discover.
Spring and fall are the best times to go to southern Utah.  The kids are back in school, there's often water in the creeks, and the weather is comfortable.  We're lucky that we're retired and don't have to go in the summer when it's too hot.
Capitol Reef National Park is wonderful even on the paved roads.  There is a national park campsite there that is okay, but we prefer camping off the beaten path.
Capitol Reef National Park is a national park because it's extremely wonderful.  That beauty doesn't stop at the paved roads.  If you have a sense of adventure, and a suitable four-wheel drive rig, I recommend exploring the dirt roads in the park.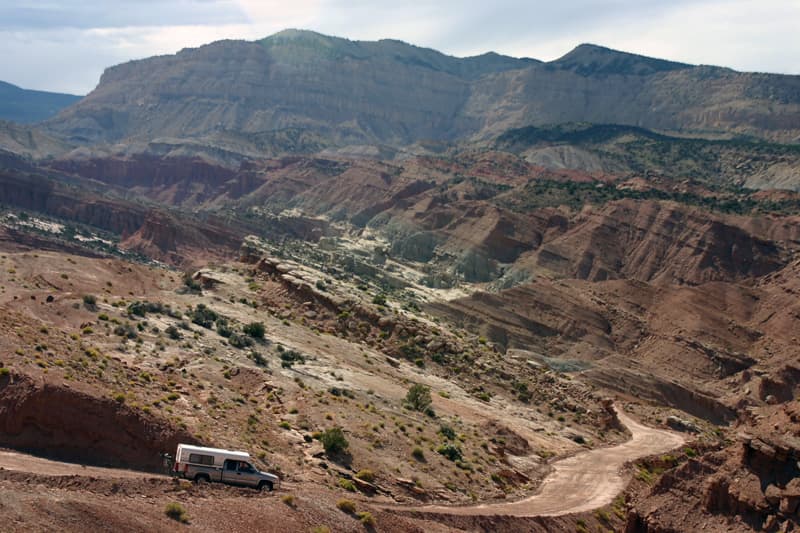 Above: Driving on Cathedral Valley Road, Utah
Cathedral Valley Road is a dirt road that you can get onto from Highway 70.  Cathedral Valley Road is the main dirt road.  There are spur roads off that main road.  You need to decide to try them or not based on your level of comfort.
Above: Camping on BLM land on Lower Cathedral Valley Road, Utah
With our Alaskan Camper and four-wheel drive Sierra 2500, we've gone almost the whole way though Utah on dirt or blue roads, never once getting on a highway.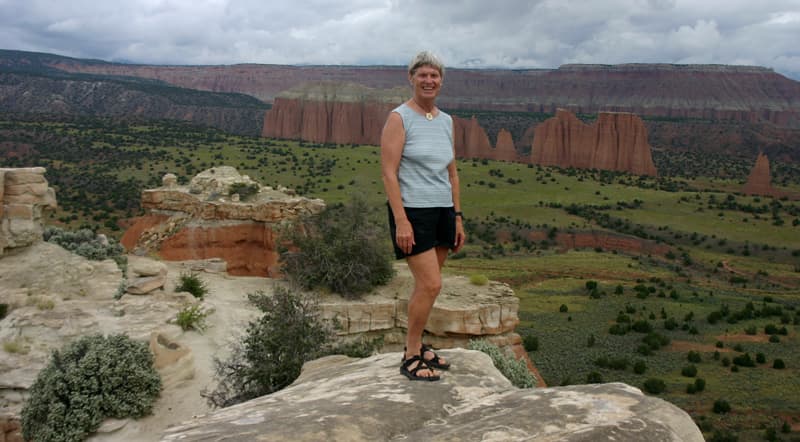 Above: Maggie at a scenic overlook in Upper Cathedral Valley
There is a scenic road from Capitol Reef down to the Glen Canyon Dam.  You take the Waterpocket Fold Road from Capitol Reef to Notom Road.  It goes along the side of the reef.  When you get there, you have a choice, go over the Burr Trail to Boulder to Highway 12 to Hole in the Wall, or you can continue down south to Highway 20.
If you continue south, you can go to Glen Canyon Dam and take the ferry across there.  That takes you to Halls Crossing at Highway 276 which is a paved road.  Natural Bridges and Valley of the Gods is to the east.  That is a road any truck camper can do.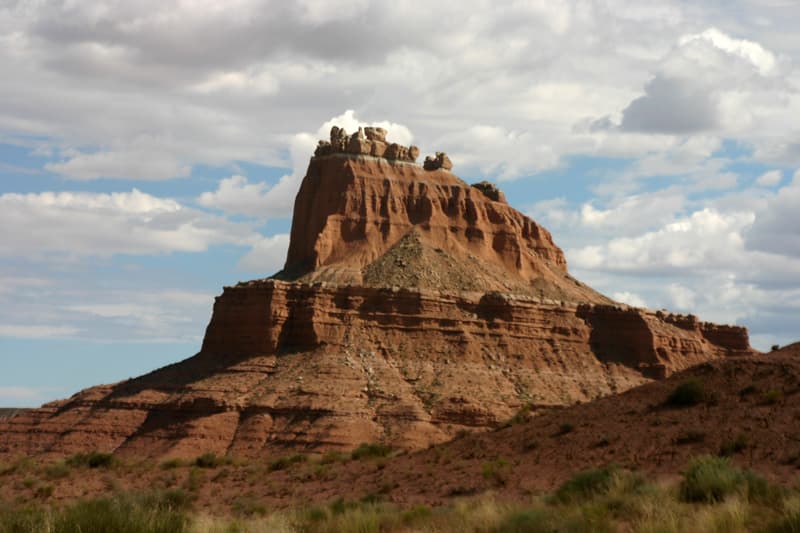 Above: Solomon's Temple on the road from Fremont's Junction
Once you are in BLM land near Capitol Reef, you can camp anywhere.  Do you want to be under a tree or look at Solomon's Temple?  One place we camped was right across from the Walls of Jericho and the Great Basilica.  We usually look for where there is a former fire ring.  We are conservationists and, if we can, we try to use a spot that's already been used.
Above: Walls of Jericho and the Great Basilica
On the dirt roads, drive at five miles per hour, and put your truck into a lower gear.  You can get across amazing things if you're creeping along.  You just have to have the time and the mindset.  The rewards are incredible.  You can go beyond where other people go if you have the right truck and equipment.  Just be aware and responsible.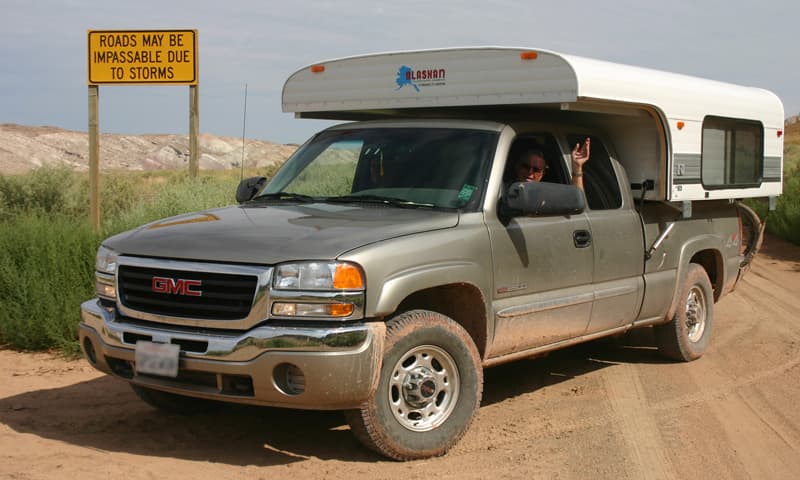 I have a funny story about Cathedral Valley.  We saw a huge black cloud, and were worried about a flash flood.  So, we went up to a high area to avoid trouble.  We were in the middle of the rain storm, which was exciting and beautiful because we were out of the drainage area.
Then we realized we were in a place we shouldn't be.  We stopped in the road, looked around, and thought it would be a day to dry out.  We were looking for a place to camp, and waiting out the rain.
When it stopped raining, we saw four porta-pottis on a truck.  It was making its monthly trip to change out the porta-potties down the road.  He drove with chains down the road, so we followed in his tracks.  We were able to get out and continue on our trip.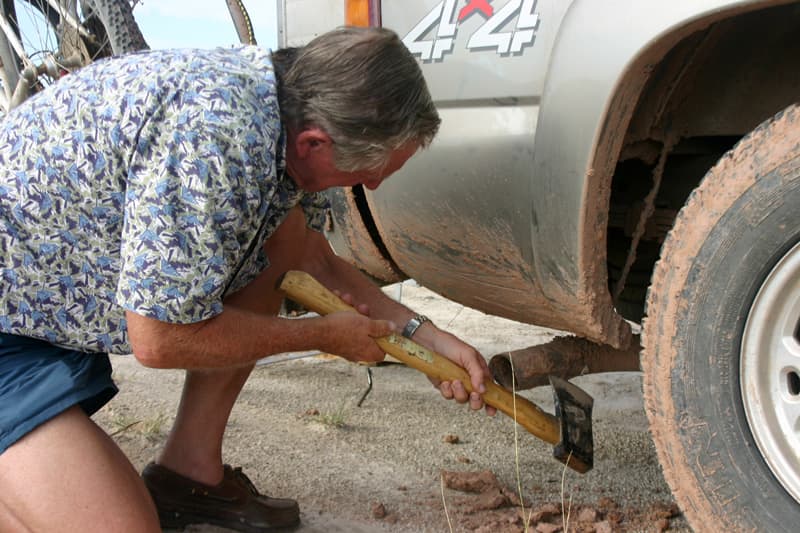 Well, Bentonite is like clay.  If you are on the road when it gets wet, you have no control.  It's like black ice.  When Bentonite dries, it dries hard.  Our truck was full of Bentonite.  We had to go to a place to spray it off the bottom of the truck.  One of our truck wheels was rubbing on it.  Someone from town said to us, "I see that you have found Bentonite".  You don't want to be around it when it rains.