Call it boondocking.  Call it dry camping.  We call it fun, free, and a major reason why we love truck campers!  Here's boondocking expert Bob Difley on how it's done.

In truck camping circles, the term boondocking is thrown around a lot.  We remember the first time we heard the term boondocking and how enchanted we were with the concept.  Camping where you want – for free?  Yes please!
When enchantment hits reality, it's not quite that simple.  To help newbies navigate the boondocking concept, we contacted renown RV boondocking expert, Bob Difley.  Bob is the author of several e-books on boondocking and regularly writes boondocking articles for RV.net's blog, Trailer Life Magazine, and Motorhome Magazine.  Bob even taught boondocking classes for ten years at Life On Wheels RV conferences.  If anyone is an expert on helping folks learn to boondock, it Bob.
Boondocking 101: Water, Tanks, Power, and Propane
by Bob Difley
Can you imagine someone with a forty-foot diesel pusher motorhome or fifth wheel boondocking with only Mother Nature and coyotes as neighbors?  No?  How about someone with a truck camper?  Of course!  That's what they're for.
Truck manufacturers pride themselves on their vehicles' abilities to tame rough terrain.  Camper manufacturers also make their mini-homes complete with full capabilities for camping off road and off-the-grid.  No hook-ups needed, thank you.
If you haven't yet struck out on a rutted old logging road or sandy desert track, sooner or later that urge will come.  After you wake up that first morning with the sun just about to peek over the eastern horizon and no other rigs or humans in sight, you'll be hooked.  This article is an introduction on how to prepare yourself and your rig for a boondocking adventure.
What is Boondocking?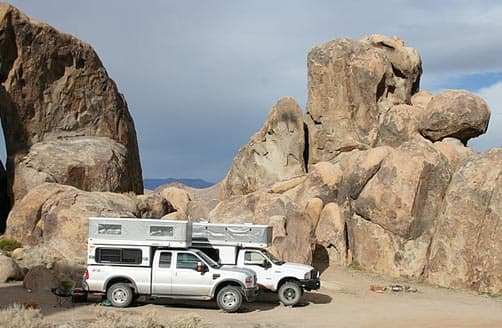 Photo from, "Aaron Walton: Publisher of Wander the West"
The word "bundok" (boondock) comes from Tagalog, the language of the Philippine Islands, and means "mountain".  Definitions include, "rural country; the backwoods" and, "place remote from civilization".  General usage of the term boondocking in the RV world is often used inaccurately to describe the function of camping without hook-ups, not where you do it.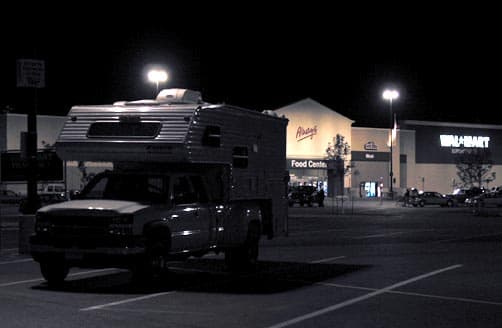 Photo from Truck Camper Magazine's, "About Us"
Dry camping, a more accurate term, would include camping in primitive campgrounds (like the forest service), Walmart parking lots, RV rallies, truck stops, highway rest stops – or anywhere that electrical, water, and sewage hookups are not available.  Boondocking defines where you dry camp – in the boonies, open desert, backwoods, and away from civilization.  Simply put, all boondocking is dry camping, but all dry camping is not boondocking.
Camper Prep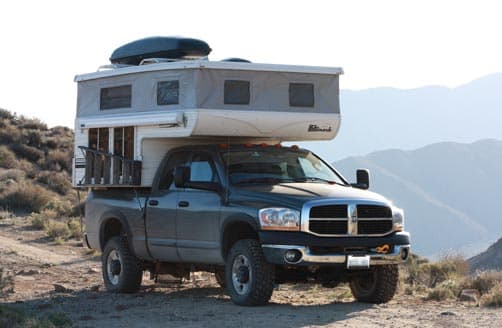 Photo from, "Frank Ross: Power Wagon on the Rocks"
The relative size of truck campers compared to motorhomes and fifth-wheels works both for and against you.  The "for" you know about – the go anywhere, camp anywhere, tow anything part.  The "against" part is mostly about capacities – potable (drinking) water, gray water, black water, and batteries.
You can boondock with any truck camper you have.  The question is: for how long and in what degree of comfort?  If your lifestyle includes long, full-flow hot showers, hours of watching TV, running the air-conditioning, an electric blanket, and microwave oven, you will have to make more severe changes than those already leaning toward a more minimalist lifestyle.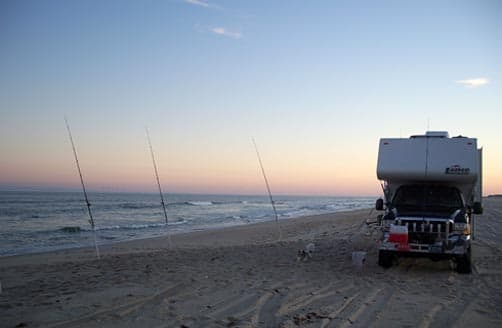 Photo from, "Ron Humphress: Assateague Island Dreaming"
But you don't have to live like a Tibetan monk to boondock with your camper either.  You just have to make some adjustments, decide which features are important to you, and which aren't and then do some tweaking.
As you gain experience, you will balance the factors that limit the number of consecutive days you can boondock with your desired comfort level.  Mostly, it's a matter of changing habits.