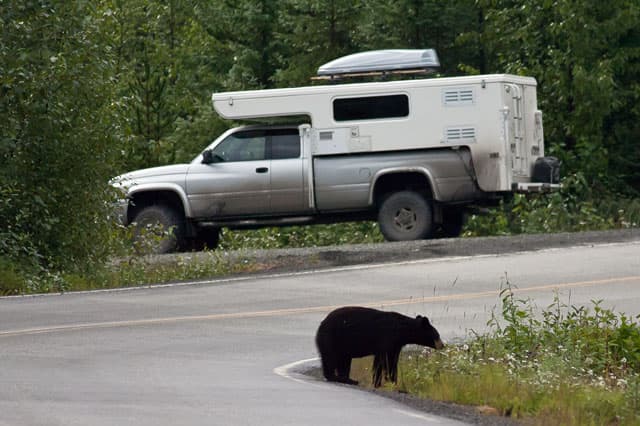 Above: British Columbia near Terrace, Canada
One time we parked the rig and discovered a black bear about sixty feet away.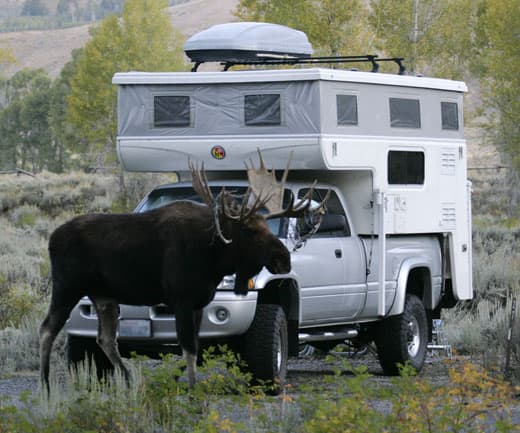 Above: Grand Teton National Park, Gros Ventre campground, near Jackson, Wyoming
When we were in the Tetons we had a moose walk in front of the camper.
TCM: That's close.  What's next on your bucket list?
Bob: I will make another trip in August to British Columbia and spend a couple weeks up there looking for the Kermodei black bear.  Next year we're going on the lower road in Canyonlands National Park.  We'll take four days, in late September.  I also want to ship the camper to Argentina and spend six months in South America.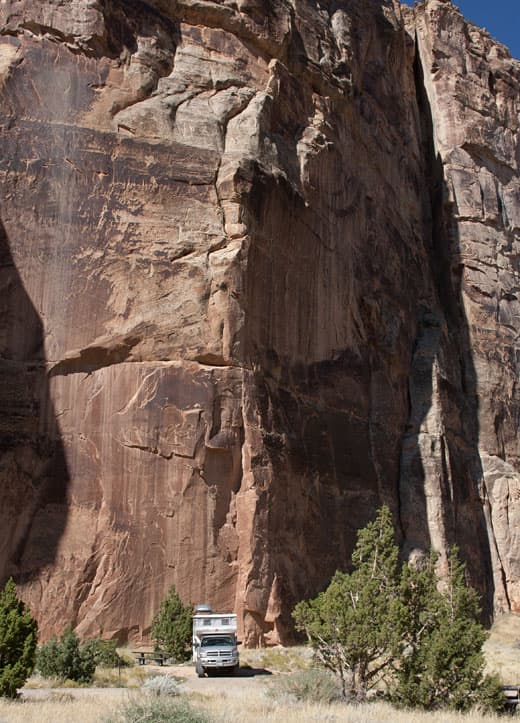 Above: Dinosaur National Monument, Echo Park campground, Utah 
TCM: Now that's a trip we want to cover here in Truck Camper Magazine.  Is there anything that we didn't talk about that you'd like to add to your interview?
Bob: Truck camping is more pleasurable and less stressful than towing a trailer.  I just like driving a pickup truck.  I can travel to places we couldn't otherwise get to.  We save on fuel costs compared to towing a trailer.  It's so relaxing.  When we were pulling a trailer, I had anxiety.  I don't like anxiety.
Now when we go for six to eight weeks on the road, I don't want to return home.  I enjoy truck camping.  It's so relaxing.  I'm no longer fearful about taking a road I don't know because I may not be able to turn around with a trailer.  With our truck camper, we can always turn around.
With our Hallmark, I have the freedom to go more places than I could go with a motorhome, travel trailer, or fifth wheel.  I love it.  Truck campers are the way to go for me!
BOB AND DIANA WHITNEY'S TRUCK CAMPER RIG
Truck: 2002 Dodge Ram 2500, crew cab, single rear wheel, long bed, 4×4, diesel
Camper: 2010 Hallmark Cuchara
Tie-downs and Turnbuckles: Stainless steel and chain
Suspension Enhancements: Additional leaves to the spring pack, Air Bags
Gear: 35 inch Toyo M/T load range E tires with 4.11 gears, 60 gallon fuel tank from Aero Tanks from San Bernandino, California, took place of factory tank, out of aluminized steel, whole new fuel delivery system called Air Dog, supplies the engine with a constant fuel pressure of about 15 psi that remains constant under load, BD industries gauges for fuel pressure, turbo boost and exhaust. Yukon Spin Free kit with Warn hubs. Heavy duty two quart external oil filter.