In remote areas there's a better chance of acquiring images with less people around.  After about three months of research I came to the conclusion that a pop-up truck camper would be the best solution for my needs.  So we went to Colorado around my birthday in October to pick up our Hallmark Cuchara.
LEFT: Craters of the Moon National Monument, Idaho MIDDLE: Convict Lake, Mammoth, California RIGHT: Canyonlands National Monument, Utah
TCM: The Cuchara is a nice camper.  We camped in a Cuchara in Rocky Mountain National Park back in October.  Why that particular model?
Bob: It was the right size and had the features and storage we wanted.  Through all of my research, I thought a Hallmark was the best I could buy for my needs.
I like that the roof on a Hallmark is one piece fiberglass.  The sides are also molded fiberglass.  I like that the roof lift is motor gear driven.  The roof has a 400 pound capacity which is good because I have a canoe I travel with.  I can get up and walk on the roof of our Hallmark without any difficulty.  My weight isn't going to damage the roof.
I like the bathroom in the Cuchara and that it's a wet bath.  For me, it's great to be able to get up in the middle of the night and use a bathroom in our camper.  I would not have a camper without the bathroom toilet.
I eliminated the oven when I ordered my Cuchara and just got the cooktop.  Now, I have cabinetry space for pots, pans, cutting boards, and food.  For me, that storage is much more valuable than an oven.  I would never use it and it would be wasted space.
TCM: What modifications have you made to your Hallmark?
Bob: After some measurements, I bought a hall runner mat carpet with rubber backing.  It's  also removable so I can take it out and hose it off now and then.  I also put in another shelf in one lower cabinet for canned goods.  That doubled the capacity of the cabinet just by installing a shelf.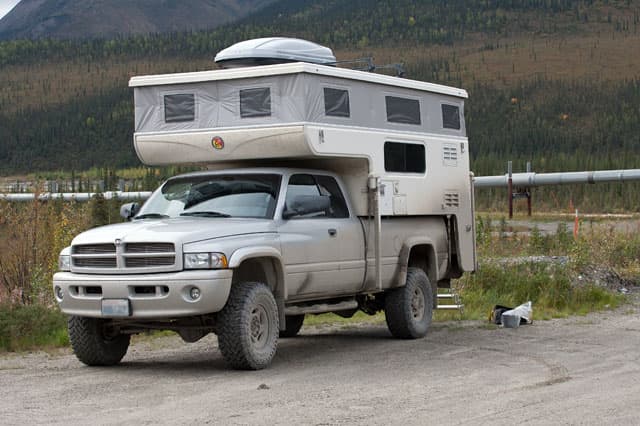 Above: Dalton Highway Alaska with the Trans Alaska pipeline in background
TCM: Any modifications to your truck to handle off-road conditions?
Bob: I have driven my truck camper to the two highest points in Alaska and Canada without going on the ice roads.  I need my truck to be reliable so I haven't risked altering it or anything that could compromise the reliability of the engine.  I do keep our truck well maintained.
One thing I have done is use an extended oil filter.  It's steel and mounts under the frame.  It filters the oil to a higher degree.  Every 10,000 miles, I drain off a small vile and take it to a truck place.  They analyze it and tell me the remaining life of the oil.  I change the filter every 10,000 miles.  This set-up means that on extended trips I don't have to go for an oil change.
I have Toyo mud and snow tires.  They weigh about seventy-six pounds a piece, which does lower my fuel economy a bit.  The Toyos are also ten ply and can carry 65 psi.  While traveling with my camper, I have my front tires between 58 and 60psi and my rear tires at 65.  The tires have worn really well.
In Alaska, every time we would take a break I would walk around the truck, look at my tires and suspension, pop the hood, and check my turnbuckles.  In Fairbanks I found a brass object in the lug of the tire.  I got my tool kit and was going to pull it out.  My wife said it may go flat, so I checked the air every three to four hours and there wasn't a problem.  It was a shell casing, it was the start of moose season and someone ejected a spent cartridge on the highway.
I use full synthetic fluids in the truck.  I can not have equipment failures.  I want to enjoy what I'm out there to do.  I keep a log book and every time I do any maintenance to the truck, I record it with the date, time, and mileage.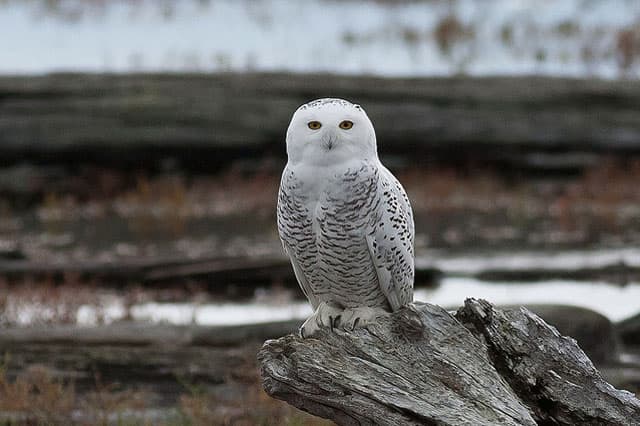 Above: Snowy Owl, Dungeness Spit, Sequim, Washington
TCM: We should all keep a log book for truck and camper maintenance.  When did you get into nature and wildlife photography?