From California to Alaska, wildlife photographer Bob Whitney drives his Hallmark Cuchara deep into the wilderness in search of fowl play.

Every year, we are completely blown away with the quality of the photography entered in our annual Truck Camper Magazine Calendar Contest.  The reason why truck camper owners are such amazing photographers is simple.  First, our off-road capable and highly maneuverable rigs allow us to go to the most incredible places.  And second, the folks who are attracted to the "Go Anywhere, Camp Anywhere, Tow Anything" spirit of truck campers tend to be very creative and interesting people.  Take interesting people to interesting places, give them cameras, and you wind up with the kinds of stunning images we see year, after year, after year.
Speaking of stunning images, Bob Whitney's wildlife photography is something to behold.  From the comforts of his Hallmark Cuchara, Bob ventures out to where the wild things are.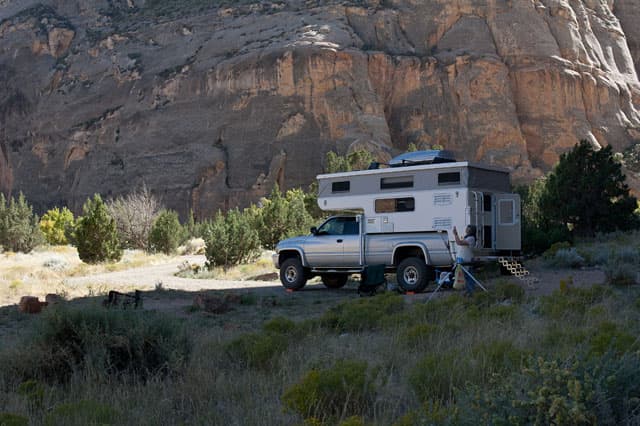 Above: Dinosaur National Monument, Echo Park campground, Utah
TCM: You have enjoyed a long history of camping and have owned many different RVs over the years.  Tell us about your various camping experiences and how you wound up with a Hallmark.
Bob: I started camping as a teenager with my father.  Every summer we would go to the Owens Valley in the Eastern Sierras.  We would tent camp and river fish for trout.  When I was around eighteen years old, I bought a VW Microbus.  It was that wasn't outfitted for camping, but I removed the seats, used a Coleman stove, and slept in sleeping bags.
A few years later, I bought a 1968 Westfalia VW camper.  It had a water tank, sink with a hand pump, and a Coleman stove.  After that, I was in the army for two years, got married in Panama to my lovely wife Diana, came back to the United States. The Volkswagon camper took us to Canada, Idaho, and other places within 1000 miles of our home in California.  When I would get three days off in a row, we would load the camper and go.
In 1971, I got a Chevy half ton four-wheel drive pick up truck.  We had been married a few years so we didn't have the funds to get a truck camper.  Instead we bought a camper shell and used that.  With the truck, camper shell, and our boat, we would often drive two hundred miles to go bass fishing.  About that time, my dad got a pickup camper.  Dad would lend the camper to me and I'd load it on my truck.  I borrowed dad's camper now and then for a few years.  Then dad sold his camper, and my wife and I went back to tent camping.  After camping in the camper the tent camping wasn't as comfortable anymore.
Soon after I bought a 1985 Fleetwood Southwind Class A motorhome.  We had the motorhome for ten years and put over 100,000 miles on it.  We went a lot of places with the Class A, but it was limiting because we were not towing a car.  The motorhome was our sole means of camping for many years.  At twenty-four feet in length, we really were limited to pavement with the motorhome.
Then we got a travel trailer and used it for a long time.  The travel trailer worked fine for trips where we would stay somewhere for two weeks or a month.  We would go to Yellowstone National Park in the spring and stay for a month.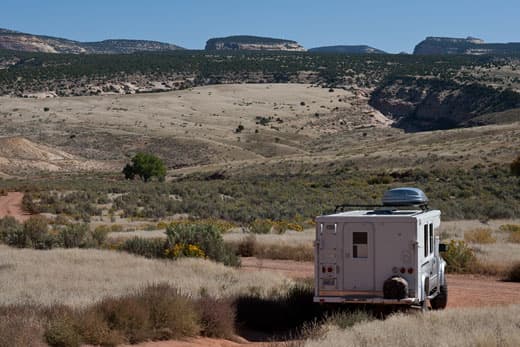 Above: Dinosaur National Monument road to Echo Park campground, Utah
TCM: And then you got a truck camper?
Bob: Yes.  Three years ago, I started looking at pop-up truck campers.  The big advantages to a pop-up truck camper are their low weight and low center of gravity.  I sometimes need four-wheel drive low range to drive steep grades and switchbacks.  When I went to Titus Canyon in Death Valley National Park, there were times that I needed to be in first gear low range going down hill.  Having four wheel drive low range, I did not need to put my foot on the brake constantly.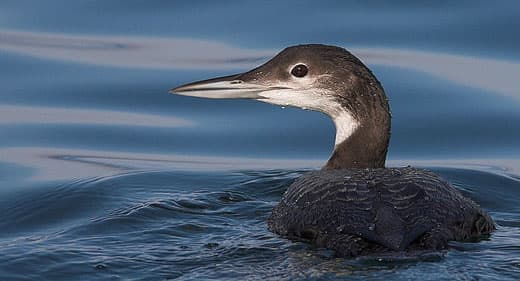 Above: Common Loon, Point Wilson, Port Townsend Washington
TCM: After using a motorhome and travel trailer, why did you need to go off road?
Bob: I'm into wildlife photography, primarily birds.  With my photography, we will travel about 12,000 miles a year and spend three months in the camper.  The truck camper allows me the ability to access remote areas in pursuit of wildlife and the ability to stay for up to a week without support.