Desert explorer and boondocker, Bertram Furman, shares advice and reflects on his experiences in Anza Borrego Desert State Park and other favorite camping spots.

Discovering the Desert
I moved to the West Coast from Washington D.C. over twenty years ago.  At my first job in San Diego, I met a fellow named Dave who was rebuilding a Willys Jeep.  After the rebuild, he and a bunch of his friends invited me to join them for a weekend in the desert.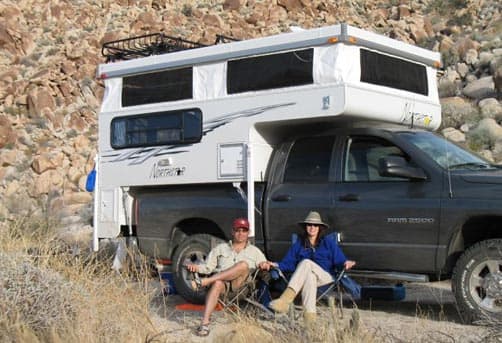 ABOVE: Bertram and Kare loving the Northstar in Indian Gorge in Anza Borrego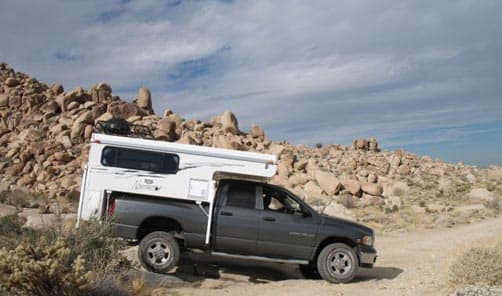 ABOVE: Mortero Wash Trail coming back from Dos Cabezosin Anza Borrego
I had never been in the desert before, but I love camping and leaped at the chance.  The desert near San Diego is the Anza Borrego State Park.  I had a great time on this trip and fell in love with the desert.  It was so different than any environment that I had ever camped in.  The adventure of the trip and the completely different environment appealed to me.  We did the Pinyon Mountain Trail, through the "squeeze", down  "heart attack hill" into Fish Creek.  We camped out and followed Fish Creek out to Ocotillo Wells and then headed home.  I was really taken by the starkness and life in the desert.
Anza-Borrego Desert State Park, is the largest state park in California.  There are five hundred miles of dirt roads, twelve wilderness areas, and the many miles of hiking trails provide an unparalleled opportunity to experience the wonders of the California desert.
The park is named for Spanish explorer Juan Bautista de Anza and the Spanish word borrego, or bighorn sheep.  The park features washes, wildflowers, palm groves, cacti, and sweeping vistas.  Visitors have the chance to see roadrunners, golden eagles, kit foxes, mule deer, bighorn sheep, iguanas, chuckwallas, and the red diamond rattlesnake.
Camping in the Desert
My first desert camping vehicle was a 1984 Toyota four-wheel drive pickup with a cap and two inch foam in the back for sleeping.  I think that truck was one of the best vehicles ever made.  It could go anywhere and we explored the Anza-Borrego desert for years in that truck.  On the other hand, the Toyota was a very basic truck with no heating or air conditioning.  It was a rough ride on long trips.  Even with only a cap, it struggled up mountain highways.
One of the first dates with my wife was to go camping in the desert.  We did all of our cooking and washing outside.  Since fires in the desert must be contained, we would bring an old Weber grill bowl to build a fire and keep warm.  When it got too cold, we would crawl into our cold sleeping bags and fall asleep on the two inch foam.  We were roughing it, and we felt bad for people camping in tents.
Discovering Truck Camping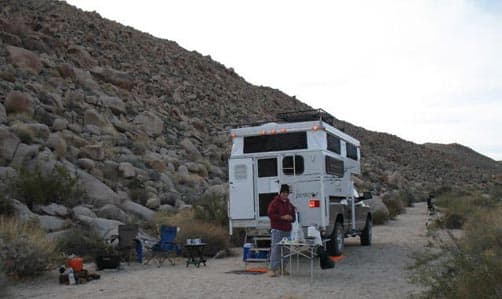 ABOVE: Alone in the desert with telescope at Indian Gorge in Anza Borrego
In 2004, a friend of ours lent us her Northstar 700 and Toyota Tacoma rig for a trip to the western Sierras.  We arrived at around 3:00 pm, found our campsite at Dorst, and it started to pour rain.  We popped the top, put on the heat, made some warm tea, pulled some snacks from the fridge, and crawled into the queen sized comfortable bed and read, while it rained.  We were hooked and could never go back to the two inch foam, cooking outside, and no room to roam inside.
Almost immediately, we started looking at truck campers.  We knew we would have to replace the truck as well.  I actually kept the Toyota for many years for yard work because I could not bear letting it go.  I finally did a few years ago and transformed the profits into a backyard Weber grill!
During my truck camper research, I discovered RV.net and started lurking and asking questions.  We also went to truck camper dealers and looked at campers.  I knew I did not want to give up back country places.  My dear wife  wanted hot water, a comfortable bed, heat, and a way to wash off.  The idea of having a pop-up appealed to me because of the lower weight, less chance of hitting an overhanging tree, and being more compact overall.
The Northstar TC800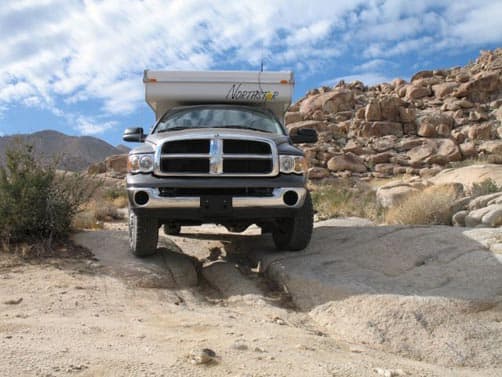 ABOVE: Mortero Wash Trail coming back from Dos Cabezos / Anza Borrego
We heard a lot of good things about Northstar, and our friend's older Northstar 700 was great.  We found a Northstar TC800 in Orange County, California, and knew it met our needs.  It was sturdy and well made.  We put our order in.
We really like how spacious the Northstar TC800 is inside.  It has a hot water heater and the bed lifts up to reveal more storage.  This is where we store our travel clothes in plastic bins.  Once we get to our location, we pull out our outside gear, and then we don't have to keep moving luggage around.  We have an outdoor shower which is nice after hot hikes.
I haven't needed to do many upgrades.  I did put in a trimetric meter which I think is indispensable.  I also made a smaller table, giving us even more room in the camper.  My next upgrade will be fuel cans mounted on the back of the camper for longer off-road trips.  I am also interested in installing solar panels for charging.  We currently use a Honda 1000 generator.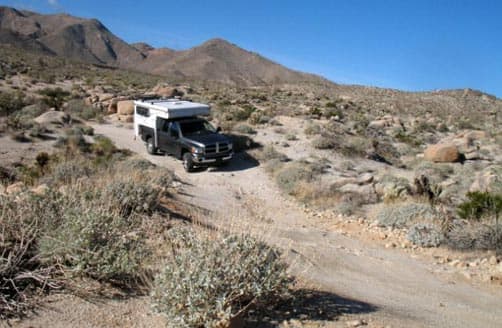 ABOVE: Jojoba Wash Trail / Anza Borrego
I have to say, with the use and abuse we have given this camper being bounced around off-road, it has held up very well.  Northstar campers are very well made and durable!
Having chosen the camper, we then needed a truck to carry it.  My wife wanted to make sure we would not get stuck and we wanted to have enough truck to carry the camper safely on the highway.  She forced the issue and we bought a 2004 Dodge 2500 CTD four wheel drive.  You can imagine how sad I am about that!  Together with the camper, we have found it to be a perfect match.
Anza Borrego State Park Tips
ABOVE: Wash Spur trail along railroad tracks, to Indian Hill hiking trail in Anza Borrego State Park
We still continue to explore Anza Borrego.  We love it out there.  We visit several times a year in the winter for the quiet, flowers and smells of the desert, and to get away from people.  I love being able to get back far and have all the comforts with us.  We enjoy the mystic of the desert.  It can be so quiet out there you can actually hear your inner thoughts.
In Anza Borrego State Park, there is plenty of access to off-road camping.  Some of the roads are easy enough for a car, and others are too much even for our truck.  The great thing is that you can pull off just about anywhere and camp.  It really gives you the experience of solitude and adventure.
The roads and trails are pretty well marked.  There is a great book about Anza Borrego that I use called, Anza-Borrego Desert Region: A Guide to State Park and Adjacent Areas of the Western Colorado Desert by Lowell and Diana Lindsey.  You can get this book from Amazon.com.
There are also campgrounds throughout the park.  Borrego Springs is very nice.  There are two remote campgrounds called Bow Willow and Tamarisk Grove.  One of my favorites is Agua Caliente which means hot water in Spanish.  There are hot springs there and outdoor pools.  Sometimes we'll go camping Friday night, do a big hike and camp Saturday, and pay five dollars for a shower and the hot springs on Sunday.
The best time of the year to go is from November to May first.  Other times of the year it's often over one hundred degrees and uncomfortable.  Even on a holiday we've always been able to get a campsite.  Sometimes our favorite spots are taken, but we can always find a place to camp.
In my opinion, the nice time to go is in April because it's flower season.  The wild flowers are amazing.  There is a lot of diversity in the color and species.  Flowers in the starkness of the desert is one of its mysteries revealed.
Other Favorite Destinations
Other areas we love to visit are our local mountains, the Cuyamaca and Lagunas, and Joshua Tree National Monument.  For longer trips, we like Chiricahua National Monument.  We have been there in the winter a couple of times where we've enjoyed the beautiful rocks formations.
Kartchner Caverns State Park in southeast Arizona is also a beautiful place.  There are great campgrounds with hook-ups, giant spaces, and a beautiful shower.  Kartchner is a living cave with air locks to keep it moist.  It's pristine.  And it's another truly amazing experience.
For big mountains, we love the Sierras.  For great local mountains, we like the town and mountains of Idyllwild.  Idyllwild is an hour and a half from us in San Diego.  Again, I love that the truck can take some of the back roads which really adds to the adventure of our trips.
Other Interests While Camping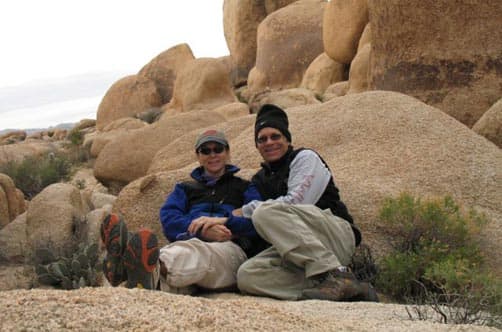 ABOVE: Bertram and Kare at Joshua Tree National Monument in California
We love to hike.  We'll take two or three hour hikes to Indian sites.  We like to explore the Indian areas in Borrego.  There are many pictographs, carvings, and yonis to be discovered in the old villages of the Kumeyaay Indians who lived in the area between 1,000 and 3,000 years ago.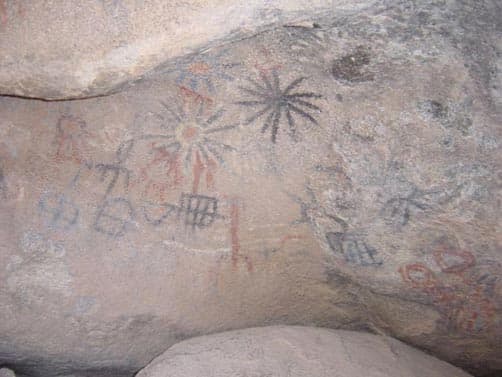 ABOVE: Pictographs at Indian Hill in Anza Borrego
My wife is an artist and loves to have the quiet time to work on her painting or do some beading.  I am now very confident in our truck and camper abilities and which trails I can take.  I really like that I can still go way back.  We have taken classes to learn the geology and plants of the desert.  As an herbalist, I like that there are many medicinal plants in the desert.  I am currently learning to take pictures of the desert flowers.
In the beginning, although my wife liked desert camping, she was not comfortable in the smaller truck, and didn't always want to go.  Now she loves it!  She is a happy camper.  She knows the camper is warm and she has hot water to wash her face.  We'll sit out in our pajamas, drink cocoa, and enjoy being together.  It's great!
For 2011, we're hoping to visit the Sierras.  Again in October, we plan to go Yosemite National Park when the crowds are gone.  We also hope to get in one more desert trip while the flowers are doing their thing.  Our next long trip will be to follow in the Great Whazoo's path and begin exploring Moab and Canyonlands.
BERTRAM AND KARE FURMAN'S TRUCK CAMPER RIG
Truck: 2004 Dodge 2500, crew cab, short bed, 4×4, diesel
Camper: 2005 Northstar TC 800
Tie-downs and Turnbuckles: Happijac tie-downs and Torklift Fastguns
Suspension Enhancements: Timbrens, Bridgestone A/T 285/70/17
Gear: N/A