Desert explorer and boondocker, Bertram Furman, shares advice and reflects on his experiences in Anza Borrego Desert State Park and other favorite camping spots.

Discovering the Desert
I moved to the West Coast from Washington D.C. over twenty years ago.  At my first job in San Diego, I met a fellow named Dave who was rebuilding a Willys Jeep.  After the rebuild, he and a bunch of his friends invited me to join them for a weekend in the desert.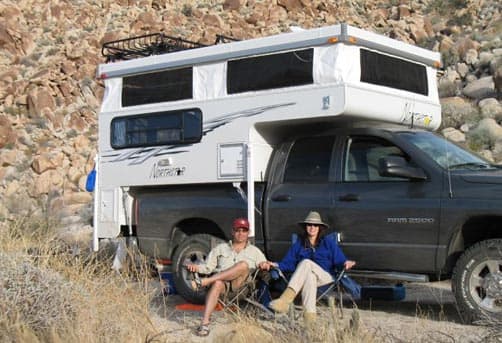 ABOVE: Bertram and Kare loving the Northstar in Indian Gorge in Anza Borrego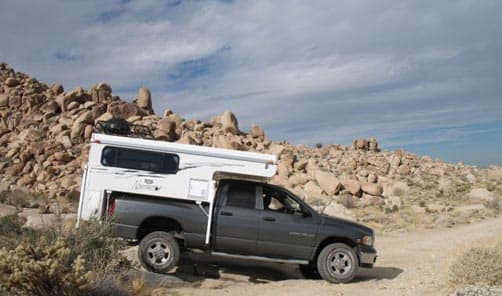 ABOVE: Mortero Wash Trail coming back from Dos Cabezosin Anza Borrego
I had never been in the desert before, but I love camping and leaped at the chance.  The desert near San Diego is the Anza Borrego State Park.  I had a great time on this trip and fell in love with the desert.  It was so different than any environment that I had ever camped in.  The adventure of the trip and the completely different environment appealed to me.  We did the Pinyon Mountain Trail, through the "squeeze", down  "heart attack hill" into Fish Creek.  We camped out and followed Fish Creek out to Ocotillo Wells and then headed home.  I was really taken by the starkness and life in the desert.
Anza-Borrego Desert State Park, is the largest state park in California.  There are five hundred miles of dirt roads, twelve wilderness areas, and the many miles of hiking trails provide an unparalleled opportunity to experience the wonders of the California desert.
The park is named for Spanish explorer Juan Bautista de Anza and the Spanish word borrego, or bighorn sheep.  The park features washes, wildflowers, palm groves, cacti, and sweeping vistas.  Visitors have the chance to see roadrunners, golden eagles, kit foxes, mule deer, bighorn sheep, iguanas, chuckwallas, and the red diamond rattlesnake.
Camping in the Desert
My first desert camping vehicle was a 1984 Toyota four-wheel drive pickup with a cap and two inch foam in the back for sleeping.  I think that truck was one of the best vehicles ever made.  It could go anywhere and we explored the Anza-Borrego desert for years in that truck.  On the other hand, the Toyota was a very basic truck with no heating or air conditioning.  It was a rough ride on long trips.  Even with only a cap, it struggled up mountain highways.
One of the first dates with my wife was to go camping in the desert.  We did all of our cooking and washing outside.  Since fires in the desert must be contained, we would bring an old Weber grill bowl to build a fire and keep warm.  When it got too cold, we would crawl into our cold sleeping bags and fall asleep on the two inch foam.  We were roughing it, and we felt bad for people camping in tents.
Discovering Truck Camping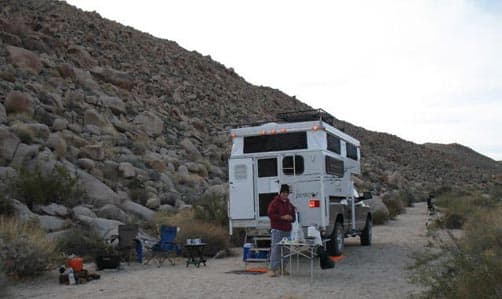 ABOVE: Alone in the desert with telescope at Indian Gorge in Anza Borrego
In 2004, a friend of ours lent us her Northstar 700 and Toyota Tacoma rig for a trip to the western Sierras.  We arrived at around 3:00 pm, found our campsite at Dorst, and it started to pour rain.  We popped the top, put on the heat, made some warm tea, pulled some snacks from the fridge, and crawled into the queen sized comfortable bed and read, while it rained.  We were hooked and could never go back to the two inch foam, cooking outside, and no room to roam inside.
Almost immediately, we started looking at truck campers.  We knew we would have to replace the truck as well.  I actually kept the Toyota for many years for yard work because I could not bear letting it go.  I finally did a few years ago and transformed the profits into a backyard Weber grill!