Vote for the best truck camper, best truck camper gear, and best truck camper innovation announced in 2021.  Welcome to the 9th annual Truck Camper Magazine Readers' Choice Awards!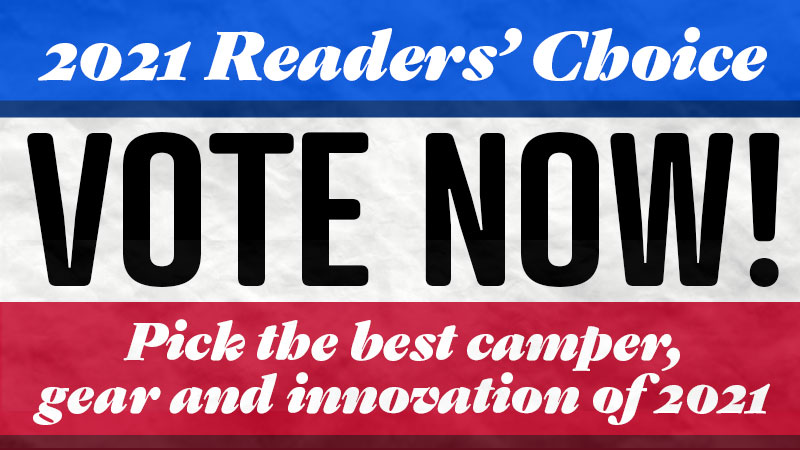 Before you vote, click here to see all the nominees for 2021.
Voting for the 9th annual Truck Camper Magazine Readers' Choice Awards begins now and runs through 11:59 PM PST next Wednesday, December 29th, 2021.  Click the link above to vote.
The 2021 Readers' Choice Awards will be presented Thursday, December 30th for the Best Truck Camper of 2021, Best Truck Camper Gear of 2021, and Best Truck Camper Innovation of 2021.
2021 Trends For Truck Campers
The most obvious trend in 2021 was a continuation of the Covid impact from 2020.  Overwhelming consumer demand, cascading supply shortages, and creeping inflation once again resulted in extremely tight inventory for trucks and campers, higher truck and camper prices, and a new model drought from the major camper manufacturers.
The other significant trend in 2021 was the dominance of the overland market on new camper design.  New brands and models emerged with an extreme focus on multi-purpose utility, off-road structural endurance, and off-grid capability.  These qualities have always been key elements of the truck camper concept, but the newer brands are openly prioritizing them at the expense of traditional truck camper objectives.
So what do these two 2021 trends mean for 2022?  The industry consensus is that the supply shortages are slowly improving, but are likely to continue into the new year.  We are already seeing an influx of late-model used campers from the buying frenzy of 2020 and 2021, but we don't expect new truck and camper prices to cool off until late in the year as the supply shortages (hopefully) end.
The overland trend is predominantly fueled by younger buyers.  This means the traditional truck camper industry (and the RV industry as a whole) should be paying close attention to the sensibilities of the overland community.  We're already seeing this happen in the Class B van market.  Obviously, truck campers have some overland mojo to begin with.  With a refocus on the aforementioned overland priorities, truck campers could consume a significant percentage of that emerging market.
In 2022, we expect to see more truck camper manufacturers follow the overland-focused brands and models that debuted in 2020 and 2021.  Overland isn't the entire future of truck campers, but it will play an important role.
Time To Vote For The Best
Which new truck camper, gear, and innovation is most deserving of a Best of 2021 Readers' Choice Award?  The truck camper industry and community are anxiously awaiting the results of your votes.
Choose carefully!
Before you vote, click here to see all the nominees for 2021.