After months of development, the mad scientists behind Truck Camper Magazine announce an all-new truck camper website.  Introducing Camper Beast.  It's wild.  It's woolly.  And it's everything truck camper, in one place.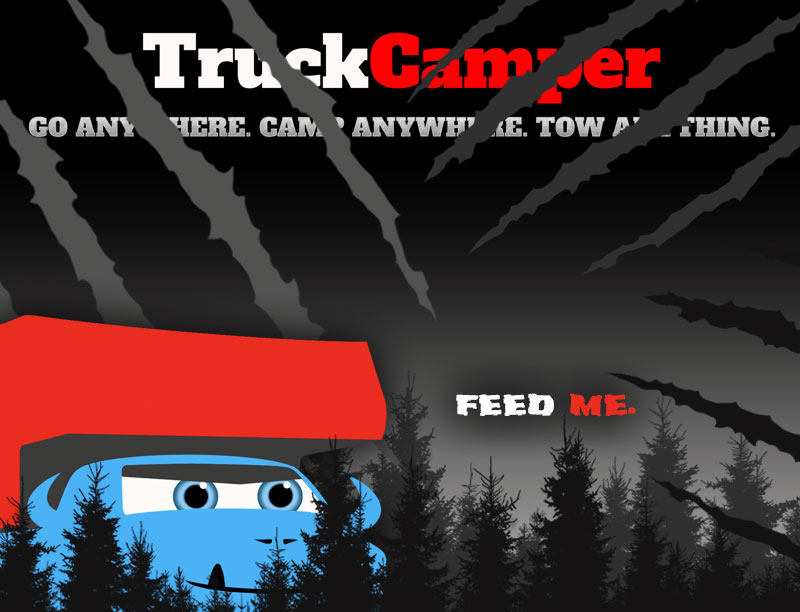 CLICK HERE TO MEET CAMPER BEAST!
"What if there was one central website for the best and latest best truck camper articles, videos, blog posts, and images?  Everything truck camper, in one place.  That would be awesome!"
The words bolted out of my brain somewhere in the Atlantic.  It was June of 2013 and Angela and I were taking a one-week vacation cruise.  I was supposed to be doing anything but work.  No phone.  No computers.  No talking shop – for a whole week.  Yeah, right.
When we returned to dry land, I quickly discovered the technology and content wasn't ready for my, "everything truck camper in one place" vision.  Still, the idea kept flowing back, and the means to make it swelled.
When we were moored in mid-2020, I took another salty-eyed look.  Before I knew it, we were putting all the pieces together.  Suddenly, a new member of our Truck Camper Magazine family started to take shape.  One with beady eyes, pointy horns, big teeth, and a rather impressive tail.  Hey there…
Introducing Camper Beast!
We are very excited to introduce you to Camper Beast.  Even better than we could have imagined, Camper Beast is your new one-stop-shop for all things truck campers.
Oh, and is he finicky!  He relentlessly searches, stalks, and pounces on everything truck camper-related, but only the tastiest truck camper videos, articles, blog posts, and images make it to Camper Beast.
And what a delicious feast it is; camper maintenance tutorials, fresh destination ideas, inspiring truck camping lifestyle stories, insightful gear reviews, ingenious camper mods, daring off-road adventure videos, gorgeous photos and galleries, detailed camper walkthroughs and so much more.
The best part?  Camper Beast keeps finding more good stuff.  There's an ocean.
Just be careful.  Camper Beast may offer the best truck camper content from across the web, but he's still wild, woolly, and unpredictable.  You never know what you'll find on Camper Beast.
It could be you.
Feed The Beast
Are you a truck camper enthusiast with some favorite truck camper websites, blogs, YouTube channels, Vimeo channels, and Instagram pages?
Or maybe you're a content creator with a camper-themed website, blog, YouTube channel, Vimeo channel, or Instagram page.  Either way, we want to hear from you and consider your suggested content for Camper Beast.