Torklift International completely pulls the rug from under our feet, twice. Think this article is about a new product introduction? It is, but that's not the big story coming out of Washington. And it all started with a strangely familiar voice.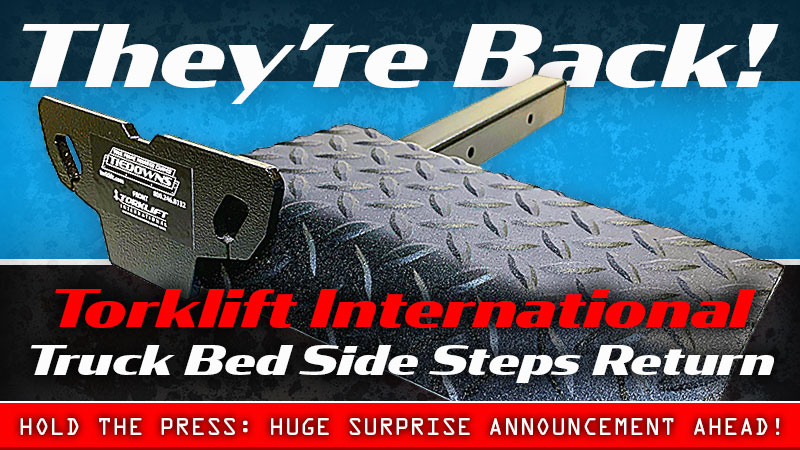 After working with the truck camper industry and community for nearly 16 years, it's tough to surprise us. It's not that we're jaded, or lost that loving feeling. We're still in this for the passion, but we've been around the block a time or two, and know all the characters, settings, and plots in the play.
Or do we?
We recently sat down for a phone interview with Jack Kay, the President of Torklift International. We've met Jack in person many times over the years, and talked with him on the phone dozens more. So when we answered the phone, we thought nothing of the friendly catch-up, but something wasn't right. For one, Jack didn't quite sound himself. For two, he sounded like he hadn't talked with us in years. In fact, he sounded like…
Jay Taylor, the retired General Manager of Torklift International. Unbeknownst to us, Jay had returned to Torklift as a consultant. With a laugh, he revealed his identity. Then he pulled the rug from under us again.
"Torklift is moving to Royal City, Washington," he said.
Interviewing the Torklift President? Out the window. Talking about their new product? It can wait. In a blink, we pivoted to Torklift's big move and new facility. Of course, we kept our professional composure and asked our usual serious questions. We are, after all, Truck Camper Magazine. Ah, hem!
In what will go down as one of the most unusual and fun interviews in Truck Camper Magazine's history, here's our conversation with Jay Taylor of Torklift International.
What? Torklift International is moving?
Yes. The new Torklift International manufacturing facility is in Royal City, Washington, 120 miles east of our current Sumner location. We should be fully moved in by the end of December. Right now we're moving our laser cutters, robotics, and powder coating equipment. It's an exciting time.
The manufacturing facility was previously producing artificial stone. The company pulled out and moved to Mexico and Texas. When we saw the complex, we knew that it would be the new home of Torklift. Plus there is a lot of talent and skillset in the area with Washington State University, Idaho University, and Boise nearby. In Royal City, we are willing to hire anyone who needs a job and wants a career path with Torklift.
Research and development, engineering, marketing, and sales will be in our original location in Kent, Washington. Those teams need access to an airport so they will stay in the Seattle area. With Zoom, we can have daily meetings with the manufacturing team in Royal City and it's only two hours away if we need to send an engineer. A couple of donuts and a cup of coffee and you're there.
One hundred twenty miles is a considerable distance. Have you been able to retain the current Torklift International team?
Yes, 83-percent of our employees have chosen to move with Torklift and stay with the company. Housing in Royal City is more affordable and there are great opportunities for them and their families.
In Sumner, we were land locked. If we added a new facility nearby, we would be moving materials all the time.
The new Royal City campus has seven buildings giving Torklift plenty of room to grow. Torklift will be the biggest employer in town, so we will be a big fish in a little pond. Everyone has been receptive to us coming because we are offering jobs and a career path forward.
Was the Royal City facility move-in ready?
It took about a year to get the new campus ready before our equipment was transported there. We have three laser cutters, welding robots, and multiple production lines. It's a lot to move without impacting production. Joel Crawford, Operations Manager of Torklift International, has been in charge of the move. Joel and his team have done an incredible job. Right now 85-percent of our production is in Royal City.
What does this move mean for Torklift International customers?
For the past few years, sales outdid production. With our new facility, production can out-produce sales. That means Torklift can open new markets and put Torklift products in front of more people. It also means we can bring back popular products that we had discontinued, like the Truck Bed Side Steps.
We want to build more accessories for the truck camper and trailer marketplace. We can now tell manufacturers that we have more capacity and can store completed products indoors. We didn't have that capability before. The new facility also gives us a huge area to develop and test products.
One of our growth areas has been the Torklift EcoHitch for everything from a Prius to a Maserati to a Tesla. We manufacture hitches for nearly every vehicle out there. That product has exploded. We also make license plate brackets and cup holders for Tesla. Those are not stock items. We're also working with three other electric car manufacturers.
The truck camper market is about 40-percent of our business. We have been involved with engineering different products for the truck camper manufacturers and producing them in our facility. We have become part of the design team.
This move gives us so many opportunities to grow and advance. This is a vision from Jack Kay, President of Torklift International. He dreams big and sets his mind on something to accomplish. Everything we're doing is from his philosophy and culture of respect for our employees.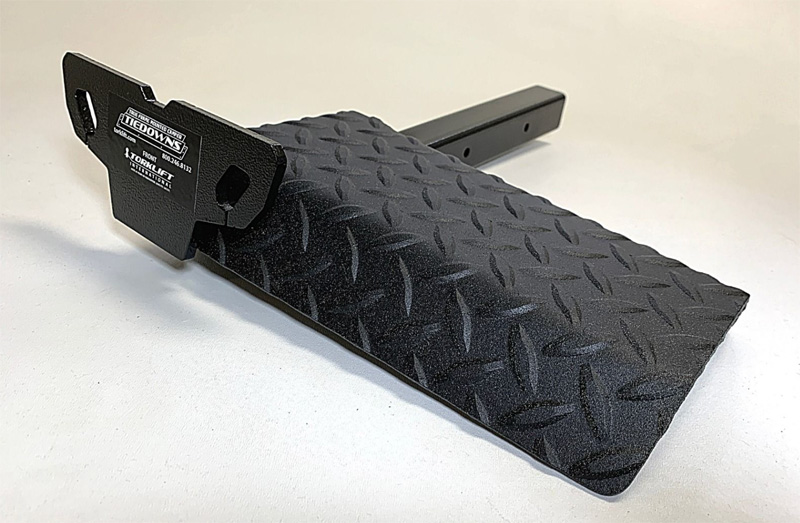 That's exciting news indeed. When the new facility is completed, we'll have to share some photographs with the readership. In the meantime, tell us about the Truck Bed Side Steps. Why were they discontinued?
Over a decade ago, we took the Truck Bed Side Steps to shows and there wasn't a lot of initial interest. We put it on the back burner and sold out of everything we had.
All of our customer call logs go into a product request database. From those logs, we kept getting requests for the Truck Bed Side Step. Truck camper users of Torklift products brought it back to life. We are selling the heck out of them.
How do you see this product used in the context of a truck camper?
Many customers need to get into the bed of the truck. When your truck camper is off your truck, the side step is in place for access to your truck bed. There is no need to drop your tailgate. This is a lot safer than just stepping on your tie-down.
Or maybe you are working on the side of your camper without a ladder. If your camper is on your truck, the Truck Bed Side Step extends off the edge 12-inches and gives you a sturdy surface. You can make sure the distance between you and your camper is safe. There are adjustments. You can pull it out to the elevation you want.
Today the demand is greater and a lot of our audience has gotten older and they want comfort and safety. With this product, you can step up safely and you don't need to worry about falling off. The side steps offer safety, quality, and our lifetime warranty. We take care of our customers.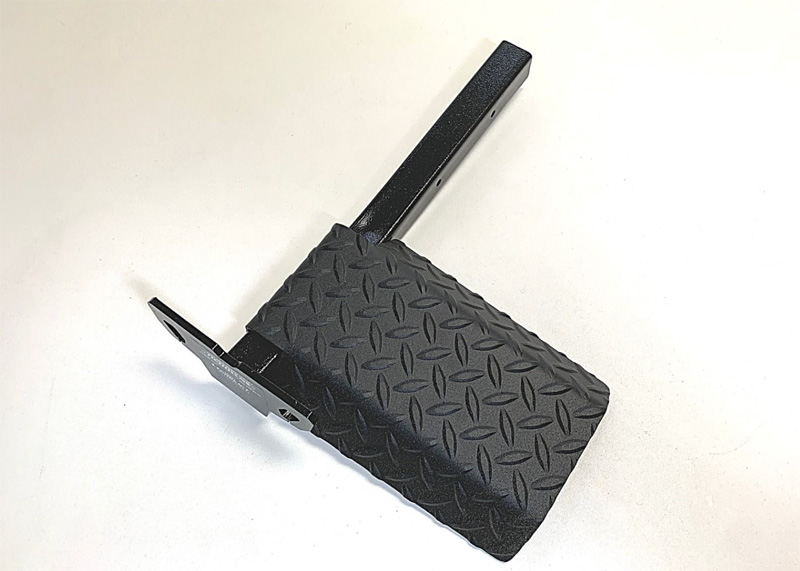 How are the Truck Bed Side Steps installed?
Pull the insert out of the receiver tube, clean it off, and then the Truck Bed Side Steps mount to it. Two U-bolts go in the bottom and screw the product place. Re-insert the insert and you're done.
Have you made any changes to the design, build or overall product?
With the new side step, customers will get one for the front and one for the rear. The new version also has an anti-skid coating and a Chasm black finish.
Two come in the kit and permanently mount to the existing insert. That keeps the product out of the way and ensures it won't interfere with your turnbuckles.
Will the Truck Bed Side Steps fit on every Torklift tie-down system; aluminum Talons, steel Tie-Downs, older versions of these products?
Yes. It will fit every tie-down system we manufacture.
Do the Truck Bed Side Steps come with Torklift's Lifetime Warranty?
Yes. It's not easy to have a lifetime warranty with a product line as vast as Torklift International. Today we have 800 SKUs (stock-keeping units).
A lifetime warranty says that a company is so positive about their products that they are willing to stick behind them. We want people to say, "Torklift products are something I am going to invest in and buy". We never wanted to be the cheapest. We always want to be the best.
Everything from the Torklift SuperHitch to the GlowGuide Handrail has, within a year of being brought to market, been copied by other manufacturers. That could bother us, but it's also a compliment. A lot of Torklift products have influenced the industry to be better focused on product development, which is good for the RV industry as a whole. The Torklift International Lifetime Warranty has influenced those decisions.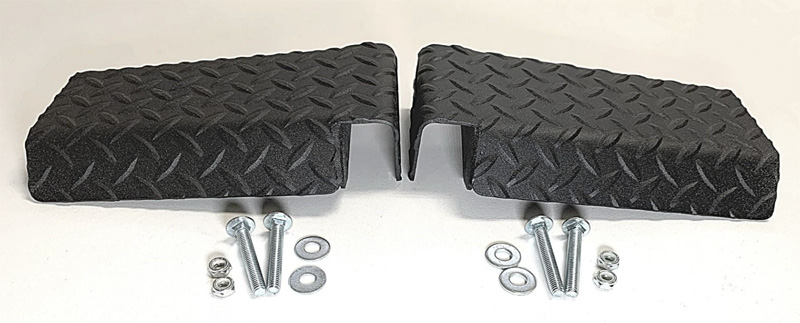 What is the MSRP for the Truck Bed Side Steps?
The Truck Bed Side Steps are $199.99.
Is there anything else you want people to know about the Truck Bed Side Steps?
Torklift listens to the marketplace. If you have ideas, we encourage you to call in and share them. They could make a difference. Maybe only 10-percent of an idea is used but, if you can develop it into something, your signature is on that product. From our experience with our customers, they are so proud and happy to help.
For more information about Torklift International's Truck Bed Side Step, visit their website at torklift.com.  Click here to request a free Torklift brochure.