There is also an extensive amount of research, development, and testing before we launch a product.  First, we conduct finite analysis using SolidWorks simulations.  Then we conduct extensive field testing with all of our products.  We learn a lot from both the simulations and the field experience.  Before a product is introduced, it's gone through four or five generations between SolidWorks modeling and physical prototypes.  Finally, we put every Torklift product through thousands of miles of testing.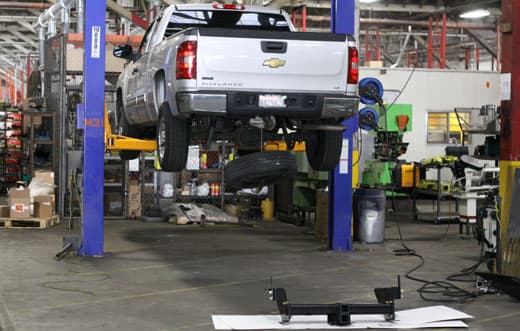 Above: Research and Development vehicle lift at Torklift International

The SolidWorks modeling, finite analysis, and extensive real-world product testing is another important part of what sets Torklift International apart from its competitors.

TCM: Does the Torklift International SuperHitch Hero share design elements and materials with the Original SuperHitch and SuperHitch Magnum?
Jack: The SuperHitch Hero design elements are the same design elements as the Original SuperHitch.  We use the same Grade 8 fasteners, the same structural design, and the same materials.  The main difference is that the Original SuperHitch is rated at 17,000 pounds and the SuperHitch Hero is rated at 15,000 pounds.  I want to point out that each of our hitches has a bright orange label that clearly states that the limiting factor of any hitch is your truck's towing capacity, not the hitch.
Jay: There's been a drastic increase in towing capacity of half-ton trucks over the past two to three years.  With new half-ton trucks offering increased hauling capacity and performance, the SuperHitch Hero is a reliable and strong solution.
TCM: Will the SuperHitch Hero fit trucks other than half-ton trucks?
Jack: No, the SuperHitch Hero is made specifically for half-ton trucks.  It will not work with a three-quarter or one-ton truck because they are built vehicle specific so you don't have to drill.
Above: Hardened reinforced hitch pin locations

TCM: The hitch pin locations have been reinforced on the SuperHitch Hero to prevent what's described as, "egging".  What is "egging?"
Jack: Take a look at a well used hitch from a competitor and you will often see what we call, "egging."  Specifically, look at the hole where the hitch pin holds the ball mount in place.  From use, the hole will have elongated, opening horizontally looking more like an egg-shape than a proper circle.  This, "egging" allows the pin to impact the front and back of the hole like a hammer during stop-and-go acceleration and braking.
The sound of the impact is not only annoying, but it also stresses the receiver and the ball mount.  This could eventually lead to hitch damage.  We have reinforced the hitch pin locations on the Torklift International SuperHitch Hero to prevent, "egging" from happening.
Above (click to enlarge): Installation of the SuperHitch Hero
TCM: Is the Torklift SuperHitch Hero a no drill application?
Jay: Ninety-five percent of all Torklift International SuperHitches made have been no drill installations.  Almost every truck made since about 2007 should be a no drill application.
Jack: The hitch line will become available June 1, 2013 beginning with Ford F-150 applications.
TCM: Is the Torklift SuperHitch Hero 100% made in the USA?
Jay: Absolutely.  If I skip over to where they're made, I'd be there in twenty paces.
TCM: Don't hurt yourself now Jay.  Does the Torklift International SuperHitch Hero come with Torklift International's lifetime warranty?
Jay: Absolutely.  Our lifetime warranty is legendary.  All Torklift International products come with a lifetime warranty and we're very proud of that.  We stand behind our products.
Jack: If our customers have an issue with a Torklift International product, they are going to get the red carpet treatment like they have never experienced from any company before.  When you call us toll-free at 1-800-246-8132, a real human being here at Torklift International in Sumner, Washington will answer the phone. on the first or second.  From that moment, we always go above and beyond with customer service and warranty claims.  That's what makes the Torklift International lifetime warranty legendary.