Torklift International debuts two new accessories for their popular GlowStep series of products, the Torklift International SafeStep and DirtDestroyer.

Since its introduction in 2010, the Torklift International GlowStep series of products has been very successful.  Essentially, Torklift International set out to build a more robust and versatile scissor step system with built in safety features including double hinges for increased strength and glow elements for nighttime visibility.  Many with scissor step entry systems appreciated the improvements and upgraded.
Three years later, Torklift International is still working on improving their GlowStep system.  To tell us more about these improvements and two new GlowStep accessories,  the SafeStep and DirtDestroyer, we talked to Jack Kay, Principal at Torklift International, and Jay Taylor, General Manager for Torklift International.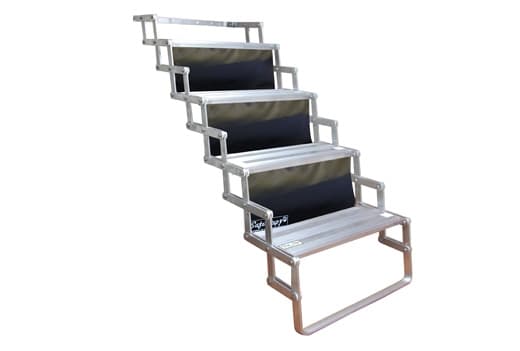 Above: Torklift International GlowStep system with SafeStep system installed

TCM: What is the Torklift International SafeStep?
Jay: The Torklift International SafeStep is, quite simply, a canvas cover that adheres with velcro to Torklift International GlowSteps or any scissor step system to prevent pets, children, and adults from falling through scissor steps.
The idea for the SafeStep system came from customers and research on popular truck camping forums like RV.net, NATCOA, and Lance Owners of America.  From that research, it was clear that we needed a solution to help pets and people who sometimes miss a scissor step or slip on a scissor step.  It also helps pets and children who sometimes have anxiety about scissor steps.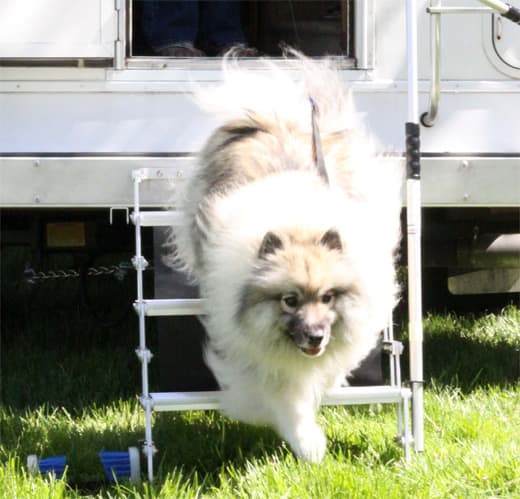 Above: Jay Taylor's four-legged friend tests the SafeStep system
TCM: How does the SafeStep system help pets with scissor step issues?
Jay: When a dog's nails get long, he or she can slip easily on aluminum scissor steps.  When that happens, his or her paws can slip in between the step system and cause an injury.
When dogs look at scissor steps, they can see through the riser gaps and and it gives the illusion there are no steps causing some dogs to become anxious.  Once installed, Torklift International SafeSteps prevent a pet from seeing through the steps (often anxiety causing an illusion) and act as a catch net assembly to keep dogs safe in case they fall through.
Above: A close-up of an installed SafeStep system

TCM: Some dogs weigh upwards of sixty and seventy pounds.  Can the SateStep system keep these heavier pets safe from injury should they fall through a scissor step system equipped with SafeSteps?
Jay: Yes, our SafeSteps will actually catch a pet so that he or she can't fall through.  It's a vinyl reinforced material with nylon.  The velcro stripping has the same strength as a canvas cover on a boat, so it works under high winds, too.
Two years ago, we went out camping with a four step Torklift International GlowStep.  Our dog fell off the step and it scared him.  That's when this idea first got started.  We later found out that other people had same experiences and concerns.
TCM: Tell us about the design and development of the SafeStep.
Jack: We tried different materials before we landed on the reinforced materials used for the SafeStep.  We wanted a design that you didn't need to take off the scissor step.  The SafeStep system does not have to be removed from the step assembly during transport.  It accordions up during travel.  It's also easy to clean with a hose.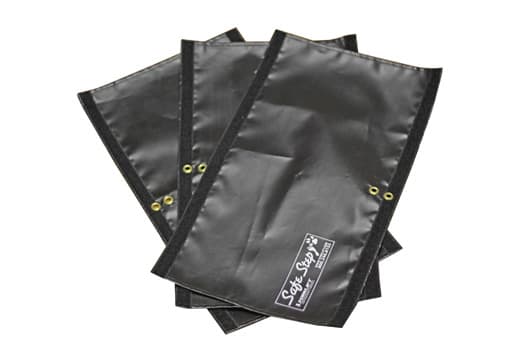 Above: The Torklift International SafeStep system comes in sets of three

TCM: What is the MSRP for the SafeStep?
Jay: It retails at $79.33 for the three step system.  Torklift International SafeStep systems are sold in units of three and they are available now.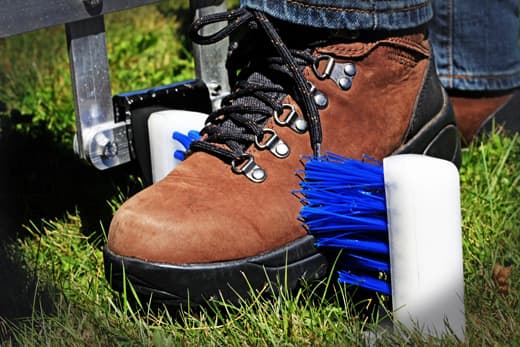 Above: The Torklift International DirtDestroyer in action
TCM: What is the Torklift International DirtDestroyer?
Jay: The DirtDestroyer is a foot brush attachment for our GlowStep system designed to help truck camper owners keep their GlowSteps and truck camper interiors clean.
When we introduced the GlowGuide two years ago, it included a brush attachment that allowed the GlowGuide to act as an exterior camper cleaning tool.  That feature was very popular with the consumer, which led to the development of the DirtDestroyer.
The DirtDestroyer quickly attaches to the bottom step of a Torklift International GlowStep system, but it will also work on any scissor step assembly.
In many campgrounds you are parked on dirt or sand.  The DirtDestroyer helps keep that dirt and sand from entering the truck camper or getting caked onto your scissor steps.  It's a simple idea, but one that we know our customers will appreciate.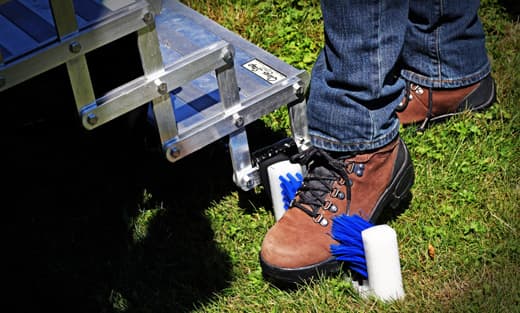 Above: The Torklfit International DirtDestroyer installed on a GlowStep system
Jack: During the development of the DirtDestroyer, we looked at various types of floor mats.  While they helped, they weren't doing the job.  They would clean the bottom of our shoes, but not the sides and bottom, and not as thoroughly as the DirtDestroyer.
TCM: Were there any design challenges while developing the DirtDestroyer?
Jay: The product itself was not the challenge, it was being able to attach it to the applications we've created.  We want it to be easy to use and store.  The challenge is how to keep the product compact so that people are going to use it.  If it's hard to store, truck camper owners are not going to use it.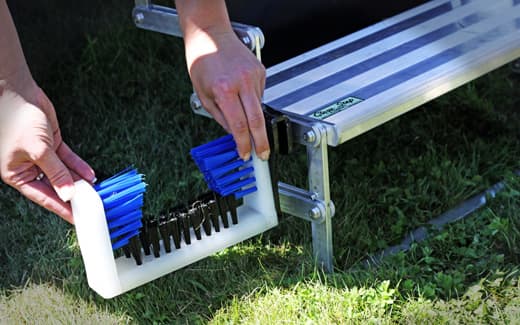 Above: The Torklift International SafeStep system pops on and off scissor steps
TCM: Tell us about the installation and required maintenance for the DirtDestroyer.
Jack: You just pop it on and pop it off of the Glow Step.  There is no fastening.
Jay: It just snaps on the retainer on the step itself.  There is no maintenance.  Take it off, tap it, and ready it's for the next boot.
TCM: Does the DirtDestroyer come with Torklift's Lifetime Warranty?
Jack: Yes, the DirtDestroyer comes with a lifetime warranty.
TCM: What's the MSRP on the DirtDestroyer?
Jay: The MSRP is $79.53.  I forgot to mention that both the SafeStep and the DirtDestroyer are made in the USA by Torklift International.
TCM: You also have some updates to the existing GlowStep system.

Jay: We made a few changes to the GlowStep this year.  We have introduced an eight inch tread width step.
The Recreational Vehicle Industry Association (RVIA) and National Fire Protection Agency (NFPA) have developed new standards effective this year requiring RV manufacturers to provide an eight inch tread depth upon entry and exit of an RV.  To meet this requirement for truck camper manufacturers that supply GlowSteps with their truck campers, we have introduced an eight inch tread depth GlowStep.
Going to an eight inch tread also increases the weight carrying capacity of the GlowStep system.  Due to the increased material and size, the eight inch tread version of the GlowStep feels more stable and secure.  Together with the SafeStep and GlowGuide, the eight inch tread feels more like domestic steps, like we all have at home.
Jack: We are still offering and selling the six inch steps.  There are no restrictions on the use of aftermarket six inch steps.  That said, when you use the eight inch step it does feel more secure and you feel a difference in stability.  It makes a difference.
TCM: Does a consumer need to purchase a different size set of SafeSteps depending on whether they get the six-inch or eight-inch GlowStep system?
Jack: No, the same SafeStep goes with either step system.  The Torklift International SafeSteps are compatible with both size GlowStep tread depths.
TCM: What is the MSRP for the eight inch GlowStep system?
Jay:  A two step GlowStep eight-inch is $256.28.  The three step eight-inch is $282.38.  The four step eight-inch is $310.70.  A five step eight-inch is $353.62.  A six step eight-inch is $409.64.  The MSRP of the eight inch add-a-step is $79.97.
Jack: Another update we've made on the GlowSteps is that the upper mounting bracket was originally on a tray type design.  Now it's pinned in on top, so it can't shift while you're on it.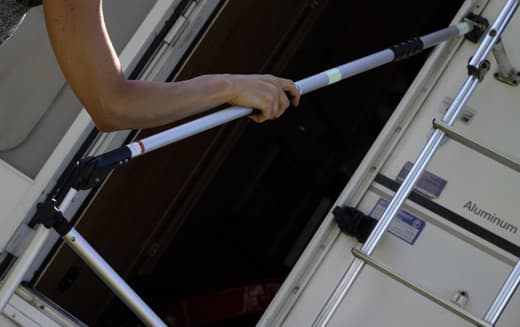 Above: The Torklift International GlowGuide with new polymer bracket
TCM: You have also updated the GlowGuide.  Please tell us about that update.
Jack: We originally had a steel joint assembly that required pins.  We have now worked out a high strength polymer bracket that allows for nearly infinite adjustment, and is cleaner ergonomically.  It's a considerable improvement.
The other change on the GlowGuide is the way it mounts.  Now the GlowGuide will attach to any kind of camper or RV with or without a bumper.
The GlowGuide gives you much better stability.  The grab assist handles on truck campers will help you going up, but not so much going down.
Jay: The GlowGuide is a unique product.  It is perfect for children and also people don't realize that for an older person with arthritis, a typical RV grab bar can be hard to use.  Once people use our GlowGuide system, they'll see that it's better for stability.
TCM: Is there anything else about the GlowStep, GlowGuide, SafeStep, or DirtDestroyer you would like to add?
Jay: We are adding all these products because the GlowStep line is really successful and has become so popular.  People with towables, horse trailers, and in marine applications are using them.
For more information on Torklift International's glow products, visit their website at www.torklift.com.