Torklift International debuts two new accessories for their popular GlowStep series of products, the Torklift International SafeStep and DirtDestroyer.

Since its introduction in 2010, the Torklift International GlowStep series of products has been very successful.  Essentially, Torklift International set out to build a more robust and versatile scissor step system with built in safety features including double hinges for increased strength and glow elements for nighttime visibility.  Many with scissor step entry systems appreciated the improvements and upgraded.
Three years later, Torklift International is still working on improving their GlowStep system.  To tell us more about these improvements and two new GlowStep accessories,  the SafeStep and DirtDestroyer, we talked to Jack Kay, Principal at Torklift International, and Jay Taylor, General Manager for Torklift International.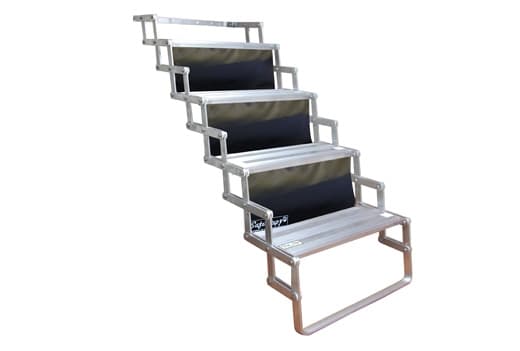 Above: Torklift International GlowStep system with SafeStep system installed

TCM: What is the Torklift International SafeStep?
Jay: The Torklift International SafeStep is, quite simply, a canvas cover that adheres with velcro to Torklift International GlowSteps or any scissor step system to prevent pets, children, and adults from falling through scissor steps.
The idea for the SafeStep system came from customers and research on popular truck camping forums like RV.net, NATCOA, and Lance Owners of America.  From that research, it was clear that we needed a solution to help pets and people who sometimes miss a scissor step or slip on a scissor step.  It also helps pets and children who sometimes have anxiety about scissor steps.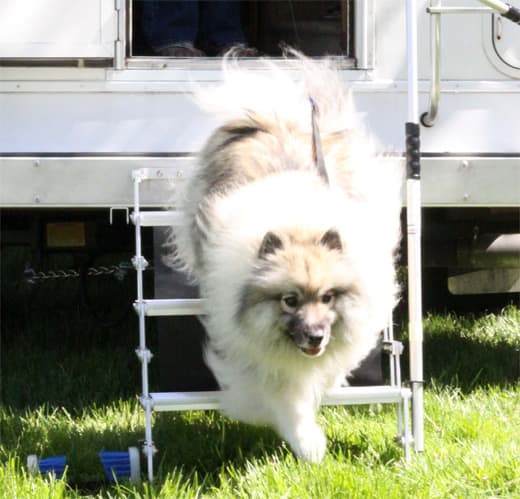 Above: Jay Taylor's four-legged friend tests the SafeStep system
TCM: How does the SafeStep system help pets with scissor step issues?
Jay: When a dog's nails get long, he or she can slip easily on aluminum scissor steps.  When that happens, his or her paws can slip in between the step system and cause an injury.
When dogs look at scissor steps, they can see through the riser gaps and and it gives the illusion there are no steps causing some dogs to become anxious.  Once installed, Torklift International SafeSteps prevent a pet from seeing through the steps (often anxiety causing an illusion) and act as a catch net assembly to keep dogs safe in case they fall through.
Above: A close-up of an installed SafeStep system

TCM: Some dogs weigh upwards of sixty and seventy pounds.  Can the SateStep system keep these heavier pets safe from injury should they fall through a scissor step system equipped with SafeSteps?
Jay: Yes, our SafeSteps will actually catch a pet so that he or she can't fall through.  It's a vinyl reinforced material with nylon.  The velcro stripping has the same strength as a canvas cover on a boat, so it works under high winds, too.
Two years ago, we went out camping with a four step Torklift International GlowStep.  Our dog fell off the step and it scared him.  That's when this idea first got started.  We later found out that other people had same experiences and concerns.
TCM: Tell us about the design and development of the SafeStep.
Jack: We tried different materials before we landed on the reinforced materials used for the SafeStep.  We wanted a design that you didn't need to take off the scissor step.  The SafeStep system does not have to be removed from the step assembly during transport.  It accordions up during travel.  It's also easy to clean with a hose.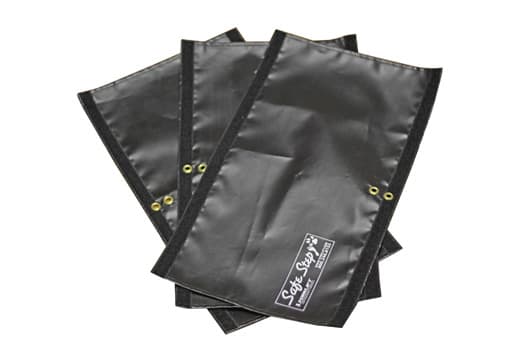 Above: The Torklift International SafeStep system comes in sets of three

TCM: What is the MSRP for the SafeStep?
Jay: It retails at $79.33 for the three step system.  Torklift International SafeStep systems are sold in units of three and they are available now.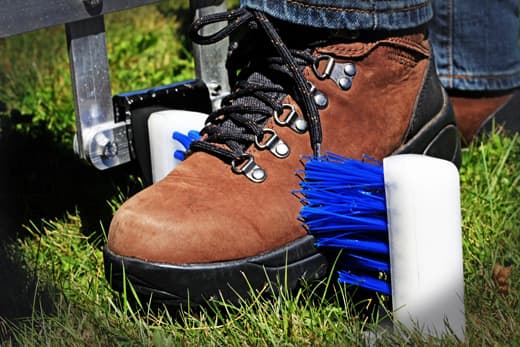 Above: The Torklift International DirtDestroyer in action