Torklift International has engineered the world's first truck camper tie-down system for the Jeep Gladiator (JT) midsize pickup truck.  But before we dive into Torklift's new product, we have a big question to answer.  Is the Jeep Gladiator a truck camper worthy pickup truck?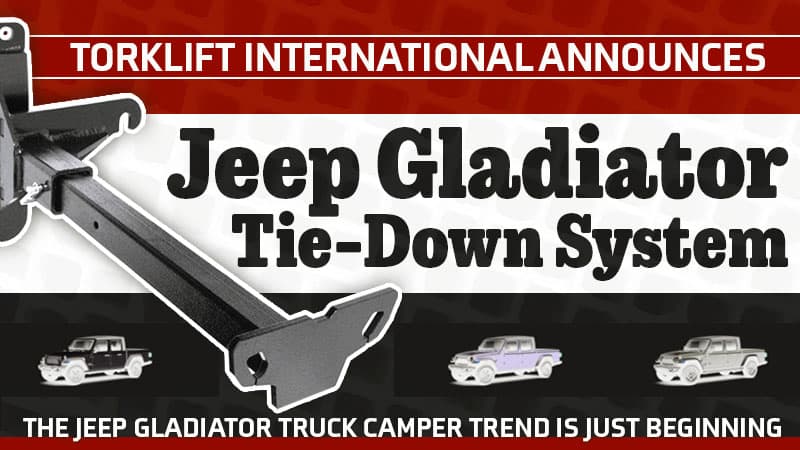 In 2013, we came across an AEV (American Expedition Vehicles) Jeep Brute pickup conversion at Overland Expo West. Angela and I both stopped and had the same thought, "Yes, please" followed immediately by abject sticker shock.  The AEV was brilliant and fiscally nuts. There's a lot of that at the Expo.
At that moment, Jeep hadn't made a pickup truck since the 1992 Comanche.  Seeing the AEV Jeep Brute in person made the concept of a Jeep pickup look incredibly obvious.  Based on the reaction passers-by were having, half the attendees would saw off a vital limb to have one.  The truck was stunning, but the price was disarming.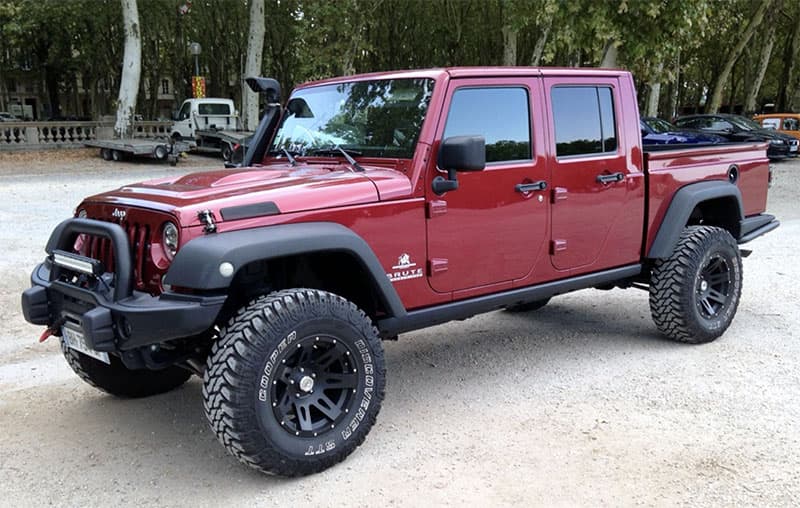 Above: The AEV Jeep Brute, photo courtesy of American Expedition Vehicles
Fast forward to November of 2018.  Fiat Chrysler Automobiles (now Stellantis) unveils the Jeep Gladiator pickup truck and sends the entire automotive world into giddy hysterics.  To paraphrase the media reaction, it was an instant, obvious, and guaranteed hit.  Part Jeep Wrangler, part pickup truck, the Gladiator was a money rocket ready to launch.
The Gladiator landed in Jeep showrooms in May of 2019 to lackluster sales, partly due to an initially limited supply.  That trend started to reverse into the summer and fall with over 40,000 Gladiators driving off Jeep lots in 2019.  2020 sales stalled with the onset of Covid before launching to double the previous year's total.  It hasn't been an easy trail, but the Gladiator has evolved into the marketplace hit the press predicted.
Jeep Gladiator For Truck Campers
In full disclosure, the Jeep Gladiator wasn't exactly on our radar screen as a serious candidate for a truck camper rig.  The non-standard 60.3-inch long, 56.8-inch wide, 18-inch deep truck bed combined with payload between 1,100 and 1,600-pounds made it possible for a camper, but unlikely.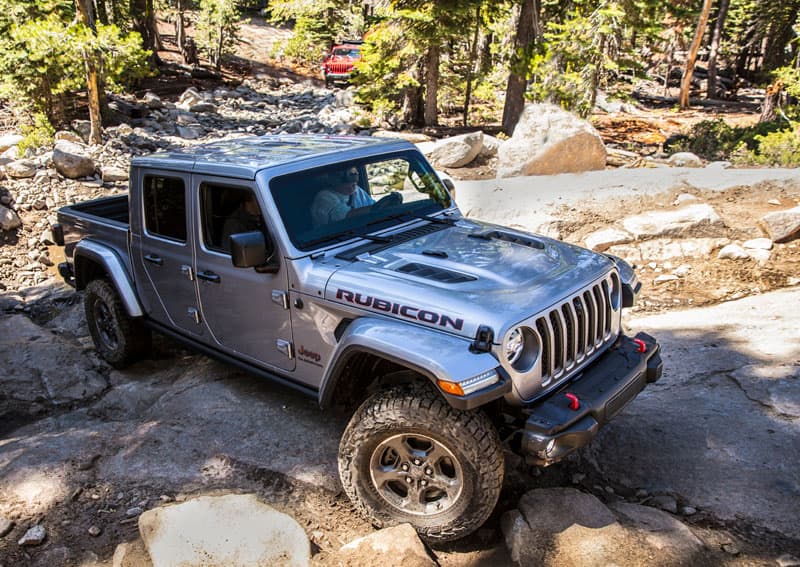 Above: Jeep Gladiator Rubicon
A truck camper manufacturer would have to literally design and build a camper to fit the unique Gladiator bed dimensions and payload capacity.  Given the unprecedented demand for truck campers right now, it seemed unlikely that a company would want to put in the R&D, much less risk a new and unproven niche.  They're just too busy filling orders for what they currently offer – at least for now.
And yet, that's exactly what happened. Torklift International was approached by Travel Lite to produce a set of tie-downs for an upcoming Jeep Gladiator specific model.  First and foremost metal fabricators, Torklift International loves a design challenge and specializes in unique opportunities in the truck camper space.  If there's a vehicle that needs a tie-down, turnbuckle or hitch in this space, Torklift is ready to develop and produce what's needed.  Someone reading this in Sumner, Washington just yelled out, "You're darn right we are!"  They're a passionate bunch.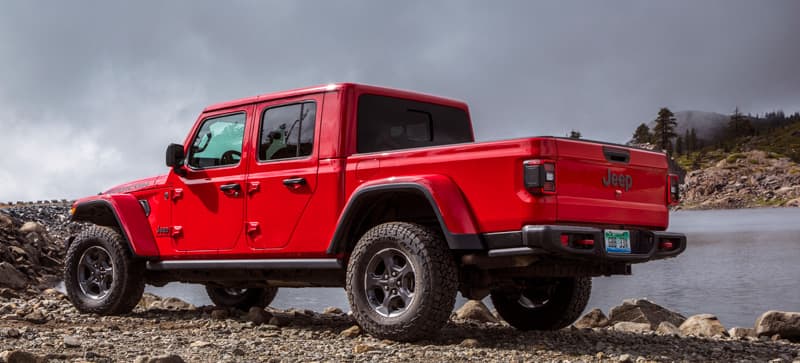 This announcement had us take a sharper look at the Jeep Gladiator and re-evaluate its suitability to our preferred RV type.  On the bright side, the Jeep Gladiator Sport S manual (without the tow package) offers a reasonable 1,600-pounds of payload.  If you opt for the more popular automatic transmission and the Max Tow Package, the payload is 1,535-pounds.  That's enough for a simple pop-up truck camper or the lightest weight hard sides.
Be warned that the majority of Jeep Gladiator variants come nowhere near this payload number.  For example, the Jeep Gladiator Rubicon offers a scant 1,250-pounds of payload and the Overland Edition a paltry 1,100.  The main culprit of the payload pilfered from these editions is added option weight.  Those Fox shocks, electronically disconnecting sway bars, Rock-Trac transfer cases, and steel rock rails add up.
Once the extraordinary pandemic demand subsides, it's quite possible that we could see Gladiator-tuned models from a number of manufacturers.  In particular, I would keep an eye on Four Wheel Campers, Hallmark, Northstar, Palomino, Scout, and Capri.  Of course, Phoenix Campers will build you a custom camper for a Jeep Gladiator on their next available build slot.  In fact, Phoenix has probably built more truck campers for Jeep pickup trucks than the rest of the manufactures combined and doubled.  Robby Rowe gets it done.
Torklift International Gladiator Tie-Down System
We were full of questions when Torklift International approached us with their Jeep Gladiator announcement.  Thankfully, Jack Kay, President of Torklift International, was excited to answer them.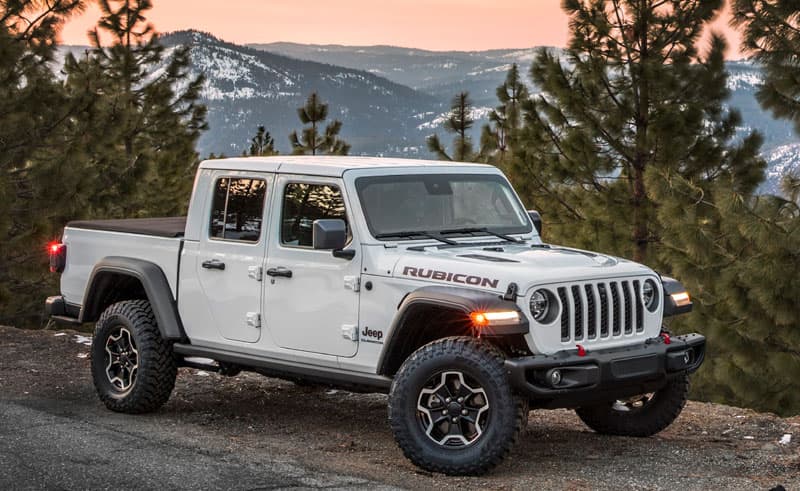 The Jeep Gladiator debuted in the Spring of 2019, but we really haven't seen much interest from the truck camper industry or community.  What prompted the development of this product?
We were approached by Travel Lite to manufacture a tie-down system for a camper they're developing for the Jeep Gladiator.  The Jeep Gladiator tie-down system will be the first of its kind and we wanted to jump on the opportunity.
We believe that the Jeep Gladiator is a good candidate for a truck camper.  Jeep owners are outdoor enthusiasts and Jeep has grown in mainstream popularity as an off-roading vehicle.  It made sense to create a tie-down system that would allow a Jeep owner to attach a truck camper.
How did you go about getting the required fitment measurements?
We routinely work with our local community and dealers to access vehicles during the design process.  All of our products are specifically designed and tailored to fit.  They are engineered so that there is no drilling or modifying of the vehicle for installation.  We record our measurements utilizing special tools like our 3D scanning system and SolidWorks CAD models of the vehicle.
"The frame-mounted tie-downs are designed to fit tight and secure to the frame to ensure that no ground clearance is sacrificed."
Folks buy Jeeps to go off-road.  Does the installed Torklift Gladiator system – tie-downs and turnbuckles – impact the Gladiator's ground clearance or departure angle?
We aim to create products that will not disrupt the original design of the vehicle.  The frame-mounted tie-downs are designed to fit tight and secure to the frame to ensure that no ground clearance is sacrificed.
The tie-downs are bolt-on, so it is possible to remove them when they are not in use.  However, the tie-downs are mounted to the frame of the vehicle and have a hidden design when they are not in use.  You simply remove the inserts when not hauling your camper.  Once the insert is removed, the receiver or bracket stays tucked away and out of sight underneath your truck.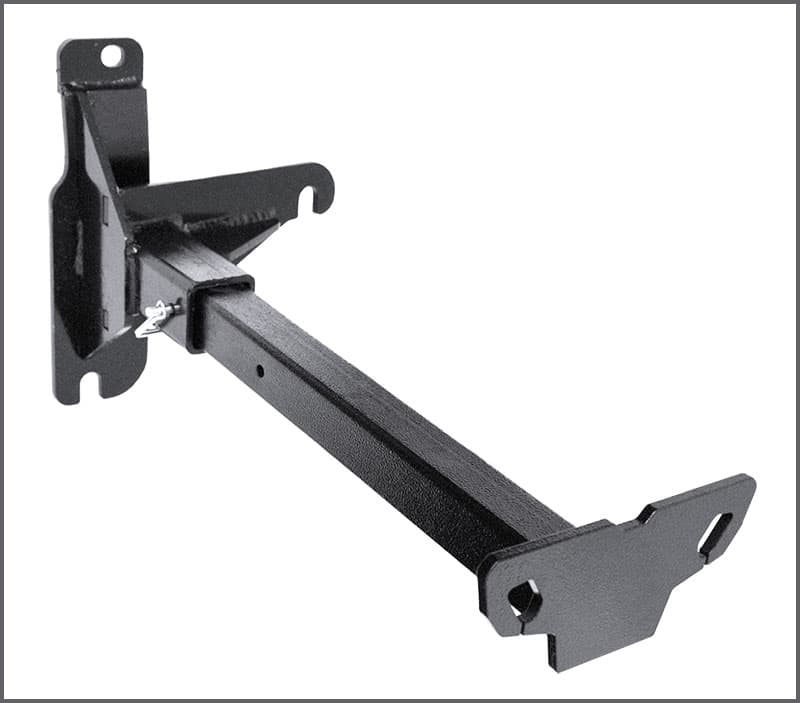 Above and below: The new Torklift International Jeep Gladiator tie-down system.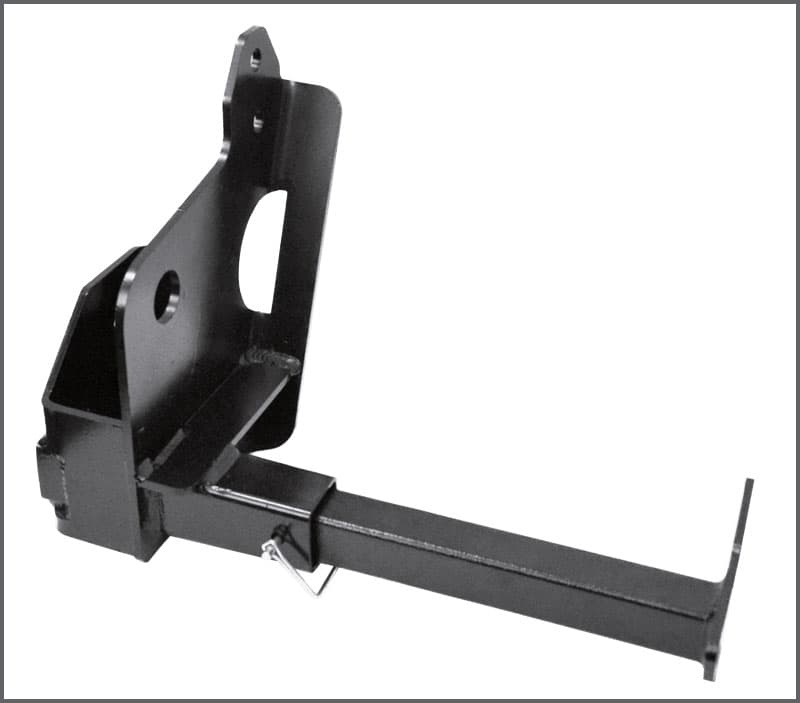 Did the Gladiator require a different design approach or an adaptation of an existing Torklift tie-down and turnbuckle?
As a completely new vehicle we have never done a fit for a Jeep Gladiator before, so our engineers had to start from scratch as far as design goes.
Our engineers tailor each fit specifically to the vehicle the product is intended for.  They have to take into account the frame and the factory holes on the vehicle since our installations are 100-percent no drill and bolt-on.  We want our customers to be able to haul their truck camper with confidence, so we design all our tie-downs to be attached to the strongest point of the vehicle, which is the frame.
What materials did you decide to use for the Jeep Gladiator tie-down and turnbuckles?
We manufacture our frame-mounted tie-downs out of high-impact powder-coated steel to ensure security and stability. Both our Fastgun turnbuckles and SpringLoad XL turnbuckles are made of 100-percent stainless steel and aircraft-grade aluminum respectively.  The stainless steel allows the turnbuckle to have a polished finish and aluminum allows the turnbuckle to remain lightweight.
Is the tie-down system something a Jeep Gladiator owner can install themselves?
Absolutely!  These tie-downs are a 100-percent no-drill application.  The receiver for the tie-downs comes with all of the required hardware.  The installation uses holes already on a Jeep Gladiator.  The tie-down insert is held in place with a pin and clip so it can be installed and removed easily.
All of our frame-mounted tie-down systems designed for trucks after 2001 are 100-percent no-drill installations to make the process easy.  Only a handful of our tie-downs designed prior to 2001 require drilling.  Our engineering team builds products based on the placement of the factory holes that already exist on the frame.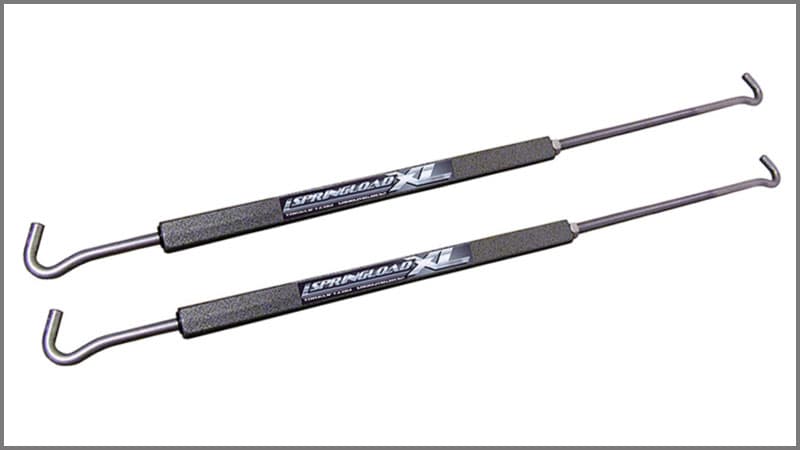 Are the turnbuckles spring-loaded?
Of course!  The Springload XL (above) and the Original Fastguns (below) are spring-loaded.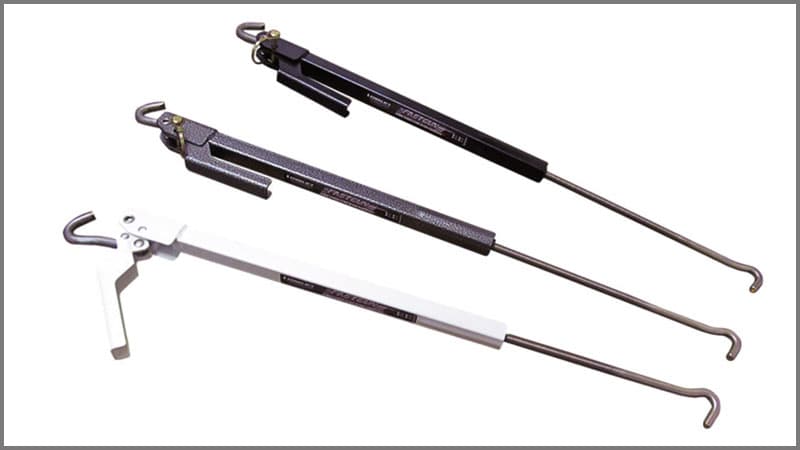 What does the complete system weigh?  Relatively speaking, we're not working with a lot of GVWR or payload capacity with the Gladiator.
All four tie-downs for the Jeep Gladiator will weigh right around 60-pounds total.  Our turnbuckles are made from lightweight aircraft-grade aluminum and range from 7 to 9-pounds per kit.
What is the MSRP for the Torklift Jeep Gladiator system?
The front tie-downs for the Jeep Gladiator will retail for $375.99.  The rear tie-downs retail for $312.99.
The tie-downs for the Jeep Gladiator are ready for purchase at Torklift International dealers all across the United States right now.  To find your closest dealer, go to Torklift.com, select where to buy, and enter your zip code.  It's as easy as that.
Does the system come with Torklift International's Lifetime Warranty?
When you're riding with Torklift, you're riding with confidence in our 45-years of engineering experience.  We truly design our products to last a lifetime.  This is why everything we produce comes with our Legendary Lifetime Warranty.
"When used with any of our fully spring-loaded turnbuckles, Torklift warranties the truck frame and camper anchor points for the extent of the manufacturer's warranty."
Is there anything else about the Gladiator system you want folks to know?
When used with any of our fully spring-loaded turnbuckles, Torklift warranties the truck frame and camper anchor points for the extent of the manufacturer's warranty.  Customers can give us a call to learn more about how that works. On top of that, our Torklift camper tie-downs are proudly made in the USA.
Is Torklift International considering any other additional products for the Jeep Gladiator?
We can't wait for the feedback we get and to learn more about what folks want us to build for the Gladiator.  With Torklift, the possibilities are endless and when the opportunity arises, we will be the first to jump at the chance to create more amazing products for our growing Jeep customers.  This is actually our second product for Jeep.  The first product we have made is a trailer hitch called EcoHitch for the 2015-2020 Jeep Renegade.
Are you looking to develop tie-downs and turnbuckles for any of the electric trucks currently in development?
Absolutely.  If you want to stick a camper onto any truck, we will make a kit for it.  Electric vehicles are consistently growing and people who buy them still want the opportunity to do all the things they love including camping and biking.
We are already in the electric vehicle market with our trailer hitch line called the EcoHitch which caters to many types of vehicles including Tesla electric vehicles.  Information about our electric vehicle offering can be seen on our website.
Torklift is always building new products to keep up with our ever-growing industry.  If camping goes in the way of electric vehicles, you can believe Torklift will build something to accommodate.
For more information about Torklift International's Jeep Gladiator tie-down system, visit their website at torklift.com.  Click here to request a free Torklift brochure.