In Timbren's first interview with TCM, we learn about the Ontario manufacturer's rich history, Aeon rubber spring technology, and what they recommend for truck camper and off-road trailer owners.  There's more to Timbren than you think.  A lot more.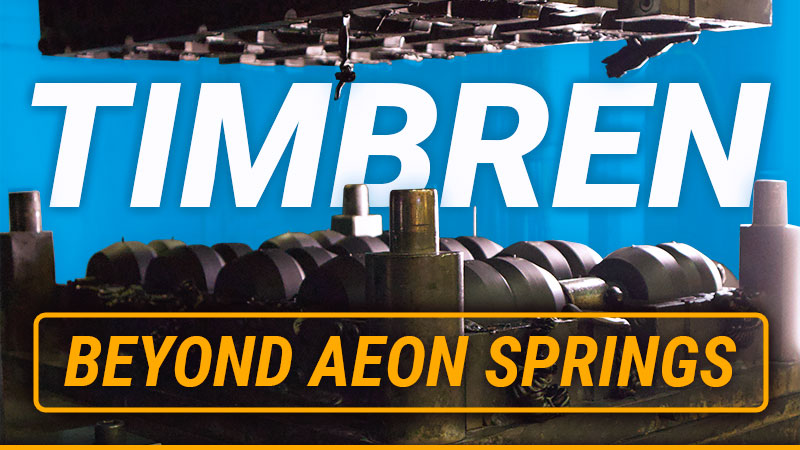 When Timbren contacted us in late 2021, we had to admit to not fully understanding the capabilities of their signature Aeon hollow rubber spring technology.  Perhaps the company and its products are doing too good of a job, a bit too quietly, and we had taken the company's offerings for granted.
We know plenty of fellow truck campers who run Timbren products on their rigs, but they don't say much about them.  Once installed, it seems, Timbrens quietly get the job done.  Isn't that exactly what we want a suspension product to do?
Andrew Hodgson, grandson of Timbren's Founder, Arnold Heron, is on a mission to accelerate Timbren within the truck camper and overland community and marketplace.  In Timbren's first interview with Truck Camper Magazine, Andrew shares the Ontario company's rich history and explains the many facets of their Aeon rubber spring including its design variations, evolution, and manufacturing process.
Of particular interest are the Timbren products he recommends for truck camper applications and how they interact with other common suspension components.  Truck campers who tow will also find their trailer suspension products of note.  If you tow a trailer off-road, Timbren's Axle-Less trailer suspension should be on your radar.
Since 1965, Timbren has manufactured pickup truck suspension enhancement products to reduce sag and sway and improve roll stability.  For a deep dive into Timbren the company and their product line, we talked to Andrew Hodgson, Timbren's Director of Sales & Marketing.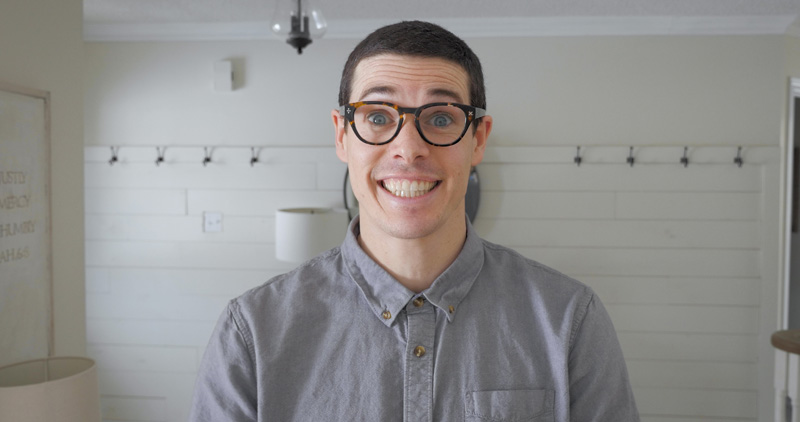 Above: Andrew Hodgson, Timbren's Director of Sales & Marketing.  All photos courtesy of Timbren Industries
Before we talk about Timbren's products for truck campers, tell us the story behind Timbren the company.
Timbren is a family-owned and operated company founded by my grandfather, Arnold Heron, in 1965.  He's 93 years old and still occasionally comes into the office.
My grandfather grew up on a farm playing with suspensions on tractors, trucks, and trailers. Before Timbren, he owned a company that manufactured paving equipment.  When he sold that business, he planned on retiring young.  Instead, he flew to London, England and visited a contact at the patent office.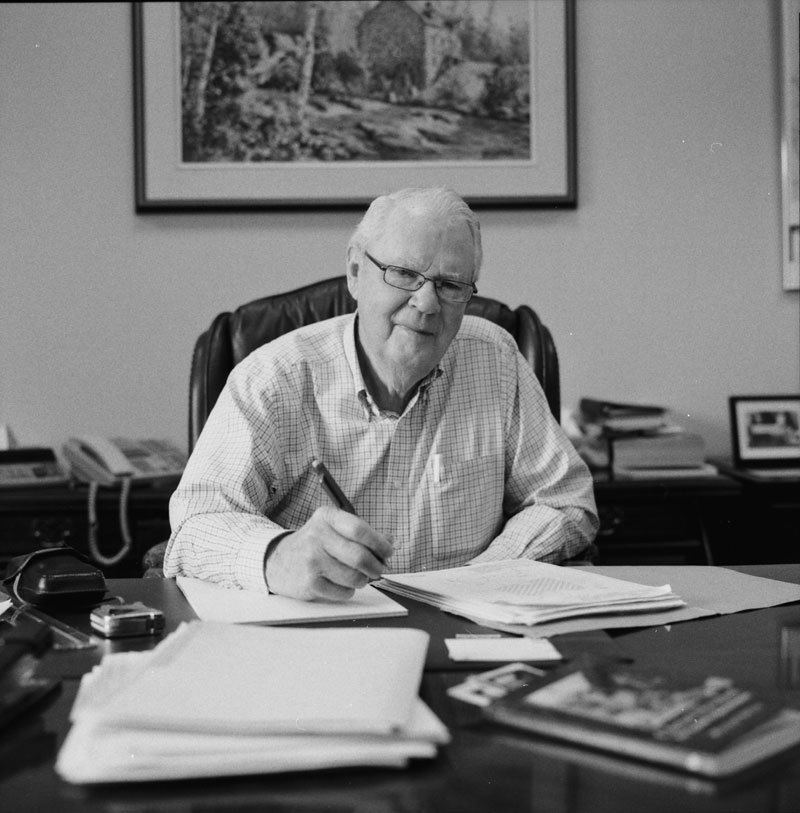 Above: Arnold Heron, Founder of Timbren Industries
He was shown about a half-dozen patents he could purchase, including one for an Aeon® rubber spring.  At first, he had no interest and returned to his hotel.  He had an early flight the next morning but couldn't shake the Aeon rubber spring idea.  The following day, he woke up early, bought the patent, hopped on a plane, and flew home.
Now that he owned the rights to the Aeon rubber spring, he founded Timbren and went full steam ahead.  In the early days, he did everything from sales to manufacturing. Timbren started with products for the heavy-duty truck industry.  Over the next 30 years, he developed Aeon rubber spring products for light-duty trucks, fleet vehicles and more.  Timbren performs especially well in the consumer pickup truck market including weekend warriors towing RVs and hauling truck campers.
In 2015, we celebrated our 50th anniversary. My father is now the CEO and some of the guys my grandfather hired are still working for the company.
That's quite the entrepreneurial legacy from your grandfather.  Where did the name Timbren come from?
Timbren is a combination of, "Tim" my uncle, and "Bren" my mother.  My uncle became an orthopedic surgeon, and my mom was a high school teacher.
Did you always know you would work in the family business?
Like a lot of kids who grow up around a family business, I helped out on the weekends.  Most of my early memories of working at Timbren are running machines in the shop when I was a teenager.  To be honest, I really didn't understand what I was making.  I knew what the manufacturing steps were, but I didn't have the big picture.
After high school, I went to university for religious studies.  During my time at university, I was operating machines at Timbren to pay for school.  When an opportunity at Timbren came up, I took it.  I am the oldest of the grandchildren and assumed the responsibility.  More than anything else, my grandfather's legacy is what drives me.  I could be doing other things, but that's true of many in a family business.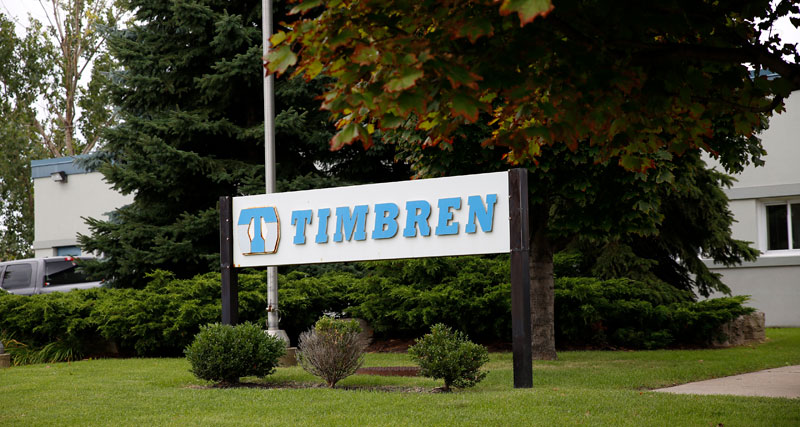 Has Timbren always been located in Whitby, Ontario?
We have always been in Ontario, but we have not always been at this location.  The original factory burned down forcing the company to move to Ajax, about 20 miles east of Toronto. About 15 years ago we moved to a larger building here in Whitby.  We are starting to max this building out now.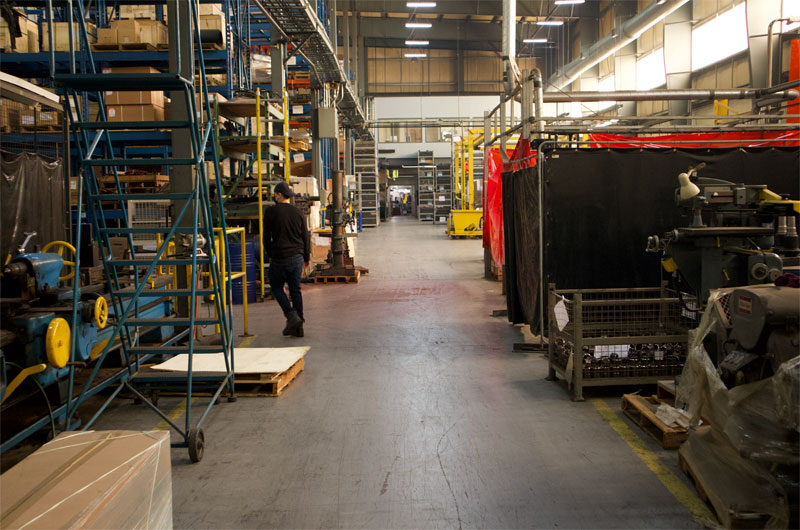 Are all Timbren products made in Ontario?
Yes, we manufacture all of our products in-house and take that aspect of our business seriously.  With just under 100 employees, we are not sourcing our products offshore or shipping jobs to other markets.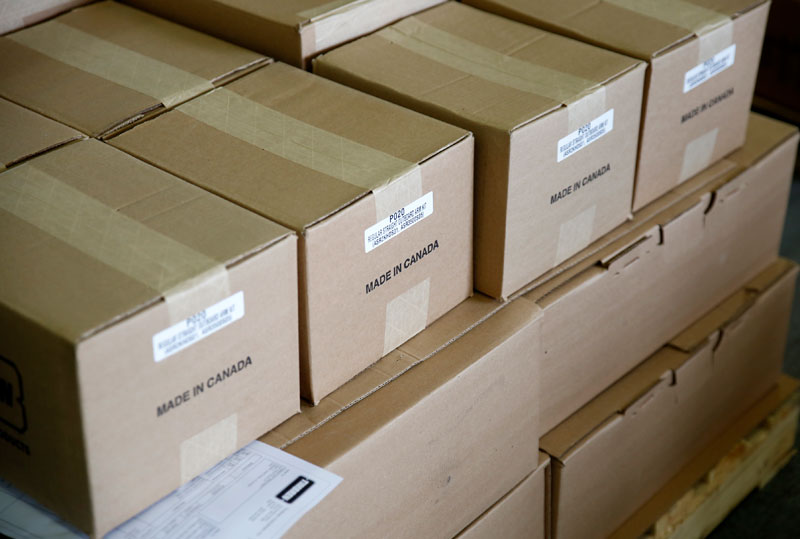 Except for fasteners and hardware, everything is made right here in Whitby.  We purchase raw steel and rubber and manufacture the finished product.  We pride ourselves in that.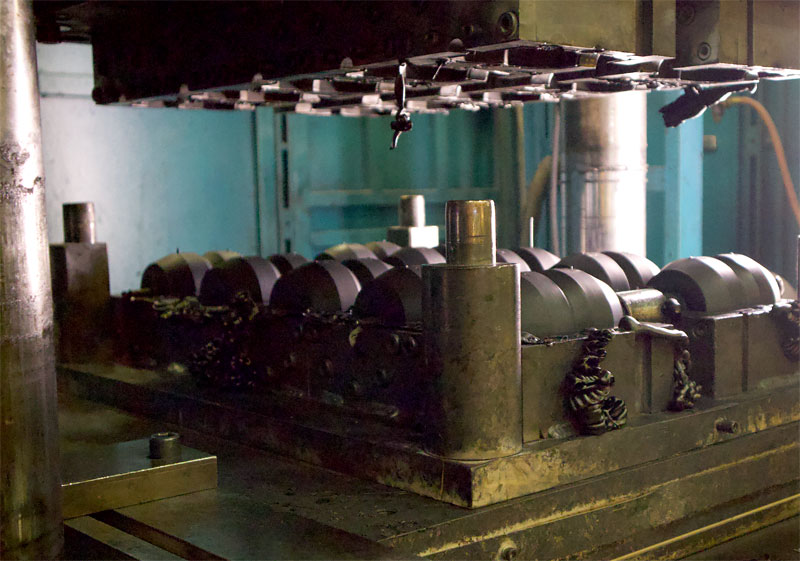 Above: Manufacturing Aeon rubber springs
At the core of most of Timbren products is an Aeon rubber spring. What is an Aeon rubber spring?
The Aeon rubber spring is the heartbeat of Timbren whether it's an SES kit or an Axle-Less trailer suspension.  It's what allows us to solve suspension problems for our customers.  It keeps them safe when they haul and tow.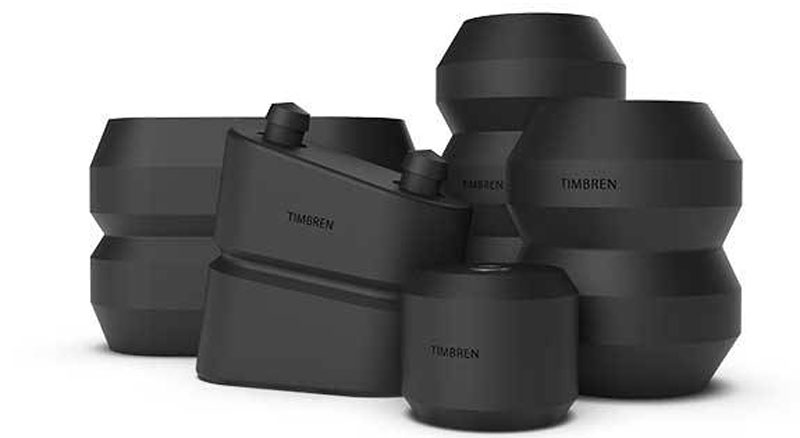 Physically, an Aeon rubber spring is hollow inside with different shapes and durometers (hardness) of rubber.  Different external shapes, internal cores and durometers allow us to stiffen or soften the ride of a vehicle or trailer.  Our engineers have studied how to manipulate the durometer, the shape, and the core to provide different characteristics and spring rates.
Our truck camper kit has a specific shape and durometer to support the weight and high center of gravity of a loaded truck camper.  The SES kit for slide-in campers is designed to control side-to-side sway and roll.  By adjusting the durometer, the shape, and the core of the Aeon rubber spring, we can solve that problem easily.  It's all in the characteristics of the shape and hardness of the rubber.
"Our truck camper kit has a specific shape and durometer to support the weight and high center of gravity of a loaded truck camper."
How is an Aeon rubber spring a progressive spring?
The more weight put on an Aeon rubber spring, the more it will push back.  In other words, the capacity of the rubber spring increases as the weight increases.  That's what we mean by a progressive spring.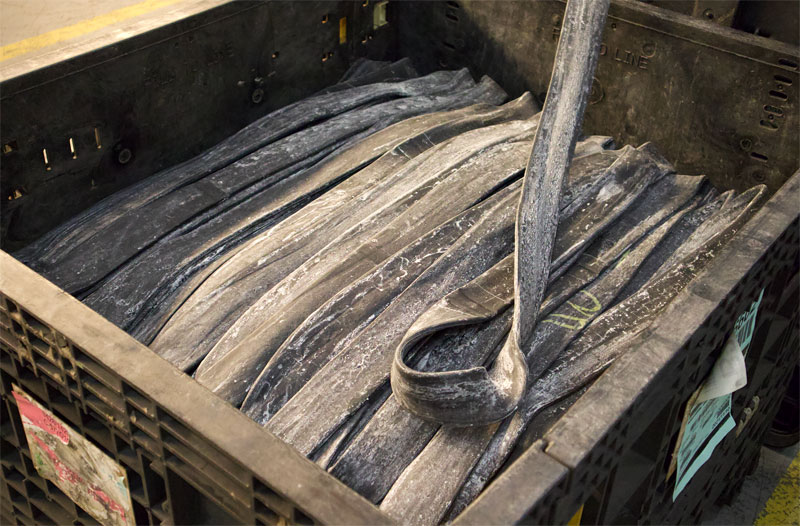 Above: Timbren uses a proprietary rubber formula
What kind of rubber does Timbren use in their Aeon springs?
We have our own proprietary rubber formula which is close to being 100-percent natural rubber.  We buy raw materials in different durometers from our supplier.  They have our rubber formula, and they adjust it to meet the specific needs of the product we're producing.
When it arrives, the raw rubber looks sort of like thick linguini (pictured above).  We're talking 2-inches thick by 4 to 5-inches wide.  It arrives packed in big crates as one continuous piece.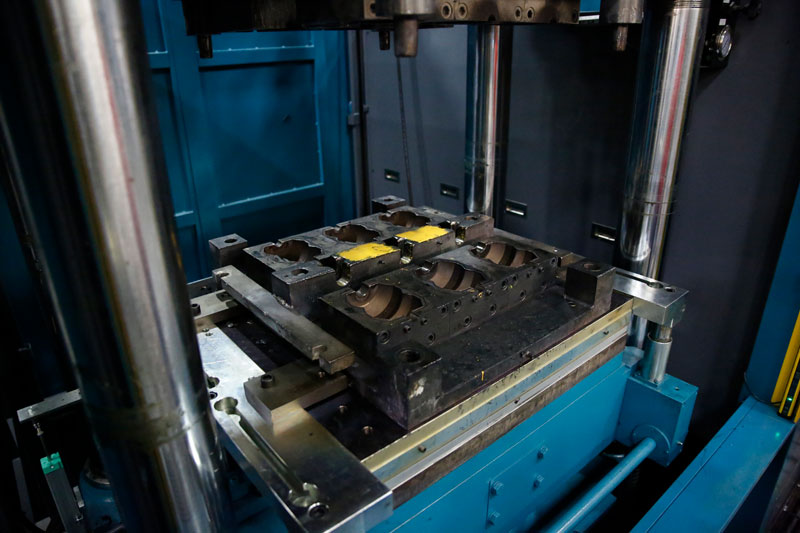 Above: Rubber spring molds in a press
What kind of equipment is necessary to turn that raw rubber material into an Aeon rubber spring?
We have some very advanced rubber molding presses from a company in Ohio.  The presses are 20 and 30-feet tall, work at high temperatures and can produce up to six different springs depending on the mold.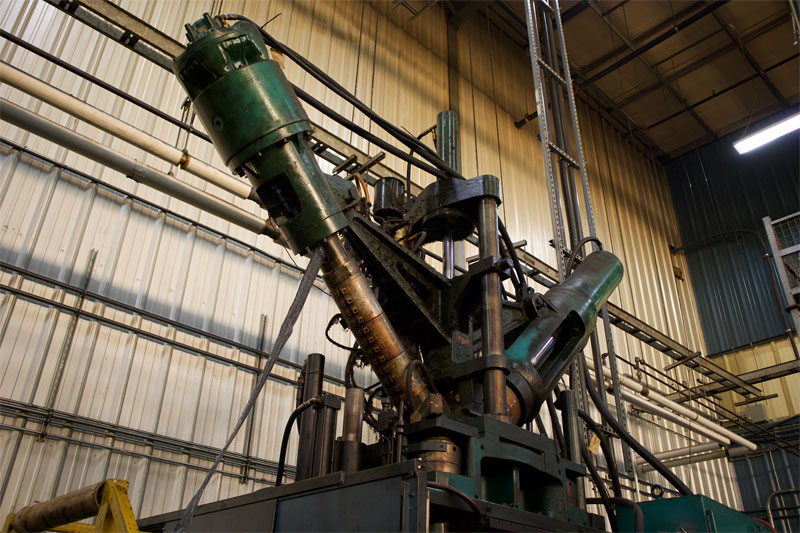 Above: Rubber being fed into spring press
Like most manufacturers, we are automated as much as possible.  All of our steel parts are now CNC laser cut.  We have a handful of robotic welders and are getting more into that space for sustainability and growth.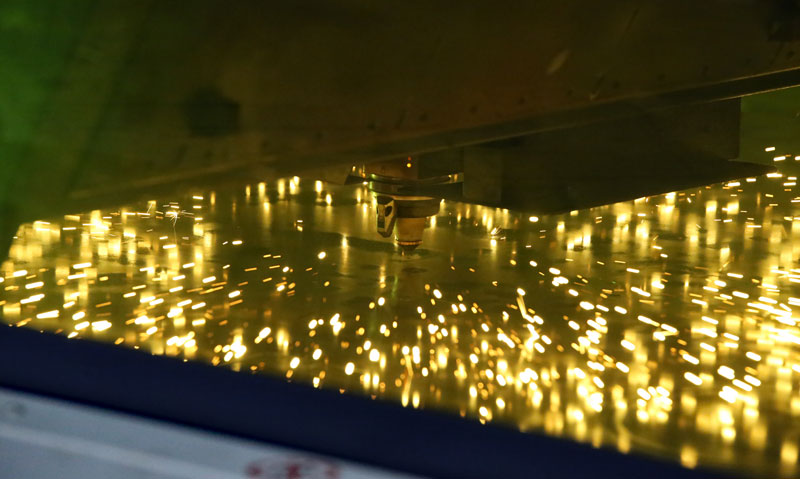 Above: A CNC laser cutting steel parts at Timbren Industries
How has the Timbren rubber spring evolved in design over the years?
When the original patent was purchased, there were two different shapes and sizes.  Over the years, we have developed many more versions with single, double, and triple convolutions.  These designs offer differing variable spring rates, self-damping properties, and vibration isolation.
In the truck camper market, we use a single-convoluted design that stiffens side-to-side motion.  I have a roof top tent on the top of my Jeep.  When there is a crosswind, I experience the side-to-side sway and roll, similar to a truck camper set-up.  For this application, a single convoluted Timbren system performs much better than a double or triple.  From decades of research and development, we know which Aeon spring design will work the best.
Are there front and rear Timbren suspension enhancement products, or just rear?
We manufacture both front and rear Timbren suspension products.  Most of our customer base use only rear kits.  Front kits are mainly for snowplows and products that add weight to the front of a truck.  For example, Texas ranchers put heavy steel bumpers on the front of their trucks creating squat.
Truck camper customers can use front kits to further improve side-to-side sway and roll.  Depending on how far forward the cabover comes or what's mounted on the front of the rig, a front kit will help with that.
How do Timbren customers figure out what products they need?
The easiest way is to go to our website and enter the year, make, and model of your truck into our product search feature.  That will give you the available options.
If you have a large truck camper, and/or trailer, you will need what we call a "severe service" kit.  If you have a lightweight camper, you might be able to use a regular-duty Timbren solution.
If you have questions, we have wonderful customer service.  We can respond via live chat, email, or our social media channels to help our customers solve their suspension problems.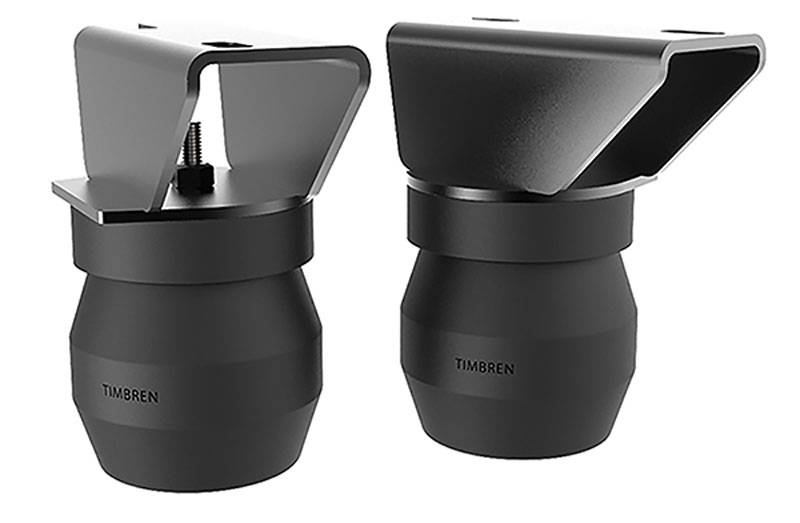 Above: Timbren's SES kit for slide-in campers
Timbren makes SES (Suspension Enhancement System) kits for slide-In campers.  What's included with these kits?
Everything you need for a DIY installation is included: the Aeon rubber springs, steel brackets for your specific truck, and all required hardware and fasteners.
Our SES kits are easy to install because they are bolt-on with no drilling, welding, compressors, or valves.  Ninety-eight percent of our products are bolt-on.  All of our products are bolt-on unless you have a Kenworth or Peterbilt.
"Honestly, most of our kits can be installed right in your driveway.  We had a guy from Newfoundland email us to say that the product only took him two beers to install."
That's funny. We do have readers with a Peterbilt.  They are Canadians, in fact.  Should Timbren kits be installed by a Timbren dealer, or are they DIY?
Except for the big rigs, Timbren kits are totally DIY.  If you have access to a vehicle hoist, that will make it easier.  Honestly, most of our kits can be installed right in your driveway.  We had a guy from Newfoundland email us to say that the product only took him two beers to install.
Once installed, what should a camper owner experience when driving their rig?
Better ride quality.  Less roll.  Less sway.  Less squat.  Smoother ride. I t's going to be a lot easier to drive.  The Timbren SES kit absorbs road shock and cushions the ride, so you don't feel big bumps.  White knuckling is gone.  Harsh bumps are history.  Overall, it's a much better driving experience.
When your truck camper is not loaded, our Aeon springs don't engage with your suspension.  Only when the camper is installed do our springs engage and do their job.
What kind of maintenance is required once the Timbren system is installed?
There is no maintenance.  And if there are any issues, you have a lifetime warranty.  We've got your back if there are any problems with our product.
A lot of truck camper owners tow boats, ATVs, trailers, etc.  How do Timbren products impact towing?
My dad has a big boat.  When he first hooked up his boat trailer to his truck, the vehicle squatted way down.  Timbren products solved that problem and made sure his truck sits level.  Timbren products also help with trailer sway.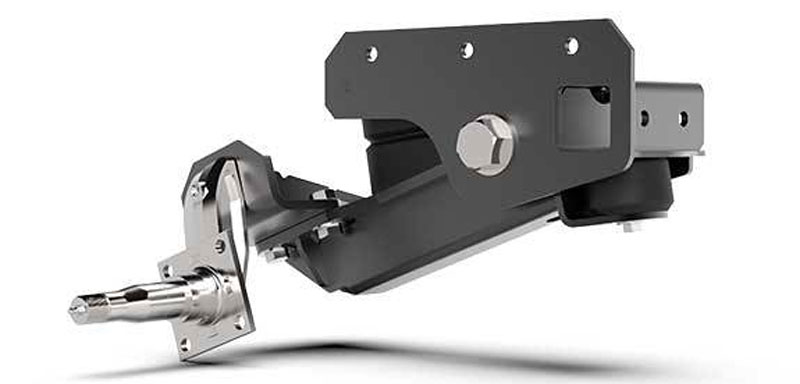 Above: Axle-Less trailer suspension for towed off-road trailers
Tell us about your trailer suspension products.
Customers who take their trailer off-road love our Axle-Less trailer suspension.  It's an off-road beast that dramatically improves ground clearance and durability.  In 2011, the Axle-Less trailer suspension won a SEMA Best New Off-Road Product Award.  It's bullet-proof and thrives in the overland space.
For anyone who wants to build a trailer or retrofit an existing trailer, our Axle-Less trailer suspension is a great option.  If you stick to the pavement, we have trailer suspension products for that too.
Are Timbren products designed to be used with upgraded shocks, air bags, and rear sway bars?
Our SES products are not designed to be used as a sole suspension.  Whether you're using factory, Rancho, or Bilstein shocks, they must be in good working order.  On a light-duty pickup, our products are installed in the same location as airbags – so you can't use both.
If you already have sway bars, our products will work to support them.  They will not 'fight' each other.  If you don't have a sway bar, we recommend trying a Timbren system first as it will solve the same problems with less weight, cost, and loss of ground clearance.
Are the Timbren Active Off-Road Bumpstops applicable to truck campers?
Probably not.  Our Active Off-Road Bumpstops are designed for Tacoma, 4Runner, and Jeep.  It's a softer, shorter rubber spring designed to be more of a damper than a helper spring.
What is the MSRP for Timbren SES Kits for slide-in campers?
It depends on the size of the vehicle.  For half and three-quarter tons, (and a few one-tons), it's $265 USD.  A front kit with a single convoluted spring to support and eliminate side-to-side roll is also $265 USD.
Should readers purchase Timbren products direct, or through a Timbren dealer?
That's totally up to the customer.  Either way, you get the same level of customer service and the same lifetime warranty.  We work with national distributors so it's likely that truck camper dealers have access to our products.  We also have a list of Timbren dealers on our website.
Timbren offers a satisfaction guarantee with its products.  What is this guarantee and how does it work?
Our satisfaction guarantee is for 90 days.  If our customer has a problem with our product, we will do an exchange or refund their money.  We prefer that our customer service team help them.  They will bend over backward to make sure their suspension problem is solved.
How does the Timbren Lifetime Warranty work?
Timbren customers have a lifetime warranty for as long as they own the vehicle.  If they still have the same Timbren kit in 20 years and there's an issue, we will send them a replacement free of charge.  We always say, "When you buy a Timbren product, you become part of the Timbren family.  We've got your back!"
If I'm in Gooseneck State Park in Mexican Hat, Utah and one of my Timbren rubber springs fails, what do I do?
Call Timbren.  We're going to send you replacement parts at no charge.  If you have an address at the state park, we'll send it there.  We will make sure your vehicle is covered.
Are you working on additional products relevant to the truck camper marketplace?
One hot-off-the-press item is our spacer kits designed for lifted trucks.  Our spacer kits work in conjunction with our SES kits to properly adapt them to lifted trucks.  You no longer need to sacrifice function for style.  You can have your cake and eat it, too.
Is there anything else you want the truck camper community and marketplace to know about Timbren products?
We love trucks and campers and are committed to manufacturing suspension solutions for the truck camper marketplace.  We want to double down with truck campers.  I'm very optimistic about the opportunity and look forward to showcasing how Timbren products solve common truck camper problems.
For more information on Timbren, visit their website at timbren.com.  Click here to request a free Timbren brochure.