We like the wireless remote on the jacks for fast lift and lowering and for running all the jacks up and down at once.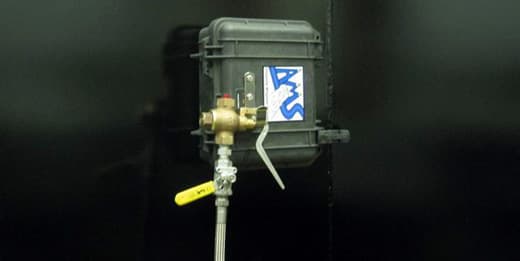 Above: The Avalauncher's gun trigger holder
During the development of the Avalauncher, Wade and the Alaska Department of Transportation also worked with Hal Hartman, a private contractor from Colorado who specializes in avalanche gun training.  Hal has been in the business for forty years and is a physicist by nature.  Hal travels around the world and trains crews on how to safely and effectively use the guns to hit targets.  His training allows these crews to get to work quickly and safely without trial and error."
Above: Bottle holder and waterproof regulator, the Avalauncher trailer, the Avalauncher's side openings
When we contacted Hal Hartman, he told us about the Avalauncher from a training perspective.  Here's Hal in his own words on the Avalauncher:
"The Avalauncher is a precision device that needs to rest on a level and stable platform.  When you fire it, there is heavy recoil.  If the Avalauncher is sitting on a platform on the ground with tires in contact with the ground, there is a force transfer to spongy tires.  If it is spongy, you see a decrease in accuracy and you cannot repeat shots, which becomes expensive and compromises safety.
But, if the platform is level and stable, then crews like ADOT can sweep out a couple of dozen targets in a few target zones.  On their first go around, they had the platform leveled and firing in seven to eight minutes.  It was exceptional!
ADOT and the public moves along Klondike Highway throughout the winter months. For safety and commerce based revenue, it's important that they have devices like the Avalauncher."
Thank you Wade Washka and Hal Hartman for your expertise on the Avalauncher.