Adventurer announces new Happijac jacks, two-way tread bumper steps, a new audio/video system with HDMI standard, cabover USB charging, omni-directional HDTV antennas, and more standard features.  And an all-new 50th anniversary model is on the way.

Adventurer Manufacturing announces annual model year updates more than any other truck camper manufacturer on Earth.  That might come as a shock to some industry veterans and truck camper enthusiasts, but the evidence is right here.
Go to Truck Camper Magazine's back issues and you'll see Adventurer Manufacturing's annual announcements like clockwork; May of 2018, June of 2017, May of 2016, July of 2015…  More importantly, Adventurer's model year updates consistently contain meaningful changes, discontinued models notifications, and new camper news.
Where other truck camper manufacturers either don't update their campers every year, or don't report their updates publicly, Adventurer makes steady model year updates, announces them in Truck Camper Magazine, and debuts promised new campers on schedule.
There's another significant aspect of Adventurer Manufacturing's new model year conduct that deserves praise.  Adventurer Manufacturing holds their model year change until they are ready to deliver campers that contain that model year's updates.  Put another way, when you step into a 2019 Adventurer truck camper, it will have the 2019 Adventurer updates.
Unfortunately, this isn't standard policy in the RV industry.  Too many manufacturers change model years early simply to one-up each other, and push retail sales.  These "new model year" units are 100-percent identical to the previous model year, minus the new model year designation and sticker.  Truck Camper Magazine believes this is both misleading and dishonest, and celebrates Adventurer for not following this regrettable industry practice.
For 2019, Adventurer has some very exciting news.  Not only are they continuing to advance and refine their truck camper line, but they're also working on a breakthrough new model to celebrate 50 years of truck camper manufacturing.  For now we have to be satisfied with a tease and a few morsels of information.  Thankfully, that's not all that's been going on in Yakima.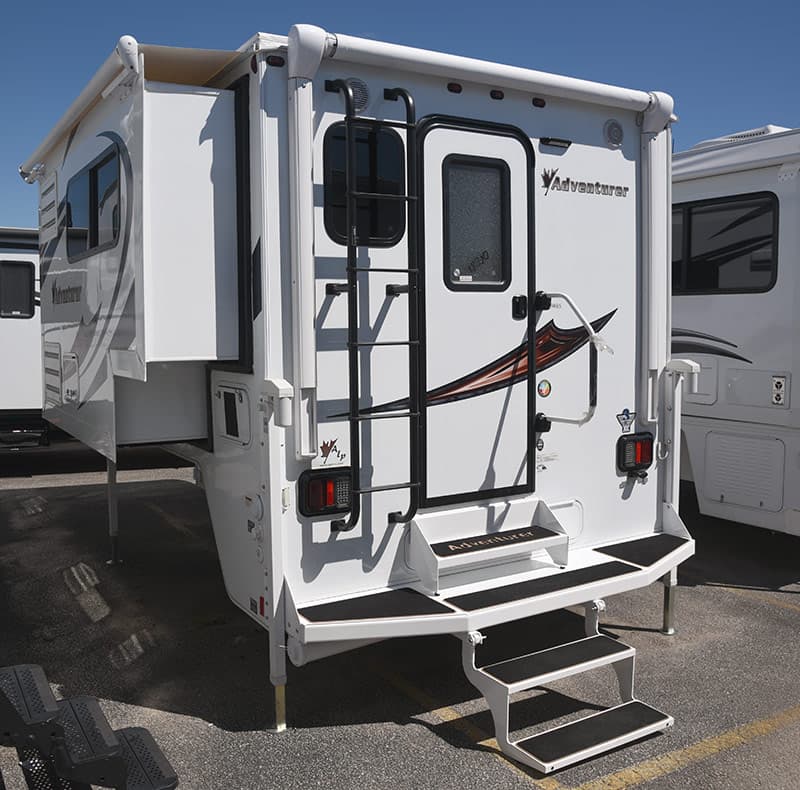 Above: The Adventurer 89RBS, single-slide, wet bath truck camper
TCM: Is Adventurer announcing any new models, or discontinuing any models for 2019?
Greg: As we have done many times in the past, we allow the marketplace to direct which models stay in production and which are discontinued. For 2019, we are discontinuing the 86SBS. It was our number one seller for many years, but the 89RBS has cannibalized its sales.
The 89RBS has been a huge success because of its ability to fit long and short bed trucks, generator compatibility, and wide open floor plan. The Adventurer 89RBS also won Truck Camper Magazine's Readers' Choice Award for Best Truck Camper of 2016, and is now our number one slide-out model.

Above: The base color is just a shade darker
TCM: Adventurer hired an interior design team and redesigned all of its interior decors for 2018. For 2019, you are changing the base fabric to a darker color. What's behind this change?
Greg: It's a very minor change. You really can't notice it in photography, and can barely see it in person. The color is just a shade darker so it doesn't show dirt as much. Look at it in person, I can't really tell the difference.
TCM: Has one of the 2018 interiors out performed the others? Which one do folks like the most?
Greg: Typically one does stand out as more popular, but that hasn't happened with the new interiors. The news decors have been equally popular. When we build open units in a run we build Four with Carbon, three with Bark, and three with Chestnut. They have been very consistent.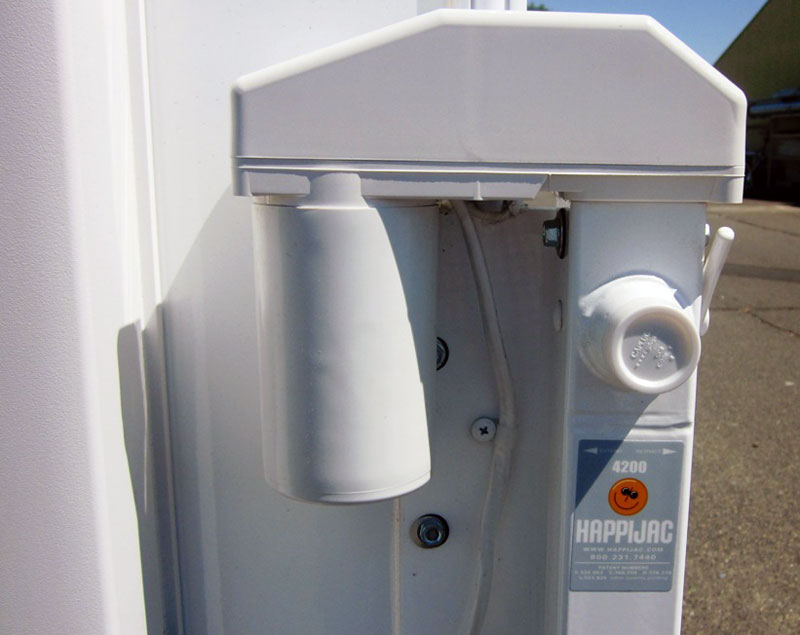 Above: 2019 Happijac 4200 electric jacks
TCM: For 2019, Adventurer Manufacturing is upgrading to the new Happijac 4200. How is the new Happijac 4200 different than the outgoing model?
Greg: The 4200 is Happijac's next generation of jacks. The 4200 has a new and quieter motor, higher capacity, is more field serviceable, and is even more reliable. After the 4200, Happijac is working on another jack for us with a different gear drive system.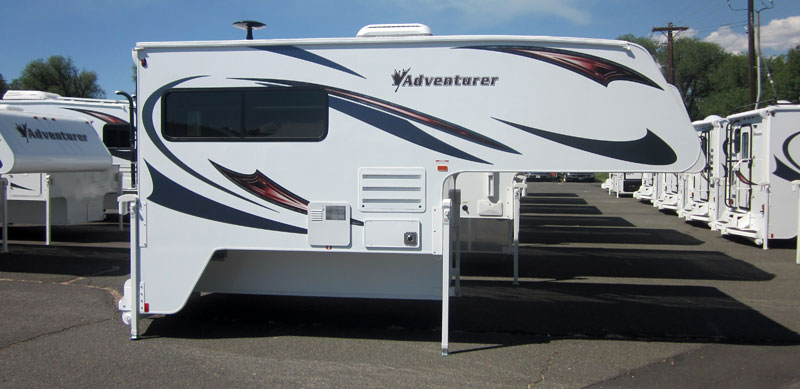 Above: A 2019 Adventurer 910DB with new Happijac 4200 jacks
TCM: Which Adventurer models are receiving the new Happijac 4200 jacks?
Greg: The 4200 will be installed on everything except the 116DS double-slide. The 116DS gets the heavy duty 4800 model with 2,500-pound capacity.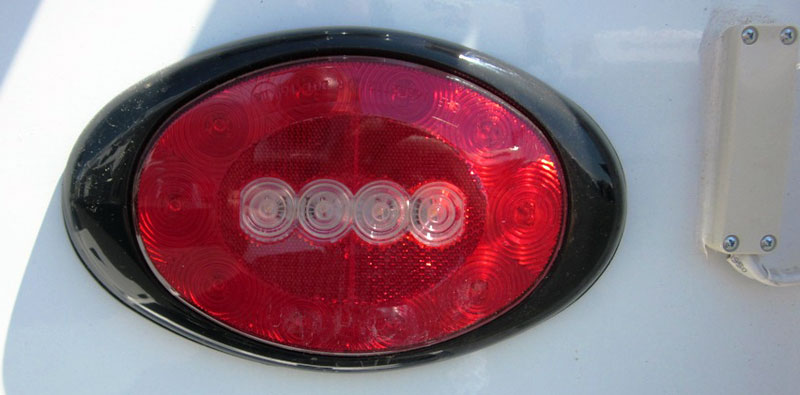 TCM: The new tail light certainly looks different. Is this simply an aesthetic change?
Greg: The new tail light has a number of good features. Most importantly, it's a brighter and safer LED light. We first installed it on the rental motorhomes we build. When I first saw it during a motorhome test drive, I was sold. Even though the light is smaller, it's much brighter and easier to see.
The new tail light also has a smaller footprint on the back wall. That is beneficial as it allows us more options for locating jack brackets and other items. It may also allow for larger compartment doors in the future.
Another benefit of the new light is that it's completely sealed. The wiring is 100-percent encapsulated. There's nothing inside the light that is exposed to the elements.
TCM: How do you test to make sure a product like the new tail light is truly water tight?
Greg: We put several examples of new tail lights in a bucket of water for days to see if they would still light, and to make sure they don't draw moisture and leak. They passed all of those tests.
With a flat surface it is easy to seal tightly. It's pretty much impossible for this light to leak. It also gives us a new look. We will also be integrating a light into our new bumper design.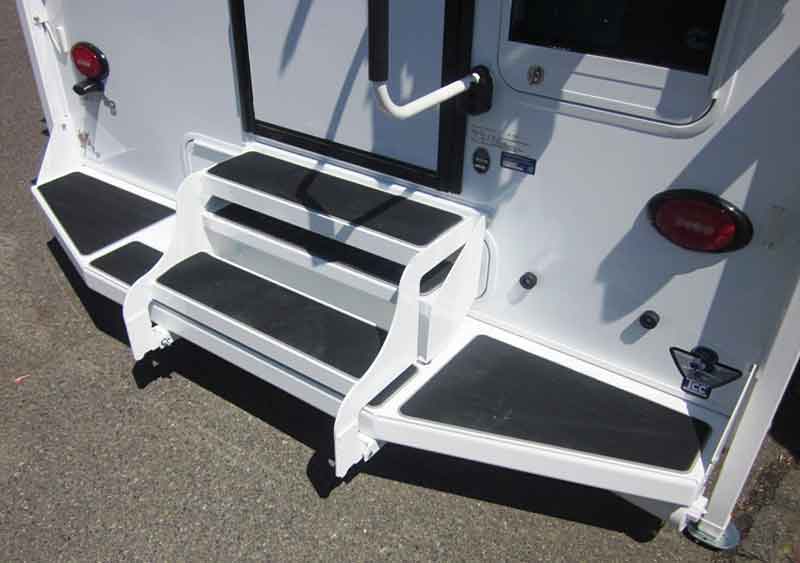 TCM: New bumper design?
Greg: I can't tell you anything more about the new bumper yet, but I can tell you about our two-way tread step upgrade on the Comfort Steps. When you fold the step into the travel position the underside is also finished with a flat step plate. With this change, you can use the steps in either the travel or camping position.
We actually developed this concept about six years ago. We even had a prototype made by our bumper manufacturer. At the time, we were concerned about the cost being added to the bumper. For 2019, our bumper manufacturer lowered the price of the bumper, even with the update. It's a fantastic feature that Adventurer owners are going to love.

TCM: The new Jensen JWM70A stereo system offers some nice upgrades including smartphone app controls, HDMI connection, 1-amp USB charge port, and a clock with an alarm. Is the new stereo the result of a Jensen model change or is it a step up from what you were offering?
Greg: A little of both. Jensen discontinued the old model, and the new stereo is a nice step up. The 1-amp USB charger is an upgrade. The HDMI quality is also superior to the RCA out of the outgoing unit. We are using HDMI for all main television connections in our 2019 models. HDMI costs more, but the quality is much better.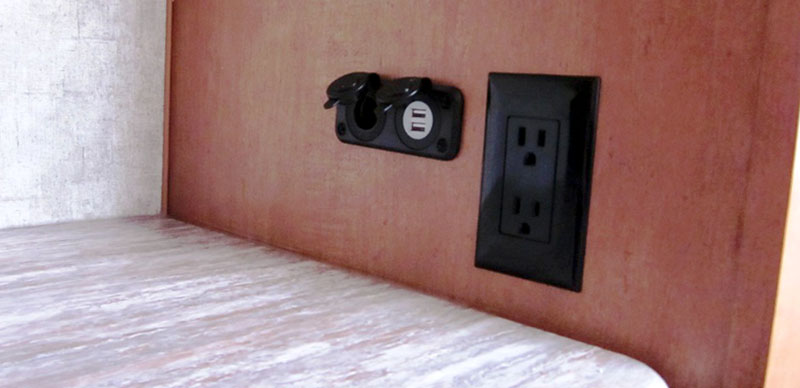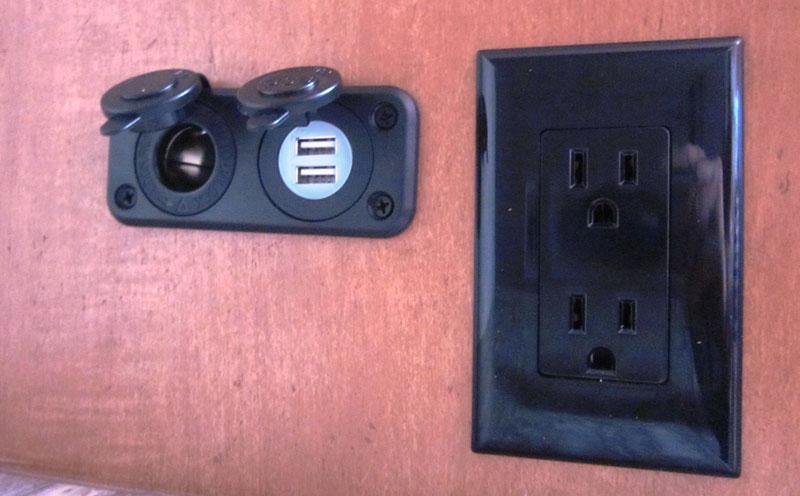 TCM: We like to see 12 volt and USB chargers throughout a truck camper. Tell us about the new 12 volt and USB charging station in the 2019 Adventurer models.
Greg: For the last two years we have had a 12-volt receptacle in the cabover for a CPAP machine. Customers also plugged in USB adaptors into the 12-volt receptacle. For 2019, we added to a charge point for both 12-volt and USB outlets. Everyone is charging more electronics.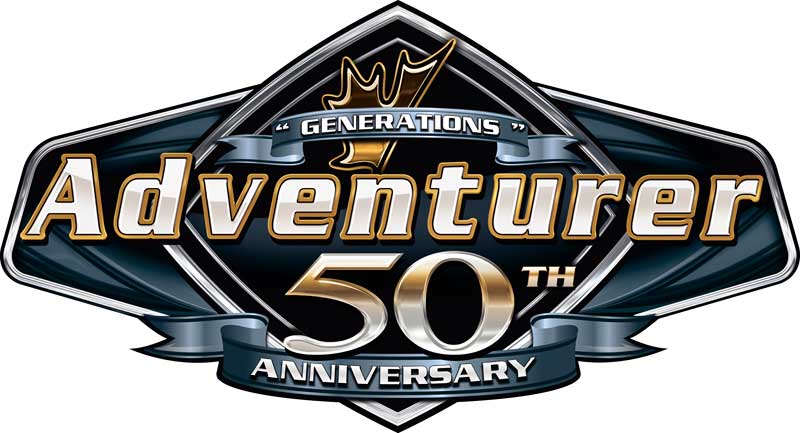 TCM: Founded in 1969, Adventurer is celebrating its 50th anniversary in 2019. How are you commemorating a half-century of truck camper production?
Greg: We are doing two things. First, we are placing a 50th anniversary logo on every model. We're also coming out with a 50th anniversary model this year.
TCM: Can you tell us anything about the 50th anniversary model at this time?
Greg: It will be completely unique. It's a completely new model with totally new features on the interior and exterior. It's a ground up all-new celebration for our 50th anniversary.
As a teaser, it has a full-booth dinette, a bigger bathroom, new cabinet features, totally different wood tone, exciting new electronics, frameless windows, and more. We will only be building 60 of these campers, so they will be truly special.
Above: The new omni-directional dome antenna
TCM: We can't wait to see what you've come up with. A few years back, Adventurer Manufacturing adopted the Winegard flat television antennas. For 2019, Adventurer is installing a new omni-directional dome antenna. What's the story behind this new antenna?
Greg: The Winegard flat television antennas were great in that we didn't need an antenna on the roof. Unfortunately, we received some complaints that the antenna would get interference from the installation, or would not operate in certain directions. If you turned 90 degrees the reception was perfect. If the camper was in another direction, it would fall into a dead zone. It didn't happen often, but happened enough that we looked into it.
For 2019, we are changing to an omni-directional dome antenna which has the best range and coverage from our tests. It's a traditional exterior roof mounted television and radio antenna. It allows us to take off the AM/FM whip antenna that was installed before. Now we are using one antenna and getting better reception for the radio and the television.
TCM: The 2019 update information we received stated that the new antenna isn't being installed into the 80S, 80RB, or 80GS. Why is the new antenna not being installed on these models?
Greg: We don't offer a television in those models because they are intended for smaller trucks where low weight is the priority. Without a television, there's no need for a television antenna. The 80-series also doesn't get Heki skylights. We are trying to keep weight down on the 80RB, 80S, and 80GS.
TCM: Does the 80-series have full walk-on roofs?
Greg: Yes, they have full walk on roofs. They have one inch roofs instead of two inch roofs like our other models do.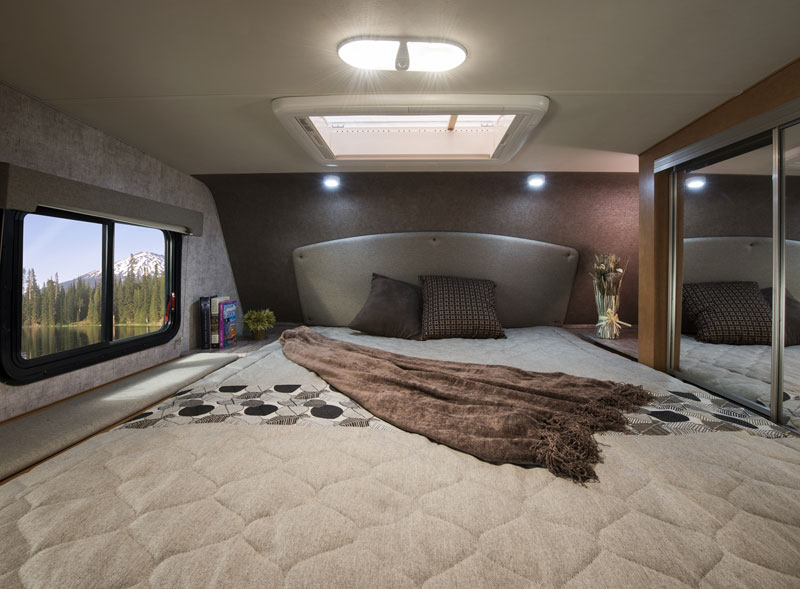 Above: A Heki skylight in the Adventurer 89RB
TCM: The Heki skylight has been a popular option for Adventurer truck campers for some time. For 2019, Adventurer is making Heki skylights standard. Why is the Heki being made standard?
Greg: Heki skylights were being ordered over 97-percent of the time. There are very few units ordered without it. We're making them standard for 2019.
The Heki and oven will go into our base weight and pricing. Some of the price increases this year were because of options that become standard, like the Heki skylight. But, we were able to save weight because the roof framing can be done differently since all models receive the Heki. We also get better pricing on the Heki because all campers we build will have it.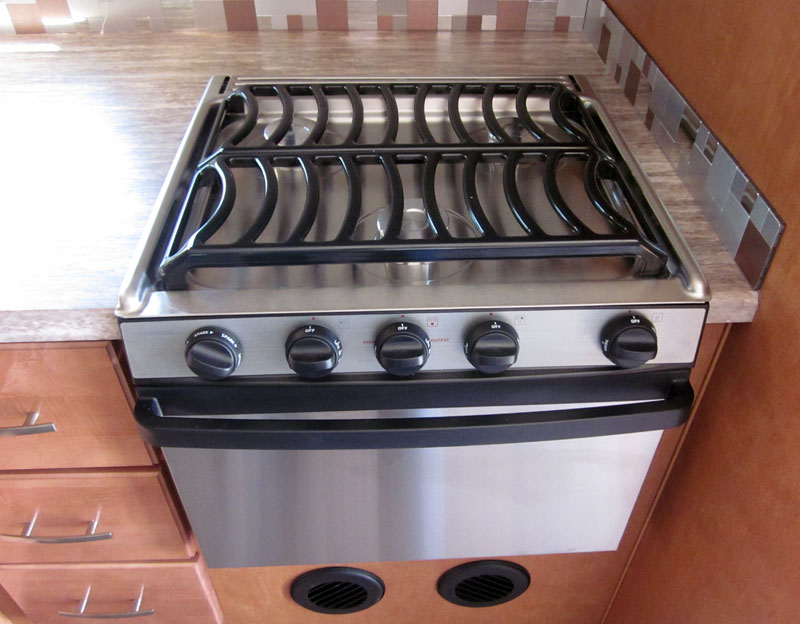 TCM: Previously, an oven was optional for the Adventurer 86FB and 89RB. For 2019, an oven will be standard in those units. Why is this option becoming a standard feature?
Greg: We supply Fraserway RV with their truck camper rental fleet. The 86FB and 89RB are the most popular Adventurer models for that rental fleet. When Fraserway orders campers for their rental fleet, they delete items like ladders since they don't want customers on the roofs. Put another way, the rental market doesn't want or need many of the options we commonly build into our retail units.
When Fraserway is done with a rental truck camper, they de-fleet that camper and retail it. For 2019, they have asked us to make ovens standard on the 86FB and 89RB as these features improve the sell-ability of that model after it is de-fleeted. That's one reason why an oven is now standard on these two models.
We have a 20-percent increase in production demand this year, so we need to look every way to save time on the production line. Making an oven standard simplifies the build, increases production, and adds a nice feature.
TCM: The 80S is getting a door on the wardrobe closet for 2019. What was there before?
Greg: We had netting there because we were concerned about weight. We wanted the 80S to be a possible payload match for a half ton truck, but customers are matching it with three-quarter and even one-ton trucks. Customers with three-quarter ton trucks have been ordering 80S because they are less money and it doesn't have the size and weight drawbacks of a bigger camper.
TCM: Adventurer announced the 80S in November of 2017. How's it doing?
Greg: It's been a strong seller. It will be in our top four or five best sellers this year.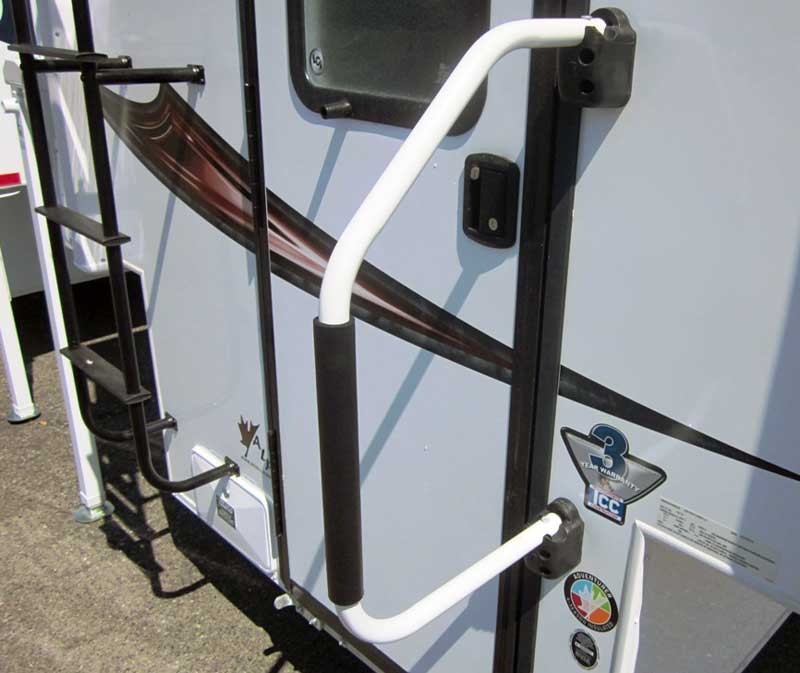 TCM: The 80-series is getting folding assist handles for the entry doors. This is a welcome update to improve the mobility of these models. Are folding assist handles now standard on all Adventurer truck campers?
Greg: Yes, folding assist handles are now standard on all Adventurer truck campers. From your survey and mobility issue articles, we realized that this was something we needed to do.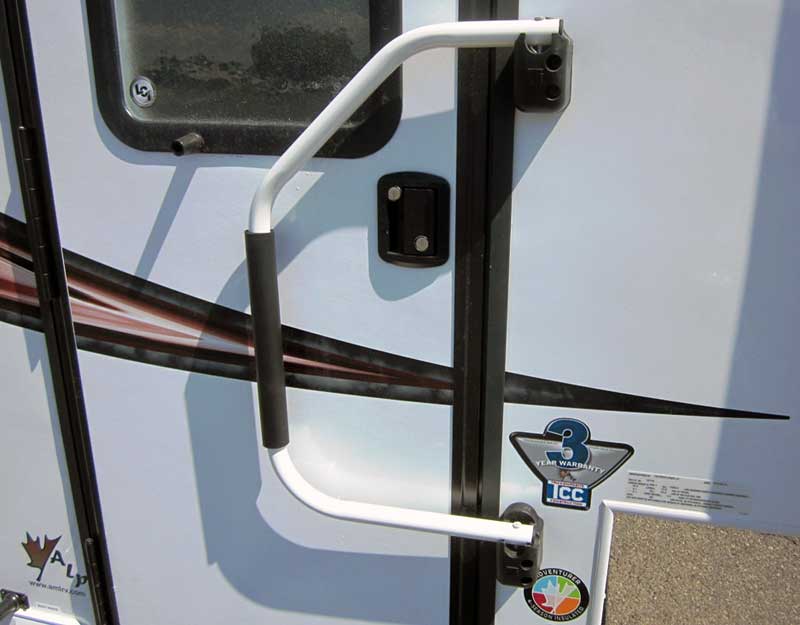 The 80-series campers require scissor steps, so they need an assist handle. We had a standard handle before, but it was difficult to reach. We looked at several different handles and decided we liked this one the best.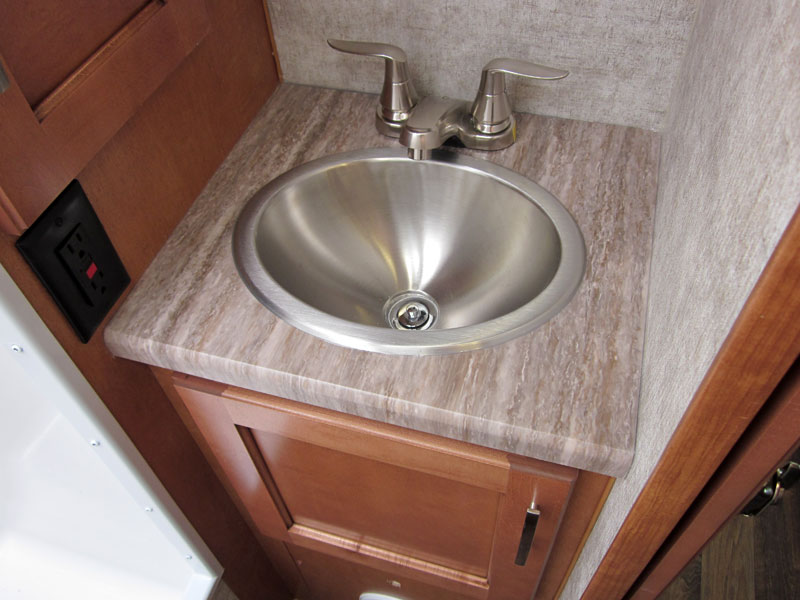 Above: The stainless steel vanity sink in the 2019 Adventurer 910DB
TCM: The 910DB is getting a new stainless steel vanity bowl sink. Is this one of the items that you didn't get to with the 2018 remodels?
Greg: We wanted the kitchen and bathroom sinks to both be stainless. Customers love the stainless steel look from our 2018 interiors and asked about upgrading the bathrooms to stainless as well.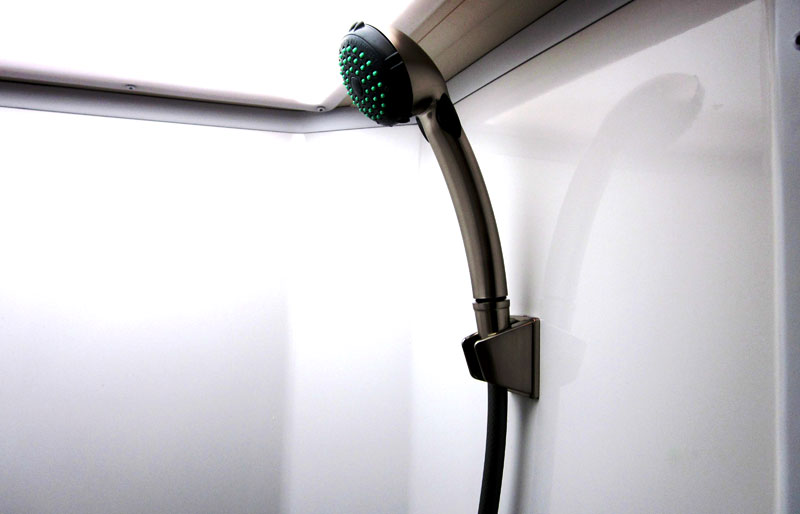 Above: 2019 Adventurer 910DB brushed nickel shower head
We upgraded to brushed nickel shower faucets last year, which made the non-stainless sink stand out even more. For 2019, we have upgraded our dry bath sinks to stainless.
TCM: Could someone with an older 910DB order one of these sinks from Adventurer?
Greg: Unfortunately it is a different size and shape and would require a cabinet modification to make it work.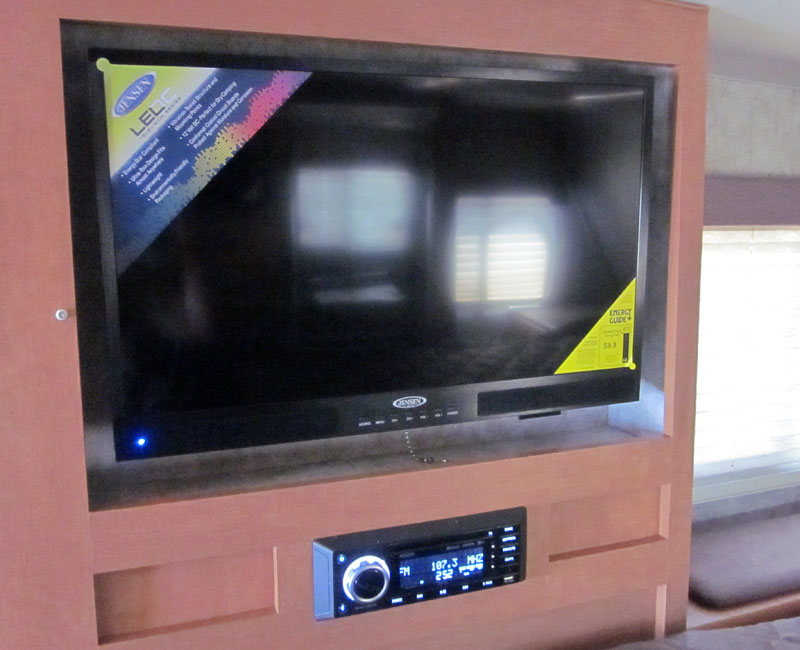 Above: The 2019 Adventurer 89RBS has a 28-inch television option
TCM: The 89RBS now has a 28-inch television option. What changes were made to make the larger television possible?
Greg: We have the 28-inch television in the Eagle Cap 811, which is the sister to the 89RBS. We had the cabinet designed for a larger television. The 19-inch television looked tiny. We were going to redo that cabinet so that we could install a larger television like the Eagle Cap 811 has. We already had the drawings for the 811 cabinet, so it was an easy adjustment. The new cabinet and 28-inch television has a cleaner and more finished look.
TCM: One of the more interesting 2019 option updates is a change from a 4-step Torklift GlowStep to a 5-step Torklift GlowStep. Did customers need an additional step?
Greg: Unlike the 80GS and 80RB, the 80S has a basement which puts it higher off the ground. For the 80S, the five step GlowStep makes more sense. It also work wells on the 80GS and 80RB.
A lot of dealers will order the camper without a step system and then install if the customer wants it. You don't see GlowSteps ordered a lot from the factory. We recommend getting them from your dealer so you get a better fit for your truck.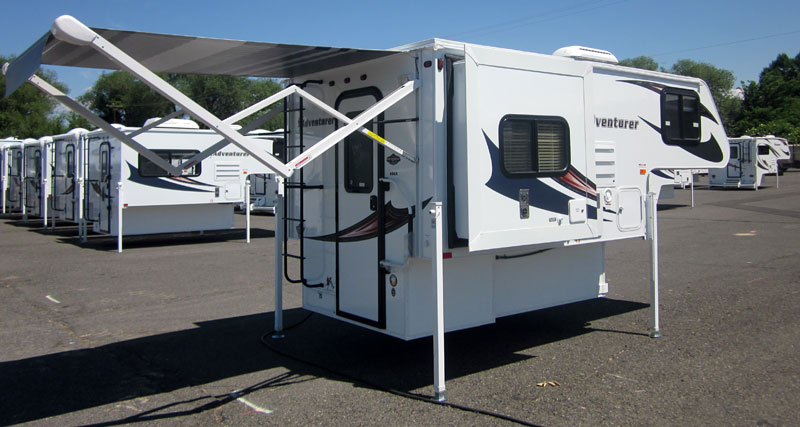 TCM: For 2019, the 80-series campers (80GS, 80RB, and 80S) have a new optional electric rear awning. Tell us about the new electric awning and why it's better than the Truckin awning Adventurer was using.
Greg: The Truckin awning was a narrow 4-foot wide manual awning. The operation was a challenge. You had to extend it and then pull it out. The awning wasn't being used as much because it was challenging to use.
We have had several requests for an electric awning. The electric awning we went with is lighter weight, has better operation, and is larger in width. This awning gives customers a nice upgrade.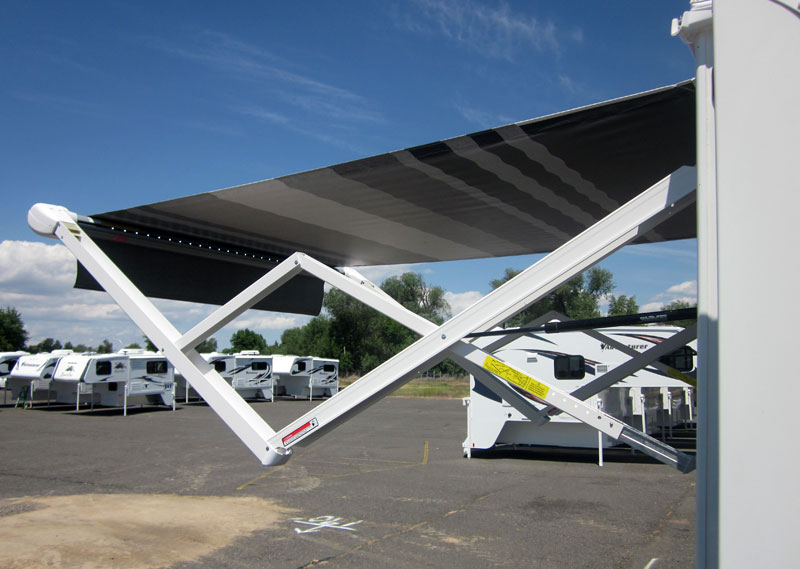 TCM: Are Adventurer truck campers increasing in price for 2019?
Greg: On average, there's a two and a half percent price increase across the board. The price increase is primarily from the added standard features. The rest of the price increase is from increased material and labor costs.
TCM: When can we expect to hear more about the 50th anniversary model?
Greg: Our 50th Anniversary model is being announced this summer. You will see some out of the box thinking. We can't wait to share it with your readers. We're putting all of our engineering efforts into the 50th anniversary model.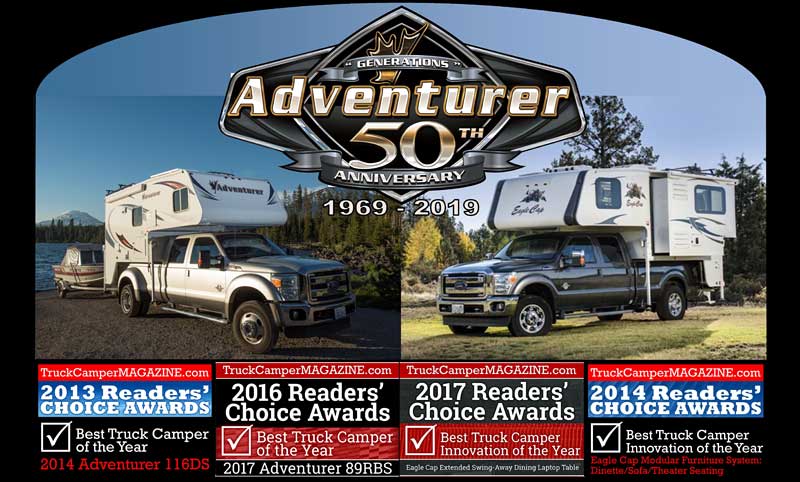 TCM: Is there anything else about the 2019 Adventurer updates or Adventurer Manufacturing that you want folks to know?
Greg: Business is booming and growing. We have hired another engineer. We're even looking at more expansion on our current building to give us more room. We want to have more support areas. We're working with the city on the permits. We're also looking at the possibility of a whole new facility.
I would also like customers to know that our 2019 Adventurer truck campers are truly updated 2019 models. Other truck camper manufacturers put new model years on their campers just to one-up each other for sales. Those new model year campers are no different than previous year's model, but they are labeled 2019. For some companies, the next model year is just a label.
Adventurer Manufacturing does not follow this practice. When you walk into a 2018 Adventurer and then a 2019 Adventurer, you will see differences in the product. When we change to 2019, it's a solid change with significant upgrades and improvements. We believe this is the best practice for both our dealer network, and our customers.
For more about Adventurer Manufacturing, visit their website at amlrv.com. Click here to request an Adventurer brochure.