Northwood Manufacturing announces a list of updates to their 2016 Arctic Fox truck camper line including power awnings, an improved convenience center, ambient lighting, and more.

Around June of every year we ask the truck camper manufacturers if they have any updates to announce for the following model year.
Some manufacturers have a ready-to-launch formal list of planned updates and changes.  Some manufacturers send us a list of everything they have changed since the last model year update.  Others say, "Changes?  We don't need no stinking changes!"
What's been interesting is how these three categories of model year changes has shifted over the past two years.  Where we were getting mostly formal model year updates or "no stinking changes" from 2008 through 2014, 2015 and now 2016 announcements have seen a decisive shift towards the second category; changes made since the last model year update.
These changes are almost entirely small updates to existing floor plans.  No big headlines, just refinements.  So why are we not seeing more formal model year updates, and more significant changes being announced?
Put bluntly, the RV marketplace has shifted for the better over the past 18-months, gaining even more momentum in 2015.  The uptick has been so pronounced that increasing truck camper production, not model year changes, has been the primary focus for the manufacturers.
As a magazine, we are very excited about this shift for two reasons.  First, we are delighted to see domestic manufacturers not just back on their feet, not just crawling, not just walking, but finally running again.  After a prolonged recession, it's about time!
Second, we love seeing the manufacturers focused on refinement.  New camper announcements are fun and exciting, but what we really like to see are proven truck camper floor plans made better.  Refinements can be the difference between a good camping experience, and a great one.
Speaking on making proven truck camper floor plans even better, Northwood Manufacturing has a short list of changes and refinements to announce for 2016.  Northwood's dedicated truck camper line is cranking at peak capacity, so these updates have been made throughout the previous 12-months.
To get the story behind on these changes and their sources, we contacted Doug Karr, Northwood Manufacturing's resident truck camper guy.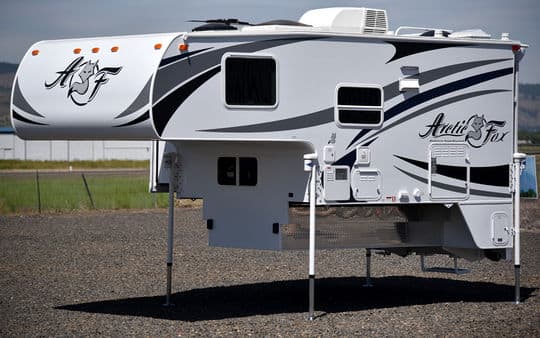 Above: A 2016 Arctic Fox 990 – click to enlarge
TCM: Are there any Arctic Fox truck camper models being discontinued or new models being announced?
Doug: No.

Above: New front nose graphics for 2016 campers – click to enlarge
TCM: Tell us about your new exterior graphics.
Doug: For the 2016 Arctic Fox model year change, we introduced a domed A-F fox head graphic for the front nose.  It pops more visually, and the 3D effect is really striking.  We are always striving for ways to enhance every aspect of our products, including the graphics.

Above: The new 2016 Arctic Fox graphics package – click to enlarge
Our Marketing and Graphics Department worked hard to ensure that the bold, new 2016 graphics package would look sharp whether it's applied to an Arctic Fox 1150 or 811 camper.