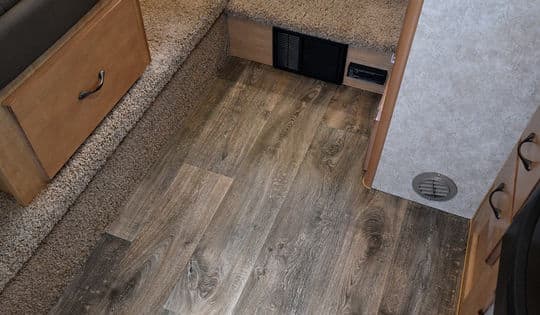 Above: The wood grain flooring in Adventurer campers – click to enlarge
As for the flooring, there's been a strong trend towards the wood grain look.  The wood grain is a different tone for Adventurer.  There's more of a grey tone, which works better for the interior Adventurer look.
TCM: From your update information, the 2016 Adventurer 80GS and 80RB do not get these material changes.  What ceiling and roof materials do they feature?
Greg: The 80GS and 80RB get marine grade vinyl on the floor, like boats get.  It's waterproof and lighter weight, which keeps the weight down on our smaller, lighter units.
The ceiling is a vinyl wrap, which is also a lighter and thinner panel to save weight.  We want to keep the 80GS and 80RB in the half-ton market.  We've had the same materials in these models since day one and we've had no complaints.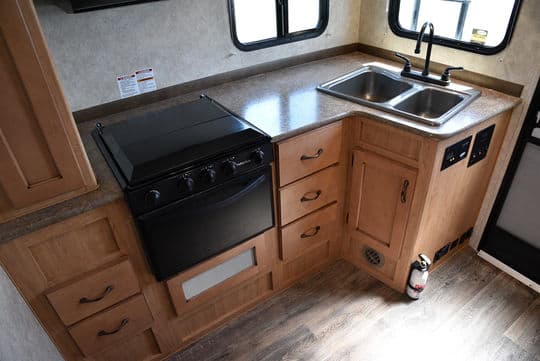 Above: The kitchen of the 910FBS – click to enlarge
TCM: What has been changed in the kitchen area?
Greg: As we did in our Eagle Cap line, we have discontinued the trash can, silverware tray, and iPod shelf by the stereo.  We find that people buy their own trash cans and silverware trays, and don't use the ones that we provided.  So we took them out.
We have also discontinued the knife rack because many customers didn't know what it was for, or didn't use it.  It makes the counter top easier to install and gives the customer more counter space.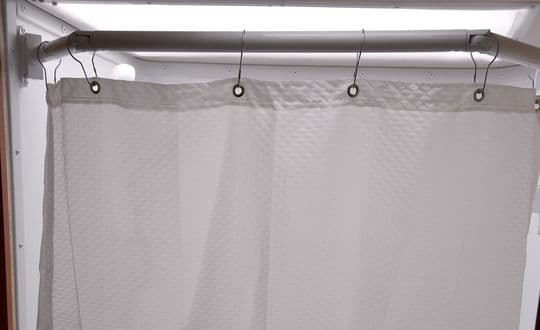 Above: The expandable shower curtain rod – click to enlarge
TCM: Are there any changes in the bathrooms?
Greg: In our dry bath model, the 910DB, we now have an expandable shower curtain rod that provides more shower room.  No other bathroom changes were made.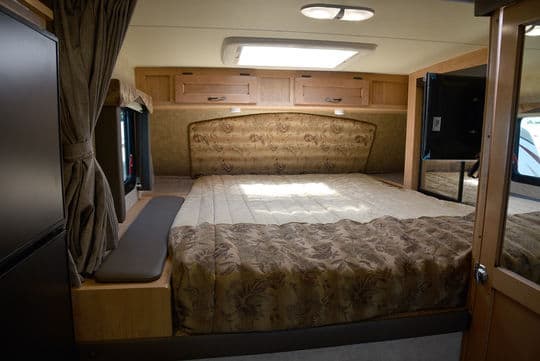 Above: Cabover in the 910FBS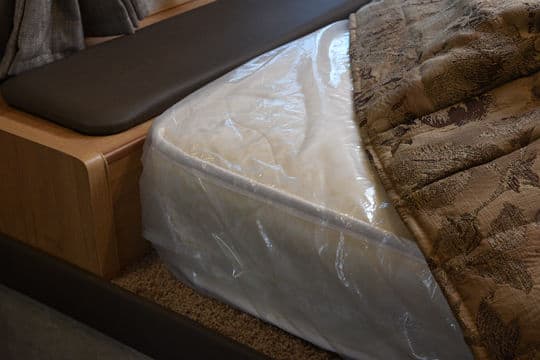 Above: Inner coil spring pillow top mattresses are now standard in Adventurer campers
TCM: How about the cabover area?