Above: The power bunk in the down position – click to enlarge
TCM: What is a power bunk?
Greg: It's an adult-sized electric powered bunk we designed using the power mechanism by Happijac.  It's operated with the push of a button and has a 300 pound rating.  This technology is used in some of the toy haulers out there.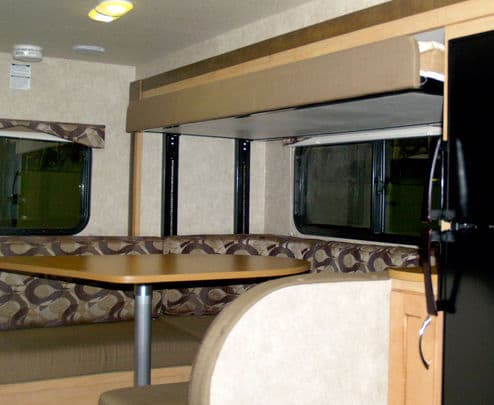 Above: The power bunk in the up position – click to enlarge
TCM: That's neat.  Will this power bunk be used in any other model than the 910DB in the future?
Greg: For now, it's just going to be a feature of the 910DB.   The power bunk is expensive.  Retail, it's $1,785.  Given the cost, we have actually been surprised that many dealers have brought in 910DB models with the power bunk.
TCM: Will Adventurer continue to offer normal kid-ready bunks in its other models?
Greg: Yes.  We offer normal dinette-sized bunks in other Adventurer slide-out floor plans.  These bunks have a capacity of 150 pounds.  We may do something like the power bunk in the other models, but not at this time.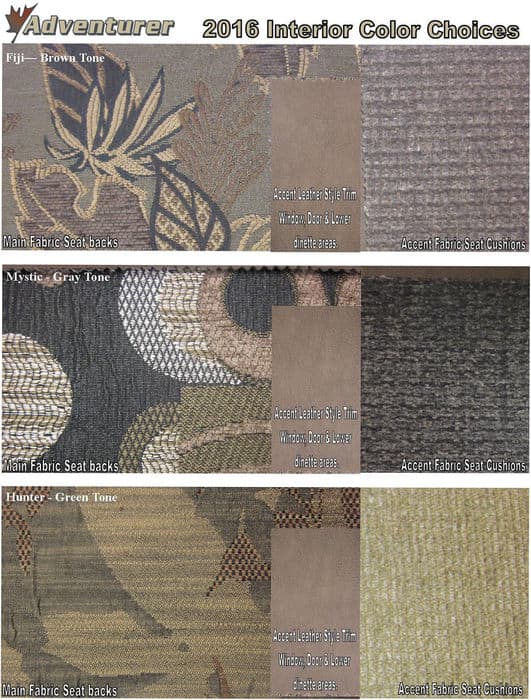 Above: Adventurer changed all color groups for 2016 models
TCM: What are the 2016 Adventurer interior color choices?
Greg: We changed all three color groups this year.   The Fiji is a brown tone leaf design.  Last year we had two leaf designs, so this year we just have one.
Above: Fiji, Hunter, and Mystic interiors – click to enlarge
We also added Mystic, which was the most popular fabric we had for Eagle Cap in 2015.  We did change the look a little with the accent fabric.  That's a grey tone.  We also have Hunter, which is a green tone.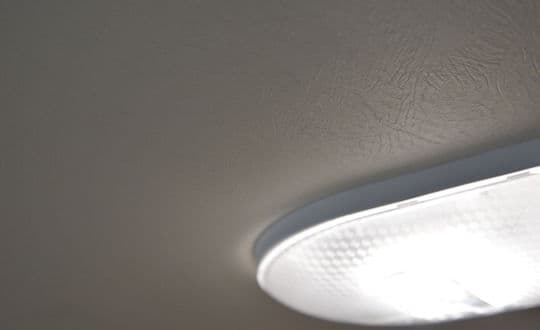 Above: The simulated padded ceiling – click to enlarge
TCM: Let's move to the interior.  For 2016, it appears that you're using the same ceiling and flooring material in both Eagle Cap and Adventurer.
Greg: We are.  The simulated padded ceiling material impressed us so much that we decided to use it across the board.  That change also simplifies production, and helps us drive down cost.  Rather than have two different ceiling types, we have one.