Above: The interior of the 2014 Wolf Creek 840
TCM: What was the design and development process for the 2014 Wolf Creek 840?
Donald: The first part of any new product design at Northwood Manufacturing is the development of a concept.  Our product development team starts by drawing an initial floor plan.  At the same time, our sales team establishes who the end-consumer is and produces a list of desired features.  The sales team also carefully identifies the trucks we're targeting for the new camper including weight and payload capacities.
Once the design team finalizes their drawings and the sales team completes their desired features list and target capacities, the real work begins.  Utilizing design software, the product development team drafts the new camper on computers making sure everything fits together precisely; from the floor plan, to plumbing, to electrical, to all components.  Everything is accounted for in their computer design, from what you can see, to what you can't see.
When the product development team completes the new camper design, it's reviewed by management.  If it's approved, we build a physical prototype.
Constructing a prototype is an extremely time-intensive and painstaking process.  We build one unit and make sure everything that works on the computer rendering fits together and works properly.  The prototype construction process also gives us the opportunity to determine the best possible way to manufacture the new camper.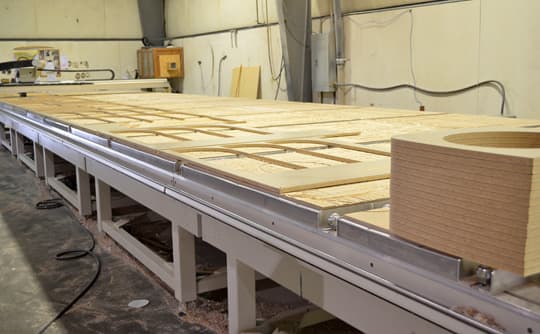 Above: CNC routers are used for cutting laminated side walls at Northwood Manufacturing
Every step of the way we rely heavily on our team's extensive manufacturing experience.  As a company, Northwood has been manufacturing RVs for over twenty years.  Collectively, our team has hundreds of years of RV design and manufacturing experience.  More than any other factor, this experience ensures that we build every new model to Northwood's high quality standards.  The 2014 Wolf Creek 840 is no exception.
Above: Northwood's eight ton lamination pinch roller and Wolf Creek wall assembly
TCM: Were there adjustments made to the initial prototype?
Donald: Once we completed the first 2014 Wolf Creek 840, we determined that there were further opportunities to improve the design and build a better camper.  While the basic floor plan for the 840 remained the same, we were able to make a lot changes that will benefit the consumer in subtle but important ways.  These kinds of fine-tuning adjustments and improvements are only possible when you build a complete prototype.
Keith Williams, Lonnie Savage, Tony Carman, and Grant Burnell all spent many hours going over every detail of the 840 optimizing the storage, floor space, plumbing, electrical, weight, and the overall integrity of the camper.  I also personally drove the camper to the RV show in Pomona and gathered extensive consumer feedback.  This feedback, together with our own internal review, mandated that we construct another prototype.  If it's not as good as it can possibly be, we won't build it.
TCM: What trucks are the 2014 Wolf Creek 840 campers designed for?
Donald: The 2014 Wolf Creek 840 is designed for a three-quarter ton truck with at least 3,000 pounds of payload.  That takes into account the 2014 Wolf Creek 840's 1,992 pounds of dry weight, 241.86 pounds for 29 gallons of fresh water, 50 pounds for the 6 gallon hot water heater tank, 40 pounds for two full 20 pound propane tanks, 130 pounds for two batteries, and 500 pounds for options, and your stuff.
The 840 is ideal for those customers with that, "Roam Where You Dare" attitude.  It's light, not too tall, and has all the comforts of a small cabin.  This is also a great size camper for those that have something they're towing including a boat, horses, or just about anything.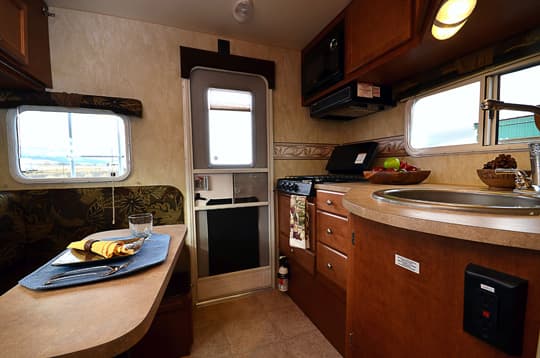 Above: The 2014 Wolf Creek 840 has a panoramic view in the back of the camper
TCM: If you were talking with a customer and they were choosing between the Wolf Creek 840 and 850, what would you want to point out?
Donald: They couldn't go wrong with a Wolf Creek.  Both the 840 and the 850 are great campers.  Since the two models have nearly identical capacities, the crux of the decision would come down to which floor plan they prefer.