Keith: Like the interior LED lighting, almost every Special Edition was being ordered with the previously optional seven-foot power awning.  When we see that a particular option is selected by our dealers and customers most of the time, we look to make that option a standard feature.
The electric rear awning is activated by a switch inside the rear door.  There are no arms or legs to be removed.  It simply extends and retracts at the push of a button.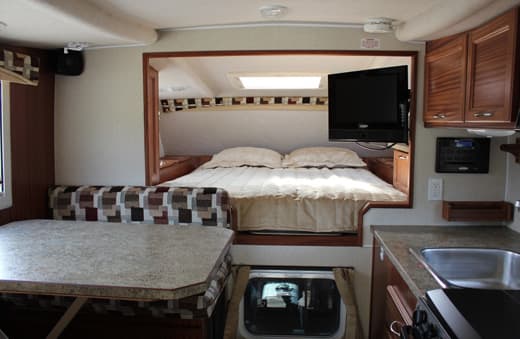 Above: The new pillows and bedspread in Sandstone decor
TCM: When we have worked RV shows with Northern Lite Special Editions on display, the Sapele wood interior of those campers has always been a major draw.  For 2014, Northern Lite is making Sapele wood the standard interior on all but two models.  Is that correct?
Keith: Yes, Sapele will be our standard interior for every model except for the 6-10 Lite and 8-5 Lite which will feature Oak.  The upgrade to Sapele includes our Classic and Sportsman models.  Customers can still order our other models in Oak, but it will be a factory order from now on.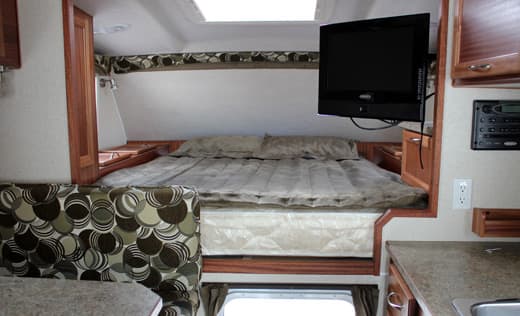 Above: The new coil spring mattress is standard in all campers except for the 6-10 Lite and 8-5 Lite
TCM: Tell us about the new standard coil spring mattress.
Keith: Too many RV manufacturers go cheap on their mattresses leading to customer dissatisfaction, not to mention many uncomfortable nights.  We frequently receive positive feedback from dealers and customers about our high end coil mattresses.  They are extremely comfortable.  For 2014, we have made the high end coil mattresses standard on all models except the 6-10 Lite and 8-5 Lite.
TCM: We were quite comfortable in the 9-6 Special Edition we reviewed last year.  For 2014, Northern Lite is increasing the fresh water tank size from 24 gallons to 33 gallons for 2014.  That's a 37.5% increase in fresh water capacity.  Why was this change made?
Keith: Once again, we wanted to respond to customer and dealer requests for a larger fresh water tank.  In particular, the Australian market requested larger fresh water tanks because of having less availability of fresh water where they camp.  For efficiency, we wanted tanks that would fit both Australian and North American units.
For 2014, we found a larger tank and changed the under step drawer to accommodate the larger tank size.  It's a nice upgrade in fresh water capacity, and one that we feel confident our customers will appreciate.  It is now standard in every model of 8-11 and 9-6Q Classics including our Sportsman and Special Editions.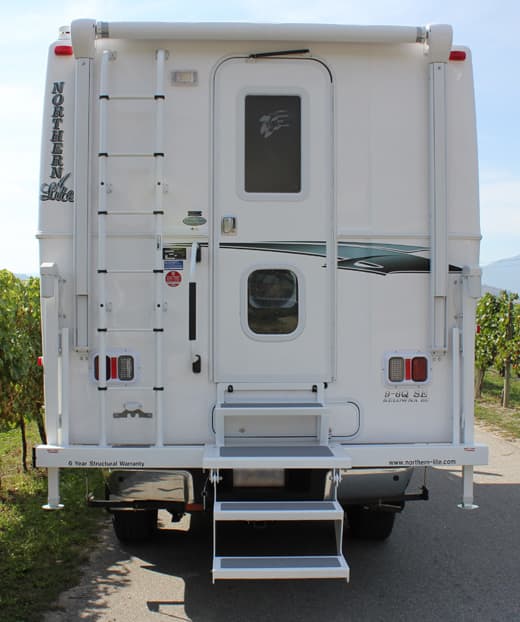 Above: The new Northern Lite all-aluminum folding bumper step system
TCM: Between the now standard all-LED interior and exterior lighting, 95-watt solar panel, and 37.5 percent increase in fresh water capacity, you're certainly increasing the already considerable boondocking capabilities of Northern Lite truck campers, right off the lot.  Tell us about the new all-aluminum folding bumper step.
Keith: Our new folding bumper step was designed and developed here at Northern Lite with the help of a local aluminum fabricating company in Kelowna.  Making the new folding bumper step out of aluminum removed eighteen pounds compared to the steel step system it replaces.
For towing, the new bumper step swings totally out of the way, clearing the bumper, and storing on top of the platform.  The step itself has non-skid tread on both sides so you can walk on it when it's folded up.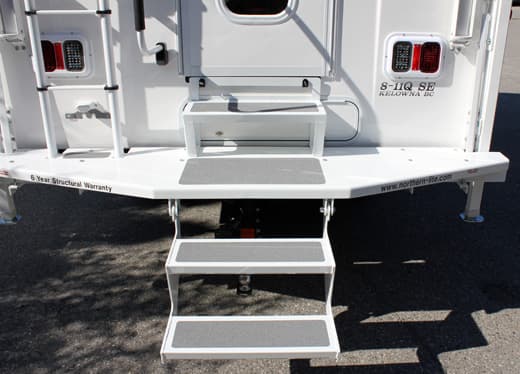 Above: A close-up of the new patio bumper and step system in the down position