TCM: That's incredible.  It wasn't that long ago that adding solar to a truck camper was the exception.  By making solar standard, you're making it the rule.  Just to be clear, even your smallest and least expensive truck camper, the 6-10 Lite, now comes standard with solar panels?
Keith: Yes.  Every single camper, the Lites, the Sportsmens, the Classics, and the Special Editions now come standard with 95-watt solar panel systems.

Above: Solar controller and rear power awning switch
TCM: Tell us about the 95-watt solar panel and digital controller.  How did you select that panel wattage and controller?
Keith: We've been using 95 watt panels on our Australian export units.  It's a size that works well on our molded fiberglass roofs.  The 95 watt panel is a good combination of output and size.  Most people only need the 95 watt panel, but we could add another 95 watt panel if a customer requested the upgrade.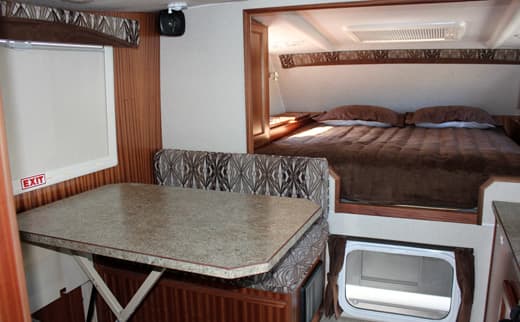 Above: New pillows and bedspread in Coffee Bean brown
TCM: We were very happy with our previous truck camper that featured a 95 watt solar panel, two Group 27 batteries, and all-LED lighting.  As long as we didn't need the air conditioner or microwave, we were set with that combination, even with charging our laptops via 12-volt inverters all the time.
For 2014, Northern Lite is making bedspreads and shams standard.  Are these mostly ornamental, or are they intended for customer use?
Keith: The standard bedspreads and shams are mostly for RV shows and dealer lots, but they are usable.  They make the camper look better and could be useful should a Northern Lite owner want to sell their camper down the road.
Some customers use the factory bedspreads when they winterize to protect the mattress from dust and sunlight.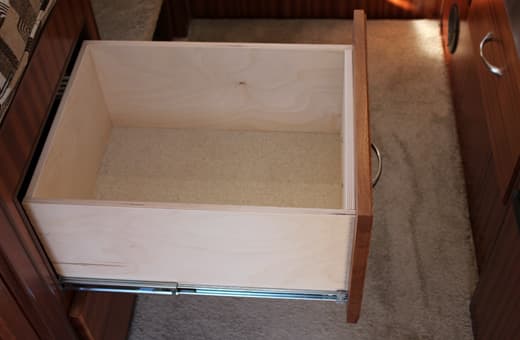 Above: Roller bearing guides are standard on all Northern Lite truck campers in 2014
TCM: Roller bearing guides are standard on all Northern Lite truck campers in 2014.  Is this a new upgrade across the board, or were some Norther Lite models already using roller bearing guides?
Keith: It's a new upgrade across the board.  We introduced roller bearing guides in all of our truck campers about a month ago.  It's standard in every camper now.
The roller bearing guides are more expensive, but they are a definite improvement and give the customer a better tactile experience when opening and closing the drawers.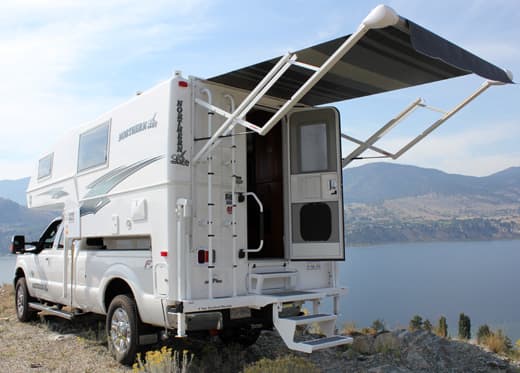 Above: The seven foot rear power awning is now standard on Special Editions
TCM: Northern Lite Special Editions will now come standard with a seven foot rear power awning.  Why was this an important feature to make standard for 2014?