Matt: Since we're so busy here at Hallmark, I haven't been able to get away too much. For the fourth of July weekend, my family went up to Keystone and the top of Georgia Pass in a Hallmark.  Before the Overland Expo, my dad, my brother and I explored Gemini Bridges near Moab and hung out in Moab for a night.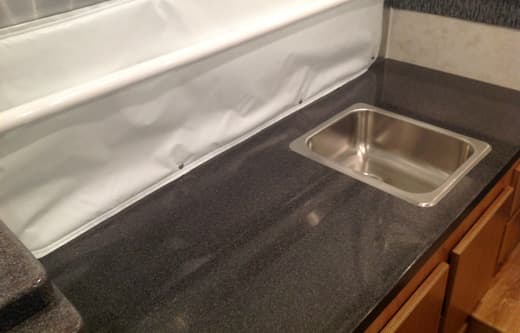 Above: Hallmark's new fully-customizable molded composite counter top.  The above EXC was custom ordered with only a sink.
TCM: Is there anything else you'd like to tell us about the EXC or Hallmark?
Matt: We now have a molded composite counter top that customers can customize with their own appliances including SMEV cook tops and different sinks.  It's basically a blank counter top without the built-in sinks that most Hallmark campers feature.  The first EXC customer got this new counter top since he didn't want a cooktop.  It's available for all Hallmark campers from the Milner to the Cuchara.
TCM: Thanks Matt.
For more information on the EXC and Hallmark campers, visit their website at www.hallmarkrv.com.