TCM: Is that the EXC configuration what weighs 995 pounds dry?
Matt: Yes.
TCM: What does EXC stand for?
Matt: EXC stands for Expedition Camper.  As a lighter weight camper, the Hallmark EXC has significant overland capabilities.  It's a light weight, basic camper that will get you further out.  It's is perfect for off-road travel.
The Hallmark EXC gives our customers all of the quality and structural strength of a Hallmark without the features and options that add weight and cost.  We are very excited about the EXC.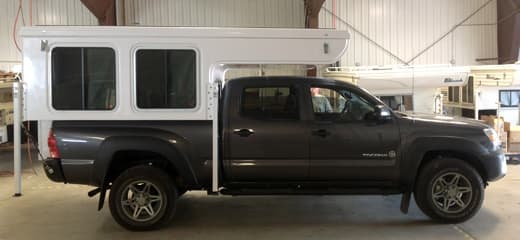 Above: This EXC features jacks, but a standard EXC comes without jacks to save cost and weight
TCM: What trucks will the Hallmark EXC work with?
Matt: Given its weight and floor length, the EXC will match well with Toyota Tacomas, Nissan Frontiers, and domestic half-ton short bed trucks with five-and-a-half or six-and-a-half-foot beds.  We also offer the EXC for long bed trucks starting at $17,995.
TCM: Since the base configuration of the EXC doesn't include a water heater, grey water tank, black water tank, or batteries, the only wet weight that needs to be added is the twenty-four-gallon fresh water tank, and a single twenty-pound propane tank.  Is that correct?
Matt: Yes.  With a full twenty-propane tank, and full twenty-four-gallon fresh water tank, the EXC camper wet weight is just over 1,200 pounds.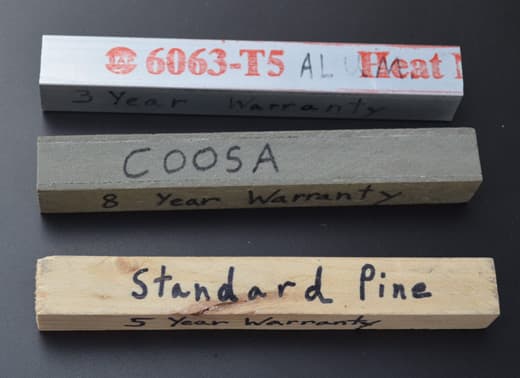 TCM: On your website, it says the Hallmark EXC can be ordered with wood, aluminum, or Coosa composite interior cabinetry support material.  What does Hallmark mean by cabinetry support material?
Matt: The interior cabinetry support material is the structure that the cabinetry attaches to inside our molded fiberglass composite exterior frames.
The molded fiberglass composite exterior panels are what give Hallmark pop-up truck campers their structure.  The composite sandwich wall panels are made from end-grain balsa giving them incredible strength and stiffness.
Together, the exterior wall panels act like an exoskeleton frame.  The interior cabinetry support material is primarily there for cabinetry support inside that exoskeleton frame.  The same composite materials and manufacturing techniques are used to make high-end fiberglass boats, luxury yachts, and military aircraft.
TCM: How do you advise a Hallmark customer to choose between the three available interior cabinetry support materials; wood, aluminum, and Coosa composite?
Matt: Each material has its own benefit.  Wood is the best material to screw into.  It also has the best weight to strength ratio of the three.
Aluminum is very strong, but it doesn't hold a screw well.  In our opinion, the weight to strength ratio of aluminum is not as good as wood.
Coosa is a draw between the two.  It's lightweight, but not as strong as aluminum.  Coosa holds a screw better than aluminum and, unlike wood, is impervious to water.