Hallmark RV debuts a lower price point, lighter weight, basic pop-up truck camper that lets you choose your own features and options.  Meet the EXC expedition camper.

Some folks would never go truck camping without three slide-outs, two HDTVs, a seven-cubic foot refrigerator, and a recliner sofa.  Others are more than happy with a simple pop-up camper, no heater, no bathroom, and an ice box.  Just imagine if these folks had to trade campers for a week.  They'd probably freak out.
It may seem funny that people approach truck campers with extremely divergent needs and expectations, but that's exactly what exists in the marketplace.  Even we get funny looks from people upon explaining that we tend to prefer hard-side, non-slide, wet bath truck campers.  The multi-slide and the pop-up crowds both say we're nuts for different reasons.  The multi-sliders say, "Why wouldn't they get a bigger multi-slide?" and the pop-uppers say, "Why do you need something that big?"  We can't win.
The pop-up crowd seems especially sensitive to getting exactly what they want, and nothing more.  Where the multi-sliders are often excited to get more than they thought they were getting (larger tanks, additional outlets, more gadgets, etc.), the pop-uppers often see these extras as unnecessary weight and potentially lost space.  Give them extra stuff and they get upset.  With the pop-uppers, the rule is give them what they want, nothing more, nothing less.
To address this particular pop-upper perspective, Hallmark RV has developed the 2014 Hallmark EXC.  Looking for a basic Hallmark Camper, at a low base price, and at a low base weight?  The 2014 Hallmark EXC pop-up camper may be exactly what you want, and nothing more, unless you want it to be.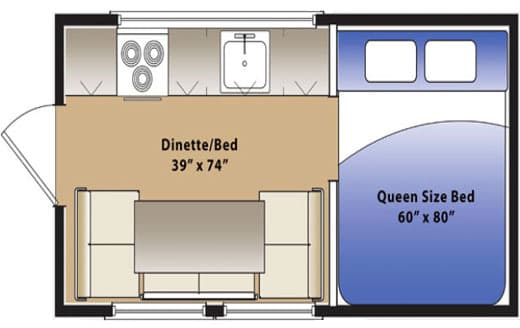 2014 Hallmark EXC Specifications:
The 2014 Hallmark EXC is a pop-up truck camper made for short bed trucks.  The interior floor length of the Hallmark EXC is 80", and the interior height is 84" with the top up, 64" with the top down.  Hallmark is reporting the dry weight of the camper at 995 pounds with standard features.  There is a 24 gallon fresh tank and a twenty pound propane tank in the 2014 Hallmark EXC.  This camper can accommodate two batteries.  The MSRP for the 2014 Hallmark EXC is $16,995.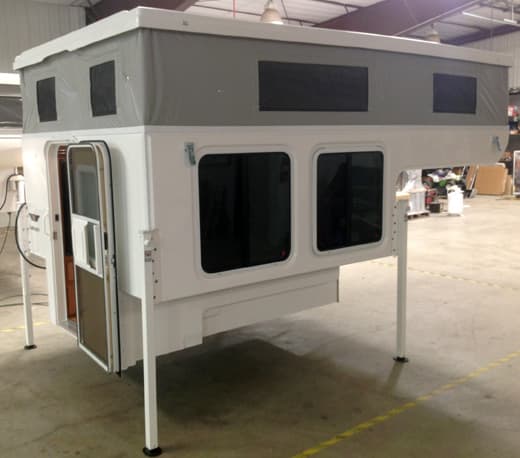 Above: A Hallmark EXC with optional camper jacks
TCM: What is the Hallmark EXC?
Matt: The EXC is a brand new base model for Hallmark, a six-and-a-half-foot floor plan that gives our customers the flexibility to choose exactly what features and options they want, a la carte style.
As a result of this approach, the Hallmark EXC has a significantly lower price point and weight compared to our more traditional models that come with a long list of standard features.  With the new EXC, Hallmark customers are free to choose the features and options they want, or leave the camper as a base model.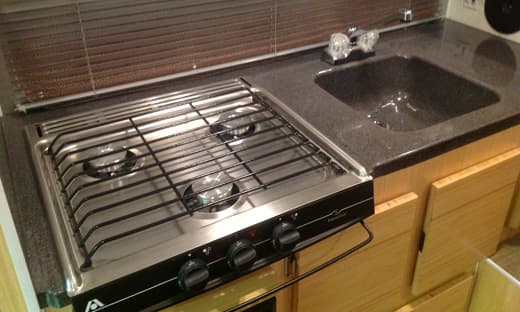 Above: The Hallmark EXC comes standard with a three burner stove and a sink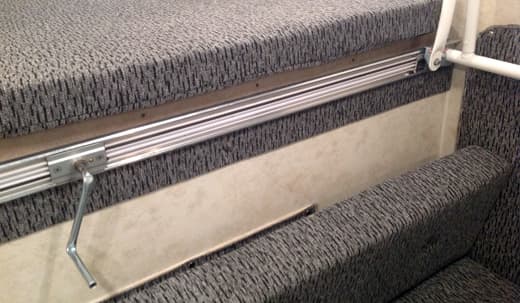 Above: The Hallmark EXC also comes standard with a Heco manual lift system

TCM: At $16,995, what does the Hallmark EXC include?
Matt: The EXC comes with our five year structural warranty, Heco manual lift system, four season insulated soft wall, maintenance-free composite roof and molded fiberglass exterior framing, one-inch block foam insulation, oak wood interior, two windows on the passenger's side and one on the driver's side, an ice box or storage closet, a side dinette, forty-five amp power converter, twenty-four gallon water supply, three burner cooktop, 110V and 12V outlet, two roof vents, composite countertop and sink, 60×80 queen-size cabover bed with under bunk storage, power water pump, water systems monitor, twenty pound propane bottle, twelve incandescent lights, privacy curtains, jack brackets, cushions with three choices of fabrics, a second safety exit, insulated side walls and floor, radius back door with screen, fire extinguisher, and wire-in truck battery for power.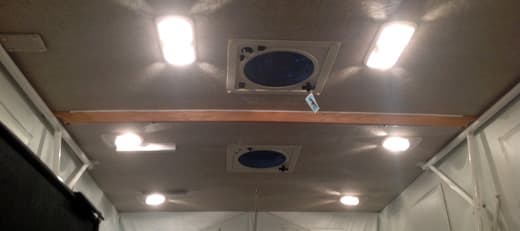 Above: The Hallmark EXC comes standard with twelve incandescent lights