Hallmark RV debuts a lower price point, lighter weight, basic pop-up truck camper that lets you choose your own features and options.  Meet the EXC expedition camper.

Some folks would never go truck camping without three slide-outs, two HDTVs, a seven-cubic foot refrigerator, and a recliner sofa.  Others are more than happy with a simple pop-up camper, no heater, no bathroom, and an ice box.  Just imagine if these folks had to trade campers for a week.  They'd probably freak out.
It may seem funny that people approach truck campers with extremely divergent needs and expectations, but that's exactly what exists in the marketplace.  Even we get funny looks from people upon explaining that we tend to prefer hard-side, non-slide, wet bath truck campers.  The multi-slide and the pop-up crowds both say we're nuts for different reasons.  The multi-sliders say, "Why wouldn't they get a bigger multi-slide?" and the pop-uppers say, "Why do you need something that big?"  We can't win.
The pop-up crowd seems especially sensitive to getting exactly what they want, and nothing more.  Where the multi-sliders are often excited to get more than they thought they were getting (larger tanks, additional outlets, more gadgets, etc.), the pop-uppers often see these extras as unnecessary weight and potentially lost space.  Give them extra stuff and they get upset.  With the pop-uppers, the rule is give them what they want, nothing more, nothing less.
To address this particular pop-upper perspective, Hallmark RV has developed the 2014 Hallmark EXC.  Looking for a basic Hallmark Camper, at a low base price, and at a low base weight?  The 2014 Hallmark EXC pop-up camper may be exactly what you want, and nothing more, unless you want it to be.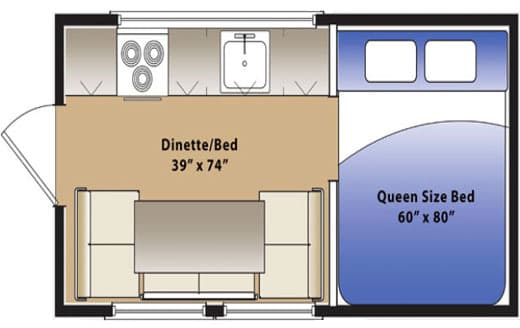 2014 Hallmark EXC Specifications:
The 2014 Hallmark EXC is a pop-up truck camper made for short bed trucks.  The interior floor length of the Hallmark EXC is 80", and the interior height is 84" with the top up, 64" with the top down.  Hallmark is reporting the dry weight of the camper at 995 pounds with standard features.  There is a 24 gallon fresh tank and a twenty pound propane tank in the 2014 Hallmark EXC.  This camper can accommodate two batteries.  The MSRP for the 2014 Hallmark EXC is $16,995.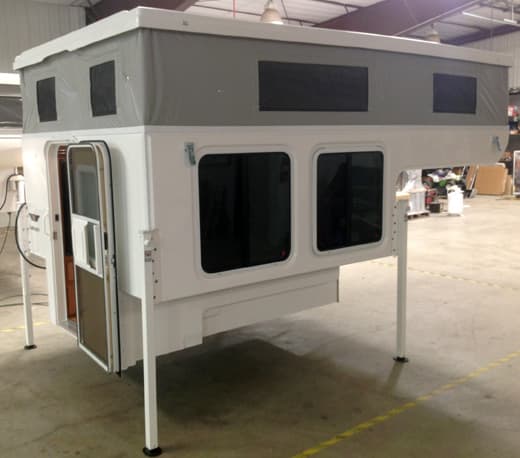 Above: A Hallmark EXC with optional camper jacks
TCM: What is the Hallmark EXC?
Matt: The EXC is a brand new base model for Hallmark, a six-and-a-half-foot floor plan that gives our customers the flexibility to choose exactly what features and options they want, a la carte style.
As a result of this approach, the Hallmark EXC has a significantly lower price point and weight compared to our more traditional models that come with a long list of standard features.  With the new EXC, Hallmark customers are free to choose the features and options they want, or leave the camper as a base model.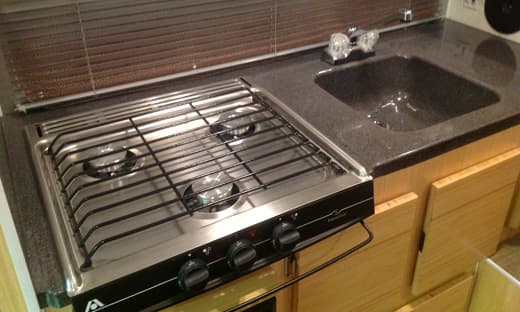 Above: The Hallmark EXC comes standard with a three burner stove and a sink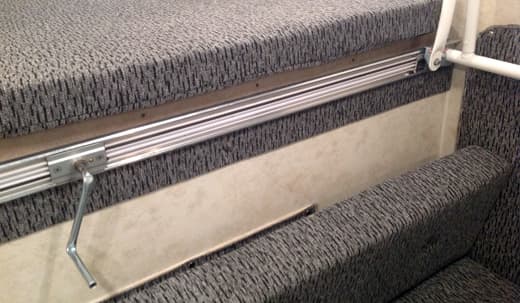 Above: The Hallmark EXC also comes standard with a Heco manual lift system

TCM: At $16,995, what does the Hallmark EXC include?
Matt: The EXC comes with our five year structural warranty, Heco manual lift system, four season insulated soft wall, maintenance-free composite roof and molded fiberglass exterior framing, one-inch block foam insulation, oak wood interior, two windows on the passenger's side and one on the driver's side, an ice box or storage closet, a side dinette, forty-five amp power converter, twenty-four gallon water supply, three burner cooktop, 110V and 12V outlet, two roof vents, composite countertop and sink, 60×80 queen-size cabover bed with under bunk storage, power water pump, water systems monitor, twenty pound propane bottle, twelve incandescent lights, privacy curtains, jack brackets, cushions with three choices of fabrics, a second safety exit, insulated side walls and floor, radius back door with screen, fire extinguisher, and wire-in truck battery for power.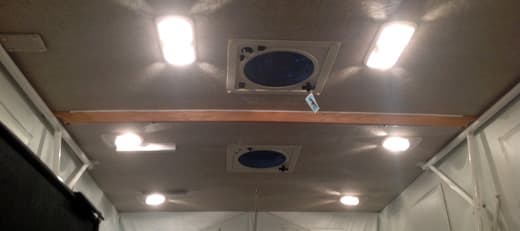 Above: The Hallmark EXC comes standard with twelve incandescent lights
TCM: Is that the EXC configuration what weighs 995 pounds dry?
Matt: Yes.
TCM: What does EXC stand for?
Matt: EXC stands for Expedition Camper.  As a lighter weight camper, the Hallmark EXC has significant overland capabilities.  It's a light weight, basic camper that will get you further out.  It's is perfect for off-road travel.
The Hallmark EXC gives our customers all of the quality and structural strength of a Hallmark without the features and options that add weight and cost.  We are very excited about the EXC.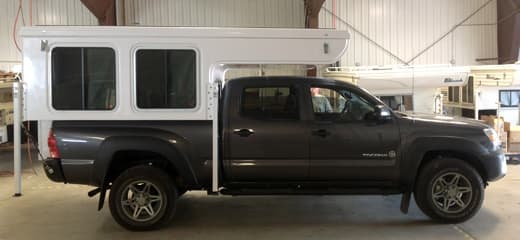 Above: This EXC features jacks, but a standard EXC comes without jacks to save cost and weight
TCM: What trucks will the Hallmark EXC work with?
Matt: Given its weight and floor length, the EXC will match well with Toyota Tacomas, Nissan Frontiers, and domestic half-ton short bed trucks with five-and-a-half or six-and-a-half-foot beds.  We also offer the EXC for long bed trucks starting at $17,995.
TCM: Since the base configuration of the EXC doesn't include a water heater, grey water tank, black water tank, or batteries, the only wet weight that needs to be added is the twenty-four-gallon fresh water tank, and a single twenty-pound propane tank.  Is that correct?
Matt: Yes.  With a full twenty-propane tank, and full twenty-four-gallon fresh water tank, the EXC camper wet weight is just over 1,200 pounds.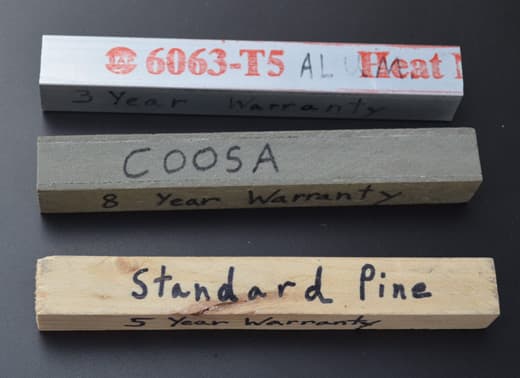 TCM: On your website, it says the Hallmark EXC can be ordered with wood, aluminum, or Coosa composite interior cabinetry support material.  What does Hallmark mean by cabinetry support material?
Matt: The interior cabinetry support material is the structure that the cabinetry attaches to inside our molded fiberglass composite exterior frames.
The molded fiberglass composite exterior panels are what give Hallmark pop-up truck campers their structure.  The composite sandwich wall panels are made from end-grain balsa giving them incredible strength and stiffness.
Together, the exterior wall panels act like an exoskeleton frame.  The interior cabinetry support material is primarily there for cabinetry support inside that exoskeleton frame.  The same composite materials and manufacturing techniques are used to make high-end fiberglass boats, luxury yachts, and military aircraft.
TCM: How do you advise a Hallmark customer to choose between the three available interior cabinetry support materials; wood, aluminum, and Coosa composite?
Matt: Each material has its own benefit.  Wood is the best material to screw into.  It also has the best weight to strength ratio of the three.
Aluminum is very strong, but it doesn't hold a screw well.  In our opinion, the weight to strength ratio of aluminum is not as good as wood.
Coosa is a draw between the two.  It's lightweight, but not as strong as aluminum.  Coosa holds a screw better than aluminum and, unlike wood, is impervious to water.
Wood interior cabinetry support material is standard with the EXC and all Hallmark campers.  Aluminum is an $2,000 up-charge and Coosa is a $4000 up-charge.
Above: The cabinetry can be supported with wood, aluminum, or Coosa
TCM: What interior cabinetry support material do you recommend?
Matt: We recommend wood.  Ninety percent of Hallmark customers still choose wood for their interior cabinetry support material.  It offers the best bite for a screw, the best weight to strength ratio, and the highest value.
As long as you maintain your exterior seals, wood interior cabinetry support material will last for decades.  We often see twenty plus year old wood Hallmarks still on the road and in incredible condition.  For these reasons and others, we recommend wood interior cabinetry support material.  Coosa would be our second choice.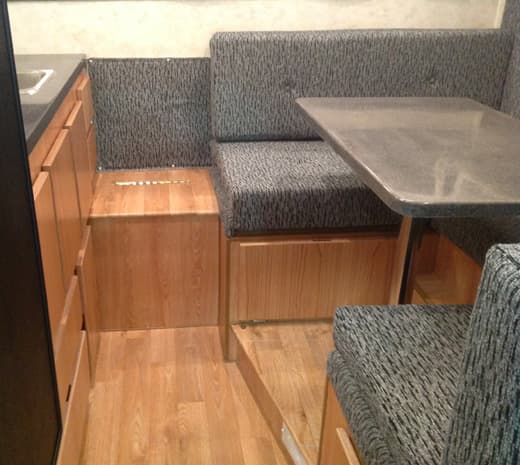 Above: Oak cabinetry in a Hallmark EXC
TCM: Oak cabinetry is standard in all Hallmark campers.  Can customers opt for Cherry, Bamboo, or Walnut cabinetry in the EXC?
Matt: Yes.  Oak is standard, but you can choose another cabinetry material if you so choose.  Dark Bamboo is free for the first month of the EXC's existence.  A wood change to Walnut or Cherry would be $1,200.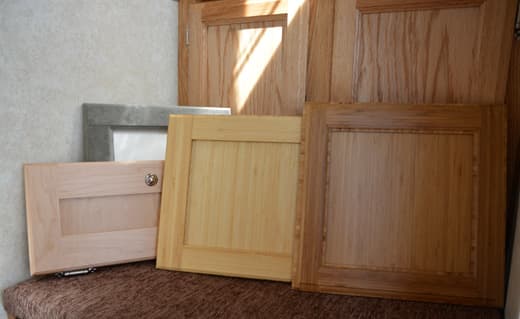 Above (left to right): Maple, Coosa, light Bamboo, dark Bamboo, and Oak
TCM: How long will the free dark Bamboo cabinetry run for?
Matt: For the free dark Bamboo, customers would need to order their campers before the end of October of 2013.
Above (left to right): Chocolate, Earth, and Lental fabric choices
TCM: What are those fabric choices for the EXC?
Matt: There are three interior fabrics available for the EXC; Chocolate, Earth, and Lental.  Customers can also choose from a full list of fabrics at rvfabric.com.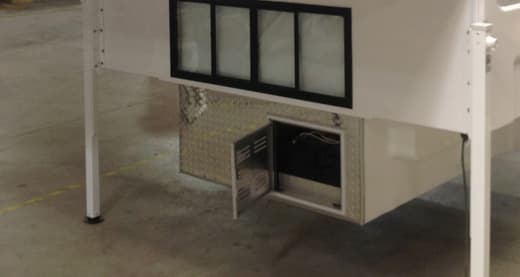 Above: The Hallmark EXC battery storage compartment is on the front wall
TCM: Why does the Hallmark EXC not feature built-in batteries?
Matt: By not including batteries in the EXC we can keep the weight down.  Batteries are a very heavy part of any truck camper weighing in around sixty-five pounds each.
Customers can option an EXC to have built-in batteries.  We recommend two six-volt AGM batteries in series.  You can also get two Group 27 batteries or any number of other battery options.
The standard converter in the EXC is pre-wired for batteries.  Our campers are all set-up to accept batteries right off the bat.  We always put the batteries on the front lower wall unless requested otherwise.  Due to the location, AGM batteries are ideal.
TCM: The Hallmark EXC comes with an East-West cabover.  Can the Hallmark EXC be ordered with a North-South cabover?
Matt: Yes.  The North-South cabover is a $2,000 option.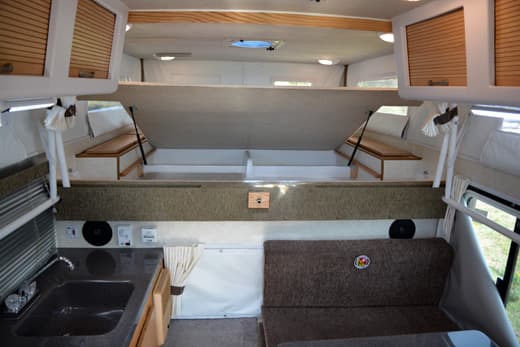 Above: A Hallmark Milner with the north-south cabover and many options
TCM: What else is available as an option for the Hallmark EXC?
Matt: On the bottom of our EXC sheet we have recommended and popular options.  The recommended option list includes a three-way propane refrigerator, propane hot water heater, outside shower, propane furnace, and four camper jacks.
If you want much more than that, it may be advantageous to purchase a Hallmark Milner that would include even more standard options at a potential cost savings.
Customers who still prefer the a la carte approach have a long list of options to choose from including solar panels, awnings, televisions, stereo/DVD entertainment systems, outdoor and indoor speakers, cooktops, inverters, microwaves, battery upgrades, skylights, 12-volt water tank heaters, LED interior lighting, LED exterior lights, bumpers, generators, air conditioners, utility racks, ladders, custom flooring, cabinetry materials, latch systems, camper jacks, vents, and exterior LP/storage boxes.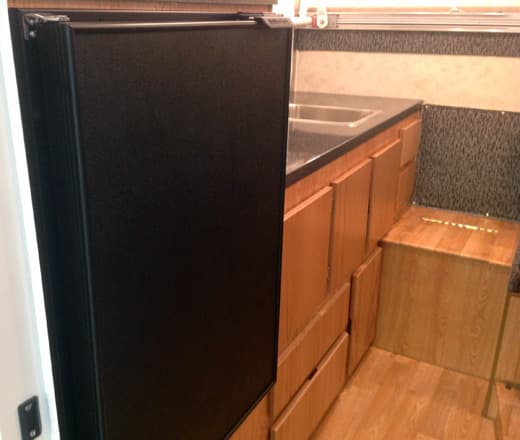 Above: The Hallmark EXC with optional refrigerator
TCM: You recently told us about the first Hallmark EXC customer.  What did they order for features and options?
Matt: The first EXC customer didn't add very much.  He added batteries, jacks, and a refrigerator, that's it.  He actually removed the cooktop, water system, and propane system.
TCM: That's a very basic camper.  On your website it currently says that there's only forty-seven build slots available for 2014.  What does that mean?
Matt: With our current facility and production crew, we can only build so many truck campers and maintain our high levels of quality and customization.  Currently we are sold out through October of 2013.
For the 2014 year, we are scheduling forty-seven camper builds.  If you want a Hallmark next year, it's best to order the camper now.  We had a few customers this year very disappointed that we couldn't build and deliver a truck camper faster.  We're trying to avoid that situation in the future by taking reservations.
TCM: I presume that means things are going well at Hallmark.
Matt: Yes, we are doing very well.
TCM: Have you been able to go truck camping this summer?
Matt: Since we're so busy here at Hallmark, I haven't been able to get away too much. For the fourth of July weekend, my family went up to Keystone and the top of Georgia Pass in a Hallmark.  Before the Overland Expo, my dad, my brother and I explored Gemini Bridges near Moab and hung out in Moab for a night.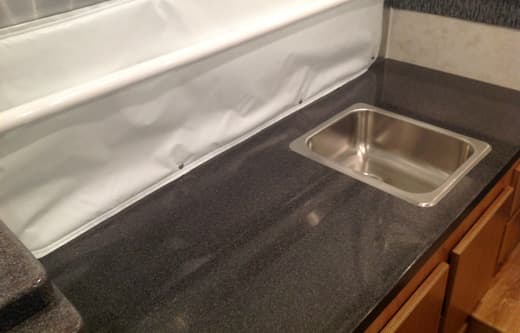 Above: Hallmark's new fully-customizable molded composite counter top.  The above EXC was custom ordered with only a sink.
TCM: Is there anything else you'd like to tell us about the EXC or Hallmark?
Matt: We now have a molded composite counter top that customers can customize with their own appliances including SMEV cook tops and different sinks.  It's basically a blank counter top without the built-in sinks that most Hallmark campers feature.  The first EXC customer got this new counter top since he didn't want a cooktop.  It's available for all Hallmark campers from the Milner to the Cuchara.
TCM: Thanks Matt.
For more information on the EXC and Hallmark campers, visit their website at www.hallmarkrv.com.