The 2014 Eagle Cap announcements include new model news, frameless thermal pane windows, recliner theater seating, a D-shape dinette table, a Mystic color decor, and more.

Part of Truck Camper Magazine's primary mission is to give the industry a professional outlet where they can announce new models and model year changes.  In the electrons of Truck Camper Magazine, the industry can debut their products and explain not only what they are introducing, but why.
In the weeks and months that follow, Truck Camper Magazine publishes reviews that praise, challenge, and critique the new campers and model year changes helping the readers to make purchase decisions, and the industry to continuously improve.
With this article, we talk to Greg Tucknies, National Sales Manager for Adventurer Manufacturing, and begin the 2014 cycle for Eagle Cap.  First up is a major announcement, and an equally big tease about two new Eagle Cap floor plans set to debut in 2014.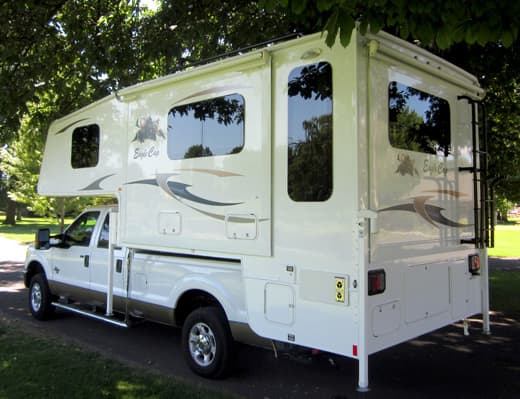 Above: The new look of 2014 Eagle Cap campers
The 2014 Eagle Cap above is shown on a single rear wheel truck for demonstration purposes only.  For proper truck and camper matching, read "Matching a Truck and Camper".
TCM: Are any Eagle Cap models being discontinued for 2014?
Greg: We normally base our decision to continue or discontinue particular floor plans on what sells or does not sell.  Essentially, the public decides which floor plans we keep.
Eagle Cap has been a different story.  Since acquiring Eagle Cap in 2010, we have worked diligently to maintain, and then improve the quality Eagle Cap has always been known for.  Part of that effort included building the same floor plans that Eagle Cap offered in 2010, and not introducing new models.  We focused on quality.
Today we build a full line of Eagle Cap truck campers at a quality never before available.  We have not only maintained the quality of Eagle Cap, but have far surpassed it.  Having successfully made that transition, important and exciting floor plan changes are in store for the 2014 models.  Specifically, the Eagle Cap 950 and 1050 will be discontinued and replaced with updated models.
TCM: Are there any more specifics you can share about these two new floor plans?
Greg: Not yet.  We will debut one new floor plan in October, and another in January.  Of course we'll give Truck Camper Magazine the exclusive.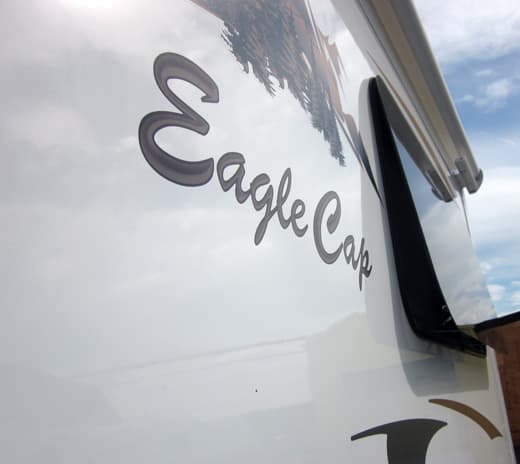 Above: Frameless windows are standard in 2014 Eagle Cap models
TCM: For 2014, Eagle Cap is announcing frameless exterior thermal pane windows.  What are frameless exterior thermal pane windows?
Greg: Frameless exterior thermal pane windows feature an in-set aluminum frame with a hidden hinge.  Frameless windows still have a frame, but you don't see it from the outside of the camper.  The windows have a torque crank on the bottom for cross ventilation, even if it's raining.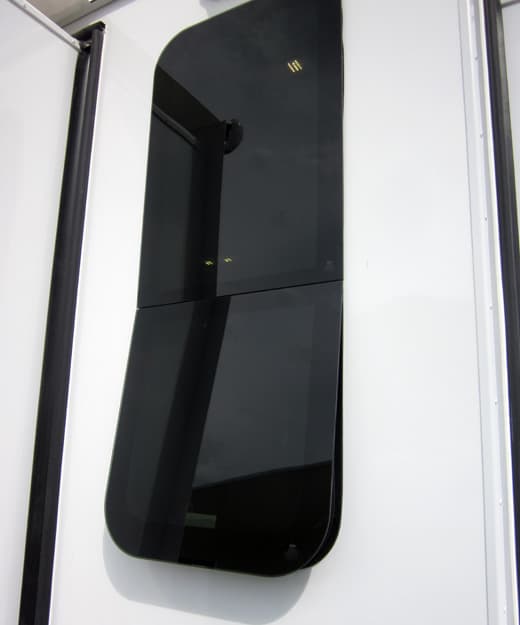 Above: Frameless window on a Eagle Cap 1165
No one is currently offering a truck camper with frameless windows.  We are thrilled to bring this innovation to the truck camper market as part of Eagle Cap's 2014 upgrades.

Above: More frameless window images.  Click to enlarge.
TCM: Have you built an Eagle Cap with frameless windows yet?
Greg: Yes, we have.  When we were testing the change, we built a Eagle Cap 1165 with frameless windows and it looked great.  The first time you see them in person you're going to say, "Wow".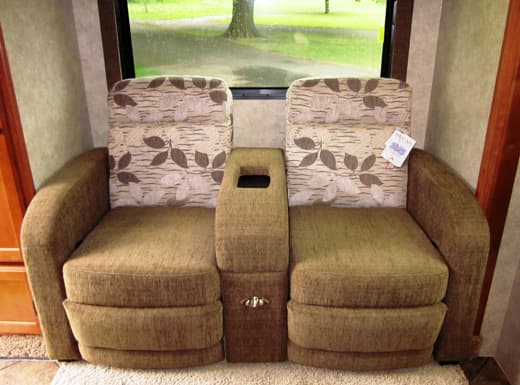 Above: Theater seating in the Silver Leaf décor.  Theater Seating is optional in the Eagle Cap 1160 and 1165.
TCM: There was a lot of excitement when you announced the option for recliner theater seating in the Adventurer 116DS in July.  Will recliner theater seating be available in Eagle Cap models as well?
Greg: Yes, recliner theater seating will be an option in 2014 Eagle Cap models that currently offer a sofa; the double-slide 1160 and triple-slide 1165.  In fact, Eagle Cap customers were the biggest push for recliner theater seating.  It was a recurring request,  so a real no-brainer.
When the option for recliner theater seating first became available, our dealers ordered some campers with recliner theater seating, and some with standard sofas.  Now that the customers and dealers have seen the recliner theater seating, the next production run of campers is 100% recliner theater seating.  It's been extremely well received.
TCM: Is there any chance that someone with a 2011 or 2012 Eagle Cap 1160 or 1165 could upgrade to the new recliner theater seating?
Greg: Technically, they could order them, but the recliner theater seating would not fit through the entry door.  The recliner theater seating would need to be disassembled, brought into the unit, and then reassembled.  That would probably add a half-hour to the installation, but it's very doable.  I would recommend talking to your local Eagle Cap dealer if you own an older 1160 or 1165 and are interested in the upgrade.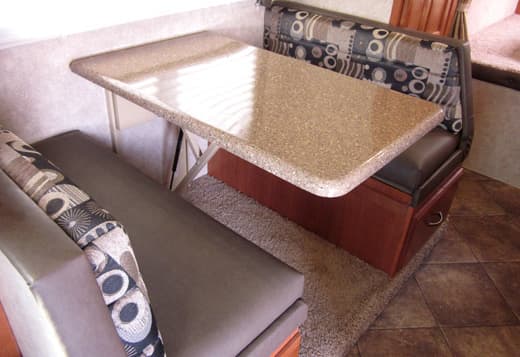 Above: Granicoat fiberglass face-to-face dinette table
TCM: Tell us about the new 2014 Granicoat fiberglass counter tops.  Eagle Cap has always been well known for its lightweight granite coat fiberglass counter tops.  What have you done to improve them?
Greg: Until now, we have matched the granite coat fiberglass look that Eagle Cap had when we bought the assets of the company.  Now that we're building the best Eagle Cap campers ever made, we are also improving the counter tops.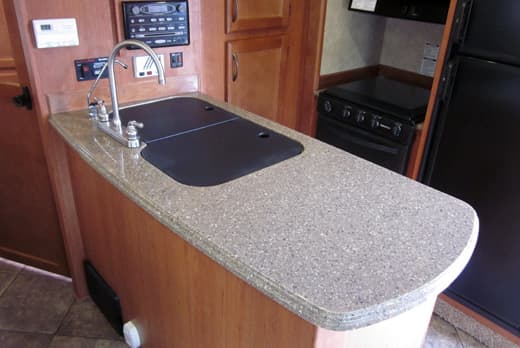 Above: Granicoat fiberglass countertop in the 1165
For 2014, the new Granicoat fiberglass counter tops have a much richer look and give the campers an even more luxurious interior.  The new Granicoat really looks and feels like residential solid surface counter top.  It's gorgeous.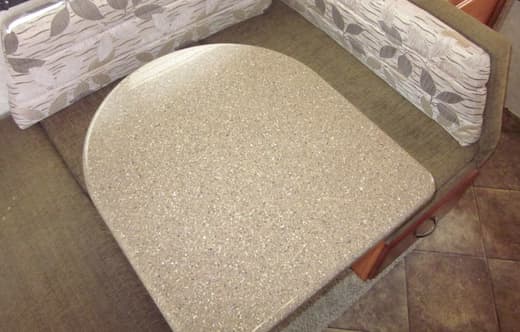 Above: The new D-shape Granicoat fiberglass dinette table
TCM: What is the new for 2014 D-shape Granicoat fiberglass dinette table?
Greg: It costs about $10,000 to build the molds for a new fiberglass counter top or table.  When we decided to upgrade to the new Granicoat, we also decided to revisit the dinette table size and shape.
That research led us to design a D-shape table for the U-shape dinettes in the 1165 and 1160.  For starters, we narrowed the width of the table to allow folks to be more comfortable.  The D-shape also offers more of a face-to-face dinette experience while preserving the space for more people to sit at the table.  Changing from the circle-shape to the D-shape added a lot of functional improvements that we believe our customers are going to love.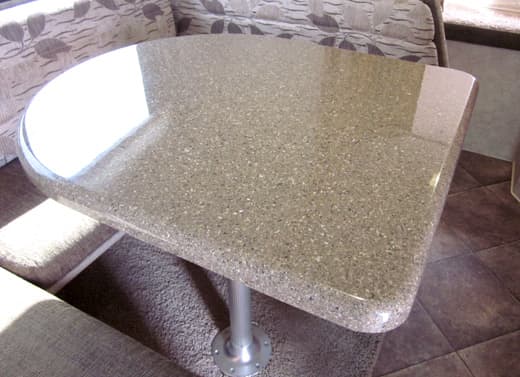 Above: The new D-shape Granicoat fiberglass dinette table
TCM: Can older Eagle Cap owners with U-shape dinettes upgrade to the new D-shape Granicoat dinette table?
Greg: Yes, they can.  Again, talk to your Eagle Cap dealer about ordering the table and installation.  It will be in the new Granicoat color however.
TCM: Tell us about the Dometic Renaissance Series RV refrigerator that you're featuring in 2014 Eagle Cap campers.
Greg: The new seven-cubic foot Dometic Renaissance refrigerator has improved insulation, cool blue interior lighting, and an additional foot of storage compared to last year's six-cubic foot Eagle Cap models.  It also has adjustable temperature and hidden controls, It's a nice upgrade.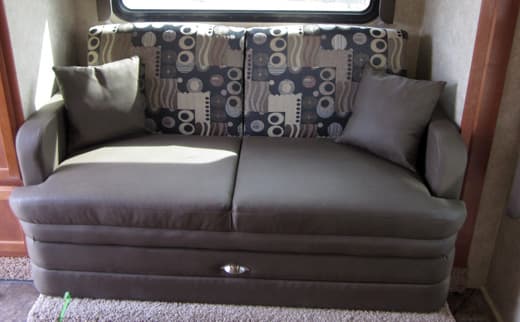 Above: Mystic leatherette interior is being added for 2014
TCM: Are there any changes to the available interior fabrics for 2014?
Greg: For 2014, we are going to continue with Silver Leaf and Amaretto and phase out Cedar.  A new color, Mystic, is being added with leatherette accents to add richness.  Once again we asked the ladies here at Adventurer Manufacturing to help us choose the new fabrics, as every women will tell you men shouldn't be choosing the fabric décor.  We're very happy with their selection.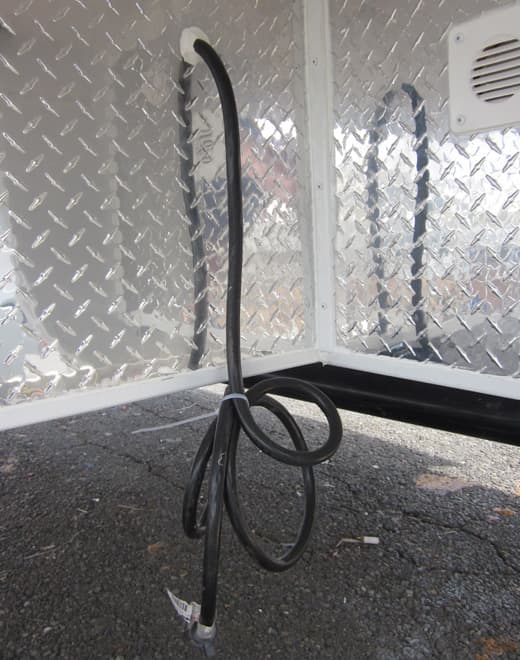 Above: Seven-way umbilical cords are now located on the rear of the camper
TCM: 2014 Eagle Caps will feature seven-way umbilical cords located at the back of the camper.  What is the advantage of putting the umbilical in the rear?
Greg: That particular suggestion originated from Bill Penney at Truck Camper Warehouse.  It makes sense to locate the umbilical at the rear of the camper.  The owner can literally connect the camper to the standard trailer connection either during or after loading the camper.
No more will you be required to install a special plug in your truck bed.  With the new location, you can load a camper, plug-in, and go.  Dealers and owners both love this change.  It saves both money and time.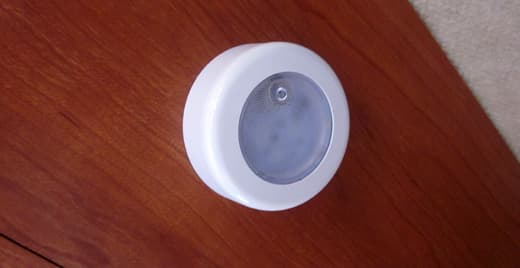 Above: LED reading lights are now in the overcab
TCM: Tell us about the new LED cabover reading touch switch lights.
Greg: We changed our LED cabover reading lights on Eagle Cap truck campers for 2014.  It's a really nice LED reading light that draws about one-tenth the amount of power compared to the incandescent light it replaces, and it doesn't get hot like the old lights did.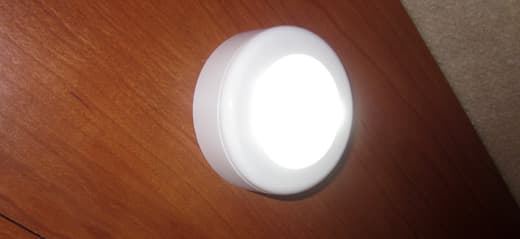 Above: Greg explained that the new LED reading lights were selected for their quality and natural light color
TCM: Is there anything else you would like to announce about the 2014 Eagle Cap line up?
Greg: We welcome you to view our walk around video of the 2014 Eagle Cap camper announcements on our YouTube channel.  We are working on a industry changing floor plan for early next year, something that's really going to knock your socks off.
For more information about Eagle Cap Campers, visit their website at eaglecapcampers.com.