The 2014 Eagle Cap announcements include new model news, frameless thermal pane windows, recliner theater seating, a D-shape dinette table, a Mystic color decor, and more.

Part of Truck Camper Magazine's primary mission is to give the industry a professional outlet where they can announce new models and model year changes.  In the electrons of Truck Camper Magazine, the industry can debut their products and explain not only what they are introducing, but why.
In the weeks and months that follow, Truck Camper Magazine publishes reviews that praise, challenge, and critique the new campers and model year changes helping the readers to make purchase decisions, and the industry to continuously improve.
With this article, we talk to Greg Tucknies, National Sales Manager for Adventurer Manufacturing, and begin the 2014 cycle for Eagle Cap.  First up is a major announcement, and an equally big tease about two new Eagle Cap floor plans set to debut in 2014.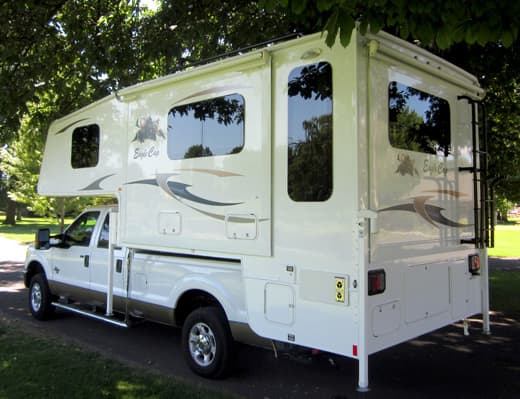 Above: The new look of 2014 Eagle Cap campers
The 2014 Eagle Cap above is shown on a single rear wheel truck for demonstration purposes only.  For proper truck and camper matching, read "Matching a Truck and Camper".
TCM: Are any Eagle Cap models being discontinued for 2014?
Greg: We normally base our decision to continue or discontinue particular floor plans on what sells or does not sell.  Essentially, the public decides which floor plans we keep.
Eagle Cap has been a different story.  Since acquiring Eagle Cap in 2010, we have worked diligently to maintain, and then improve the quality Eagle Cap has always been known for.  Part of that effort included building the same floor plans that Eagle Cap offered in 2010, and not introducing new models.  We focused on quality.
Today we build a full line of Eagle Cap truck campers at a quality never before available.  We have not only maintained the quality of Eagle Cap, but have far surpassed it.  Having successfully made that transition, important and exciting floor plan changes are in store for the 2014 models.  Specifically, the Eagle Cap 950 and 1050 will be discontinued and replaced with updated models.
TCM: Are there any more specifics you can share about these two new floor plans?
Greg: Not yet.  We will debut one new floor plan in October, and another in January.  Of course we'll give Truck Camper Magazine the exclusive.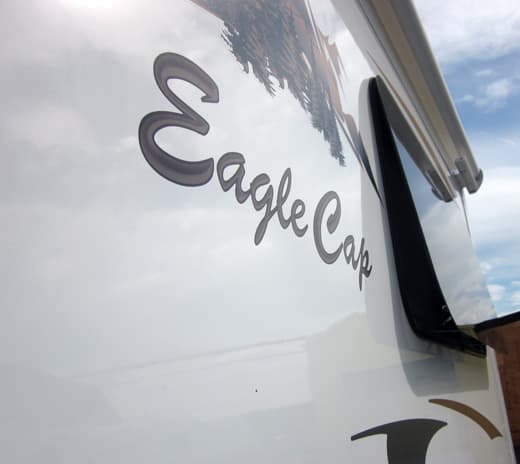 Above: Frameless windows are standard in 2014 Eagle Cap models
TCM: For 2014, Eagle Cap is announcing frameless exterior thermal pane windows.  What are frameless exterior thermal pane windows?
Greg: Frameless exterior thermal pane windows feature an in-set aluminum frame with a hidden hinge.  Frameless windows still have a frame, but you don't see it from the outside of the camper.  The windows have a torque crank on the bottom for cross ventilation, even if it's raining.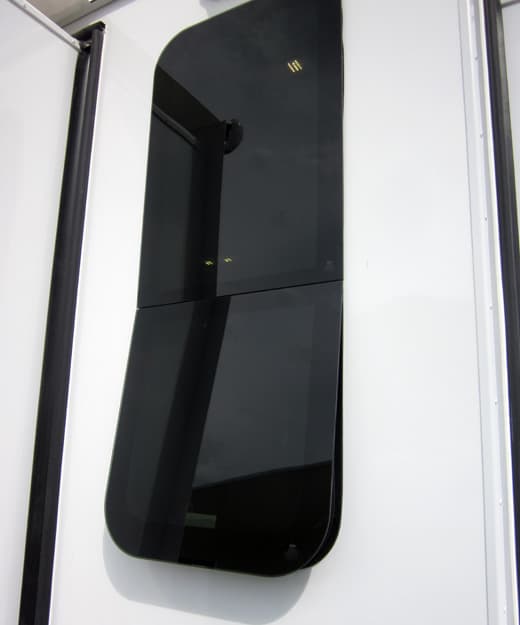 Above: Frameless window on a Eagle Cap 1165