Lance Camper has a long list of 2013 changes including a front nose cap, solid surface countertops, all-LED lighting, and the new Lance 1172 double slide.
Imagine a world where the people who actually used a product were actually able to talk to the manufacturers of the product to give input on how the product should be changed and improved.  Then imagine that those suggested changes were actually done by the manufacturer, who then actually gave credit to the consumers for the suggestion.  Could this actually happen?  Actually, yes.
In the following interview, Les Fowler, Lance Camper's Product Development Manager, shares plenty of announcements about the 2013 Lance changes, but one particular detail caught our attention above the other news.  In short, Lance Camper went to school on our 2012 Ultimate Truck Camper Survey results and its thirty pages of open reader feedback.  For example, if you don't like the new double sinks in the 2013 Lance Campers, it's your fault, and ours.
2013 LANCE 1172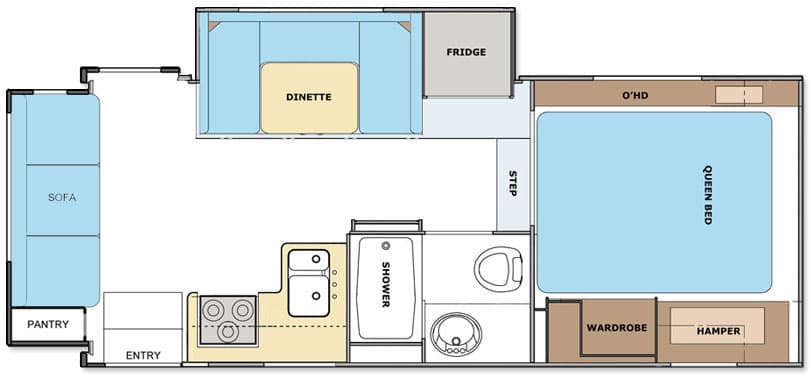 Above: The Lance 1172 floor plan
TCM: Let's get the big news out right away.  Lance Campers is developing an all-new double slide truck camper model; the 2013 Lance 1172.  Lance has steered away from large multi-slide-out floor plans because of internal concerns of structural integrity and weight.  How has Lance has resolved those concerns?
Les: The first way we address our weight concern is to recommend an appropriate truck for a camper this size and weight.  The Lance 1172 is designed for a dual rear wheel truck.
Using Azdel composites on the exterior and interior panels, walls, and ceiling saves eighty to one hundred pounds of weight, but it's not going to be a lightweight camper.  Lighter materials like Azdel also come at a cost to weight penalty, but that's what we need to do to keep our units as light as possible.
Using aluminum frame our lamination process and lite-ply cabinet construction also saves weight on the 1172.  The 1172 will feature a full-wall slide-out like the 1181 and a second sofa and pantry slide out the rear.  The 1172 is the same length as 1191, which is almost twelve feet long.
TCM: What do you estimate the weight to be of the 1172?
Les: This camper should be 200 pounds heavier than an 1191.  We are now using the Schwintek slide mechanism on all new models which saves us about fifty pounds per slide room over the Happijac slide that we have been using.  We had held back from using the Schwintek slide mechanism because it was new to the market.  We're using the Schwintek slide mechanism this year on our entire travel trailer line.  On our truck campers, the slide mechanisms typically weigh seventy to one hundred pounds.  The Schwintek unit is thirty pounds.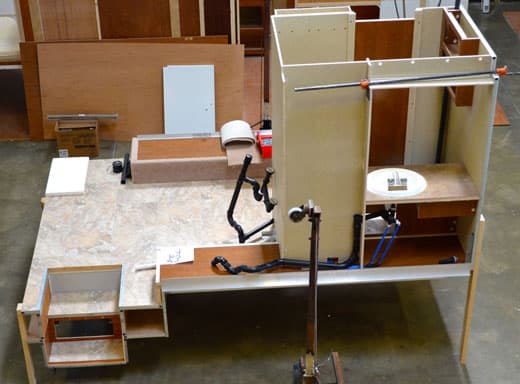 Above: The Lance 1172 prototype in Lance's Research and Development Department
TCM: That's an impressive weight savings, especially for a multi-slide unit.  The general floor plan for the 1172 is one that's been made popular by other brands for the past five years or so.  What will differentiate the 1172 in the marketplace?
Les: The other manufacturers are building their campers over the top of the truck side rails.  Essentially, the other manufacturers have built a small fifth wheel, added a twenty-four inch deep basement, and put it into truck bed.  This approach significantly raises the center of gravity and increases the weight and height of the campers.
The Lance 1172 design features the same twelve-inch basement as our 1191 and 1181 models.  It will retain the same interior and exterior height.
The other double slide campers have an entry that is twelve inches higher than ours.  On dealer lots, these campers are always shown on the ground so you don't realize the height of the rig until it's on your truck.
TCM: Does not building over the truck rails impact your floor plan?
Les: Not building over the rails impacts our design in the bathroom area somewhat, and our dinette sits up of the floor twelve inches, but our camper does sit much lower on the truck by eight to twelve inches.
TCM: We will wait until the camper is completed before diving further into this new model.  When can we expect the 1172 to debut at Lance dealers and RV shows across the country?
Les: It will probably be ready in early September.  We have finished the cabinets and plumbing and the walls are being built.  We'll have the walls on the prototype in the next week or so.  Then we need to fine tune anything interior wise.
The prototype will probably be finished in late July.  Then we'll build a production prototype and run it down the production line to work out any production details.  Then they'll do a mini run of four campers, followed by the orders that have been taken.  We have dealers that are already have ordered the 1172.
2013 LANCE CHANGES
TCM: Let's move on to the Lance changes for 2013.  Are there any Lance models that are being dropped for 2013?
Les: The dropped models for 2013 are the Lance 830, Lance 950, and Lance 1050.  These models were a very small percentage of our total builds for last year.
The Lance 830 was a different unit with very unique parts.  For example, we were ordering one hundred curved bath doors at a time.  These types of unique items are expensive and not practical to do.  The 830 was based off the campers they build in Europe.  The biggest issue with that camper is that it didn't have onboard generator capability, which took a lot of people out of that particular unit.  It was also more expensive because we put the European windows and interior hardware.
With the 950 and 1050, once we had the slide-out versions, the slide-out versions dominated.  The 1050 was basically an East Coast camper.  At the end of the model year we review how the models did and we'll drop units that did not perform well.  Then, we will develop something new to replace it.
Above: This 2013 Lance 950S with Rainforest interior is currently at Arizona Campers and Trailers in Phoenix, AZ.
TCM: The one 2013 change at Lance that's likely to catch everyone's eye is the new one-piece molded front nose cap.  Front nose caps have been available from Lance's competitors for over a decade.  What finally led Lance to decide to make a front nose cap for its truck campers?
Les: The team has really wanted to do a front nose cap, especially Jack Cole, Lance Camper's President.  We started looking at nose caps about four years ago.  When the market slowed up in 2008, we had to move our focus to travel trailers.  Nose caps got moved to the back burner.
There were lots of opinions here at Lance about what a front nose cap should look like.  A couple of times this conversation pushed us past our drop dead date for changes, so it got pushed back again to the following year.
TCM: Tell us about the design and development of the front nose cap; especially its material and shape.
Les: We mocked up the front nose in foam to come up with the conceptual design.  Then we modeled it in SolidWorks and made revisions.  Following that process, we presented three concepts to our Product Group and they decided on the one we currently have for 2013.
TCM: Is it truly aerodynamic?
Les: We put an aerodynamic air dam on the bottom of the nose cap.  It has the effect of deflecting air downward and helps to keep bugs off the front camper wall.  The front nose cap also features a radius around the outside edge and a bubble in the middle to help move the air outward.  Anything that's curved is going to be more aerodynamic than something that's flat.
TCM: What material is the front nose cap made of?
Les: It is made out of high impact scratch resistant high gloss TPO, or thermoplastic polyolefin.  It's the same material that car bumpers are being made out of.  It's a different kind of TPO than the TPO used on our roofs.  It is also much lighter than fiberglass and does not crack in different climates.
Above: This 2013 Lance 992 with Rainforest interior is currently at Princess Craft Campers in Round Rock, TX. 
TCM: Where is the front nose cap manufactured?
Les: Vernon, California.  They're made in the USA.
TCM: Is it possible for someone with a 2012 Lance or older to get that front cap installed?
Les: Before the 2013 design change, our truck camper models had one of three different front nose contours.  Fitting the new front nose cap on older models isn't possible.
TCM: The second most interesting 2013 Lance announcement is invisible; the change to Azdel composite to replace the luan wood in the walls and ceiling.  Lance has been experimenting and using Azdel to different degrees for a few years.  What led to the complete change over?
Les: Getting the wood product out of our walls was important.  Plus, the luan wood product comes from Malaysia and it's inconsistent.
From a laminating characteristic, Azdel is more consistent, and there's no formaldehyde.  Azdel has a R2 value and is made in the USA.  It is also lighter than luan, it's not affected by moisture mold or mildew, and has sound and energy absorbing characteristics.
Again, there's a cost penalty and a weight savings.  Azdel is much more expensive than the luan it replaces.
TCM: Does this mean there is no wood in the frame and structure of Lance campers?
Les: The floor is still wood on the top and bottom.  The wings and risers still have wood.  The top of the roof also has wood on it.  Places you walk on like the roof and floors still have wood.  Azdel is not as hard as wood.  Heeled shoes could cause the Azdel to show compression marks.  Everywhere else; side walls, the substrate on the fiberglass, inside on the ceiling, and the front and rear are all done with Azdel.  Luan is only where you walk, on the top of the roof and the floor.
TCM: Did this change reduce the weight of Lance Campers for 2013?
Les: Yes, we saved weight, but part of the savings was offset with additional features.   The 855S now has a one piece fiberglass bath, molded galley, and cabinets in cabover, so the camper weight actually went up twenty pounds.  The added features are somewhat offset by the Azdel.  Other models like the 1181 and 1191 see a weight savings of eighty to one hundred pounds because they already had some of these features.
Above: This 2013 Lance 1181 with Hot Spot interior is currently at New Horizons Outdoors in Douglasville, GA.
TCM: Any thoughts on going to completely wood free truck camper in the future?
Les: Other than the cabinetry, I can see Lance Campers being wood free in the coming years.  For example, the Lance 1575 travel trailer has a one piece fiberglass roof and a fiberglass floor.  As always, we continue to look for ways to take weight out of the campers.
TCM: Are there any considerations at Lance to moving away from aluminum framing and going to a composite material frame?
Les: I see that possibly further down the road.  In the United Kingdom, Bailey Caravans is building RVs using composite tubing.  So there are other options we can look into.
TCM: Speaking of the wood that remains in the 2013 Lance Camper line, the interior wood materials have been changed including new wood grain panels described as having more texture and new raised panel cabinet doors that feature what Lance calls a "glazed effect".  Why were these wood materials changed?
Les: Most of it was aesthetic.  We had not changed our wood grain for six to seven years.  We asked our interior designer to present some ideas and she came in and presented a number of possibilities.
We wanted a higher gloss level for the new cabinetry.  We also changed the design of the cabinet doors to a different style.  The glazing gives the cabinetry the look of more depth.  The doors added some "pop"!
TCM: So, you have an interior designer at Lance.  Tell us about her.
Les: Her name is Cindy Schultz.  She's an independent interior designer here in California.  Cindy is very in tune with current design trends and is constantly in contact with the fabric mills on the latest colors and designs.
This year Cindy presented twenty different interior decors.  She sets out everything from the bedspreads to the interior panels.  We narrowed it down to around to four and five choices and eventually came up with Hot Spot and Jet Stream.  Hot Spot is really different.  The pictures don't do it justice.  When you walk into a Lance Camper with the Hot Spot interior, you'll go, "Wow".  It looks really rich.
TCM: Another significant change at Lance for 2013 are the solid surface countertops.  Tell us about the development of the solid surface countertops and why you chose to go in that direction.
Les: Some of the changes we made were due to the 2012 Ultimate Truck Camper Survey in TCM.  For example, we are introducing a double sink and went to a molded countertop with back splash and side splash.  The countertops are glossy instead of the matte look we had before.  The inset sinks are grey and look like stainless steel.  We even added a pull-out galley faucet with sprayer.
The 825 and 865 still have laminate countertops, but even that's been upgraded with a granite look.  We use that same laminate for the table tops in the other units.
Above: This 2013 Lance 1050S with Rainforest interior is currently at Campers Inn in Merrimack, NH.
TCM: That's fantastic.  Did you make any other changes based on the 2012 Ultimate Truck Camper Survey?
Les: Yes, we did.  We now have interior and exterior LED lighting.  That came directly from the survey results.  Your readers were asking for more light in the unit, so we added a skylight with a pull shade.  In the survey people liked the removable power cords, so that's been changed across the board.  We also increased our solar panels to 95 watts.
Other change requests came from our customers and dealers.  We added cabover speakers, and the stereo and television are HDMI connected.  Our customers are always asking for more electronic stuff.  We also added a remote infrared for the stereo.  If the stereo is mounted toward the dinette and you're in the bed, you couldn't control the stereo or DVD player.  Now there is a remote infrared that's pointed to the bedroom so you can work the stereo.
The black tank flush is now standard.  People were asking about power roof vents in bathroom so now that is standard.  The HD television antenna is also standard.  The auto transfer switch with the generator is standard.  We also now have a twenty amp regulator.
TCM: Can you put two solar panels on the roof from factory?
Les: Yes, we can put two 95 watt solar panels on from factory.  A consumer can also add a second panel as we are using a 30 amp solar regulator.
TCM: It's hard to get excited about a new table leg, but some at Lance are particularly excited about the new table leg being introduced in many of the 2013 models.  What's all the fuss about?
Les: We have two table changes for 2013.  We went with marine table legs on the pedestal tables, which are much better than the swedged leg we were using.  The new table leg is manufactured by ITC for the marine industry.  It's another pricey item compared to other options, but it was time to make an improvement.  The other leg was from China and it was not nearly as sturdy.  Paul Harris, our Customer Service Director, was getting complaints about our table leg, so we changed it.
On the 855S, 950S, and 1050S we went with the dream dinette with no leg.  Those campers feature a full-booth dinette.
TCM: Another announcement for 2013 is what's not being included; specifically border trims on the interior, and graphics that crossed windows on the exterior.  Why is Lance eliminating the interior border trims and window crossing graphics?
Les: Most of us at Lance have never been a fan of border tape, but it adds some color to the interior.  For 2013, we wanted to eliminate it.
The big area where border tape was used was mostly in the galley area.  We have had comments about the stove area needing more protection, so we went with a backsplash and side splash in the galley, which also adds more aesthetically.
The graphics came off the windows because they were blocking views.  That change came from our consumer surveys.  When ordering their campers, most consumers were eliminating the graphics over the windows.
TCM: What's this new backsplash made of?
Les: It's made from a special heat resistant thermoplastic by a company called Fasade.  We chose a brushed silver look with a little waviness to it.  It is easily cleaned, is water, impact, and stain resistant, and comes in 24"x18" pieces.
It picks up the different colors inside the unit.  From one side it looks bronze, another side black, and another way it looks like brushed stainless.  The new backsplash adds a rich dimensional look, and has function to it.
Above: This 2013 Lance 865 with Hot Spot interior is currently at Ketelsen Campers of Colorado in Denver, CO.

TCM: The 2013 Lance 850, 855, 855S, and 950S are all receiving new one-piece shower stalls.  Tell us about the new stall.
Les: The new one-piece shower stall if very similar to the stall in the 992.  It's much cleaner and has less seams.  It's all one piece and we use a marine hatch door for the toilet paper holder.
TCM: Most Lance campers are getting skylights in the galley kitchen area in 2013.  What led to this change?
Les: It's very similar to the skylight over the shower.  It's located between the dinette and galley.  We added a shade so that you can close it off for light purposes.  It does give you more exterior light in the camper.  If you order the vent cover option, you get a removable cover for the skylight as well.
TCM: For 2013 Lance is changing to interior LED lights.  Were you able to calculate how much more efficient the LED lighting is compared to the incandescent lights you replaced?
Les: It's substantial.  A normal camper incandescent light bulb draws .94 amps per light.  Some draw 1.44 amps.  Most of the LED lights we're using draw between .04 and .05 amps.  The galley lights are a bit brighter and use .35 amps.  All of the interior LED lighting on a 2013 Lance would equal three or four incandescent bulbs from a 2012 model.  It's a huge current draw savings.
TCM: How did you choose which LED lights to use?
Les: We brought in lights from our various suppliers and built a test room to review them.  The reading lights are brighter than the overhead lighting.  The overhead lighting is flush mounted.  There are two LED lights in the slide-outs that are controlled by a dimmer switch.  The LED in the galley is also brighter to get more work area lighting.  The ceiling LED lights are four inch round lights with a frosted lens that diffuses and lights the camper without being too harsh.
TCM: Lance has changed to a new high gloss fiberglass exterior.  Is this Lamilux 4000 or another fiberglass reinforced panel material?
Les: We're using Lamilux 1000 in the 825 and 865.  The other units get the higher gloss Lamilux 4000.  It's a brighter, glossier white.  It gets you closer toward a motorhome finish and looks better on the trucks.
With our lamination process using Azdel as a substrate, we eliminate the telegraphing lines that are more prevalent with luan.  It allows you to go to a higher gloss level panel and not see the telegraphing.
TCM: Lance announced domestic style porcelain toilets for its travel trailer line.  Why not include porcelain toilets in the larger Lance truck campers, at least as an option?
Les: Because of weight.  In the travel trailers, it's half porcelain and half plastic.  It's still a heavy toilet and that's why it's not in the camper line.  Also, the porcelain toilets foot flush which is not conducive to a camper wet bath.  With the toilet platform in a wet bath you could overextend and possibly break the pedal mechanism.
TCM: Are there any other 2013 Lance changes that we haven't asked you about?
Les: We have added cabinets in the front cabover of the 855S, 950S, and 1050S because our customers wanted additional storage.  We added cabinets on both sides of the bed.  We also have a hamper and another storage compartment across from the wardrobe.
As a result of our consumer surveys, we have added an Extend-A-Shower in our dry baths.  The Extend-A-Shower is a shower rod that clicks in toward the shower to give you more room in the bathroom and clicks out to give you more showering room in the shoulder area.
ONE MORE ANNOUNCEMENT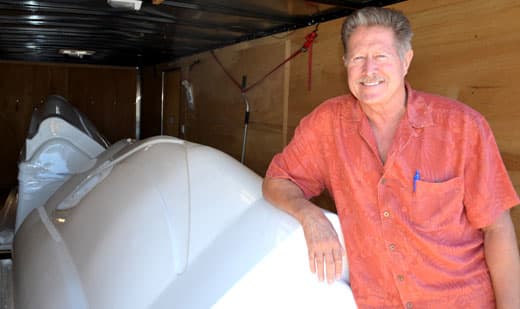 Above: Les Fowler, Product Development Manager for Lance Camper, with the new 2013 nose caps
TCM: Speaking of announcements, you have announced your retirement from Lance.  First, we want to congratulate you on your career and thank you for your contributions to the truck camping industry and community.  Looking back, what are some of the floor plans, models, and innovations that you're most proud of at Lance?
Les: Wow, that's a good question.  A lot of what I've done has to do with how the product is assembled.  When I started at Lance in 1999, the campers were assembled from the outside in with the sidewalls and ceiling installed first and then the cabinets were installed through the back.  We had a lot of production workers inside the camper trying to work.  I brought the concept of working from the inside out to Lance.  Later we brought in lamination, CNC equipment, and developed more production efficiencies.
My main goal has been to make the campers easier to build.  Right now our cabinet construction is very simple with the CNC equipment.  Gimp, staples, and putty tape have been eliminated.  We've gotten a lot more efficient.  And the campers look much better the way we're building now.
TCM: Where were you working prior to starting at Lance in 1999?
Les: I was with Fleetwood for twenty-four years, starting in 1976.  This past March was thirteen years here at Lance.
I started at Fleetwood in the towable group as a draftsman and progressed up to product development manager overseeing development on multiple product lines.  The last four years at Fleetwood, I moved to Operations and Manufacturing Manager, where I was a liaison between the plants and the product development groups.
An opportunity to get back into product development came up at Lance.  I started here in March of 1999.  I had two engineers working for me and we were in the early stages of using AutoCad.  We got to come up with lots of good stuff.  It's always been fun to develop product.
TCM: Where do you see the truck camper industry and product going into the future?
Les: Looking into the future, the biggest challenge facing the truck camper industry and community are the vehicles you are going to be able to put a truck camper on.  Most of what the truck manufacturers push is towing capability and not payload capability.  Plus,  the cost of the one ton trucks are $50,000 to $70,000.
TCM: Now that you're retiring, any plans to take a Lance Camper with you and hit the road?
Les: Oh, I don't know.  I would probably do that.  I do have a boat and a trailer at the Colorado river.
TCM: Which Lance Camper would you want?  We'll make some calls.
Les: I like the 992 personally.  The nice thing about the 992 is that it has a lot of room.  It's also not a long camper.  If you're towing, it's much easier than a ten or eleven footer.  For towing purposes, it's a nice unit.  It's roomy and has a good size bath.
TCM: What's next for Les Fowler?
Les: I'm moving to Prescott, Arizona.  I already have a California real estate license and plan on getting an Arizona real estate license so that I can dabble in real estate.  My wife has told me I will need to get my insurance license so I can help her out in her State Farm office.  I am up at 5:00am every morning, so I will have to do something to keep me busy.
TCM: Again, congratulations on an amazing career Les.  And thank you for everything you've done for the truck camping community.
Les: It's been very enjoyable working at Lance.  I have enjoyed the free reign that Mr. Cole has given me.  Jack comes down once or twice a week to see what we're working on in the prototype shop area.  The support that I've gotten while I've been here has been great.  I'll miss it here at Lance.
Check out the Lance Camper Buyers Guide to see all models.  For more information on Lance Campers, visit the Lance website at lancecamper.com.  Click here to request a free Lance brochure.