Doug Karr, Northwood Manufacturing's Truck Camper Guy, unveils the all-new 2012 Wolf Creek 816.  A classic floor plan is given a fresh and groovy update.

The floor plan of the 2012 Wolf Creek 816 is an instantly recognizable truck camper classic.  This floor plan has literally been the back bone of the hard-side non-slide truck camper category for decades.  There probably was one of these floor plans at Woodstock, caked in mud, grooving to Richie Havens, and rocking with free love.  Okay, that's probably a stretch, but you get the point.  What's old is new again… again.
You may be asking yourself, "Why would Northwood select such a classic design for an all-new 2012 model?"  And I would answer, "Because it's a time tested no non-sense truck camper design that works".  That counts for a lot for a product that you're hopefully going to own and enjoy for many years to come.  This floor plan is not a fad.  There are no design experiments here for you to beta test.  This is the real deal, the hard side floor plan that put truck campers on the map, and then explored every corner of it.
So what did Northwood bring to the table with this tried and true design?  Nothing, and everything.  They left alone what makes this floor plan work.  Everything is where it should be, as it should be.  But don't for a second think this camper is a throwback.  Oh no.  This camper is a modern Northwood truck camper, from it's fully laminated aluminum framed walls, to the plethora of creative storage areas only computer aided design could discover.  It's still Woodstock, but remastered, and in high definition.
To get the low down on the new 816, we interviewed Doug Karr on the three hour drive from La Grande, Oregon to the Boise Idaho airport.  Wouldn't you know he drove us the whole way there in his truck camper rig?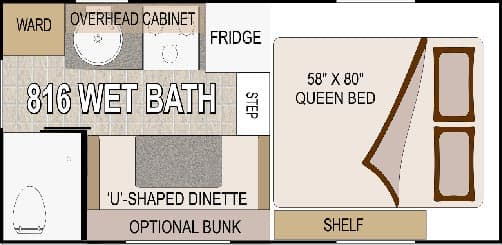 2012 Wolf Creek 816 Specifications:
The 2012 Wolf Creek 816 is a hard-side, wet bath, non-slide truck camper.  The interior floor length of the 2012 Wolf Creek 816 is 102" and the interior height is 78".  Northwood is reporting the dry weight of the Wolf Creek 816 at 1,865 pounds with standard features.  The tanks in the 2012 Wolf Creek 816 are 30 gallons fresh, 11 gallons gray, and 13 gallons black.  The camper accommodates two batteries and one twenty-pound propane tank.  The MSRP for the Wolf Creek 816 is $16,706.
TCM: When you were designing the Wolf Creek 816, who were you designing it for?
Doug: The Wolf Creek 816 was designed mainly for weekenders, including hunters and fisherman.  It's also a great camper for people who are towing horses, ATVs, and boats because it's light weight.  Our dealer network was asking us for a basic, light weight camper, so that's what got us started.
TCM: Tell us about the development once you had the design completed.  Did you have any issues with the prototype?
Doug: When a prototype is completed, I will spend most of the day in it.  I will literally take a whole day and just play in the camper to see how everything works and see if there's anything that we need to change.  I'll open the cabinet doors, make the dinette into a bed, and just see how everything functions.
The 816 came out close to perfect the first time.  The only minor detail that I added was lowering the door light switch so that it is accessible when the camper is on the truck.  The rest of the team added their own details and improvements here and there, and it was done.
TCM: Does the Wolf Creek 816 feature the same level of framing, insulation, and construction as the Wolf Creek 850?
Doug: Yes.  In fact both the Wolf Creek 850 and 816 feature the same quality of insulation as our Arctic Fox campers, but with one-inch aluminum framed walls instead of two inch aluminum walls.  I really don't know how to compromise.  I think about some of the low cost campers that came out over the years and how they would fall apart, or leak.  I don't want that.
TCM: Why does the Wolf Creek 816 have two batteries, but only one five gallon propane tank?
Doug: From experience, it's more likely that you will run the batteries low from the heater fan running than running out of propane.  With normal propane use, a single five-gallon propane tank should last you about five days, maybe a week if you're using it everyday for the refrigerator, heat, and cooking.  Batteries are much more likely to be an issue, but much less so with a dual battery system.
TCM: How big is the refrigerator in the Wolf Creek 816?  It must have been a compromise between space, cost, and weight.
Doug: The refrigerator is a three cubic foot model instead of the five cubic foot model in the Wolf Creek 850.  All of the other amenities are pretty similar including the three burner stove top.  A three cubic foot refrigerator is great for a weekend getaway.