Doug Karr, Northwood Manufacturing's Truck Camper Guy, unveils the all-new 2012 Wolf Creek 816.  A classic floor plan is given a fresh and groovy update.

The floor plan of the 2012 Wolf Creek 816 is an instantly recognizable truck camper classic.  This floor plan has literally been the back bone of the hard-side non-slide truck camper category for decades.  There probably was one of these floor plans at Woodstock, caked in mud, grooving to Richie Havens, and rocking with free love.  Okay, that's probably a stretch, but you get the point.  What's old is new again… again.
You may be asking yourself, "Why would Northwood select such a classic design for an all-new 2012 model?"  And I would answer, "Because it's a time tested no non-sense truck camper design that works".  That counts for a lot for a product that you're hopefully going to own and enjoy for many years to come.  This floor plan is not a fad.  There are no design experiments here for you to beta test.  This is the real deal, the hard side floor plan that put truck campers on the map, and then explored every corner of it.
So what did Northwood bring to the table with this tried and true design?  Nothing, and everything.  They left alone what makes this floor plan work.  Everything is where it should be, as it should be.  But don't for a second think this camper is a throwback.  Oh no.  This camper is a modern Northwood truck camper, from it's fully laminated aluminum framed walls, to the plethora of creative storage areas only computer aided design could discover.  It's still Woodstock, but remastered, and in high definition.
To get the low down on the new 816, we interviewed Doug Karr on the three hour drive from La Grande, Oregon to the Boise Idaho airport.  Wouldn't you know he drove us the whole way there in his truck camper rig?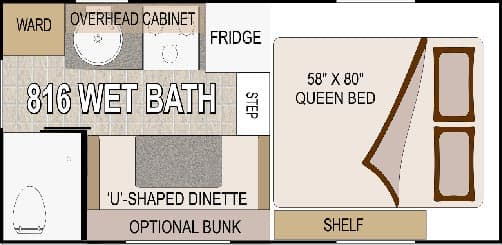 2012 Wolf Creek 816 Specifications:
The 2012 Wolf Creek 816 is a hard-side, wet bath, non-slide truck camper.  The interior floor length of the 2012 Wolf Creek 816 is 102" and the interior height is 78".  Northwood is reporting the dry weight of the Wolf Creek 816 at 1,865 pounds with standard features.  The tanks in the 2012 Wolf Creek 816 are 30 gallons fresh, 11 gallons gray, and 13 gallons black.  The camper accommodates two batteries and one twenty-pound propane tank.  The MSRP for the Wolf Creek 816 is $16,706.
TCM: When you were designing the Wolf Creek 816, who were you designing it for?
Doug: The Wolf Creek 816 was designed mainly for weekenders, including hunters and fisherman.  It's also a great camper for people who are towing horses, ATVs, and boats because it's light weight.  Our dealer network was asking us for a basic, light weight camper, so that's what got us started.
TCM: Tell us about the development once you had the design completed.  Did you have any issues with the prototype?
Doug: When a prototype is completed, I will spend most of the day in it.  I will literally take a whole day and just play in the camper to see how everything works and see if there's anything that we need to change.  I'll open the cabinet doors, make the dinette into a bed, and just see how everything functions.
The 816 came out close to perfect the first time.  The only minor detail that I added was lowering the door light switch so that it is accessible when the camper is on the truck.  The rest of the team added their own details and improvements here and there, and it was done.
TCM: Does the Wolf Creek 816 feature the same level of framing, insulation, and construction as the Wolf Creek 850?
Doug: Yes.  In fact both the Wolf Creek 850 and 816 feature the same quality of insulation as our Arctic Fox campers, but with one-inch aluminum framed walls instead of two inch aluminum walls.  I really don't know how to compromise.  I think about some of the low cost campers that came out over the years and how they would fall apart, or leak.  I don't want that.
TCM: Why does the Wolf Creek 816 have two batteries, but only one five gallon propane tank?
Doug: From experience, it's more likely that you will run the batteries low from the heater fan running than running out of propane.  With normal propane use, a single five-gallon propane tank should last you about five days, maybe a week if you're using it everyday for the refrigerator, heat, and cooking.  Batteries are much more likely to be an issue, but much less so with a dual battery system.
TCM: How big is the refrigerator in the Wolf Creek 816?  It must have been a compromise between space, cost, and weight.
Doug: The refrigerator is a three cubic foot model instead of the five cubic foot model in the Wolf Creek 850.  All of the other amenities are pretty similar including the three burner stove top.  A three cubic foot refrigerator is great for a weekend getaway.
TCM: How did you determine how big the holding tanks should be in the Wolf Creek 816?
Doug: The Wolf Creek 816 has a thirty gallon fresh tank, a thirteen gallon gray tank, and an eleven gallon black tank.  If you compare those tank sizes to similar campers, you'll find they're quite large for this size camper.  I've never met someone who said they liked running out of water, or dumping their tanks.
TCM: That's true, although I think newbies make a much bigger deal out of dumping than the experienced truck campers.  It's no big deal.  Speaking of black tanks, the step up into the bathroom in the Wolf Creek 816 is nothing like the tall step into the bathroom in the Wolf Creek 850.  Why is that?
Doug: There is no step up into the bathroom in the 816 because the tanks are smaller in the 816 compared to the 850.  For that reason, some people may actually prefer the 816 to the 850, even with the smaller tanks.
Another important detail of the 816 bathroom is that we used a molded fiberglass stall instead of the more common ABS, or lined plastic bathrooms that you will see in this price and weight category.  I personally don't like ABS bathrooms and they don't fair well in cold climates like Canada, Montana, and Alaska.  The plastic can crack or even break in cold weather.
One piece molded fiberglass stalls are significantly more expensive, and weigh a bit more, but they're superior.  After some internal debate, we went with the fiberglass stall for the 816.  Again, I really don't know how to compromise.
TCM: But it adds weight.  It sounds like a challenging balance.  How did you pull weight out of the 816 during the design and development process?
Doug: We made the 816 a narrower camper, which takes out a considerable amount of weight.  Another benefit of the narrower width is that the owner doesn't need extended truck mirrors for the 816 because the camper is narrower.  We were targeting half-ton trucks with the 816 so the camper needed to be lighter.  Making it narrower was one way to accomplish this, plus it had some additional benefits, like the mirrors.
TCM: Did you have a target weight when developing the Wolf Creek 816, and did you hit it?
Doug: We always have a target weight range and we strive to hit that.
TCM: When we were looking at the Wolf Creek 816 and 850 at the factory, we were hard pressed to choose which one was better.  They're both classic hard-side, non-slide truck camper floor plans.  How would you advise a customer who was looking at both models?
Doug: If a customer was undecided between the Wolf Creek 850 and 816, I would look at their truck.  If the available payload was borderline for the 850, I would recommend the 816.  For the trucks with more payload, I would recommend the 850.  The 850 has an additional five gallon propane tank, larger holding tanks, and more interior room, but it also weighs more.  We're really looking to make models in the Wolf Creek line that will fit just about any truck.
TCM: What trucks is the 816 designed to accommodate?
Doug: Half-ton short bed trucks.  You can also use a heavier duty short bed, such as a three-quarter ton truck, and then tow a boat or trailer.
TCM: What options are available for the 816?
Doug: Both the Wolf Creek 850 and 816 come pre-wired for solar panels, air conditioners, and satellite television.  The only thing you can't add is a built-in generator, but you can get a portable generator like a Honda eu2000i.  Those are fantastic and are lighter and use less fuel than a built in generator.  You just lose the simplicity and convenience of a push button generator.
Speaking of power, the Wolf Creek 816 has six electrical outlets, for convenience.  We're thinking about adding a 12-volt plug for when people are dry camping.
TCM: We really like 12-volt outlets and wish every camper had one in the dinette area for charging cell phones and the like.  If you have a 12-volt television you can always use that outlet, but we think it's better to have a 12-volt outlet in the dinette area.  On the passenger side rear of the camper there's an access door for your black tank.  Why is that there?
Doug: That allows the customer or dealer to get easier access to the probes on the tanks and service the tanks if necessary.  There's no storage there so it's really only for future maintenance.
TCM: Speaking of outside storage, the 816 seems to have more outside storage than the 850.  How did that happen?
Doug: The 816 is for short bed campers only.  If the 816 were a long bed camper, like the 850 can be, it would have less storage.
TCM: What does the Wolf Creek 816 weigh?
Doug: The dry weight is 1,865 pounds without options.
TCM: What is the MSRP for the Wolf Creek 816?
Doug: It all depends on options of course, but the base MSRP is $16,706.  We have manufactured twenty Wolf Creek 816s and they are all sold to dealers.  They were on the production line when you were at the plant and are now on their way to Northwood dealers throughout the West.
TCM: And the warranty on the Wolf Creek 816?
Doug: Same as all of our truck campers, one year, bumper-to-bumper.
TCM: Are you planning to build any more floor plans for the Wolf Creek line?
Doug: We will look at customer and dealer input and then act accordingly.
TCM: Is there anything we didn't ask you that you would like included in your interview?
Doug: I don't know of many manufacturer representatives who stay in their own campers.  I am convinced it's the best way to get to really know our camper products, and find how we can continuously improve them.  Best of all, I don't ever have to look at a menu when I'm away from home.  I hate looking at menus and prefer just cooking a nice steak outside on my grill, with my truck camper.
TCM: I agree with you.  I would take a truck camper over a hotel room any day.  And restaurants are fine now and then, but I much prefer to eat at home, or in a camper.  Now only if truck campers could fly, I would give airplanes the boot too.
To learn more about Northwood Manufacturing, visit their website at www.northwoodmfg.com.