We made it six inches narrower than our smallest standard model making it 86" wide.  Then we shrunk it down five inches shorter than our 800 model.  We also went to a one-inch wall, except for the rear wall, which is two inches thick because we want to have a nicer quality door.  We normally have two-inch walls in our half-ton units.  Making the walls one inch thick saved a considerable amount of weight, without sacrificing its structural integrity.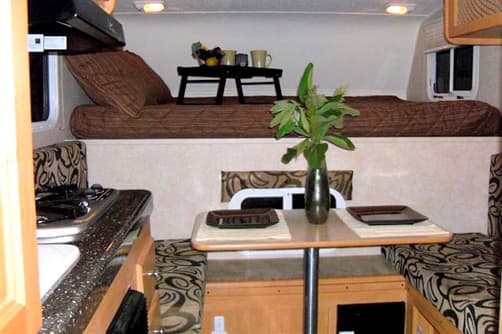 ABOVE: Entrance view showing the east-west overcab bedroom.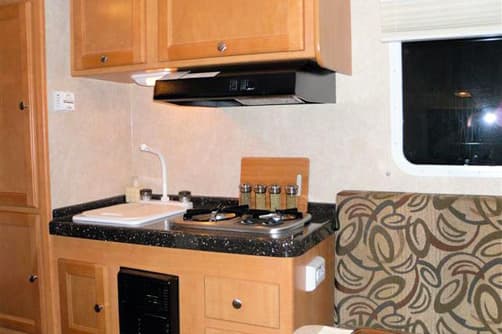 ABOVE: The kitchen with molded Granicote countertop.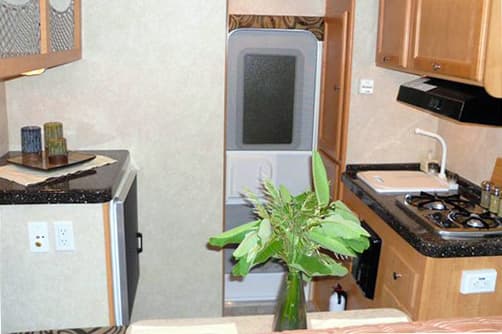 ABOVE: View from the overcab bedroom towards the camper back door.
To further save weight, we eliminated the wall on the front of the bathroom.  Now there is an accordion door that pulls across.  I'm 6'1" and I'm comfortable in the bathroom.  It opens up the unit so much that we are considering using it on other models.
I also wanted to eliminate the black tank.  For the Travel Lite 770 Super Lite, we are using a Porta-Potti in the bathroom.  We put it on a carpeted step on a flat laminated floor, so there is no step up.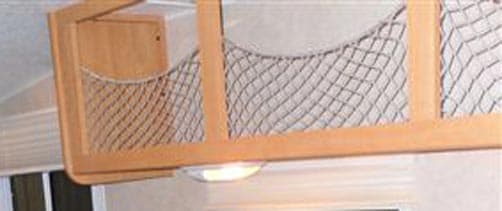 ABOVE: Overhead storage featuring woven nylon netting
Another thing we've done, which is sportier, is use netting on some of the overhead cabinetry instead of cabinet doors.  There are three storage compartments above the dinette and one above the refrigerator.  You can put soft stuff up there like clothes and towels.  By eliminating cabinet doors and hinges, we are taking out weight, and giving you a lot of storage.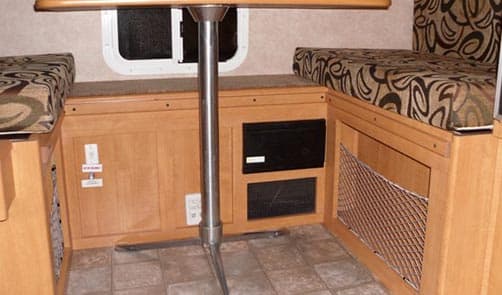 ABOVE: Floor view of dinette featuring an indoor/outdoor table and nylon netting
There's even netted storage under the dinette that's tall and usable.  It's normally an unused spot.
Above the kitchen we have two more cabinets with regular doors for plates and things like that, so we're giving the customer both types of storage.  There's also a forty inch tall storage cabinet with three tall deep shelves in the bathroom.
TCM: What trucks is the Travel Lite 770 Super Lite designed for?
Dustin: Honestly, the 770 will truly fit any full size truck, even trucks with five and a half foot beds.  With a short bed, it barely comes past the bumper.  It's flexible and does not need kits or adjustments to work on short or long beds.  The 770 Super Lite is 7'7" long.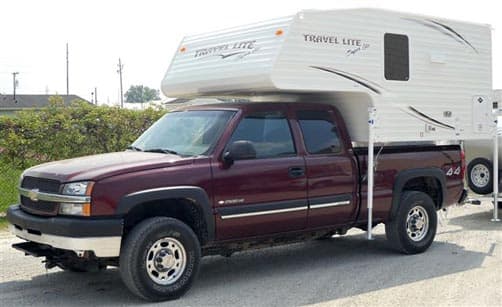 ABOVE: The 770 Super Lite on a short bed Chevy truck


First ← Previous 1 2 3 ... Next → Last Read Entire Article