Robby Rowe of Phoenix Campers tells us how he designed and built a fully self contained truck camper for mini trucks.  Pay attention Magnum!

Robby Rowe loves a design challenge.  Find him a truck with a bed and he'll build a Phoenix Camper for it.  That's easy.  Heck, find him a vehicle of almost any description and he'll build a camper for it.
At the Denver Sportsman Show earlier this year, Robby and I had a particularly fun conversation on this very subject.  I even joked that it would be really cool if he bought an early 80's Ferrari, say a 308 GTS (hello Magnum P.I.), and made a camper for it.  Robby actually started thinking about it!  There we were in the middle of this show talking about a Phoenix Ferrari.  It would be called the Phoerrari, the fastest RV in the history of the world.  If anyone could build it, Robby could.
Making a camper for any vehicle is one thing, but making one that's self contained is another.  To be clear, self contained means a camper has an inside bathroom and holding tanks for fresh, grey, and black.  Robby may be able to make the Phoerrari, but would it have holding tanks?  I wouldn't dare him to do it, but that would be a real trick.  I'm sure Tom Selleck would want one.
Speaking of a real trick, Robby has managed to make what might be the smallest self contained camper ever; the new Phoenix PULSE Self Contained.  While that's not as cool of a name as the Phoerrari, the Phoenix PULSE Self Contained is certainly amazing, at least for its size.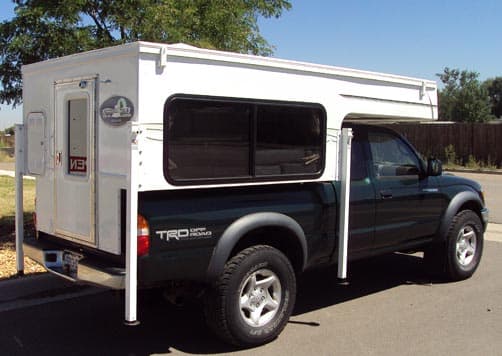 The following is an interview with Robby Rowe, Co-Owner of Phoenix Campers, about the Phoenix PULSE Self Contained.

TCM: How did the PULSE Self Contained come to be?
Robby: It is something I have wanted to do since I got my first pick-up truck in 1983.  I had a 1983 Nissan mini truck.  At the time, I was lucky to find any kind of camper to fit my truck, and the idea of a self contained unit on a compact truck was thought of as crazy.  Finally, thirty years later, we're building a self contained camper that really fits the small trucks.
TCM: Haven't you built self contained campers in the past?
Robby: Since the start, we have built custom self contained units for the big Ford, Chevy, and Dodge full size trucks.  Then in 1992, a gentleman with a short bed Ranger wanted a restroom in his camper.  The furthest I would go was a privacy enclosure with porta-potti.  It wasn't easy to design, but I found that with some careful floor plan tweeking, you can actually have a privacy area with a bathroom in a camper that fits Rangers and Nissans; basically small trucks.
Since then, I have evolved the design and built a half-dozen other requested self contained campers for everything from Tacomas, Canyons, and other mid-sized trucks.
So, about six months ago, I had a Tacoma customer who wanted a fully self contained camper.  He only had a six-foot bed, did not want the camper to go beyond the tail lights of the truck, but he did want hot water, shower, cassette toilet, kitchen cabinets, and all of the other amenities that people often want including a refrigerator, jacks, converter, stove, and two separate beds.  He wanted a camper where three adults could sleep and still have a restroom.
After a lot of careful design work and a few breakthroughs, I completed his camper.  That was the first true PULSE Self Contained.
TCM: How do you get three adults in a camper made for a mini truck?
Robby: The dinette has L-shaped couch seating that runs down the passenger's side and offers an adult length bed.  It's about 22" wide by 6'2" long.  The main bed is queen bed above the cab of the truck.
TCM: What trucks is the PULSE Mini Self Contained designed for?
Robby: Ford Ranger, Toyota Tacoma, Nissan Frontier, GMC Canyon, Chevy Colorado; really all the smallest trucks.  The camper comes right to the tail lights of the six foot beds.  You can even put a self contained PULSE on your five foot bed, with just a little overhang.
TCM: What about center of gravity with the five foot beds?
Robby: In order to make sure that the center of gravity on your custom PULSE ends up in the right place, which is in front of your rear axle, I recommend that you design yours with an extended cabover option.  This will shift your center of gravity forward, to the proper place.
TCM: How is it possible to fit a fully self-contained pop-up into such a small space?
Robby: There's no real big trick to it.  Through the requests of our customers over the years, we have added one new feature at a time.  We've been carefully rearranging the puzzle to make room for each new piece as we go.  Now, thankfully, the pieces have finally all clicked into place.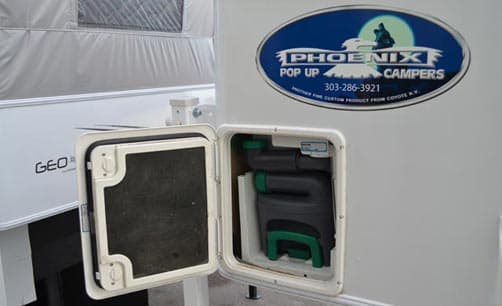 Above: The cassette toilet is located on the driver's side rear of the camper
TCM: What size holding tanks does the PULSE Self Contained have?
Robby: The last few that we built had fifteen gallons of fresh water, ten gallons of grey water, and the cassette toilet has a three gallon built in black tank.  If you carry another cassette, you can change the cassette in the field and have an additional three gallons of capacity.  The fresh and grey tank sizes are customizable.  You can tell us what size fresh and grey tanks you want.  We will be happy to install your requested sizes as long as they fit into the camper.
TCM: Cassette toilets are one thing, but how did you fit a shower?
Robby: The trick to the shower is that it's a sit down shower.  You sit on the cassette toilet.  It's a flexible waterproof upper half bathroom; a simple, water resistant privacy area to use a telephone style shower handle.  You can actually use the shower and be out of the camper aisle way.
Just like on a regular wet bath, the floor of the bathroom is a sealed shower basin with a  water drain.  To get into the bathroom you step up onto a sub floor.  That sub floor is where your drain runs through to your grey tank below.
I put the bathroom on the same side as the rest of the kitchenette.  That way the whole right side of the camper is for your dinette seating and bed.
TCM: Tell us about the kitchen area.  What's there?
Robby: The kitchenette has a three burner stove top, dropped into a molded fiber-composite countertop, with one piece backsplash and molded in double sinks.  We're using the National Luna 12-volt refrigerator upon request.  For convenient use of the National Luna, we now have slide-out access to the refrigerator below the stove.
The furnace is also incorporated into the kitchenette area.  We have a forced air furnace in the kitchenette cabinet and a power converter.  All the workings of the camper are located the kitchenette cabinetry.  We custom build all the cabinets and kitchen to fit each individual truck.  It's all custom built to be the best possible fit to your truck.
TCM: What is included in the PULSE Self Contained?
Robby: Standard equipment includes a Fantastic Vent, our insulated pop-up triple layer liner, welded aluminum frame, our aerodynamic cabover, and storage under the bed that is fully finished with gas shock lifters.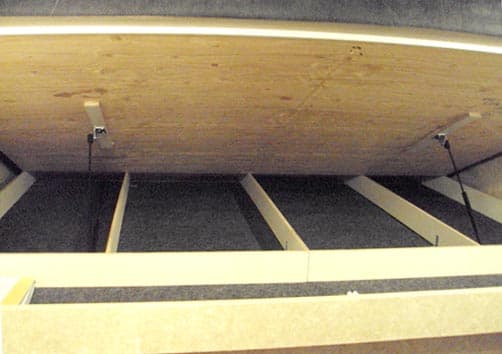 The PULSE Self Contained camper has a fold in bed extension that makes it a front to back queen sleeper.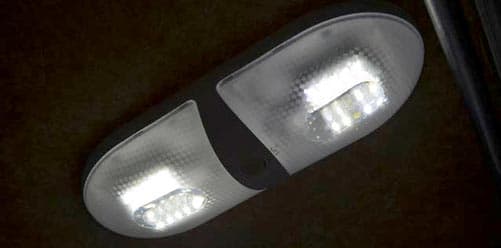 All of the lighting inside and out is LED.  The camper also comes with a deep cycle HD battery system.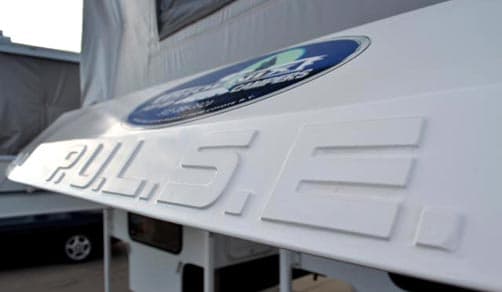 TCM: How is the PULSE Self Contained a PULSE?
Robby: It's a PULSE because it includes the innovations brought about with the PULSE movement; the aerodynamic cabover, one piece rounded back corners, bed liner coating on the flooring so the bottom line is coated instead of painted, the battery, screen door, sliding window.  The PULSE means it is a lot more fully equipped.
TCM: Are there any custom options available for the PULSE Self Contained, or is it a fixed product because of fitting so much function in to a small space?
Robby: It's pretty well packed solid and has all the functional living features standard equipment.  Things you might add are a DVD player/stereo, awning, rack, ladder, or a solar charger.  In fact, the roof mounted solar charger has been very popular.  This may be partly due to the fact that it only adds seven pounds to the camper.
TCM: Seven pounds?  What solar panel and system are you using?
Robby: The brand is Uni-Solar.  It is sixteen inches wide and eight feet long with a quarter inch thick rubber-like consistency.  They are wonderful, roll out sixty-five watt panels.  One of these Uni-Solar panels should run the National LUNA refrigerator, a few lights, and your water pump pretty much indefinitely and keep your batteries topped off.
It's very simple to install.  Just peel, stick, and run the wires.  There's a charge regulator built in.  I love them and have had zero complaints.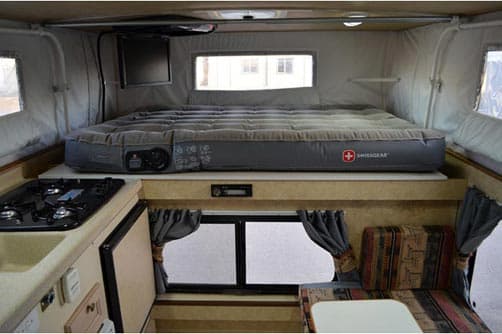 Above: The interior of the Phoenix PULSE SC
TCM: What is the MSRP of the PULSE Self Contained?
Robby: $21,095 with standard features.
TCM: What is the weight of the PULSE Self Contained?
Robby: I have one built for my Chevy short bed.  It's bigger than the one I described and it came in at 1,180 pounds.  I have not weighed the Tacoma sized model, but I estimate it at 1,050 pounds.  If you add the biggest awning, solar, and air conditioning, the Tacoma sized model should be around 1,250 pounds or so.  When the next one is completed, I'll let you know what it weighs.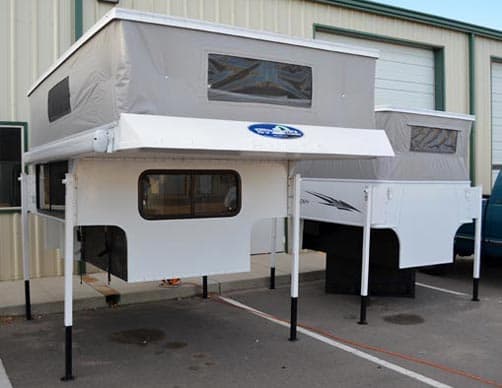 Above: PULSE SC on the left and Geo-Den on the right
TCM: How are things going with the Geo-Den cabover-less pop-up camper you announced in June?
Robby: People went crazy with questions and ideas for awhile and we sold a few.  Since then, the Geo-Den really cooled off.  It's ready if someone wants it.
TCM: Are you still using the special catalytic heater you debuted with the Geo-Den?
Robby: Yes, it's wonderful available feature.  For customers who want the most energy efficient options available, they're a no brainer.
TCM: What are the trade-offs compared to a more traditional forced air furnace?
Robby: The catalytic heaters are about two hundred dollars more than the forced air furnace we use.  They also put out less heat at 6,000 BTU versus 20,000 BTU.  I have found 6,000 BTU to be more than enough to heat our small campers and the dramatic increase in power efficiency is truly amazing.
TCM: Exactly how much more efficient are we talking about?
Robby: A traditional forced air furnace uses about four amps when running.  The catalytic heater uses .4 amps when running.  It's also much smaller.  I love them!
TCM: You were very excited about using National LUNA refrigerators when you debuted the Geo-Den.  Are they still performing well for you and your customers?
Robby: Yes.  I love them, too!  They are freezing cold almost immediately and very reliable.  I haven't had one break down yet.  I love the dependability and not having complaints from customers.  With our new customers, over half are switching over to the National LUNA refrigerators.  The cost difference is about $400 over the more traditional propane refrigerator.
TCM: How are things going at Phoenix?  Anything exciting on the horizon?
Robby: Mostly it's a lot of individual exciting projects.  We have a camper that we're driving to Montreal that's shipping over to France.  So we'll have a Phoenix Camper in France in two months.  It's going to be on a Toyota Hilux extended cab, and it's a totally different to accommodate European standards and appliances.
I also have a custom camper we're building for a 1941 military vehicle.  From what I understand, the customers buying this one go to military shows where they show and tell about their classic military equipment.  That one will be done in April.
We have on order on the schedule for another old CJ5 Jeep, coming up soon.  It will be another slide-in style, like the JK PULSE you saw at the Denver show.
TCM: I can't wait to see all three of those.  Are you going to the Overland Expo in 2012?
Robby: Yes we are.  We're not sure what campers we're bringing yet.  We may bring the Zebra.  That's always a hit.  We still have a few months to decide.
TCM: Thanks for sharing the new PULSE Self Contained truck camper with us Robby.  It's always interesting to see how much you're able to fit into such a small space.  Let us know when you build a the new projects you described and please send some pictures to share with our readers.
Robby: That sounds great.  I'll make sure I send you the pictures.