Robby Rowe of Phoenix Campers tells us how he designed and built a fully self contained truck camper for mini trucks.  Pay attention Magnum!

Robby Rowe loves a design challenge.  Find him a truck with a bed and he'll build a Phoenix Camper for it.  That's easy.  Heck, find him a vehicle of almost any description and he'll build a camper for it.
At the Denver Sportsman Show earlier this year, Robby and I had a particularly fun conversation on this very subject.  I even joked that it would be really cool if he bought an early 80's Ferrari, say a 308 GTS (hello Magnum P.I.), and made a camper for it.  Robby actually started thinking about it!  There we were in the middle of this show talking about a Phoenix Ferrari.  It would be called the Phoerrari, the fastest RV in the history of the world.  If anyone could build it, Robby could.
Making a camper for any vehicle is one thing, but making one that's self contained is another.  To be clear, self contained means a camper has an inside bathroom and holding tanks for fresh, grey, and black.  Robby may be able to make the Phoerrari, but would it have holding tanks?  I wouldn't dare him to do it, but that would be a real trick.  I'm sure Tom Selleck would want one.
Speaking of a real trick, Robby has managed to make what might be the smallest self contained camper ever; the new Phoenix PULSE Self Contained.  While that's not as cool of a name as the Phoerrari, the Phoenix PULSE Self Contained is certainly amazing, at least for its size.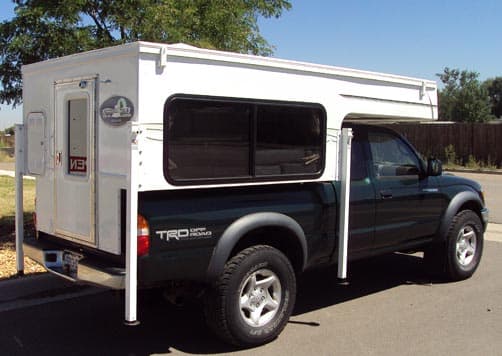 The following is an interview with Robby Rowe, Co-Owner of Phoenix Campers, about the Phoenix PULSE Self Contained.

TCM: How did the PULSE Self Contained come to be?
Robby: It is something I have wanted to do since I got my first pick-up truck in 1983.  I had a 1983 Nissan mini truck.  At the time, I was lucky to find any kind of camper to fit my truck, and the idea of a self contained unit on a compact truck was thought of as crazy.  Finally, thirty years later, we're building a self contained camper that really fits the small trucks.
TCM: Haven't you built self contained campers in the past?
Robby: Since the start, we have built custom self contained units for the big Ford, Chevy, and Dodge full size trucks.  Then in 1992, a gentleman with a short bed Ranger wanted a restroom in his camper.  The furthest I would go was a privacy enclosure with porta-potti.  It wasn't easy to design, but I found that with some careful floor plan tweeking, you can actually have a privacy area with a bathroom in a camper that fits Rangers and Nissans; basically small trucks.
Since then, I have evolved the design and built a half-dozen other requested self contained campers for everything from Tacomas, Canyons, and other mid-sized trucks.
So, about six months ago, I had a Tacoma customer who wanted a fully self contained camper.  He only had a six-foot bed, did not want the camper to go beyond the tail lights of the truck, but he did want hot water, shower, cassette toilet, kitchen cabinets, and all of the other amenities that people often want including a refrigerator, jacks, converter, stove, and two separate beds.  He wanted a camper where three adults could sleep and still have a restroom.
After a lot of careful design work and a few breakthroughs, I completed his camper.  That was the first true PULSE Self Contained.
TCM: How do you get three adults in a camper made for a mini truck?
Robby: The dinette has L-shaped couch seating that runs down the passenger's side and offers an adult length bed.  It's about 22" wide by 6'2" long.  The main bed is queen bed above the cab of the truck.
TCM: What trucks is the PULSE Mini Self Contained designed for?
Robby: Ford Ranger, Toyota Tacoma, Nissan Frontier, GMC Canyon, Chevy Colorado; really all the smallest trucks.  The camper comes right to the tail lights of the six foot beds.  You can even put a self contained PULSE on your five foot bed, with just a little overhang.
TCM: What about center of gravity with the five foot beds?