Phoenix Campers says, "Off with the cabover" and launches the all-new 2012 Phoenix Geo-Den.  The questions is, do you want your Geo-Den in small, medium, or large?

At the end of the interview you're about to read, Robby Rowe, Co-Owner and Chief Creative Officer at Phoenix Campers, surprised us.  He said, "…this camper (the Geo-Den) will be perfect when the first electric trucks become available".  Did he just say "electric trucks"?  While some of us may be wondering if we're ever going to see a commercially available electric truck, Robby's already building a camper for it.  Did we miss something?
The answer is yes, and no.  Truck manufacturers are actively working on electric trucks, or at least they say they are.  One of my favorite non-RV websites is autobloggreen.com and I must read an electric truck story (or rumor) once a week on that site.  Which brings us to the "no" part.  Talk is talk.  To completely mis-quote Jerry McGuire, "Show me the electric trucks!"  Then show me their predictably pathetic payload and power.  That's what I think Robby's really getting at.  No matter what the future trucks may offer, or won't offer, they should be able to accommodate a Geo-Den.
Let's get back to reality.  As a cabover-less pop-up truck camper, the Geo-Den represents the potential to have a truck camper on almost any truck you can imagine.  For the Geo-Den in 2011, that means Ford Rangers, Toyota Tacomas, and full-size half-ton trucks.  In the future, who knows.  Do truck campers dream of electric trucks?  Sure, some of us do.  But, for now, they're just dreams.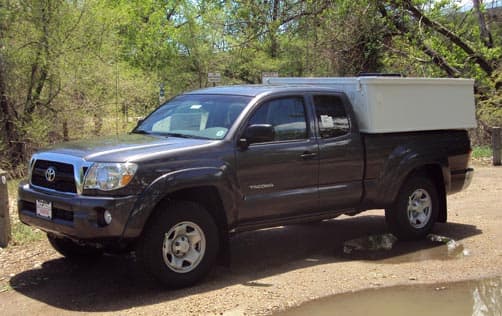 ABOVE: The Geo-Den on a Toyota Tacoma 
TCM: In an email you told us that the new Geo-Den is based on a camper from the late 1970s called the Packer.  Tell us about the history of the Packer.
Robby: The Packer was born the same way as the new Geo-Den was.  A number of customers asked us, "Can you make a camper that's lighter, lower, and doesn't have a cabover?"
In retrospect, there were only about five Packers ever built.  They were all eight foot, full-size campers that went on Ford, Chevy, and Dodge trucks.  They were okay, but they were also square and old fashioned looking; definitely not modern.  We only built them on request.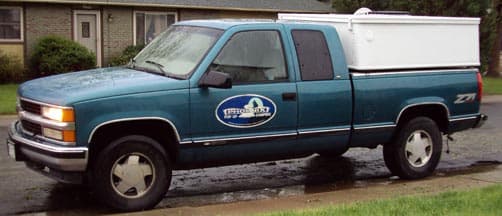 ABOVE: The Geo-Den on a short bed Chevy half-ton

TCM: What is the appeal of a cabover-less pop-up truck camper to the consumer?
Robby: A cabover-less pop-up truck camper is a lot lighter weight, has almost no wind resistance, and is garageable 99.9% of the time.  That's it.  It's just an easier unit to carry that still has the basic amenities of a full cabover unit.
We've probably had sixty requests in the past year for non cabover campers.  We say, "Sure we can make it.  We'd love to".  Then, the customers would ask for a picture to see what it's going to look like.  So, I decided to build one.
When I designed the Geo-Den, the concept was to make it even lighter than the Packer was and change the shape to be more contoured to the truck.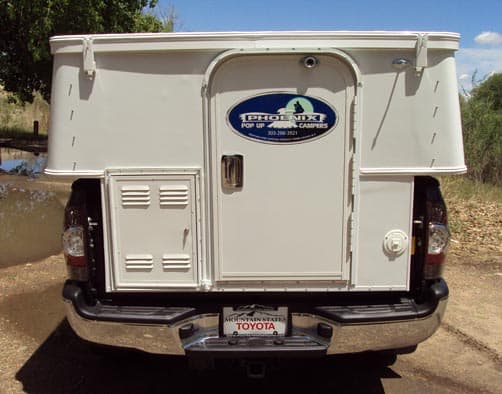 ABOVE: The Geo-Den has radius rounded corners and the option for no jacks
TCM: Like how you shaped the exterior of your PULSE campers.
Robby: Exactly.  Unlike the Packer of the 1970's, the Geo-Den was going to be much less of a square box.  At the same time, we were going to improve on the workings of the inside immensely.  The Geo-Den would be a very fuel and energy efficient camper with a smaller carbon footprint than anything we've ever built.  That's where our customers are going.