Phoenix Campers says, "Off with the cabover" and launches the all-new 2012 Phoenix Geo-Den.  The questions is, do you want your Geo-Den in small, medium, or large?

At the end of the interview you're about to read, Robby Rowe, Co-Owner and Chief Creative Officer at Phoenix Campers, surprised us.  He said, "…this camper (the Geo-Den) will be perfect when the first electric trucks become available".  Did he just say "electric trucks"?  While some of us may be wondering if we're ever going to see a commercially available electric truck, Robby's already building a camper for it.  Did we miss something?
The answer is yes, and no.  Truck manufacturers are actively working on electric trucks, or at least they say they are.  One of my favorite non-RV websites is autobloggreen.com and I must read an electric truck story (or rumor) once a week on that site.  Which brings us to the "no" part.  Talk is talk.  To completely mis-quote Jerry McGuire, "Show me the electric trucks!"  Then show me their predictably pathetic payload and power.  That's what I think Robby's really getting at.  No matter what the future trucks may offer, or won't offer, they should be able to accommodate a Geo-Den.
Let's get back to reality.  As a cabover-less pop-up truck camper, the Geo-Den represents the potential to have a truck camper on almost any truck you can imagine.  For the Geo-Den in 2011, that means Ford Rangers, Toyota Tacomas, and full-size half-ton trucks.  In the future, who knows.  Do truck campers dream of electric trucks?  Sure, some of us do.  But, for now, they're just dreams.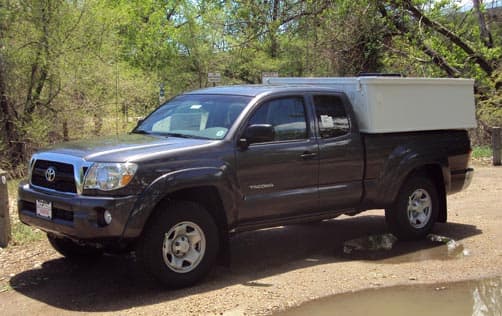 ABOVE: The Geo-Den on a Toyota Tacoma 
TCM: In an email you told us that the new Geo-Den is based on a camper from the late 1970s called the Packer.  Tell us about the history of the Packer.
Robby: The Packer was born the same way as the new Geo-Den was.  A number of customers asked us, "Can you make a camper that's lighter, lower, and doesn't have a cabover?"
In retrospect, there were only about five Packers ever built.  They were all eight foot, full-size campers that went on Ford, Chevy, and Dodge trucks.  They were okay, but they were also square and old fashioned looking; definitely not modern.  We only built them on request.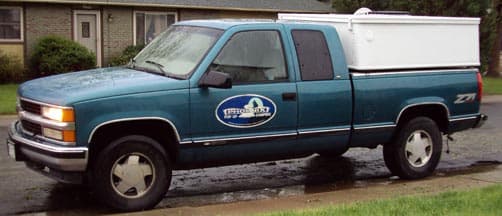 ABOVE: The Geo-Den on a short bed Chevy half-ton

TCM: What is the appeal of a cabover-less pop-up truck camper to the consumer?
Robby: A cabover-less pop-up truck camper is a lot lighter weight, has almost no wind resistance, and is garageable 99.9% of the time.  That's it.  It's just an easier unit to carry that still has the basic amenities of a full cabover unit.
We've probably had sixty requests in the past year for non cabover campers.  We say, "Sure we can make it.  We'd love to".  Then, the customers would ask for a picture to see what it's going to look like.  So, I decided to build one.
When I designed the Geo-Den, the concept was to make it even lighter than the Packer was and change the shape to be more contoured to the truck.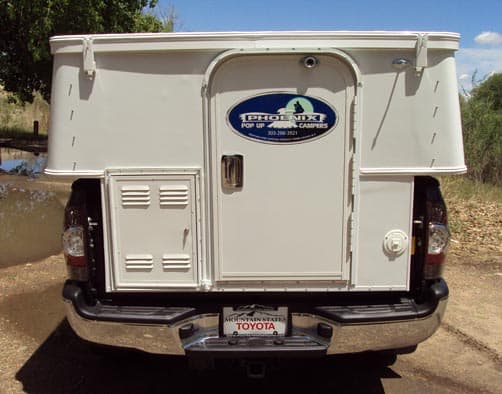 ABOVE: The Geo-Den has radius rounded corners and the option for no jacks
TCM: Like how you shaped the exterior of your PULSE campers.
Robby: Exactly.  Unlike the Packer of the 1970's, the Geo-Den was going to be much less of a square box.  At the same time, we were going to improve on the workings of the inside immensely.  The Geo-Den would be a very fuel and energy efficient camper with a smaller carbon footprint than anything we've ever built.  That's where our customers are going.
TCM: It's one thing to have a vision, it's another to actually build it.  How did you make the Geo-Den more efficient?
Robby: The Geo-Den is very well insulated and has LED lighting throughout.  It also uses an extremely efficient and safe catalytic furnace that no one else in the RV industry is using.  The company who makes the furnace makes them specifically for the Geo-Den for the limited space we have available.
TCM: Interesting, but does it keep the camper warm?
Robby: Yes.  You will wake up warm and toasty with this new heater.
TCM: Where did the name "Geo-Den" come from?
Robby: The word "Geo" means Earth.  Coyote is our company name, and coyotes live in a "Den".  So Geo-Den is like an Earth friendly den.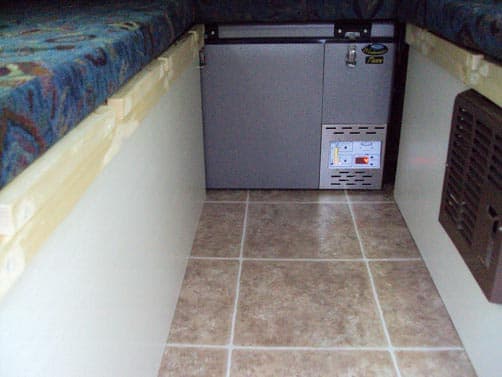 ABOVE: Interior floor of the Geo-Den
TCM: Got it.  Can someone get the Geo-Den with different floor plans?
Robby: The Geo-Den only works with one layout.  There's really no way to rearrange how everything fits.
TCM: But Phoenix Campers specializes in custom campers.  Can customers custom order anything for the Geo-Den?
Robby: Not much.  You can get a custom paint job or take amenities out.  For example, some customers will probably want a shell version of the Geo-Den, without any amenities inside.
TCM: What does the Geo-Den weigh?
Robby: Not much, again.  I was happy to weigh a fully appointed small version of the Geo-Den and it weighed 570 pounds dry.  That is one of the most of the exciting things about this camper.  You can set the Geo-Den on any truck and have it handle nicely.  Some people are hyper sensitive about camper weight and truck matching.  If you think your truck can't handle a truck camper, take a look at the Geo-Den.
TOP ROW: Medium Geo-Den on a short bed Chevy Colorado, MIDDLE ROW: Medium Geo-Den on a Chevy half-ton, BOTTOM ROW: Small Geo-Den with a Toyota Tacoma

TCM: You said the Geo-Den you weighed was a small version?
Robby: Yes, you can order the Geo-Den as a small, medium, or large.  The one that we photographed on the Ford Ranger short bed is the small Geo-Den.  The one on the short bed Chevy half-ton is the medium Geo-Den.  The large Geo-Den is for an eight foot bed and we don't have pictures of one yet.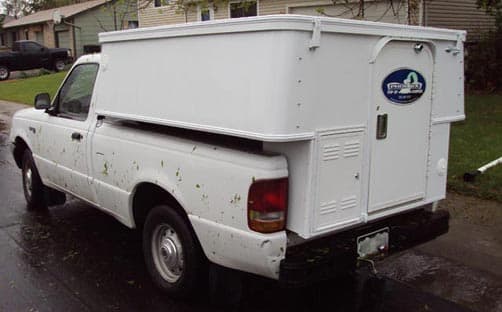 ABOVE: The small Geo-Den on the Ranger has a body that's seventy-five inches long.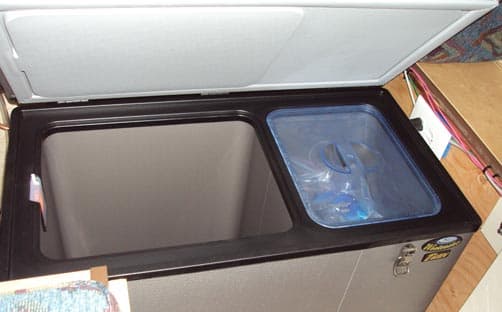 ABOVE: National LUNA high efficiency electric refrigerator in the Geo-Den
TCM: Is the Geo-Den classified as a PULSE?
Robby: No, the Geo-Den is its own animal.  Everything about the workings of the two campers also makes them different.  For example, the new PULSE refrigerator is a free option and we only use the National LUNA high efficiency electric refrigerator in the Geo-Den.
We do use the radius corners on the Geo-Den, like in the PULSE, but we use them on all four corners of the Geo-Den.  It wouldn't be as sleek and innovative without it.  You could say that the Geo-Den is a camper that was born from the innovations we developed for the PULSE.
TCM: You have obviously built a few Geo-Den campers already.  Tell us about the customers who bought them and what they bought them to do.
Robby: The people buying the Geo-Den want a camper that's extremely light weight and easy to carry.  They also want less of a camper look on their truck, and want more of a cap or shell look.  But of course they always want the comforts of home, too, and that's what the Geo-Den gets them.
TCM: The Geo-Den really does look like a truck cap or shell.  It's very stealthy.
Robby: The Geo-Den is a camper that doesn't look like a camper.
TCM: I wouldn't call it a F-117 anytime soon, but it's certainly stealthy.  Speaking of stealthy, can you sleep in the Geo-Den with the top down?
Robby: Yes.  You can use the bed area and get a drink of water with the top down.  You can also get in refrigerator and use the furnace.  You can really use anything except the stove with the top down.  With the top down, there is about eighteen inches between you and the ceiling.  With the top up, you've got four feet between you and the ceiling.  It feels nice and open with the top up.
I'm sitting inside the small Geo-Den right now.  I'm sitting on the bench and noticing the bottom of pop-up windows are at eye level.  Whether you're sitting or standing, everything is situated at a nice place to feel like you are outdoors.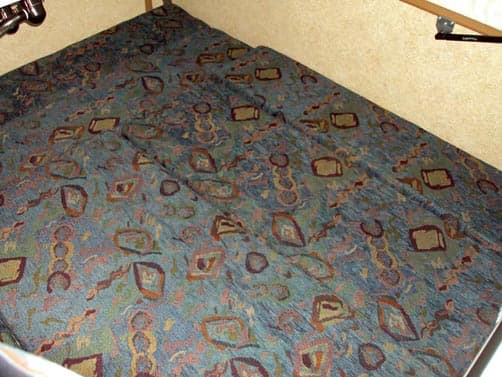 ABOVE: Geo-Den bed assembly completed
TCM: Let's get back to the small, medium, and large sizes the Geo-Den comes in.  The small is designed for the Ford Ranger or Toyota Tacoma.  How can someone sleep in only the back of a Ford Ranger or Toyota Tacoma?
Robby: The inside length of the small Geo-Den is 6'3".  The entire mid-section of the Geo Den is all bed, front to back and side to side.  It's really comfortable.  Also the entire kitchen pivots upward on gas struts which allows the Geo-Den to have a full kitchen.  When it's bedtime, the kitchen unit lifts up and you can sleep in the entire camper.  It's basically a convertible room and all of your equipment is out of the way.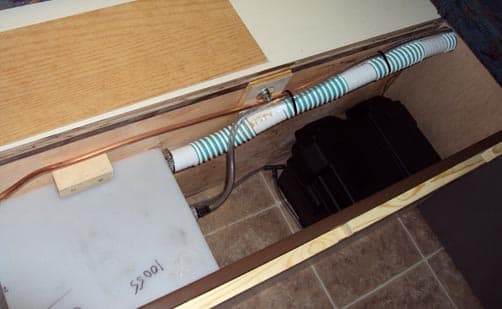 ABOVE: Phoenix Geo-Den storage, fresh water tank, and auxiliary battery system with HD deep cycle battery  
TCM: What's the fresh water capacity of the Geo-Den?
Robby: The Geo-Den has a ten gallon fresh tank.  The grey goes through the standard evacuation and can be attached to a portable outside tank.  The fresh water tank and battery are hidden beneath the seats.  You also have some dry storage, and the refrigerator below the main seating section.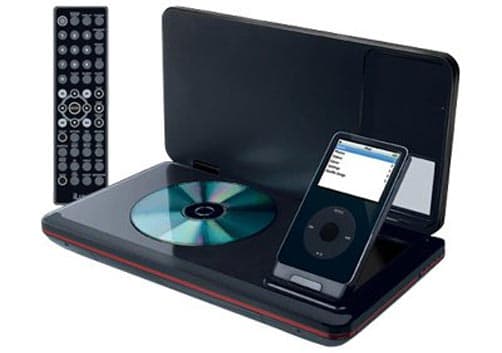 ABOVE: Stereo System in the Geo-Den

TCM: What other amenities do you offer in the Geo-Den?
Robby: It has a screen door, 110-volt to 12-volt converter with built in battery charger, 12-volt outlet, 12-volt to 110-volt portable power inverter, a furnace vented catalytic heater, National Luna Twin 50 refrigerator, three burner stove, water system with electric water pump, fiber composite counter top, molded double sinks, double couches that make into a larger than queen-sized bed, auxiliary battery system with HD deep cycle battery, the Phoenix exclusive "invis-a-lift" jack extension brackets and studs (list weight with lifters removed), drill bit for manual jacks, Phoenix ratchet strap tie downs, triple layer insulated pop-up liner, full surround four liner windows, Fantastic vent, and LED lighting.  With this full array of equipment (dry, and without the invis-a-lifts mounted) weighs 570 pounds.
TCM: That's an impressive list of features for such a small camper.
Robby: I tried to set it up right so that people wouldn't need anything else.  There's hopefully not a lot of desire left for options.
ABOVE: The Geo-Den has a National LUNA high efficiency electric  flip top refrigerator
TCM: You have a bed.  Do you have a table?
Robby: Actually, I discovered that you don't need an extra table because when you're sitting at the main seats, the countertop is at a convenient position so you can use that as a built in kitchen table.
I really built the unit around the refrigerator.  It's a National Luna Twin 50 flip top refrigerator.  It's one of the most efficient units out there and it just makes sense to switch to them.  I wanted the Luna Twin refrigerator front and center in the unit.  My seating and bedding arrangement had to be built around that.  You just flip the top of the refrigerator and use it.  The kitchen is above that.
ABOVE: The Geo-Den's flip-up sink, range, and countertop
Then I had to think about how I would have a counter top and be able to lift up the fridge and still use the bedroom.  That's how the pivot counter tops came to be.  It's still a very tight fit.  I built the smallest Geo-Den model first.  That way I knew the rest would come out easier.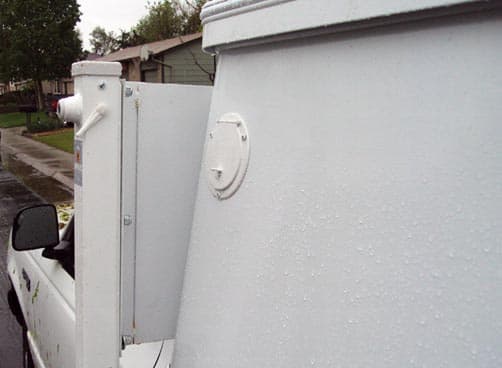 ABOVE: Geo-Den's Jack Brackets
TCM: In some pictures the camper jacks are on, and in some of the pictures the camper jacks are off.  How does that work?
Robby: There are heavy duty steel plates built into the inside of the camper with welded studs from the camper body to the outside wall.  They stick out half an inch.  They are permanent and have a strong stud.  The customized Happijac camper jacks coincide with the stud locations.  For the end user, all you have to do is spin the four nuts off and pop off the jack and custom bracket.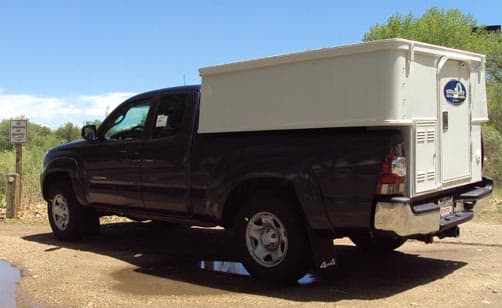 ABOVE: A small Geo-Den on a Toyota Tacoma

TCM: What's the benefit of removing the jacks?
Robby: You shave off the weight of the jacks from your camper.  Some off-road minded campers also don't want to have jacks on their rig that can catch on rocks or trees.
TCM: Tell us more about the catalytic heater you're introducing with this camper.
Robby: In our JK PULSE, we are putting in the Olympian Wave Three catalytic heaters.  They are virtually silent and the heat flows in as needed, but I'm always nervous because we have to teach people how to use them safety.  Catalytic heaters must be ventilated.  If people forget to open up a window or vent, using a catalytic heater would be extremely dangerous.
One of our customers is a good researcher and hooked me up with a company that's manufacturing vented catalytic heaters.  I talked to the manufacturer and learned that it's just like an everyday heater.  It lights itself and shuts itself off.  What makes it different from other catalytic heaters is a tiny little fan ventilation system so that the carbon monoxide goes to the outside of camper, thus making it safe to use instead of iffy, like a typical catalytic heater.
Another positive is that it uses very little power.  It uses about .4 amps for that tiny fan.  A regular camper furnace uses about three amps, so the furnace vented catalytic has less than a sixth of the power usage and it keeps the camper warm.
TCM: That's remarkable.  Do you see Phoenix using this new heater in other campers?
Robby: I think it will be pretty standard in our products.  6,000 BTU is the largest one they offer, so it may be a supplemental heater for our larger models.  It's also very expensive, but our customers are worth it.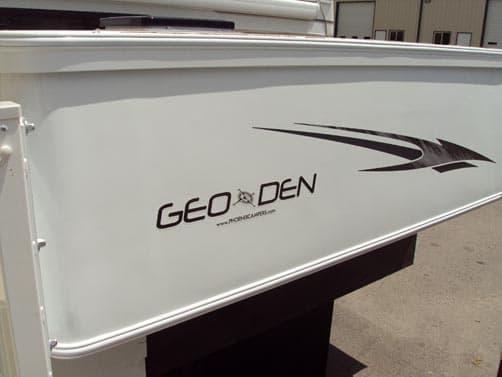 ABOVE: The Geo-Den logo and stripping
TCM: You bet they are.  Does this camper take you less time to build since it's smaller?
Robby: So far, the Geo-Den's have have taken five times the normal camper time to build.  It's because of the angles and radius corners.  Also, it takes more time with all the tight spaces.  It's harder to build with the small spaces for the water tanks, gas lines, and wiring.  Eventually, it should be the same amount of labor time.
TCM: What is the MSRP of the Geo-Den?
Robby: I am hoping that this TCM article will point out some of the unique and valuable features of it, because there is so much more to the Geo-Den than meets the eye.  Even though it is taking more production time than our $18,000 PULSE, and has some equipment that is more expensive, I know that consumers are expecting it to be cheaper, just because it is small and compact.  That being said, the Geo-Den will be priced at $15,995, and our introductory price is $12,995.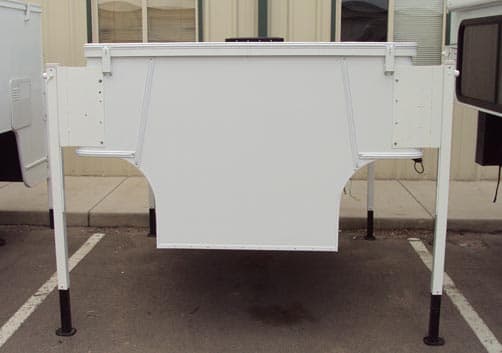 ABOVE: A Geo-Den truck camper off the truck

TCM: Are there any trucks that the Geo-Den would not be a good match for?
Robby: There are a few trucks that I wouldn't recommend, specifically trucks with the super short beds.  Five foot bed crew cabs are not good candidates for the Geo-Den.  Those are trucks are much better off with our long cabover PULSE truck camper where they can take advantage of that big space above the crew cab.  I do recommend the Geo-Den for six and eight foot beds with any cab style.  It's a perfect fit.  We can sit it on your truck with no alterations.
TCM: Can a customer order the Geo-Den painted, like the PULSE?
Robby: We can absolutely paint it, all we need is the paint code and of course it is a cost option.
TCM: What's the weight with and without options?
Robby: As we discussed earlier, the small Geo-Den is 570 pounds (dry, and without invis-a-lift jacks mounted).  I have not weighed the medium or large versions yet, but my guess in under 600 pounds for the medium and between 650 and 675 for the large.
TCM: Please submit certified weight tickets for all of them as soon as possible.
Robby: Our next small Geo-Den installs in a few weeks, and I will get a weight slip on that one.  There are some medium ones coming up early Fall, but I don't see a large Geo-Den on the schedule until any time before December at this point.
TCM: Is there anything else that you would like to share about the new Geo-Den?

Robby: I feel like this is the direction that people want to go in for truck mounted sleeping units.  I'm also anticipating that this camper will be perfect when the first electric trucks become available.   This is the truck camper that you can use.  I'd love to see that in the future.  I want to be the company in tune with that movement.
Another important part of the Geo-Den is that it won't change the drive-ability of your vehicle at all.  You put it on and go.  We've come up with a universal shape that's going to look and work well with all trucks. It does not angle as much as any vehicle does, but it does emulate the shape and improves the aerodynamics.
I didn't want it to come out and be uncomfortable inside. You need a certain amount of size to do that.  Also you have to fit it to the size of a human being.  The Geo-Den is the minimum size to have comfort and convenience without compromising the vehicle's performance.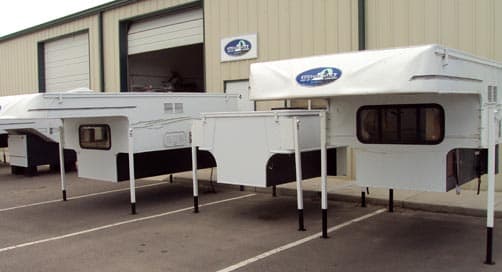 ABOVE: The Geo-Den at the Coyote RV factory

 TCM: How's Phoenix doing right now?
Robby: We're sold out through mid-August.
TCM: That's great news.  Let us know when you build the Geo-Den large.  We would like to see some pictures of that camper.
Robby: You'll be the first to get them.