We're using the new taller molds as the other 9-6 and 8-11 campers, so these campers also have the additional headroom of three inches in the bathroom and one and a half inches in the gally, and don't require a lift kit.
The Sportsman Models have full winter packages and the full basement, so fresh, grey, and black tank sizes are the same.  They also have the same battery and propane capacities.  Plus, all of our models come with our six year structural warranty.
TCM: Are there any areas in which you gain space or amenities because it's a Sportsman Model?
Keith: You actually gain an extra cabinet above the refrigerator because the refrigerator is smaller.  The windows in the Sportsman Editions are sliding glass windows that are slightly larger than the insulated Dometics we use in the Special Editions, and slightly lighter.
The options that you are missing in the Sportsman, that you can add if you wish are awnings, televisions, carpet, electric jacks, Dometic windows, and bumper step.
TCM: Will the Sportsman Models be offered as a 10-2?
Keith: The Northern Lite 10-2 will not be offered as a Sportsman model.  It does not seem to be as much in demand.  Plus, one of our considerations is weight.  People are becoming more and more weight conscious and we're finding that they are putting these campers on late model three-quarter ton trucks.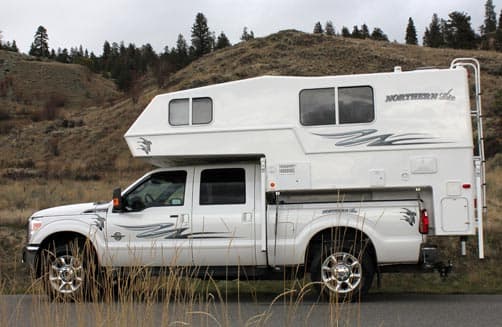 Above: The Northern Lite 8-11 Sportsman is for a short bed truck
TCM: What is the dry weight?
Keith: The 2012 Northern Lite 8-11 Sportsman Editions are coming in around 2,150 pounds (versus 2,525 pounds for the 8-11 Special Edition).  The 2012 Northern Lite 9-6 Sportsman Editions are coming in around 2,250 pounds (versus 2,625 for the 9-6 Special Edition).
TCM: What is the MSRP for the Sportsman Models?
Keith: This camper is priced under $30,000.  The Sportsman Models and Special Editions are approximately $5,000 different in price, which is about the price of a two year old used Northern Lite.
TCM: When will they be at dealerships for people to see?
Keith: They are there now at O'Connor in Chillwack, Voyager RV in Kelowna, and Fraserway in Edmonton.  We will have one at Louisville that will be going to Webb's in Bangor, Maine.
TCM: Speaking of Louisville, what are you planning on bringing to the show?
Keith: We'll be bringing the new 2012 Northern Lite 10-2RR dry bath, a 2012 8-11 Northern Lite Special Edition, a 2012 Northern Lite 6-10 Lite, a 2012 Northern Lite 8-5 Queen Lite, and a 2012 Northern Lite 9-6 Sportsman.
 TCM: Is there anything else you'd like to add?
Keith: The Sportsman Models are campers in which you still have all the benefits of Northern Lite's design with a reduced price and weight.