TCM: What is the MSRP for the RR Dry Bath?
Keith: The base MSRP on the RR with a dry bath is $31,059.
TCM: Will you be bringing the 10-2 RR Dry Bath camper to Louisville?  And will we be seeing the camper at RV shows in the near future?
Keith: Yes, we will be displaying one in Louisville.  We should have this camper at all of the upcoming RV shows that Northern Lite attends including the Portland, Oregon RV Show in November and the Springfield, Massachusetts RV Show in February.
TCM: When will the RR Dry Bath be at dealerships for people to see?
Keith: We will be shipping dry bath models in October so people should start seeing them by the end of October, beginning of November.  Please make sure you call your local Northern Lite dealer ahead of time and ask them when they will have a 10-2 RR Dry Bath in stock.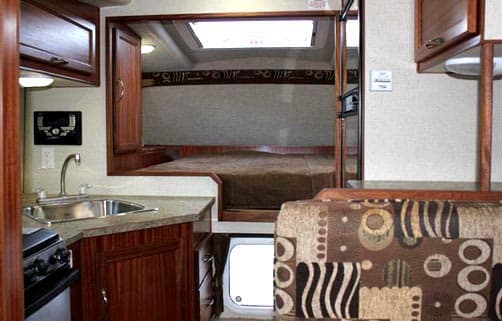 TCM: Will the RR Dry Bath be available as a Special Edition?
Keith: Not at this time, but you can order the camper with all of the features of a Special Edition.  If you want an RR Dry Bath with Special Edition features, you would order a camper from your local Northern Lite dealer with the following options; Dometic thermal pane windows, 10' side awning, 4000R Fantastic Fan, an additional battery box, battery disconnect switch, sliding propane tray, rear bumper with step, remote controlled electric jacks, removable interior carpet, pre-wire for solar panel, three way, switch for bunk lights, stereo CD/DVD player, LCD television with antenna, Dometic Heki lighted skylight with escape hatch, Dometic microwave (in cupboard), outdoor awning, privacy drape, bedspread/pillow/shams, roof air conditioner, and our promotional package.
TCM: Will you be putting dry baths into the 10-2 CD and 10-2 RD?  Other models?
Keith: This is the only model we build that we will be putting the dry bath in due to the size restrictions.  On our other models the bathroom and dinette are on the same side of the camper.  This does not allow enough room for a dry bath.  The RR has a unique floor plan in our line up allowing us to remove some cabinetry and fit a dry bath.
TCM: Will there be any changes to the existing Northern Lite campers for 2012?
Keith: We are always looking at new ideas that we can incorporate into our campers based of feedback from our customers and our dealers.
One customer suggestion we have already started offering is our LED lighting package.  The LED lighting package has been a big hit and is available on all of our campers including the new 10-2 RR Dry Bath.  The LED lighting allow you to draw significantly less power from your batteries for extended dry camping.
Of course we're also offering the taller molds on our 10-2 models.  At Northern Lite, we focus on refining the quality and function of our campers rather than debuting new models every year.  Take one step into a 2012 Northern Lite truck campers and you will experience that refinement everywhere you look.
TCM: Thank you Keith.  I'm looking forward to seeing the 10-2 RR Dry Bath at Louisville.  Might there be another Northern Lite surprise awaiting us at the show?
Keith: It's possible.  We'll see you there.