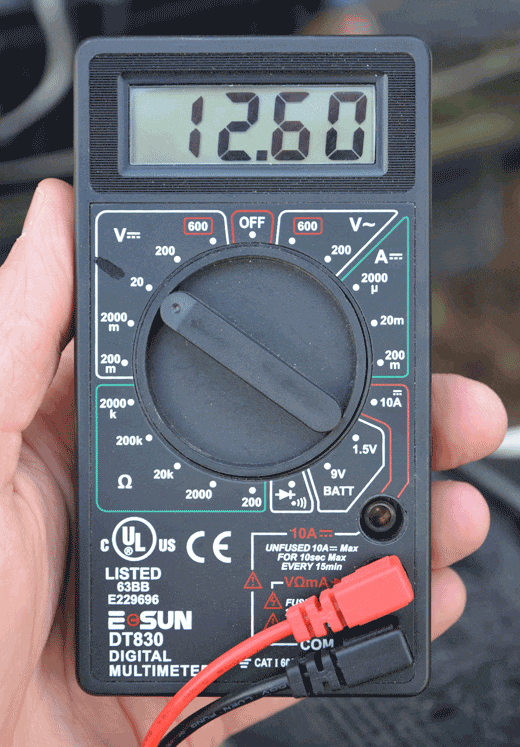 Above: Jack connected a digital multimeter directly to a Windwalker wind generator to demonstrate how the voltage changes in rising and falling wind speeds.
With the mounting and assembly explained, Jack took down a Windwalker and attached the output wires directly to the +/- probes of his digital multimeter.  As the wind speed changed, his meter went from 12.60 to 13.62 to 18.89 volts over a thirty second period of time.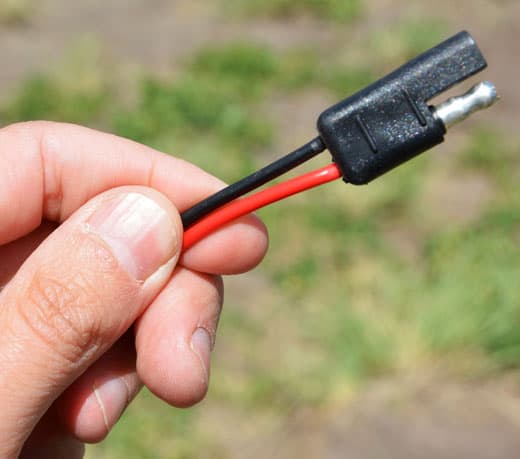 Above: The quick-disconnect wire that connects the Windwalker wind generator to your battery bank.
Jack then showed us how the two-way quick-disconnect wire allowed the Windwalker owner to connect and disconnect the system in seconds.
We were very impressed with the Windwalker, not to mention Jack and Crystal's approach to the technology.  They have made wind generators for truck campers as accessible and simple as possible.
The only two drawbacks that we can see are the need to set-up and take down the turbine when you arrive and depart, and the fact that the wind doesn't always blow.  The first drawback is alleviated somewhat by the relatively quick and painless process of installing and uninstalling the turbine.  It literally takes a minute or two.  The second drawback has more to do with where you boondock, and what the weather conditions tend to be in that location.
During our recent ten-week truck camping excursion, we had many more windy days than sunny days.  In fact, the wind was almost a constant.  If wind is a concern, start paying attention to the weather when you're camping.  Is it sunny?  Is it windy?  As I write this article, it's completely overcast outside, but the trees are rustling in the wind.  Those kinds of observations where you camp might help to make your decision.
The ideal would be to have 100-watts of solar panels (or more) and a wind generator.  With these two power sources, combined with all LED lighting, I cannot imagine needing a gas or propane generator unless air conditioning and/or the microwave was needed.  With all-LED lighting now available in most truck campers, our days of needing a built-in or portable generator are over.  We didn't have a generator for the past ten weeks, and didn't miss one either.
We want to thank Jack and Crystal Wright of Free Spirit Energy for coming out the Overland Expo 2013.  We really enjoyed meeting them and experiencing their Windwalker products.  Based on what we saw, we have no doubt that there will be more and more wind generators spinning above truck campers in the near future.  This back to the future technology seems tailor made for boondocking.  It's a breeze.