The SuperSprings team installs a set of rear SumoSprings airless airbags on a 2011 Ford F-350 at Lance Campers in Lancaster, California.

Since running "SumoSprings 101" with Paul Gibson last May, we've had a number of reader requests for more information on the installation and performance of SumoSprings.  For this story, we follow a SumoSprings installation on a 2011 Ford F-350 at Lance Campers in Lancaster, California.
This SumoSprings installation will be put through the paces at Lance under the load of 2011 Lance Camper models.  In a few months, we will check back with Lance for their SumoSprings evaluation notes.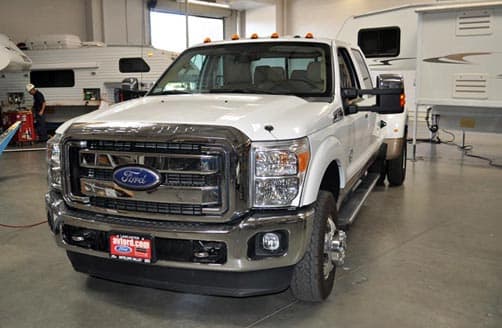 The 2011 Ford F-350 used for the installation.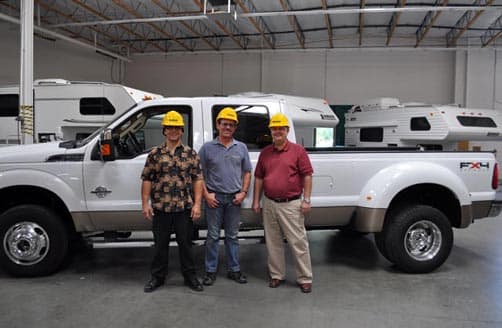 Left to right: Mike Williams, Gerry Lamberti, Paul Harris
On tap for the installation was Gerry Lamberti, CEO of SuperSprings International, and Mark Jutson, SuperSprings Western Regional Manager.  Gerry and Mark arrived at the Lance service building at 9:30am and met with Paul Harris, General Manager of Service and Parts for Lance Campers, and Mike Williams, Service Manager for Lance Campers.  After a quick tour, Gerry, Mark, Paul, and Mike headed to the service area for the SumoSpring installation donning yellow hard hats and safety glasses.
Mark Jutson performed the installation.  The following installation description and photography was provided by SuperSprings.
Mark began the installation shortly after 10:00am by raising the rear of the 2011 Ford F-350 using a truck jack.  Raising the truck allowed the rear axle to hang free.  For safety, a safety jack stand was used during the installation.
Once the rear axle was hanging free, Mark removed the truck's dual rear wheels to allow for photography during the installation.  It is not necessary to remove the rear wheels but photography would have been impractical with the wheels in place.
With the wheels removed, Mark unbolted and removed the factory jounce bumpers from the underside of the frame on the driver's side.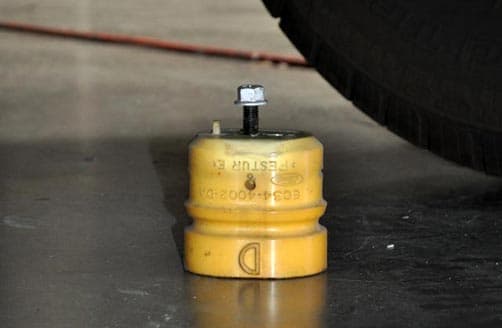 The factory jounce bumpers were placed aside for later re-installation.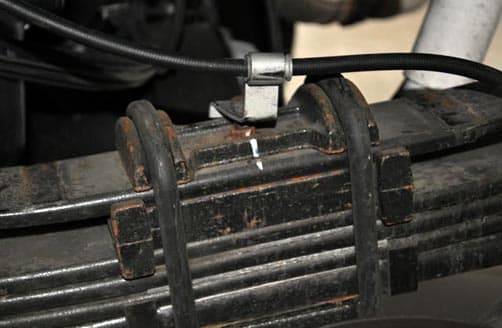 Next Mark detached the emergency brake cable from the spring-pack center bolt for later attachment to the SumoSpring lower mounting block (see photo above).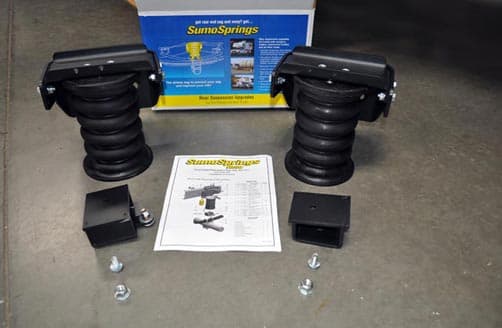 With these steps completed, Mark opened the SumoSprings box kit and removed the pre-assembled upper bracket, frame bracket, and SumoSpring.  He then attached the lower mounting block to the bottom of the SumoSpring using a 3/8-16 x 3/4" serrated flange bolt.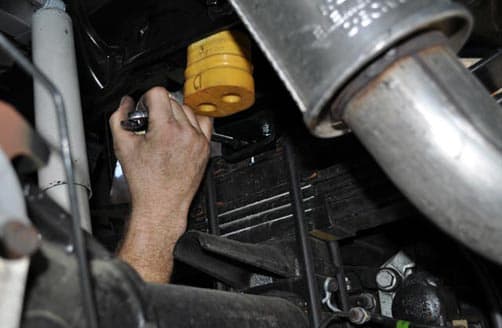 Once he had carefully squared up the lower bracket to the frame with the tallest bracket leg towards the front of the truck, he tightened the lower mounting block and torqued the nuts to 135 foot pounds (see photo above).
Following the attachment of the lower mounting block to the bottom of the SumoSpring, Mark attached the complete SumoSpring assembly to the bottom of the truck rail using the factory jounce bumper and nut.