Princess Craft RV puts Truck Camper Magazine in the hot seat and asks why anyone would want a truck camper, why truck campers are so expensive, what the best truck camper is, and other softball questions. This might be our first and last podcast. What could possibly go wrong?
Immediately to the right of the main entrance at Princess Craft RV is a large room with red-lit 'On Air' signs, studio windows, lighting, microphones, a mixer, a camera, and a sit-down set. Honestly, the room looks more like something you might find at your local radio or television station than anything we've ever seen in an RV dealership.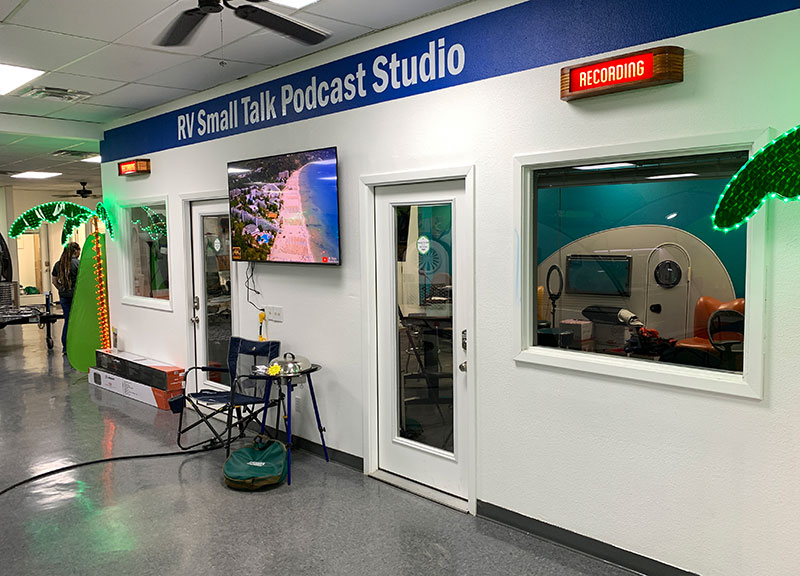 In this space, PJ Buerger, Lindsay Buerger, and Clint Sandberg produce the, "RV Small Talk" podcast. As the name suggests, topics run the gamut of RVs and the RVing lifestyle, and the approach is decisively casual and spontaneous.
In a nutshell, one of the three tosses out a topic and they unleash their experience, insights, and humorous perspectives until another topic wanders in. If that sounds like fun, it is.
As you've probably guessed, the Princess Craft team enthusiastically encouraged us to participate in this anything-can-happen on-air exercise. Our CEO, Cosmo, instantly accepted and off we went.
Clint started the proceedings so smoothly that we didn't even notice he was recording. And just like that, PJ, Clint, and Lindsay came alive with their on-air energy and whisked Cosmo, Angela, and I into our first podcast experience.
Long story short, I don't think anything we said will end the magazine, but we definitely tackled some hot – and sometimes controversial – aspects of truck campers and the truck camper industry that are sure to have your ears perk up. Why would anyone want a truck camper? Why are truck campers only a small segment of the overall RV market? Why are truck campers so expensive compared to other RVs? What is the best truck camper available?
Folks, those microphones were live and rolling!
Click the green play button above to listen the podcast, or click the red button below to watch the podcast in video form.
Podcast Tips
Most cell phones have a podcast app by searching the app store. Put "RV Small Talk" in the search bar and add it to your favorites. You will get notifications whenever there is a new podcast to listen to.
Click to listen to TCM's first RV Small Talk podcast.  You can listen to this podcast, and future RV Small Talk podcasts, on all of your favorite podcast services: iTunes, Spotify, Stitcher, PodBean, iHeart Radio, and Player.