With Atwood manual and electric camper jacks permanently out of production, Rieco-Titan announces an Atwood-compatible one-jack, two-jack or four-jack solution.  This is a must-read for all camper owners with Atwood jacks.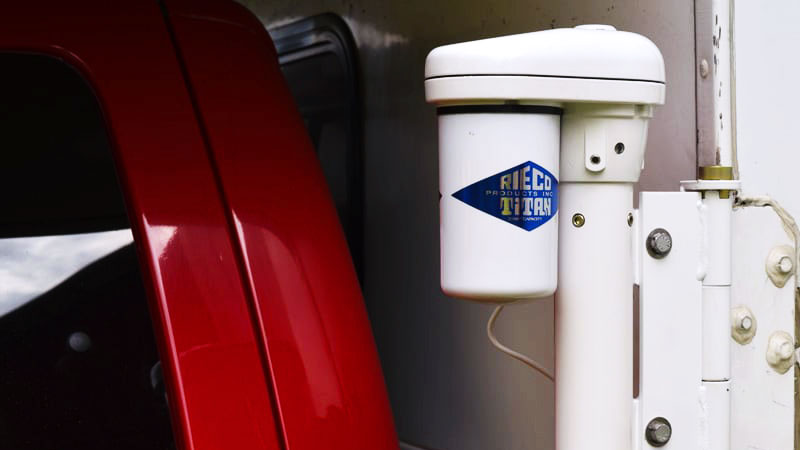 In September of 2014, Dometic Group signed a purchase agreement with Atwood Mobile Products.  Two years later, Lippert Components acquired the Seating and Chassis Component Division of Atwood Mobile Products – including Atwood's truck camper jacks.  Since Lippert already owned Happijac camper jacks, they discontinued Atwood camper jacks in 2018.
This product cancelation set-up an inevitable product shortage for Atwood truck camper jacks.  There are tens of thousands of truck campers that feature factory-installed Atwood jacks including units from Lance Camper, Western Recreation, Fleetwood, Pastime, Northland, S&S, Panther, Northland and Rugged Mountain RV.
As of this writing, the Happijac customer service team reported 75 Atwood jack sets in inventory for customers with Atwood jacks.
Fortunately, there are two options once the Atwood jack supply is exhausted.  First, you can replace your entire Atwood jack system (jacks, jack brackets, control box and wireless remote) with Happijac's direct-drive truck camper jack system.  The total cost for the Happijac direct-drive system is about $3,500.
Second, you could replace a non-functioning Atwood jack with a Rieco-Titan jack.  The Rieco-Titan jack bracket bolt pattern is exactly the same as the Atwood jack bracket bolt pattern.  More importantly, the Rieco-Titan jacks work with the Atwood control box and remote.
The resulting cost of replacing Atwood jacks with Rieco-Titan jacks would be significantly less than replacing the whole Atwood system.  For some, this could mean the difference between going on a truck camping vacation, or not.
Doug Bakker, Operations Manager for Rieco-Titan Products, attended the Gettysburg Truck Camper Rally in Gettysburg, Pennsylvania for the final tests on this Atwood to Rieco-Titan solution.  During the rally, Doug installed Rieco-Titan jacks on a fully wet and loaded Lance 1172 double-slide truck camper.
With the rally as witnesses, Doug installed one jack at a time and ran the camper up and down to test the jacks under load.  With one Rieco-Titan and three Atwood jacks, two Rieco-Titans and two Atwood jacks, and finally four Rieco-Titan jacks, the jacks all worked flawlessly.
Again, all of these tests featured the factory-installed Atwood jack brackets, control box and remote.  This should be welcome news for anyone with an Atwood camper jack system.
To learn more about Rieco-Titan's new Atwood Replacement Kit, we talked to Doug Bakker of Rieco-Titan Products.
How did you discover that Rieco-Titan jacks were 100-percent compatible with Atwood camper jack systems? Did you always know, or is this a recent finding?
The Atwood and Rieco-Titan mechanical jacks have been interchangeable since early 1996.  That's when we purposefully changed our jack brackets to be directly compatible with the Atwood brackets.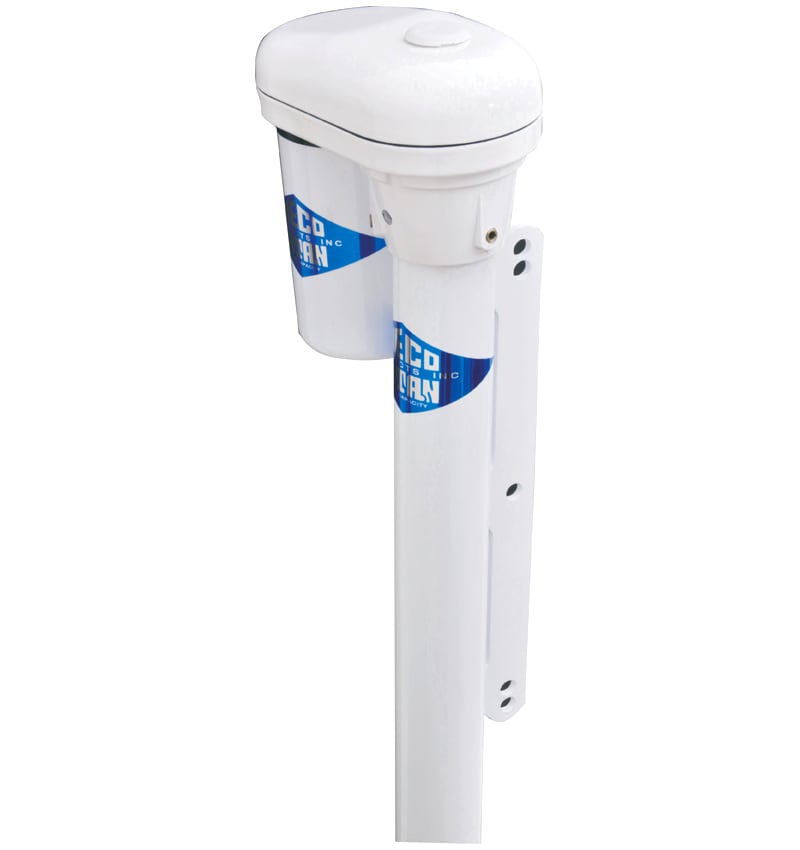 Above: Rieco-Titan jack bolt holes match the Atwood jack bolt holes for a seamless swap-out
We were informed that Rieco-Titan electric jacks were directly interchangeable with Atwood electric jacks through customers and a Rieco-Titan dealer earlier this year.  Since then we have been testing this compatibility in-house and in the field.  We have formally tested and approved the compatibility.
Rieco-Titan dealer, Panther RV, actually tested the Atwood to Rieco-Titan compatibility before us and have been selling Rieco-Titan electric jacks to customers looking for Atwood jacks for some time.
We also worked with Les Sage, a Lance 855S owner and Lance Owners of America (LOA) member.  Les was looking for an alternative to purchasing an entirely new camper jack system, and found our Rieco-Titan jacks could directly replace his Atwood electric jacks.  With his permission, we tested his Lance Camper in multiple jack configurations.  All of that testing was successful.
Are all Atwood electric truck camper jack systems compatible with current Rieco-Titan electric jack systems?
No.  The Atwood electric jacks that have the controls on the power heads with the rocker switches are not compatible with Rieco-Titan jacks.  If you have those jacks and something fails, you may need an entirely new jack system and rewire your camper.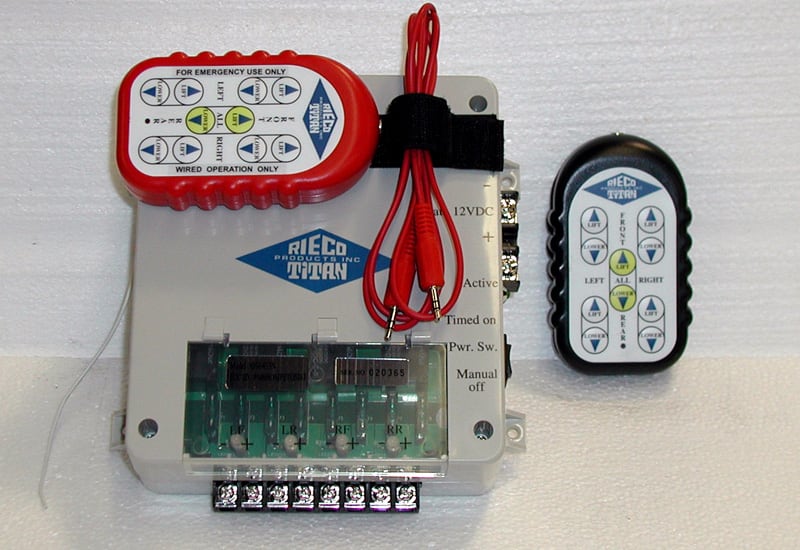 Above: Rieco-Titan's Four function control board and remote controls
What if you lose your Atwood remote?  Could you just order a Rieco-Titan remote and it would work?
No.  But, you could get a new Rieco-Titan control board and a remote.  That would power all of your Atwood jacks, or a hybrid of Atwood and Rieco-Titan jacks.
How did you conduct your testing on actual truck campers?  What was the process?
We have done two formal in-field tests with two different size and model year Lance Campers.  On both campers we started by switching out one Atwood jack for a Rieco-Titan jack and running all four jacks (one Rieco-Titan and three Atwoods) up and down.
Before we lifted the campers, we measured the jacks to see if the jacks lifted or lowered at different rates.  On both campers, the camper stayed between 1/4-inch to 1/2-inch of raising at the same rate.  It's remarkable how consistent the jacks operate.
I was measuring the jack's legs on Les's camper during his test.  We leveled the camper and raised it a foot.  The camper was still perfectly level.  Much to my surprise, the Rieco-Titan and Atwood jacks were moving consistently with each other.
I repeated this test with a 2016 Lance 1172 double-slide.  The camper was fully optioned, loaded and wet; an excellent stress test for the Atwood to Rieco-Titan conversion.  Again we started with one Rieco-Titan jack, ran the camper up and down, and took measurements.  Again, everything worked flawlessly.  Again the jacks ran at nearly identical speeds.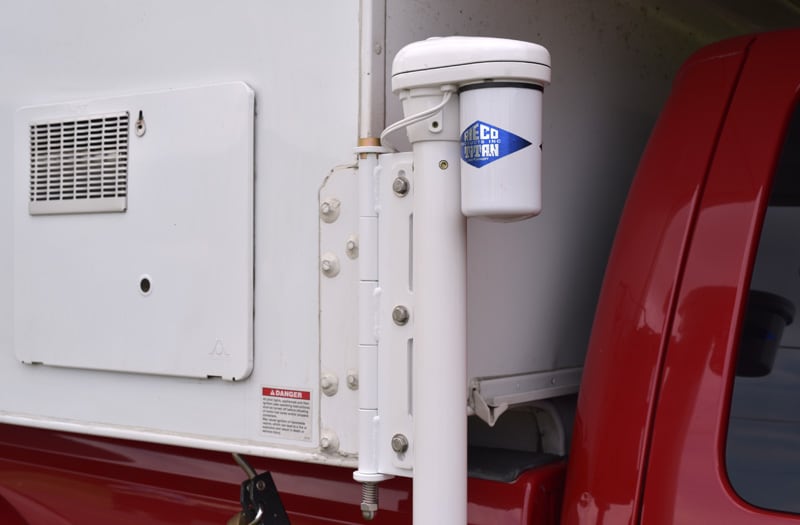 Above: The first jack is installed and operational on the Lance 1172
After installing one Rieco-Titan jack on both campers, we moved on to replace two and then all four.  Each time we tested the system by running the camper up and down and taking measurements.  Both tests were 100-percent successful.
The only word of caution necessary is the different travel lengths of the two jack systems.  Rieco-Titan jacks have over a foot more travel than Atwood jacks.  In theory, Atwood jacks would stop extending while the Rieco-Titan jacks continued.  Obviously, this isn't a problem if you're paying attention.  As with any camper jack system, don't start texting while loading and unloading a camper.
If someone is unsure about their specific application, can they contact Rieco-Titan directly?
Yes.  Customers can call us at 866-403-9803 or email us.
Talk us through what's involved in replacing an Atwood camper jack with a Rieco-Titan camper jack.  What's the installation process?
It's very straight forward.  You will need wire cutters, wire nuts or crimp-on butt splices, two wrenches.  You will want one wrench to hold the nut and one to crank the bolt head.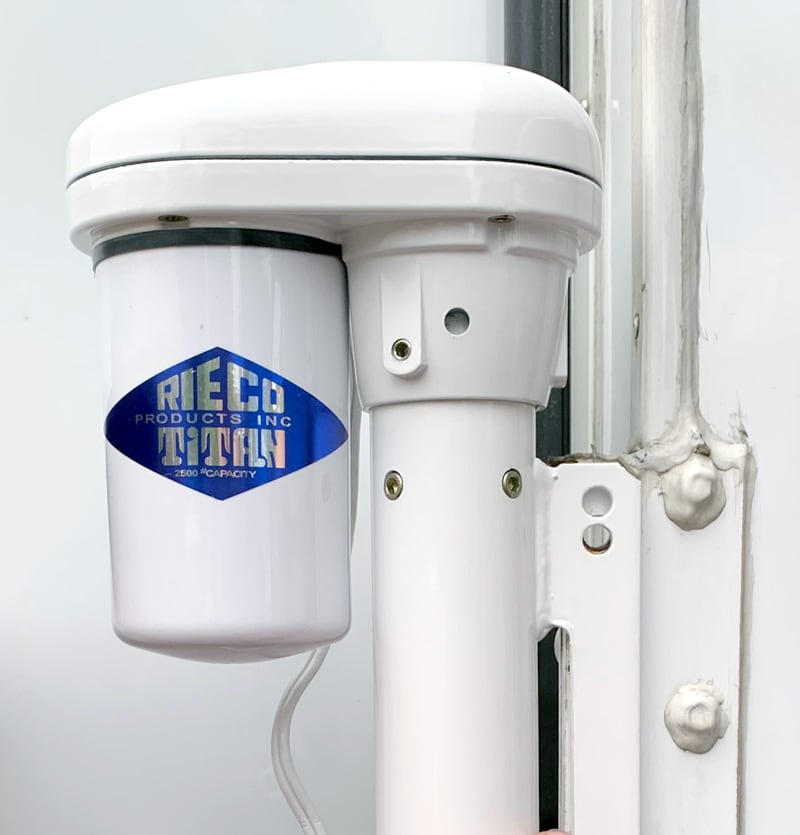 Above: Rieco-Titan jack brackets are directly compatible with the Atwood brackets.  The bolt pattern lines up perfectly.
Unbolt the old Atwood jack and bolt-on the new Rieco-Titan jack onto the jack bracket attached to your camper.  You can reuse the old bolts or go to the hardware store and get Grade 5 – 3/8-16 by 1-1/4" long bolts.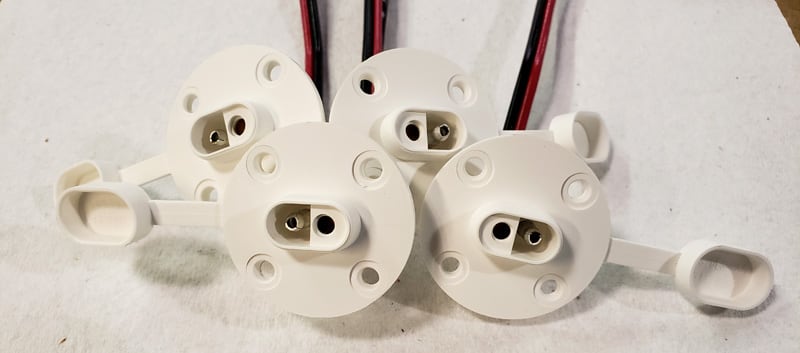 Above: Rieco-Titan female receptacles
Next remove the female receptacle on the side of the camper and replace it with the Rieco-Titan female receptacle.  The Atwood receptacles use a 1-inch hole.  Rieco-Titan requires a slightly smaller hole.  The hole for the female receptacle in the camper should already be large enough.  It was on the Lance Camper examples above.  Our system requires a 7/8-inch hole, so it installs without any modifications.  Even the mounting screw holes match up.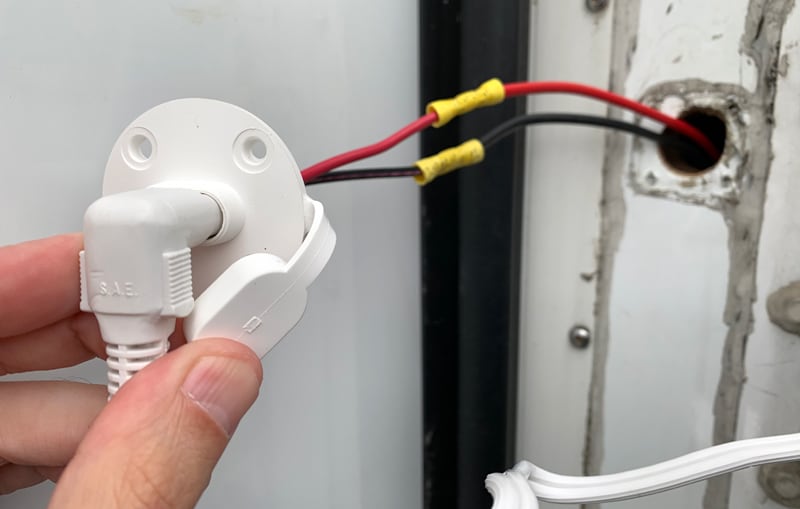 Above: New Rieco-Titan female receptacle using the old wiring and Atwood hole and mounting screws
Before working on the wiring, note which wire is positive and which is the negative.  Then cut the wires coming out of the camper and splice the wires to the Rieco-Titan receptacle.  Before mounting the receptacle back into place, test that the polarity is correct by checking that the jack's run in the correct direction using the remote control.  That's it.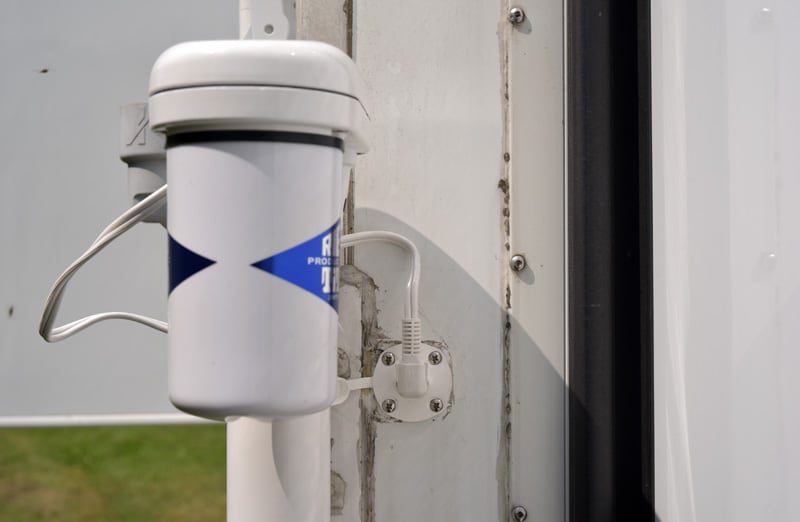 Above: Rieco-Titan female receptacle installed on a Lance 1172
How about swing-out brackets for dually truck owners?  Do they match up?
They can use the Atwood swing-out brackets unless they need to be replaced.  The bolt pattern is the same.  You can also use our Rieco-Titan EZ Swing brackets or our Swing-A-Way brackets.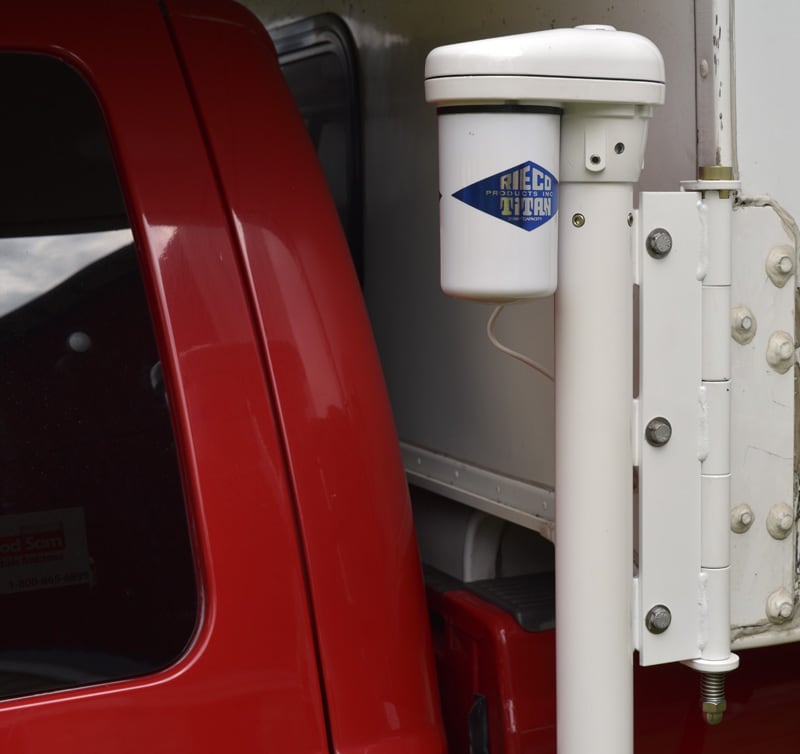 Above: The second Rieco-Titan jack in the driving position with the Rieco-Titan EZ Swing Bracket installed
What do the Rieco-Titan Atwood Replacement Kits cost?  One jack, two jacks, four jacks? 
The MSRP for one Rieco-Titan electric jack (Loner Jack – part #56221) is $568.18.  Two jacks (Twin Jacks – part #56231) are $1,116.36.  Four jacks (Quad Jacks – part #56241) are $2,256.93.
In the chart below are all of the important Rieco-Titan jack related part numbers and components.
| | |
| --- | --- |
| Rieco-Titan Products and Part Numbers | MSRP |
| Single Loner Rieco-Titan Jack (part #56221) | $568.18 |
| Twin Rieco-Titan Jacks (part #56231) | $1,116.36 |
| Quad Rieco-Titan Jacks (part #56241) | $2,256.93 |
| The Quad Jack 4F Kit, Heads NOT attached – 4-Function Controls, RTP's Atwood Conversion Kit (part #57221) – White | $2,776.44 |
| The Quad Jack 6F Kit, Heads NOT attached – 6-Function Controls w/ Rocker & Plate, RTP's Atwood Conversion Kit (part #57231) – White | $2,816.44 |
| 6 Function Control Kit, Electronic-w/ Switch & Switch Plate (part #36721) – White Receptacles | $559.51 |
| 4 Function Control Kit, Electronic (part #36131) – White Receptacles | $519.51 |
| Double Action Rocker Switch with Switch Plate – (part #36772) | $36.70 |
| Swing-A-Way Brackets (part #55721) – White Ctn/2 | $364.86 |
| EZ Swing Brackets (part #11531) – White, CTN/2 | $437.75 |
When you order a new control box or remote you need to keep in mind that we have four-function and a six-function systems.  Our four-function system just controls four jacks.  Our six-function system controls your four jacks and can handle accessories; slide-outs, powered awnings, etc. If you have two slides, that would require two of the six functions.
What if someone wants to replace their entire Atwood camper jack system with a Rieco-Titan jack system; jacks, control box, and remote.  What's that cost?
A complete Rieco-Titan jack system (part #57231) with four jacks (six function kit with rocker and plate), control box, and remote control is $2,816.44.
What's the warranty for the Rieco-Titan Atwood Replacement Kits?
We have a two-year warranty for the jacks and the electronics.
How should someone go about ordering these kits?
As of right now, none of our distributors carry our Atwood Replacement Kits.  Dealers can request that their distributor get them.  For now, call us directly to place your order.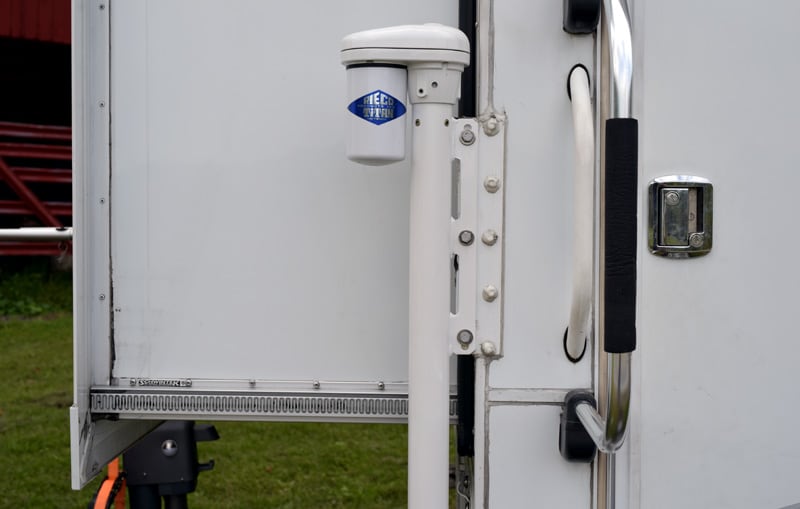 Above: The Lance 1172 had a successful Rieco-Titan jack test with all four jacks working off the Atwood control board and remote control
For owners moving from an Atwood to a Rieco-Titan system, what are some of the advantages and disadvantages of the Rieco-Titan system?
Our controls have a faster response time when you press the button on the remote.  The Rieco-Titan system starts and stops on command.  The Atwood system had a considerable lag-time between button press and start or button release and stop.  The Rieco-Titan system is almost instant.
Each jack is protected with two fuses.  Atwood only protects them when lifting.  When lifting the amp draw is the highest.  When the camper is lowered, what was the negative wire is now the positive wire, so we fuse that.  The six function control has twelve fuses in it.
A red backup remote is included with each control kit.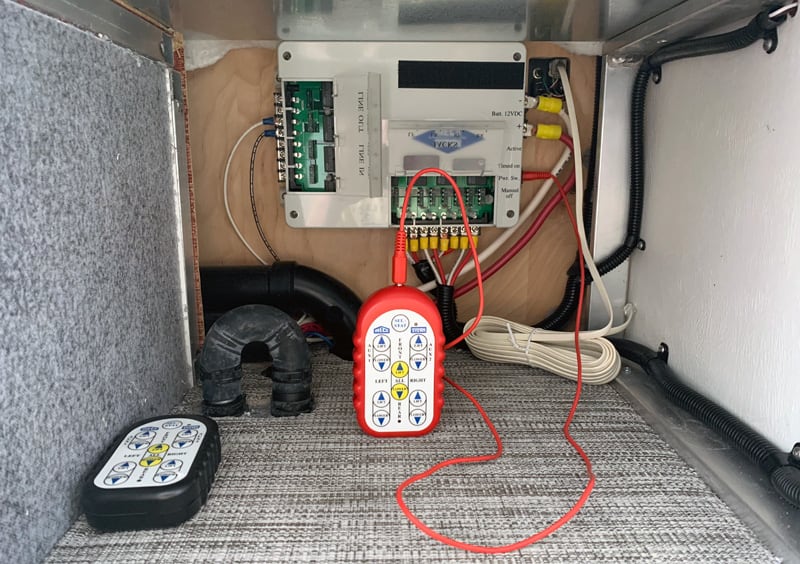 Above: Six function kit with the black (lower left) and red back-up remote (center)
The six function kit allows a slide room to be operated by either the remote or a rocker switch, which is sold separately.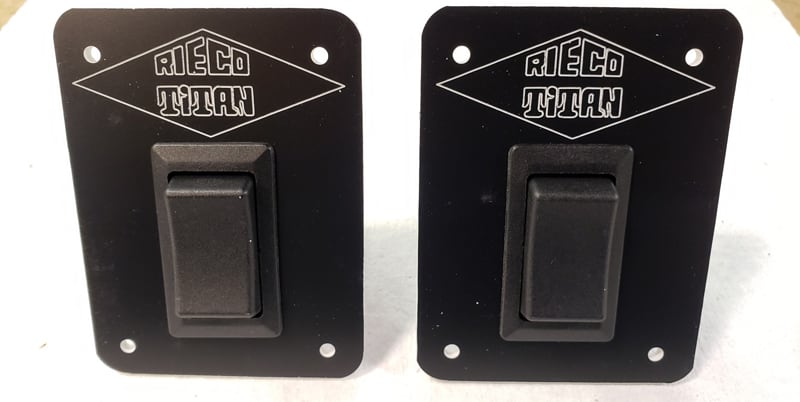 Above: Rieco-Titan rocker switch that can be used for a slide-out or auxiliary item, like an awning
That can be placed near the door.  Rocker switches will operate two auxiliary functions; for example, a slide out and an awning or two slide-outs.
Above: Rieco-Titan remote switch panel is included
The remote activation switch panel and data cord are part of the kit's price.  Our remote does not shut off during the 15-minutes that the main control is on, so you never need to be restarting the remote.
Larger motors mean that we have more power capability when lifting the heavier campers.  There will be about 13-inches of additional ground clearance with our jacks.
Finally, a lot of people say that they like the look of our power head more than the Atwood head.  It is more aesthetically pleasing.
We are known for our customer service.  People are always welcome to call us at 815-464-7400 for help.
For more information on Rieco-Titan, visit their website at riecotitan.com.  Request a free Rieco-Titan brochure.