Former New York Times photojournalist and Avion C-10 truck camper restorer, D.Gorton, has photographed Fleetwood Mac, Brad Pitt, and Ronald Reagan.  This past May he captured Overland Expo West in Flagstaff, Arizona.

Ninety nine percent of Americans – and I'm sure this is even a low estimate – don't know what it's like to wake up in the morning having slept in the basin of a dried mountain lake at 7,100 feet elevation.  Further, I think it is fair to say that they don't know what it's like to step outside their shelter under a dome of blue sky surrounded by wanderers, explorers, dreamers and travelers who gathered at the 6th annual Overland Expo near Flagstaff, Arizona.
A collection of the 1% of the 1% who travel on Unimogs, Rovers, Pinzgauers, KTMs, BMWs, Suzuki DR650s, Fatbikes, truck campers, GXVs, Earthroamers, Man 8x8s, and Unicats, from Alaska to Tierra del Fuego, from South Africa to Dakar, from Berlin to Vladivostok were camped in Mormon Lake, Arizona.
Our journey had started a month before at Tall Pines Campground, Virginia, the site of the Mid-Atlantic Truck Camper Rally.  Jane and I had traveled there from our home in Illinois.  We were walking innocently around the camp when we spotted Gordon and Angela White of Truck Camper Magazine.  They were working hard cleaning their truck.
I thought there was a problem so I offered to help: "Gordon is there anything I can do?"
"Yes", Gordon replied. "Could you go to Overland Expo West and report it for us?  We can't make it".
Gordon is nothing if not direct.  And strangely persuasive.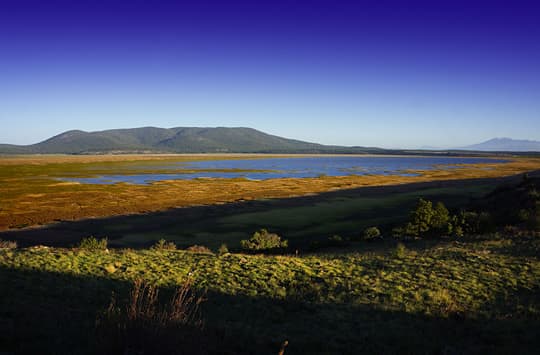 Above: The south end of Mormon Lake still holds the snow melt waters.  The rest of the lake has become dry over the past several decades.  It is surrounded by the Ponderosa Pines of the Coconino National Forest.
Jane and I arrived in Mormon Lake, Arizona, early on the first day, rumbling our way across the cow pasture that the dried lake bed had become.  We spotted Bryan Appleby's Lance 1191 pulled up next to a barbed wire fence.  Bryan, an extreme boondocker who has only spent thirty-eight nights in five years in campgrounds, served as the genial Mayor of the truck camper encampment at the Overland Expo.  He directed us to park our 1967 Avion truck camper.  Meanwhile, more truck campers lurched towards us like catboats in rough weather on Nantucket Sound.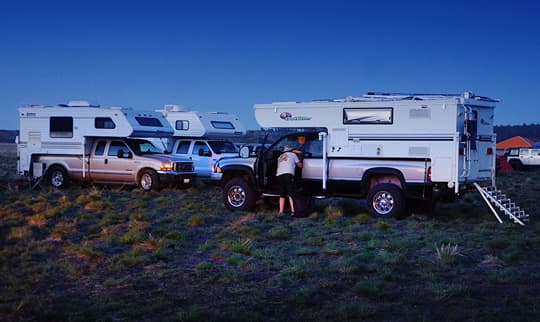 Above: As dusk settles over Mormon Lake, early truck camper arrivals prepare for the evening.
The Overland Expo originated with Jonathan and Roseann Hanson of Tucson, Arizona.  Roseann said that the idea behind the Expo "was to create a community of like-minded people who share a passion for exploring.  People who love to discover new places 100 miles from home or a 1,000 miles away".  She pointed out that the event had a professional-level trade show with the finest overland equipment and accessories in the world.  And there was an emphasis on education with over 300 session hours devoted to expert information on "adventure overlanding".  Even movies were being shown.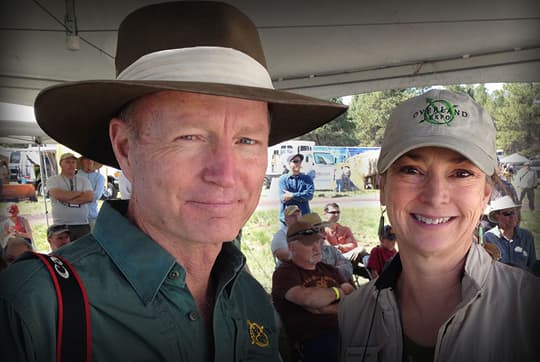 Above: Jonathan and Roseann Hanson, creators of the Overland Expo.
As Roseann explained, "What our tribe of people didn't have before was a gathering".
Indeed, almost 7,000 people and their machines were expected, by far the largest group of its kind.
Everywhere we looked on the dusty lake bed, there were expedition vehicles with knots of people gathered about.  We wanted to understand who these people were and what they had in common with truck campers.  What we would find out over the next few days would both surprise us as well as confirm some long held views about truck campers.
Above Left: A German traveler brought his Unimog loaded with every device possible. To the right of it are relatively unexotic Toyotas and Fords.  Click thumbnails to enlarge.
Above Middle: Two Unimogs belonging to the Wildlife Trust are examined by (L to R) Lynn Blackburn of Phoenix and Chris Hanrahan.
Above Right: Barry McRary of the Phoenix, Arizona Adventure Riders inspects his F800 G5 BMW Expedition rider.  He traveled with members of his club to the Overland Expo.
Our truck camper rally site was at the very edge of the encampment.  We secured our camper, said hello to the incoming truck campers and immediately went to explore.
We caught up with Tom Hanagan, President of Four Wheel Campers in Woodland, California. Tom was slated to speak along with Roseann Hanson on "Preparing your truck to carry a truck camper".  Tom and Overland Expo founder Roseann have had a long professional relationship so I was interested in finding out their ideas.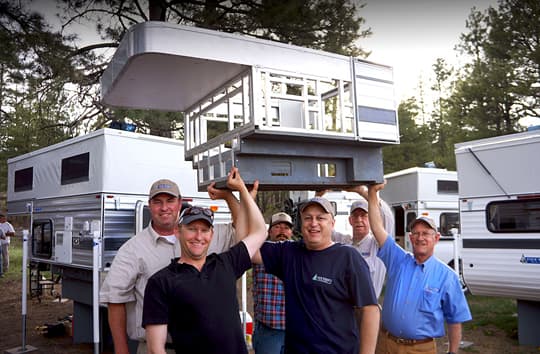 Above: Holding aloft a model of the frame of a Four Wheel Camper are (L to R) Stan Kennedy, Denny Saunders, Jason Kroman, Michael Olds, Terry Budd, and Tom Hanagan
Tom's background, like many of the people I met, had been quite varied.  A Vietnam Vet, he had moved from food manufacturing, to high-end carpet care, to creating a highly specialized truck camper.
"We're in a niche of a niche", Tom explained.  "We build smaller, compact, highly durable truck campers that are meant for off-road use.  Our objective is to build a machine to go anywhere you want to go with respect for the environment and other people".
Four Wheel Campers had a production of 500 units in 2013 and is on track to build 650 units in 2014.  "The concept of overland travel is not for everyone – but our buyers like the product because they enjoy the freedom of the truck camper".
As Jane and I walked about the various parts of the Expo, from the vendors' area, to the big machine displays, to the ten acre skills driving track created by Land Rover, we marveled at the depth and extent of the gathering.  It became increasingly clear that something approaching a tribal gathering was underway.  Over there were the Unimogs, over there were the expedition bikers, and over there were the Land Rovers.  Unaffiliated campers arrayed themselves along the impromptu alleyways that made up the camp – a jumble of truck campers, vans, large and small vehicles sporting sometimes rambling tent-tops, and conventional tents.  We were the truck campers.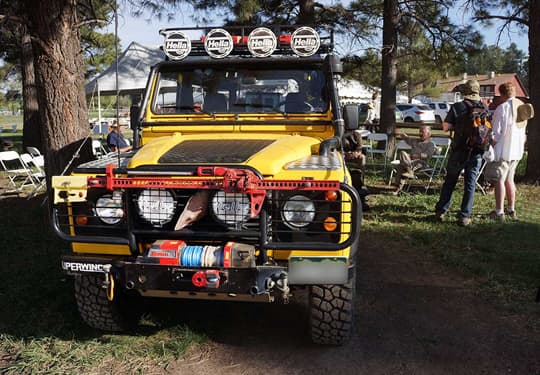 Above: A totally tricked out Land Rover Defender 90 circa 1994-1997, fitted with snorkel, winches, Hi-Lift jacks, roof rack and lights is the center of discussion at one of the classes on overland travel.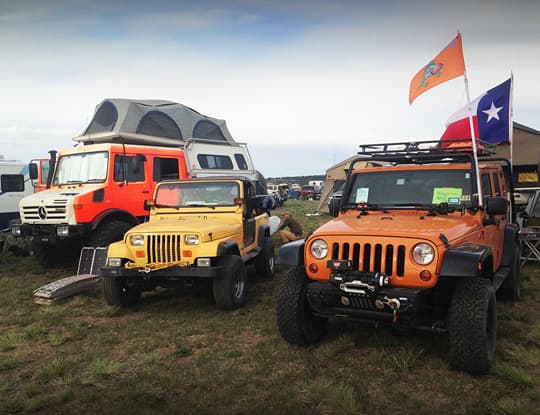 Above: (L to R) A vintage Unimog outfitted with a truck camper shell, a tent top, sand ladders and a portable solar collector, sits with two Jeeps.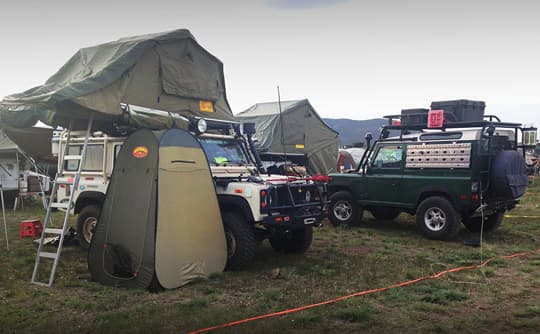 Above: The Land Rover Defender on the left is fitted with snorkel and other expedition gear along with a tent top.  There is an Outback Porta-Privy shower/toilet tent.  The Land Rover on the right has "sand ladders" fitted to the sides as both a convenient placement as well as anti-burglary device.
I was gratefully sitting in a tent with Roseann Hanson and Andy Woodward of the Overland Expo.  The sharp actinic rays of the sun beating down, along with the altitude had left me longing for shade and in need of water.
I dated myself, describing the vast assemblage at Expo as resembling Woodstock of 45 years ago.
"Nope", Andy said. "Its an imaginative event… an experience similar to Burning Man.  Here, fine old world handcraft is okay.  Bleeding edge technology is okay.  It all works together".
I thought of Hunter S. Thompson, the Gonzo journalist whom I knew many years ago.  I was sure he would feel at home in this gathering… actually fit in, and feel inspired.  Hunter shared the itchiness to travel the road like this rough rambling community.
As we spoke, we could see what Land Rover called the most extensive driver's skills course ever constructed.  It was teeming with overland vehicles, especially Land Rovers, that were free to any member of the public to drive the course.  Jane said, "I want to do that in our Ford F350 and Avion camper".  Long wheelbase trucks like our were slated for Saturday afternoon.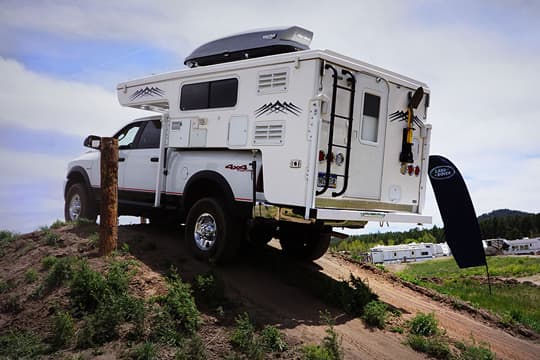 Above: Scott Zeitler of Durango, Colorado, takes on the Skills Course with his 2013 Dodge Power Wagon and new Hallmark Camper.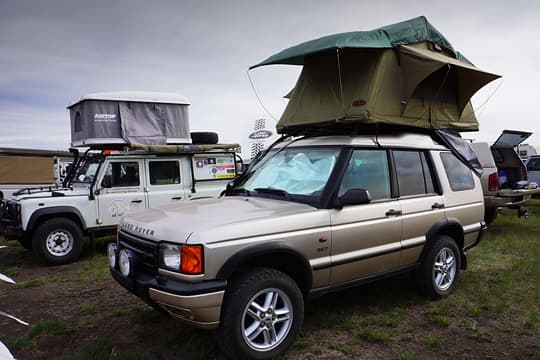 Above: On the left is a vintage Defender 110 Rover fitted with an Airtop tent. This rig was in an expedition from Cornwall, England to South Africa.  In the foreground is a 2000 Land Rover Discovery Series ll, with a tent top.
Bob Rogers, Director of Marketing for Lance Campers, was looking tan and chipper as he greeted potential customers.  It was the first year for Lance to be at the event.  He was showing the 1052 Lance with a brand new floor plan, 10' 11" long, two slides, and a dry bath.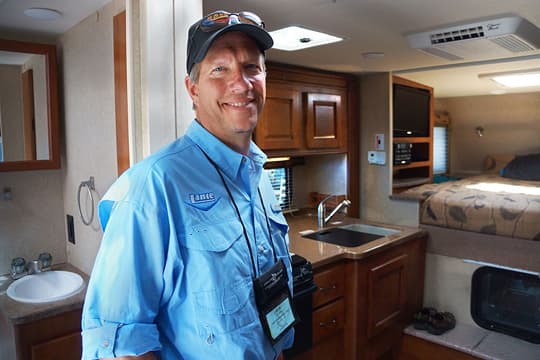 Above: Bob Rogers, Director Of Marketing for Lance Campers, inside a 2015 Lance 1052.  The 1052 is 10'11" long with two slides and a dry bath.
"We're here for brand awareness, which is what moves people to our dealerships.  And we're seeking out customers among the anti-RV park crowd, people who want to get away from urban areas and be self contained".
"Our Lance owners are a lot like the Harley crowd.  It doesn't matter what you do Monday through Friday.  Let's enjoy our time away from our jobs", Bob said.
Next door to the Lance exhibit were Brian Towell and his wife, LaDawn, who have a 2006 Lance 1191.  "It's time to get out there and explore the world" said Brian, who plans to live full-time in his Lance Camper, with his wife, in July.  Brian's work in geological services takes him to out of the way places.  LaDawn added, "I need to know as much as Brian about this rig.  I'm here to cross-train on all systems".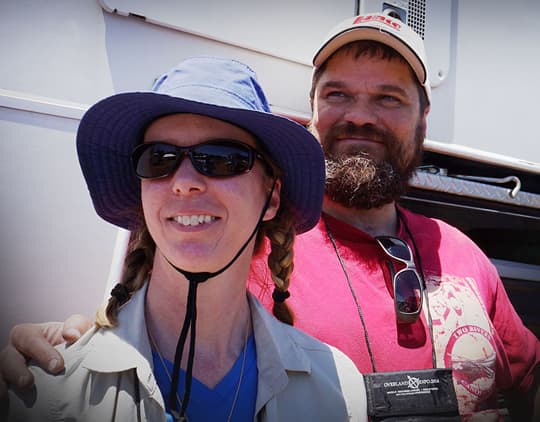 Above: LaDawn and Brian Towell gave their endorsement to Lance Campers while greeting visitors to OX5.  Brian is a geologist who frequently travels to out of the way places for his work.  LaDawn and Brian have decided to live full-time in their truck camper.  The previous owner of the Lance drove to Argentina.
We walked past the "featured display" of Unimogs, Freightliner conversions, GXV, Land Rovers and other overland machines.  GXV (Global Expedition Vehicles) is located in the unlikely town of Nixa, Missouri.  They built the orange Pangea lifting roof vehicle.  It's literally two stories inside with access to the roof.  Someone joked that they are missing their rooftop helicopter.  That may not be a joke for long.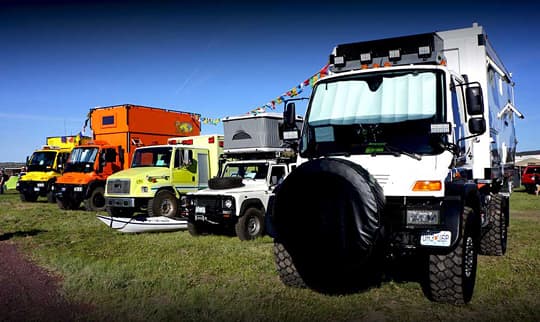 Above: A line up of "feature vehicles" at Overland Expo West.  Right to Left – A new white GXV, A 2003 Defender 110 Land Rover with tent top.  The Defender was driven to Central America by Clarence Harrison and Isabel Salinas of Boulder, Colorado.  It features a stainless steel washer on the roof and carries a kayak.  A canary yellow 1999 Freighliner conversion owned by Bevin and Clare Walsh.  A bright orange Unimog with a hard-sided pop-top that opens into a two story interior called "Perky Mog".  And a yellow Unimog from Perkins, Oklahoma, owned by Sana and Brad.
I learned that many of the custom built machines are used for purposes other than adventure travel, such as mobile medical units, geologic research vehicles, command centers, and search and rescue.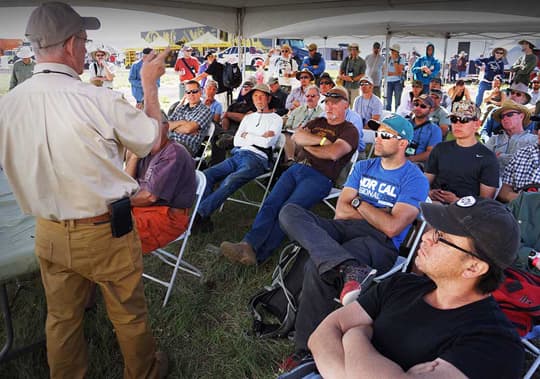 Above: The class for truck campers was called, "Preparing Your Truck to Carry a Truck Camper" was widely attended.
But what about overland exploration with these vehicles?  We visited the presentation led by Roseann Hanson and Tom Hanagan on "preparing your truck camper".
The Hanson's truck is a Toyota Tacoma, V6, four-wheel drive, with a locking differential.  There are no lifts.  A toolkit and shelves are in the back seat of the cabin.  The camper is a special-built Four Wheel Camper.  The suspension is not heavily modified, but does have custom springs and airbags.
The Tacoma bumper is boxed aluminum with a newly designed winch recovery system.  On the roof of the camper is a flexible mount solar panel with 200W of power.  The cost to ship the rig on a container ship to Africa is $3,000.
"In Africa, I leave one seat for riders" Roaseann said.  "Vehicles are very rare and rides are deeply appreciated.  I remember at one time we had eighteen Masai tribesmen clinging to our camper.  It's really rude not to give people rides".
Roseann pointedly remarked that it is best not to attract attention in the regions where they travel.  One wonders what the Unimog tribe would say?
They are shipping their rig to South Africa this fall.  It was ironic to be in the midst of the trekking community with all their expedition vehicles and learn that the truck camper is the best vehicle of all.  Surprising, really.
We met Mike Hoskins of Aluminess who builds a complete line of lightweight aluminum accessories including bumpers and roof racks for expedition vehicles.  Mike held a demonstration bumper aloft to give sense of the light weight of their product.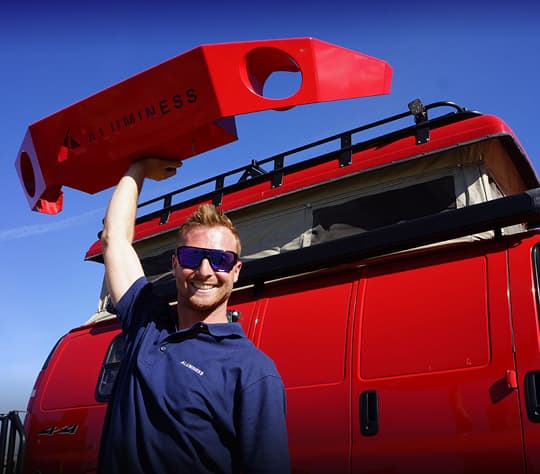 Above: Mike Hoskins of Aluminess in San Diego holds an aluminum bumper model aloft in a demonstration of its lightness.  The company makes a full range of tire racks, roof racks, and other off road accessories.
Back at the truck camper rally we visited with folks that we have known through RV.net truck campers forum.  There was Dave Rogers, the "Great Whazoo" and his wife Lynn, Eric "Seldomseen" Smith, Doug "Sheepcamp" Ramsey, Brian "BK" Appleby, Rex "Rexsname" Thompson, and Dave and Kim Siebert – "69avion".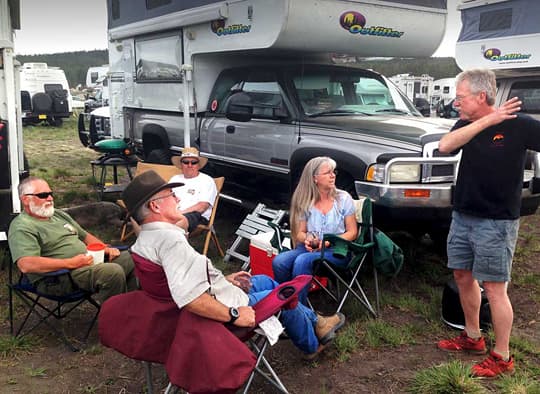 Above: A gathering in the truck camper encampment.  Left to Right – Brian Appleby, full-time truck camper, Dave Rogers, Phoenix, Steve Sanderfer, Bay Area, Lynn Rogers, Phoenix, Eric Smith, Flagstaff
Truck camper Henrik "Machoff" Hofvander is the President and CEO of UFYT Systems that designed and manufactured a line of modular storage systems.  Henrik showed us how his storage boxes are bolted to the rear wall of the extended or crew cab.  As he explained it, he had traveled through Latin America and had designed it for fellow truck campers.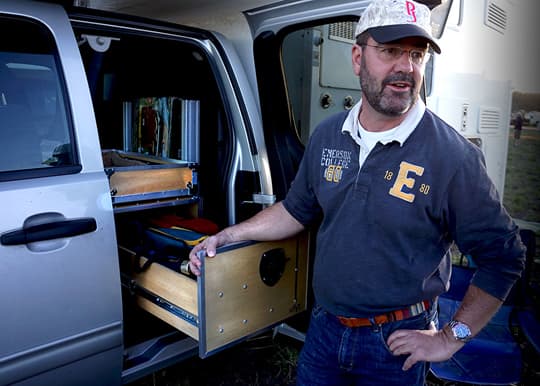 Above: Henrik manufactures a line of modular storage systems that are fitted onto the rear wall of an extended or crew cab pick-up.  The modules are designed for safe, secure, and organized storage.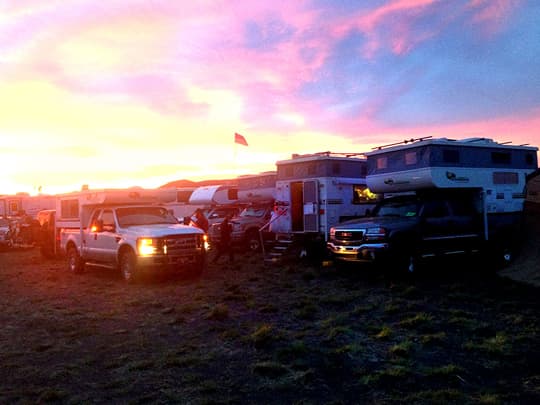 Above: Eric Smith (aka Seldomseen Smith) visits the truck camper encampment at dusk.  In the background are the rest of the truck camper tribe.
A fiery sunset faded and a skein of stars shone above this community of dreamers and achievers.  One could hear the quiet voices and scattered laughter spread across the pasture.  Among the tents and campers are people who crave intensity and long for solitude; who met one another just hours before and are now old friends and comrades.  They tell the stories of the open road, the windows of the vehicles lit by the mellow glow of internal lights.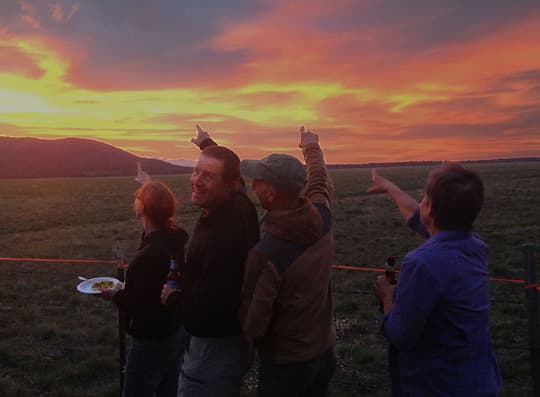 Above: Dawn Roberts of Prescott, Arizona, Martin Siebell of Nicosia, Cyrprus, Vic Valenti of Prescott, Arizona, and Jane Adams
In the morning, the glazing dawn lit the spiked tents, flying flags, and banners of the encampment.  Geese flew low overhead.  We had coffee and looked for showers and bathrooms.  Turns out the toilet facilities are a bit of a challenge for the Expo.  Too many people and the system was almost breaking.  I had the opportunity to try out a small field tent with a tankless hot water system powered by a genset.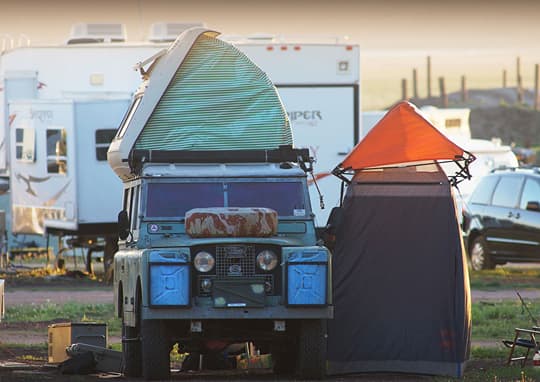 Above: A vintage Land Rover, circa 1948-1954, "four-wheel drive station wagon" is parked at the OX5.  Jerry cans of gasoline are attached to the front fenders and a portable open top shower/latrine is on the side. Sitting on the ground is a top of the line Engel freezer.  Inexplicably, this Rover was sited in the full hook-up area of the campground.
"What luck", I said. "There are no lines".
There was a very nervous guy in charge of the place.  I went inside the tent and began dancing around on one foot trying to remove my trousers.  The tent doesn't have any handholds.  In fact it's put together with the equivalent of fishing poles.  My hand flew out to steady myself, the tent started coming down, the nervous man started yelling.  I started yelling.  A crowd gathered to watch the wildly pulsating blue tent.  The water was spewing.  The genset was roaring.
When I finally got back to our camper Jane asked how my shower had been. "Well", I said, "it was one to remember".
We trekked back into the action of the Expo past the humming encampment that was now filled with affinity groups of bikers, campers and expedition vehicles.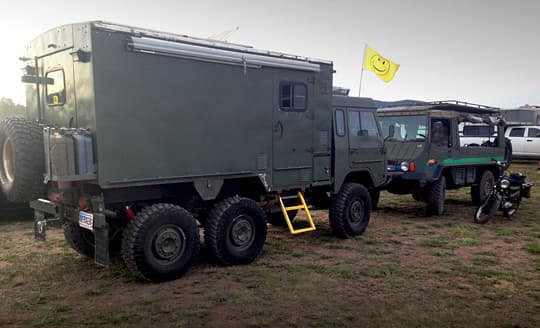 Above: A Unimog Expedition Vehicle (left) communes quietly with a Pinzgauer High-Mobility All-Terrain Vehicle. The Pinzgauer was originally produced in Austria as a military troop carrier.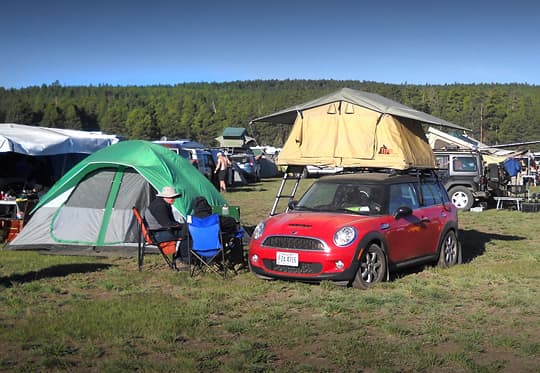 Above: A Mini Cooper fitted with a Tepui Roof Top Tent. Photo by Doug Ramsey
I met Bill Ward and his sons Andy and Matt at the Hallmark RV site.  They are from Fort Lupton, Colorado, where the family business of truck campers goes back almost sixty years.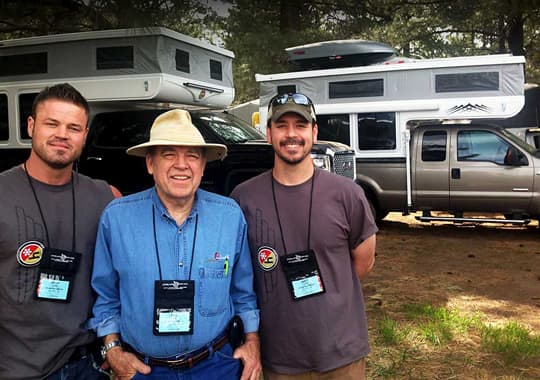 Above: Andy, Bill, and Matt Ward from Hallmark RV in Fort Lupton, Colorado stand in the midst of their display of high end, custom built, pop-up truck campers.
Surrounding the Wards were Hallmark owners like Kevin Holt, "Kowboy", who uses his camper while working as a dredge operator on ship channels.  Paula Vlaming and John Denning of San Francisco were soon to embark on a trip to Tierra del Fuego in a 2014 Toyota Tundra.  They had their Hallmark especially designed to include sand ladders affixed to their windows to prevent damage or theft.  All of the owners – Kowboy, Paula and John – had done extensive research before putting together their truck camper combination.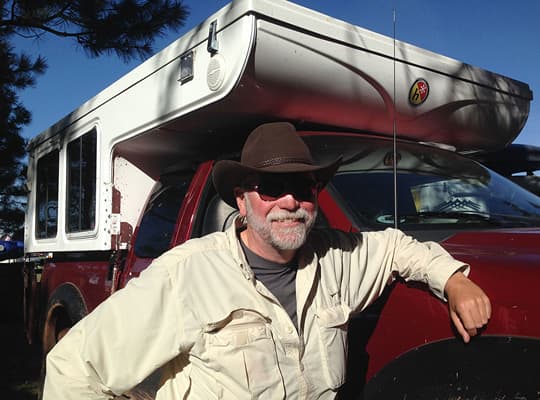 Above: Kevin Holt lives full-time in a built to order Hallmark Camper
Not far away was a shiny XP Camper V2 fitted onto a Toyota Tacoma.  At 900 pounds in weight the camper is constructed using advanced technologies found in marine products.  Marc Wassman, the colorful founder of the company, said the camper features all diesel appliances, no propane, AGM batteries, and dual-pane windows.
Jane and I took in a few of the 300 plus classes that were going on at Expo, including a class on social media and how to access the web while overlanding.  Little did I dream that global trekkers have had some serious issues with their reports from the road.  But they had stories of blogs that demanded too much time and Facebook pages were invaded by people who objected to their travels or descriptions.  Most of the people at the seminar said they had quit posting anything other than photos on Twitter.  Jessica Mans of Life Remotely had many hints and techniques for accessing WIFI in South America developed during a trip from Seattle to Tierra del Fuego.
Above Left: Christian Pelletier of the Overland Training Team, secrets of connecting with other travelers and local communities.  Click thumbnails to enlarge.
Above Middle: Expert Panel, regional travel in Mexico and Central America, share a laugh
Above Right: Dave Rees (right) of the Overland Training Team watches through a smoked glass as a participant in Overland Expo develops welding skills for the bush.
The Overland Training Team set up next to the Land Rover Driving Skills course.  David Reese of Land Rover conducted hands-on classes in boondock welding and Andy Dacey taught rope splicing and knots.  The rope skills class was a particular hit with children.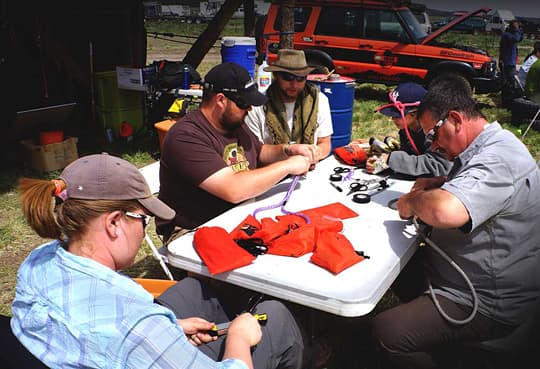 Above: Rope splicing instructor Andy Dacey (center with hat) of the Overland Training Team
On the way back from the skills area we finally spotted Cari and Robby Rowe of Phoenix Campers.  We learned that while Cari and Robby were traveling to the Expo, just outside Albuquerque, their exhibition vehicle's engine failed.  They quickly scrambled to gather up a Rubicon Jeep fitted with a Phoenix pop-up in order to exhibit.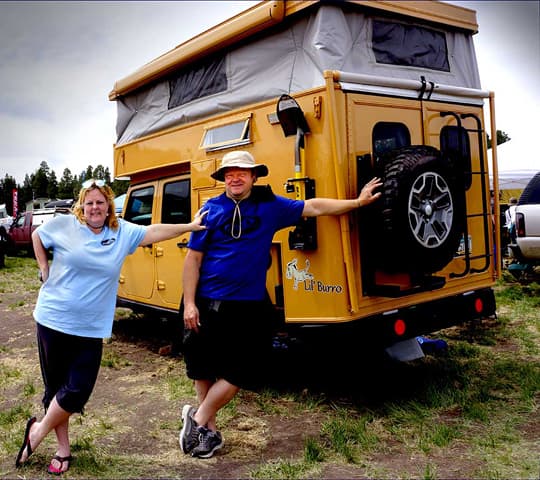 Above: Cari Rowe and her husband Robby steady themselves after a tough trip to OX5. Their truck failed them on the road. Undaunted, they made it to Mormon Lake with a customer's Phoenix Camper.
Phoenix Campers of Denver, Colorado, builds light-weight customized off-road campers.  They range from fitting a Jeep to fitting a Unimog.  In fact, they're currently working on a chassis mount camper bolted to a Freightliner… with double slide outs, a 42" HDTV, and a roof patio.
Nearby, Ashley Grimes of Springville, Utah, was showing his Moby 1 Expedition Trailer.  It's a teardrop on steroids.  It's up to 60" wide x 108" long with a Queen size bed.  It has over 5" suspension travel with 17" wheels.  The model I saw, the XTR, was fitted with a tent top, awnings, kitchen, and many other creature comforts.  I fantasized about pulling the XTR behind my truck camper as an extra bedroom for friends or family.
Above Left: Ashley Grimes (center with tan clothing) demonstrates the Moby1 XTR Expedition trailer at OX5. "The XTR was built with the ability to travel the globe, spend days even weeks unplugged from expectations and chaos of every day life".
Above Middle: Melanie Gibson demonstrates the Truma Level Check. The handheld device uses ultrasound technology to determine the level of LP gas in the measured area.
Above Right: Mike Dixon of Engel AC/DC Fridge/Freezers USA, demonstrates the capacity of the 14 quart freezer known as the MD14.
We got waylaid in the middle of the vendor area by Melanie Gibson with Truma Corporation.  Truma is Europe's leading supplier for the RV industry and had recently entered the US market, locating in Elkhart, Indiana.  Melanie demonstrated a product that sensed the amount of propane left in a tank.  I thought I had solved the problem by buying a propane tank where you can actually see the levels.  Unfortunately you can't just turn that in to the convenient propane cabinets outside of grocery stores.  With their Levelcheck, an untrasound technology, you can determine exactly the amount of propane remaining.  The device signals through an LED light and an audible signal.
Engel refrigeration was demonstrating their compressor freezers/fridges. Mike Dixon was kind enough to explain the advantages of their product. We also learned that Engel sells all their demos at a deep discount after the Expo. You have to sign up – first come first served.
Above: The tribe at OX5 – click thumbnails to enlarge
The Expo campgrounds at times resembled a scene from the 1980s post apocalyptic film, the Road Warrior.  One looked about for "Mad" Max Rockatansky and his rival, Humungus.  Truth be told, some of the people did resemble Mad Max, though Humungus was nowhere to be seen.  Elaborate hats, scarfs, leathers and shades were in abundance.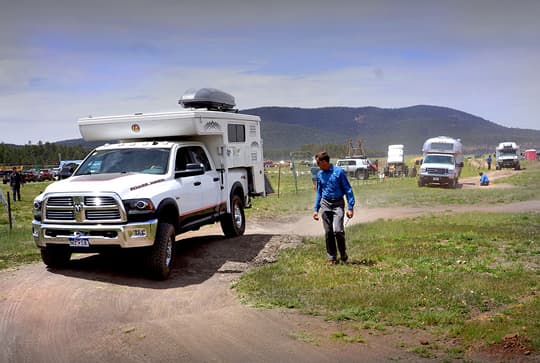 Above: Saturday afternoon Jane checked into the driving skills area and parked until the long wheelbase vehicles were called.  She was joined by a E350 converted four-wheel drive ambulance driven by Tony Krauss of Phoenix; a 2008 Earthroamer XVLT driven by Alan Pitcairn of San Diego; and a 2013 Dodge Power Wagon fitted with a new Hallmark pop-up camper.
Jane's instructor delivered some sobering news: our old school belly bar that anchored our tie downs would not clear many of the obstacles on the course.  He would guide her around the course in appropriate areas.  "Remember", he said to Jane, "I'm driving the car… you're turning the wheel".  Meanwhile, the other vehicles started onto the course.  The Dodge/Hallmark scampered around like a mountain goat.  The E450 sort of lumbered, but the Earthroamer seemed like a fish out of water.  It lumbered and heaved.  Of course, our F350 didn't even accomplish that.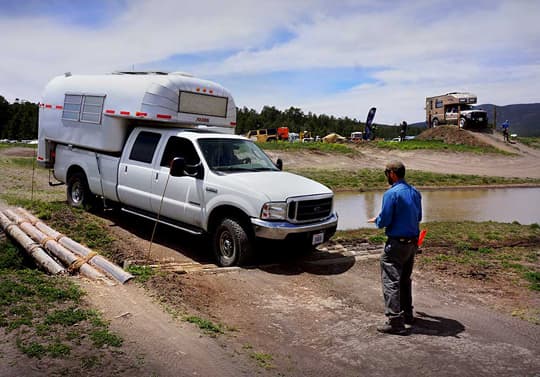 Above: Our Ford F350 and restored 1967 Avion camper, driven by Jane, goes through the off road course at OX5.  In the distance is an Earthroamer passing over a high obstacle.
"But", Jane remarked, "I learned how to understand hand signals in a way I had never done before.  The instructor did interesting things, like standing as though he were a tree in a tight space, while I turned as close as possible around him.  Overall it was an important driving lesson that I have put into practice."
We returned to the truck camper rally area.  Earlier we had managed to extricate ourselves after being blocked in by a couple of fellows in truck campers pulling toy haulers.  They had arrived at an off time when no one was around and had parked tail to nose, cutting off 2/3 of the rally area. No one knew them and they were hard to find.  Finally I got one to back up four feet and pulled the Avion out.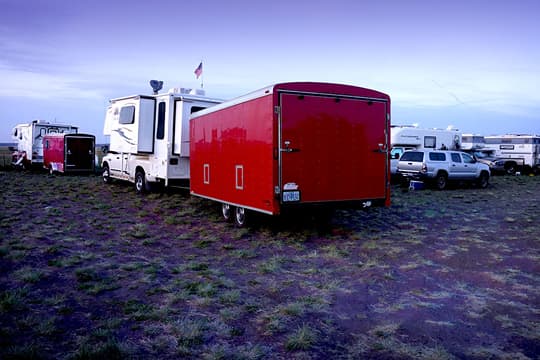 Above: Mystery truck campers who arrived unannounced and divided our encampment pinning my rig against a fence.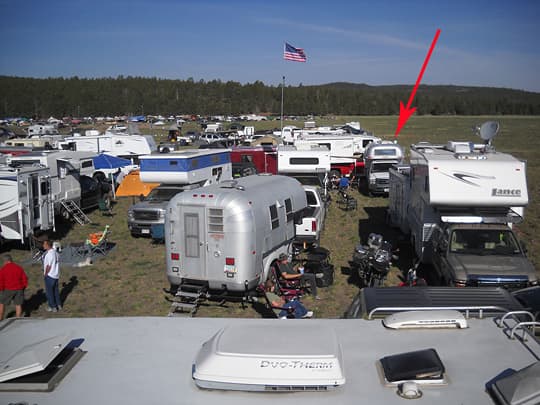 Above: Gathering of the truck campers with a red arrow indicating where our 1967 Avion was blocked in against the fence.  Photo by Doug Ramsey.
We said good-bye to our fellow truck campers.  I joked to Whazoo that we were going to the rich people's area with the full hook-ups.  Sure enough, we got between a monster Class A and an Airstream Mercedes.  Nice people as it turned out.
Above: My 1967 Avion is sandwiched between a Class A Country Coach with multiple slides and an Airstream Interstate EXT built on a Mercedes Benz chassis and engine.
I had learned, in a surprise, that the truck camper is a premiere vehicle for overland travel.  It's agile, easy to repair, does not cause unwanted attention, and is amazingly tough.
I had expected to run across preppers and end-of-worlders.  Instead I found a genial assemblage of Roseann Hanson's "like minded people" who were fascinated by discovery.  People who were inclusive in terms of age and class – octagenarians rubbing elbows with tattooed twenty-somethings, million dollar rigs next to tent top Mini's.  Down to Earth travelers who were intent on preparing themselves for anything they might encounter.
Above Left: The nightly happy hour and socializing at the Mormon Lake Lodge.
Above Middle: L to R Chevelle 6, Caitlynn 8, Jennifer 36, Shane 6, and Reese 6.
Above Right: Future Campers of America tour the pop up campers at Four Wheel Campers during OX5
Above Left to Right: Scott Morgan and Terri with their dog, Pogo sitting on Scott's lap.  The Morgans are from Tuscon.  Tripp Hammond from Boulder warms his foot around the Four Wheel Camper campfire.
The last night there were gatherings all over the Expo with loud music and many drinks.  Then the next morning dawned cool and quiet.  The traveling tribe was packing up.
Terry Budd of Four Wheel Campers had observed that "these campers only go to places where the general public does not go.  They don't want hook-ups.  They don't want supervision.  They'll socialize for three days… and then they're gone".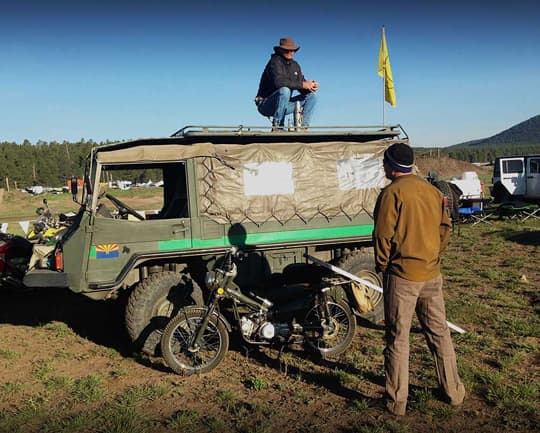 Above: A man sits atop a Pinzgauer troop carrier with his coffee as a neighbor stops by to talk. A vintage Honda CT90, painted in military drab, sits nearby.
And sure enough, by 7:00AM half the grounds were emptying.  We were on the road again.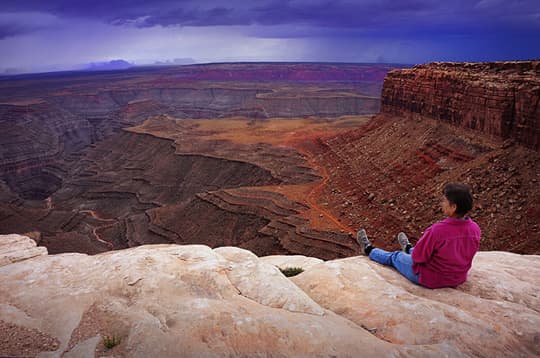 Above: Jane Adams sits atop Muley Point, Utah, looking out towards a storm in Monument Valley after the Overland Expo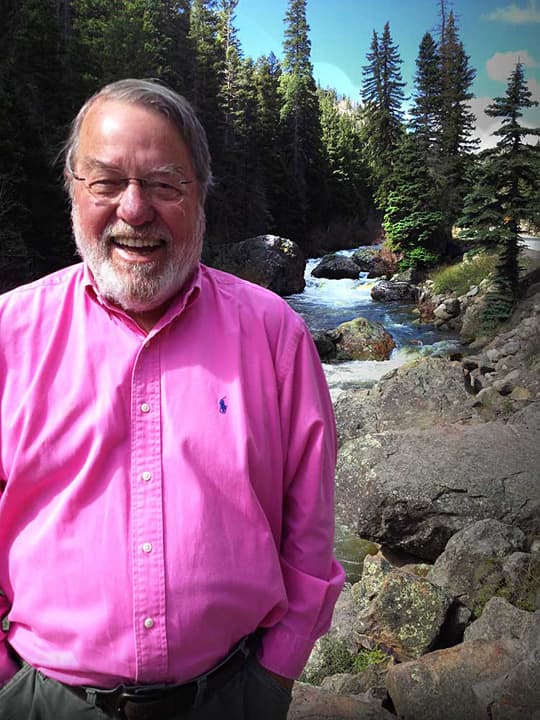 Above: D. Gorton in the mountains of Colorado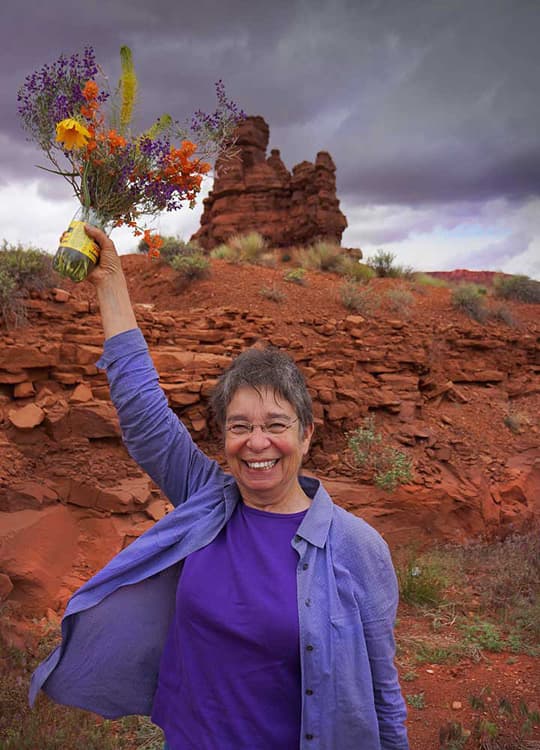 Above: Jane Adams near Mexican Hat, Utah, after visiting a friend whose land was filled with flowers after the desert rains.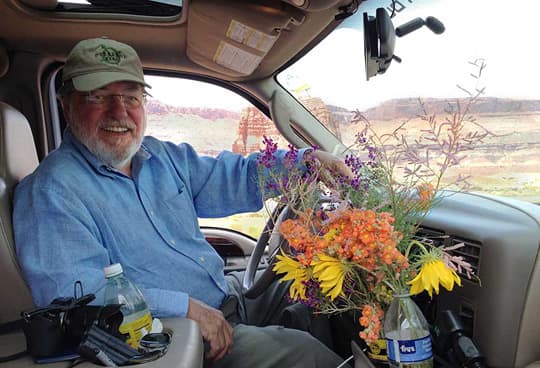 Above: D. Gorton in his Ford F350 and restored 1967 Avion camper
© D. Gorton, June 2014, Carbondale, Illinois
D. Gorton is a photojournalist who was the White House photographer for the New York Times during the Carter and Reagan administrations.  D went on to a freelance career shooting for magazines, corporations, musicians, and movies including National Geographic, Proctor and Gamble, Fleetwood Mac, and A River Runs Through It.  He resides in Carbondale, Illinois with anthropologist and SIU Professor Emeritus, Jane Adams, who is a member of the City Council, Mayer Pro Tem of the City, and the author of five books.  Jane and D are currently writing and photographing a history of Downstate Illinois and enjoy traveling in a 1967 Avion C-10 truck camper.  D writes under the handle "67avion" on the RV.Net truck camper forum.