Former New York Times photojournalist and Avion C-10 truck camper restorer, D.Gorton, has photographed Fleetwood Mac, Brad Pitt, and Ronald Reagan.  This past May he captured Overland Expo West in Flagstaff, Arizona.

Ninety nine percent of Americans – and I'm sure this is even a low estimate – don't know what it's like to wake up in the morning having slept in the basin of a dried mountain lake at 7,100 feet elevation.  Further, I think it is fair to say that they don't know what it's like to step outside their shelter under a dome of blue sky surrounded by wanderers, explorers, dreamers and travelers who gathered at the 6th annual Overland Expo near Flagstaff, Arizona.
A collection of the 1% of the 1% who travel on Unimogs, Rovers, Pinzgauers, KTMs, BMWs, Suzuki DR650s, Fatbikes, truck campers, GXVs, Earthroamers, Man 8x8s, and Unicats, from Alaska to Tierra del Fuego, from South Africa to Dakar, from Berlin to Vladivostok were camped in Mormon Lake, Arizona.
Our journey had started a month before at Tall Pines Campground, Virginia, the site of the Mid-Atlantic Truck Camper Rally.  Jane and I had traveled there from our home in Illinois.  We were walking innocently around the camp when we spotted Gordon and Angela White of Truck Camper Magazine.  They were working hard cleaning their truck.
I thought there was a problem so I offered to help: "Gordon is there anything I can do?"
"Yes", Gordon replied. "Could you go to Overland Expo West and report it for us?  We can't make it".
Gordon is nothing if not direct.  And strangely persuasive.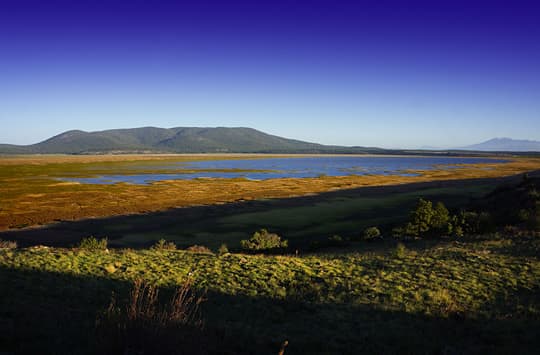 Above: The south end of Mormon Lake still holds the snow melt waters.  The rest of the lake has become dry over the past several decades.  It is surrounded by the Ponderosa Pines of the Coconino National Forest.
Jane and I arrived in Mormon Lake, Arizona, early on the first day, rumbling our way across the cow pasture that the dried lake bed had become.  We spotted Bryan Appleby's Lance 1191 pulled up next to a barbed wire fence.  Bryan, an extreme boondocker who has only spent thirty-eight nights in five years in campgrounds, served as the genial Mayor of the truck camper encampment at the Overland Expo.  He directed us to park our 1967 Avion truck camper.  Meanwhile, more truck campers lurched towards us like catboats in rough weather on Nantucket Sound.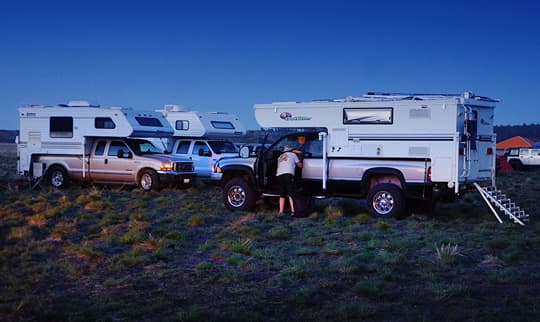 Above: As dusk settles over Mormon Lake, early truck camper arrivals prepare for the evening.
The Overland Expo originated with Jonathan and Roseann Hanson of Tucson, Arizona.  Roseann said that the idea behind the Expo "was to create a community of like-minded people who share a passion for exploring.  People who love to discover new places 100 miles from home or a 1,000 miles away".  She pointed out that the event had a professional-level trade show with the finest overland equipment and accessories in the world.  And there was an emphasis on education with over 300 session hours devoted to expert information on "adventure overlanding".  Even movies were being shown.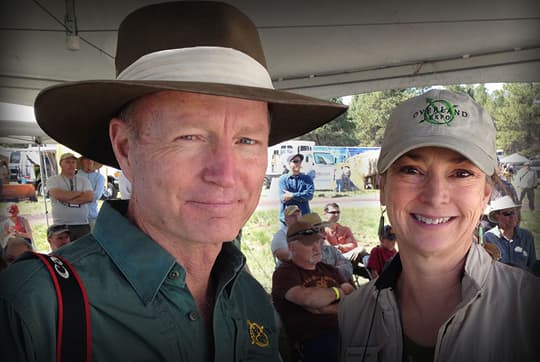 Above: Jonathan and Roseann Hanson, creators of the Overland Expo.
As Roseann explained, "What our tribe of people didn't have before was a gathering".
Indeed, almost 7,000 people and their machines were expected, by far the largest group of its kind.
Everywhere we looked on the dusty lake bed, there were expedition vehicles with knots of people gathered about.  We wanted to understand who these people were and what they had in common with truck campers.  What we would find out over the next few days would both surprise us as well as confirm some long held views about truck campers.
Above Left: A German traveler brought his Unimog loaded with every device possible. To the right of it are relatively unexotic Toyotas and Fords.  Click thumbnails to enlarge.