Back in production after a multi-week shutdown, nuCamp RV is building Cirrus 820 campers at a record pace.  Here are their critical lessons of Covid-19, and how the epidemic impacted their predominantly Amish production team.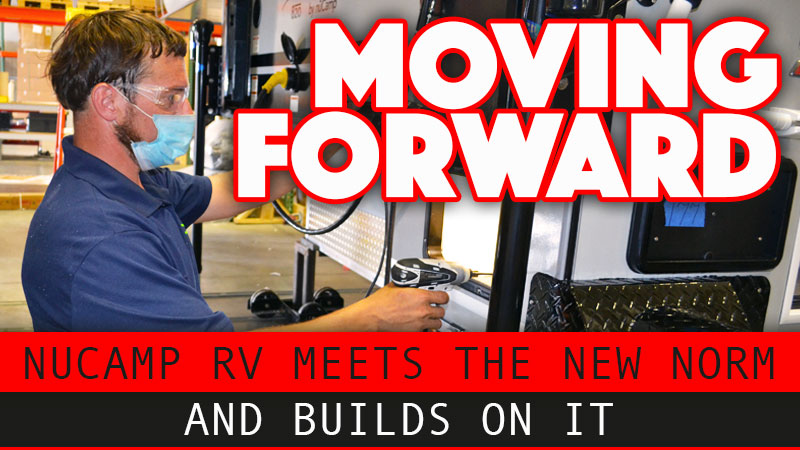 Above: Ivan Yoder, foreman on nuCamp's Cirrus truck camper line
Back in January – just four months ago – every viable RV manufacturer was running full steam to produce units for the Spring 2020 buying season.  Demand at the dealer and customer level was exceptionally strong.  Everything was full steam ahead.
Then Covid-19 hit.  By late March, many RV factories and dealerships were shut down and the majority of consumers were self-quarantined.  The RV market went from 100 miles per hour, to almost stopped.
In the stock market, this is called a black swan event.  A black swan event is a rare and unpredictable occurrence with significant and far-reaching consequences to a business, economy, or entire community.
Often cited examples of black swan events include World War I, the September 11th terrorist attacks, the 2008-2009 Great Recession, and Brexit.  Black swans can also be positive, such as the rapid mainstream adoption of the internet in the late 1990s.  Any unexpected event that completely changes the game can be a black swan.
Covid-19 most certainly qualifies for this fowl label.  While some virologists had long predicted the insane scenario that unfolded, it was rare by any account, not to mention unpredictable by nearly everyone else on the planet.  What was most shocking was the pervasive impact.  If ever there was a black swan in modern times, Covid-19 is such a bird.
So what was it like to be the CEO of an RV manufacturer during this time?  And now that businesses have reopened, how are things going?  Has Covid-19 hurt production, or altered long-term plans?  Or did things just pause for a few weeks, and then resume – like nothing happened?
Last week we had the opportunity to talk with Scott Hubble, CEO of nuCamp RV, and asked him a few of these big questions.  Then we asked a few more and, the next thing you know, we had a fascinating inside account of Covid-19's impact on a major RV manufacturer.
We also talked to Ivan Yoder, the foreman on nuCamp's Cirrus truck camper line, about how the production team handled the experience.  We started our conversation with Ivan and learn exactly how they are staying safe and moving forward.
What is your official title and position at nuCamp RV?
Ivan: I'm the foreman for the nuCamp's Cirrus truck camper line.  I've been with nuCamp for five years.
When I interviewed for my job, I was very impressed with the company and how it operated.  At the time, nuCamp had just launched the Cirrus truck camper line and I was excited to be part of it.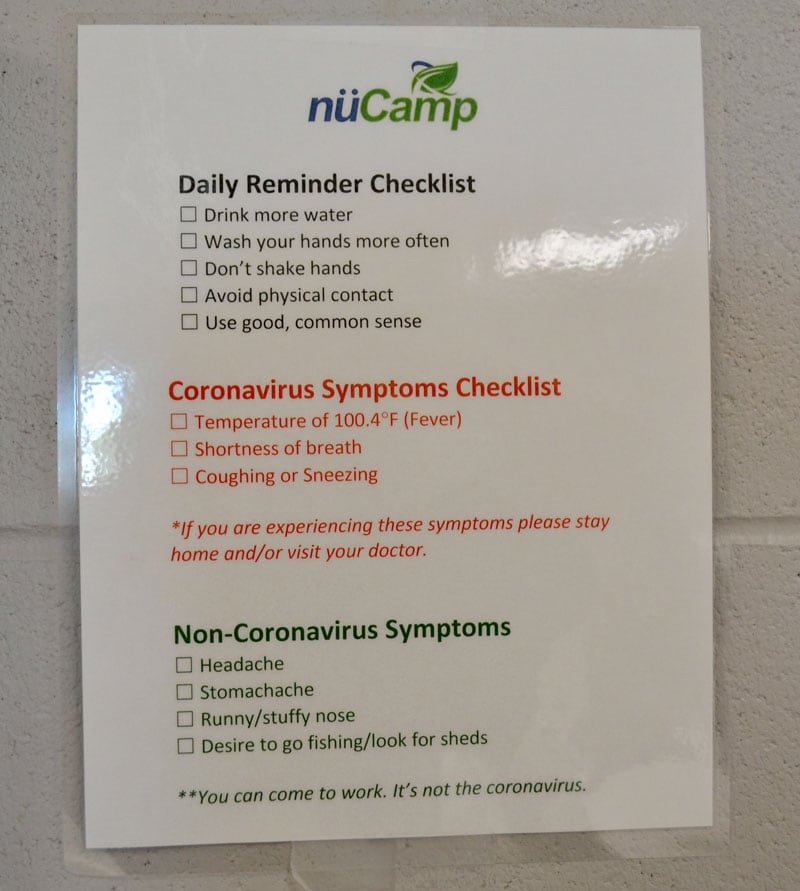 What have you done on the production line to keep the team safe during Covid-19?
Ivan: nuCamp developed Covid safety policies for us to follow.  We keep to our production line stations.  That means we don't go to the lunchroom for breaks.  The stations are 10-feet apart.  We stay at our stations to maintain social distance.  That's worked out well.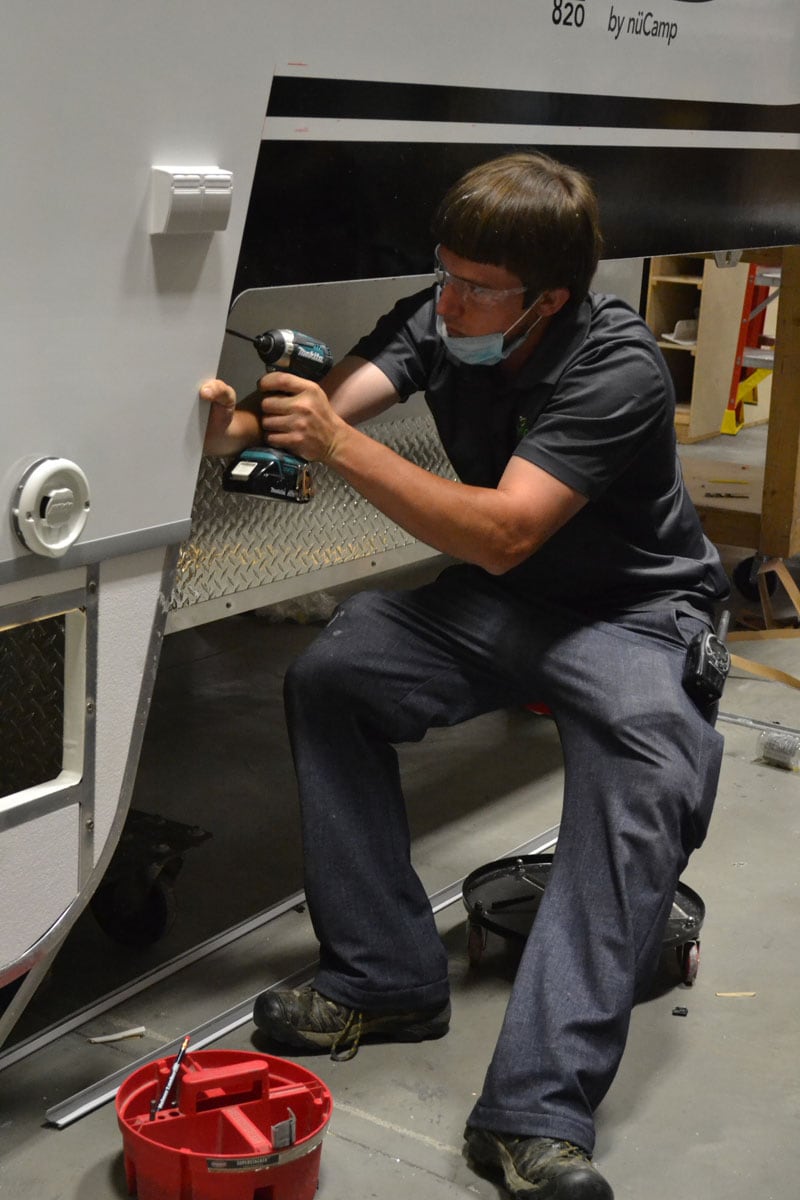 If we need to leave our stations, we wear masks.  We are not wearing masks as long as we stay at our station.  And we are all using hand sanitizer and washing our hands.
We take everyone's temperature every day in the morning.  We also don't all enter the building through the same door to avoid lines.  The doors are opened in the morning so nobody needs to touch them.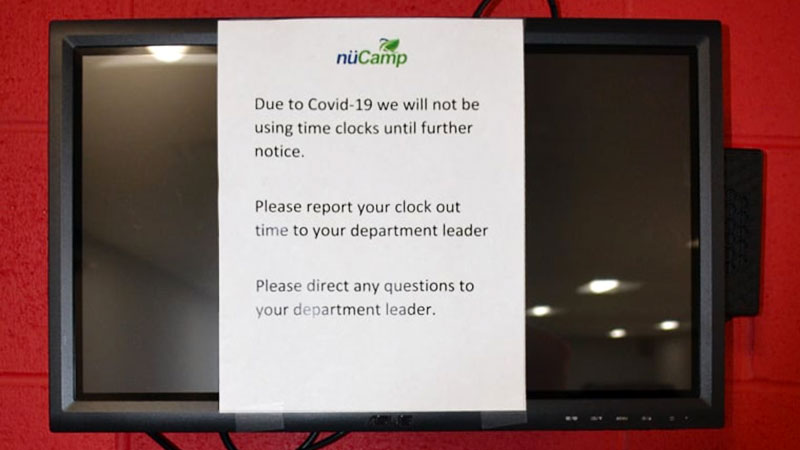 We have always had a team devoted to cleaning the building and facility, so that has continued with more attention given to high touch and high traffic areas. The bathrooms are now cleaned multiple times per day.
We have 140 production team members on the floor and we are confident in how nuCamp is handling the situation.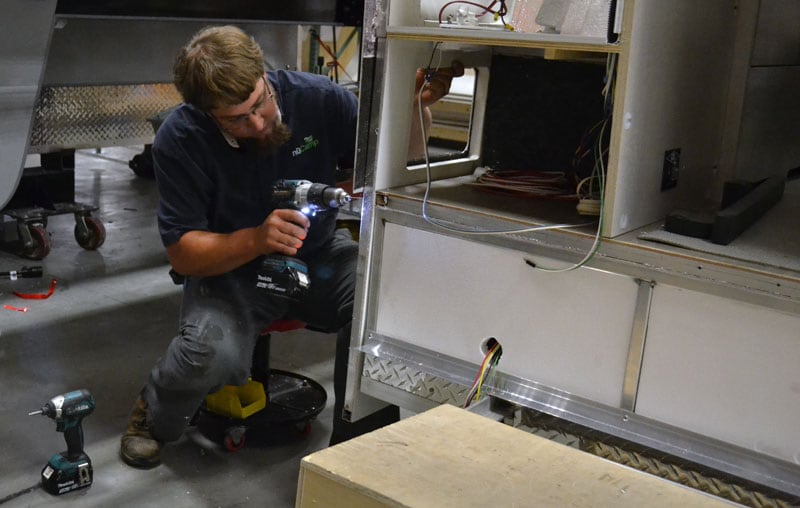 Did you need to change the plant layout for social distancing?
Ivan: On the Cirrus truck camper line, we did not need to move anything.  With the larger size of our units, that naturally created the needed space.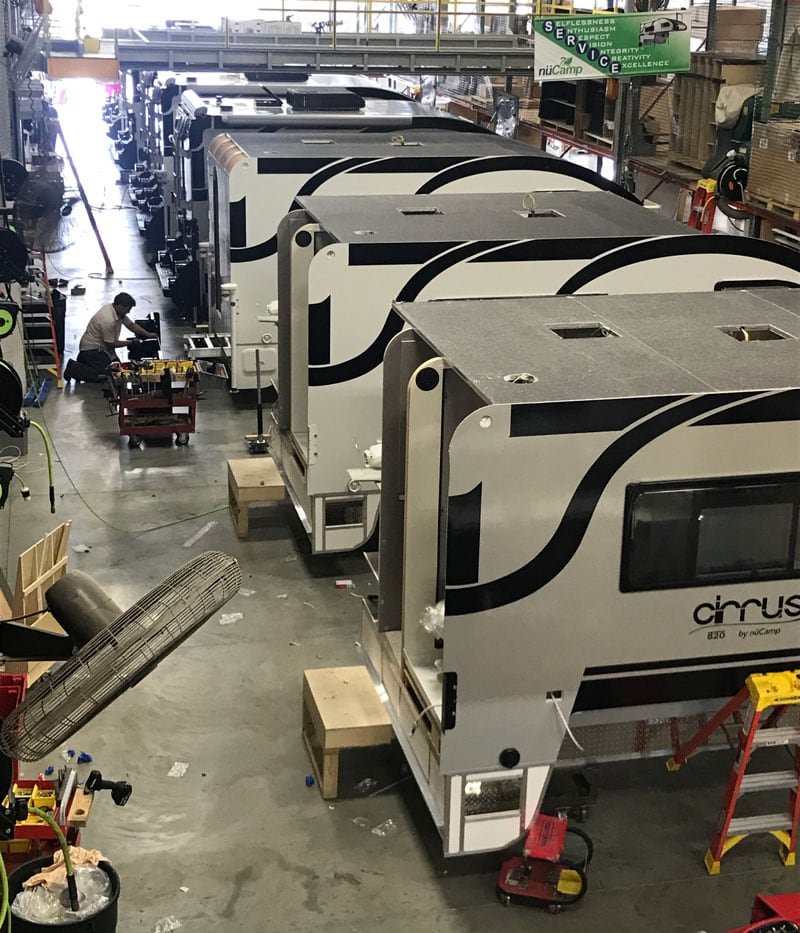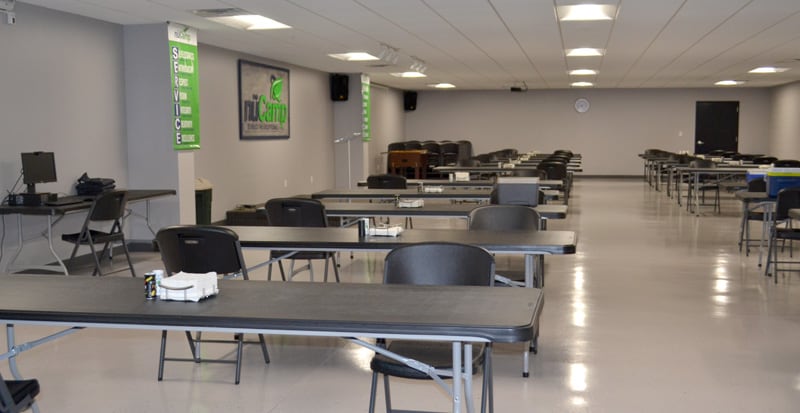 Have you needed to remind the team about maintaining social distance, or have they all adopted and kept to the safety protocols?
Ivan: Throughout the plant, we initially did need to remind people.  It's hard to get into a new routine, but it didn't take long.  As of now, they're all doing well and following the safety rules.  It's our new normal now.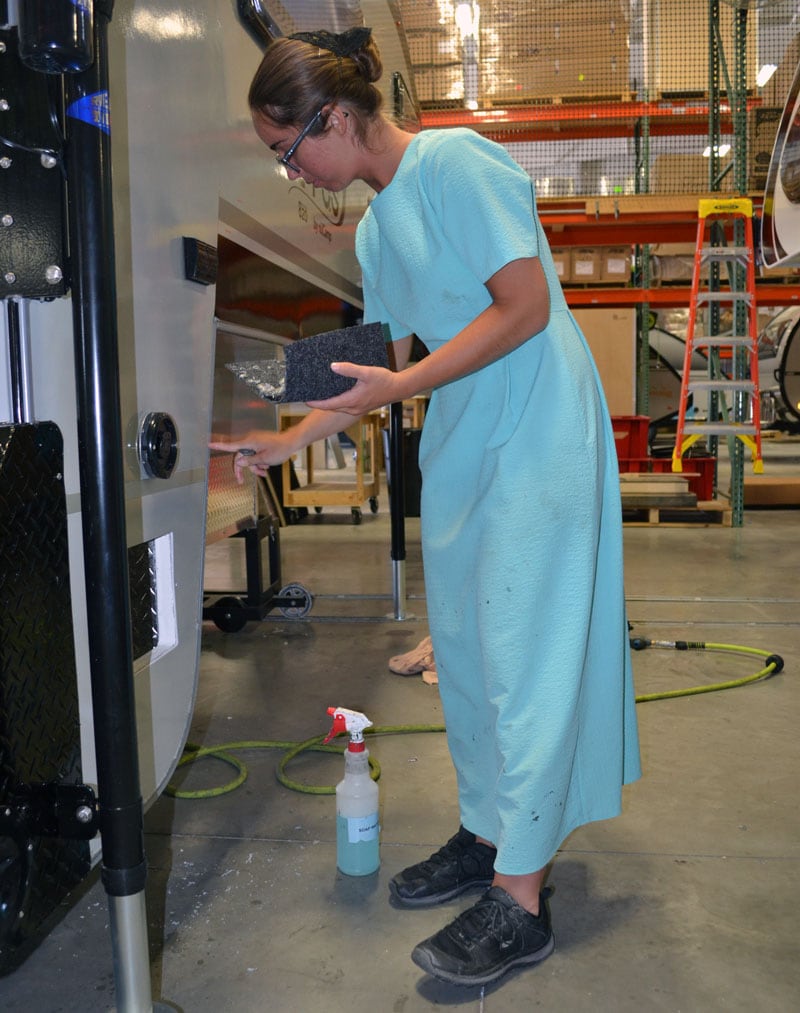 Have the Covid safety practices impacted production?
Ivan: If anything, we are more productive since we came back to work.  If you give Amish six-weeks at home, you'll get a lot of productivity.
In fact, a team member on our Cirrus line, Hannah Troyer (pictured above), has been sewing masks and gowns for Covid for over six weeks now.  Now that we're back, she's sewing when she gets home from work.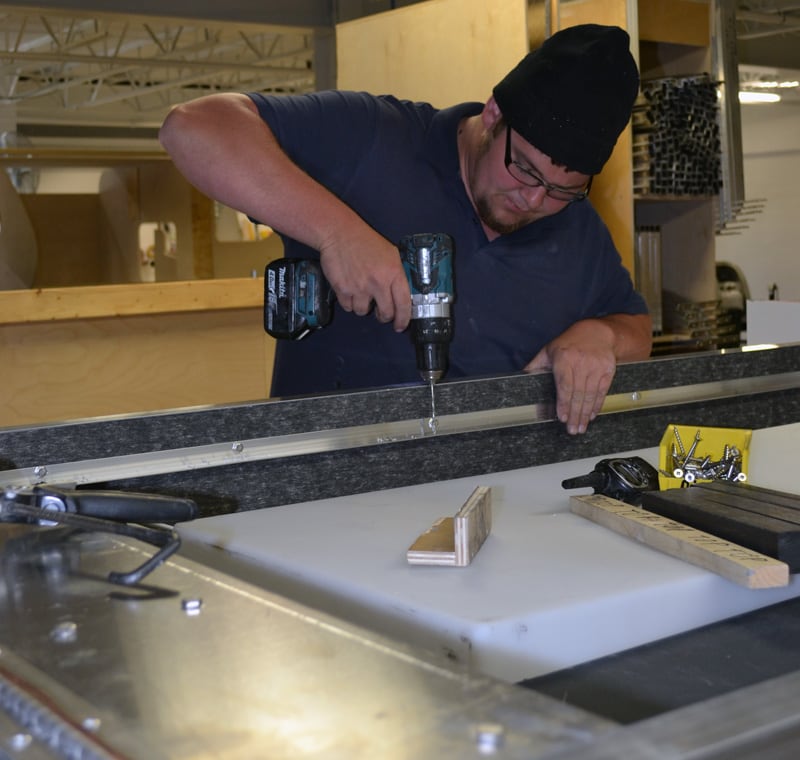 Other than the shutdowns, has Covid affected the Amish community?
It's been the same for us as anyone else.  I know a few local cases of Amish who tested positive.  They self-quarantined and followed doctors orders.  As a whole, the Amish haven't been drastically hit.
During the shutdown, I got to know my kids better than I've ever known them before.  I've never spent that much time with them.  I went fishing with my dad and the kids.  I also went Morel mushroom hunting.
Wait.  You hunt mushrooms?
Yes.  Morel mushrooms are really good to eat.  And you can make quite a bit of money by selling them.  I walked 40-miles in the forest and found about 12-pounds during the shutdown, but I gave them to elders who can't go out anymore.  I don't sell them.
My mushroom hunting started with my dad.  He would always take us as kids.  I love the outdoors and nature.  God put it there for us to enjoy.
We certainly understand loving the outdoors and nature.  And now we'll have to try Morel mushrooms.  Thanks, Ivan.   So Scott, is everyone healthy and safe at nuCamp?
Scott: Yes, we are all 100-percent healthy.  We have not had any instances of Covid here.  To my knowledge, nobody has even had a temperature.
We did lose 18-days because we had a couple of team members who believed they might have come in contact with someone with symptoms.  Thankfully, they were healthy and they were able to return to work within a week or two.
Did you apply for and receive the Payment Protection Plan (PPP)?
Scott: Absolutely, we did.  We work with a local bank, and they helped us get our PPP application in immediately.  With 48-hours, we had a verbal approval.  In three to four days the money was in our account.  We were extremely fortunate.
Our finance team was taking webinars about laws, regulations, and documentation regarding PPP.  The PPP helped us pay our team while they stayed safe at home and has been a good program for us.
How long was nuCamp shut down?
Scott: We were shut down from March 24th through May 4th.  In total it was six-weeks.  We could have made an argument that we were essential and stayed open, but it was unclear at the time how long it could escalate.
During the shutdown, production was suspended.  Customer service, marketing, sales, and warranty all worked from home.  Deliveries continued to arrive, so there were some inventory team members here.  Research and development was also here.
The parts team was filling orders.  The finance team was here guiding the PPP process.  And the executive team was here every day.  We worked a shortened day, but we were in the building.
What was reopening day like?
Scott: There was a huge amount of energy in the building.  Morale went through the roof.  The production team came in and hit it hard.  They were ready to expend energy and get back to work.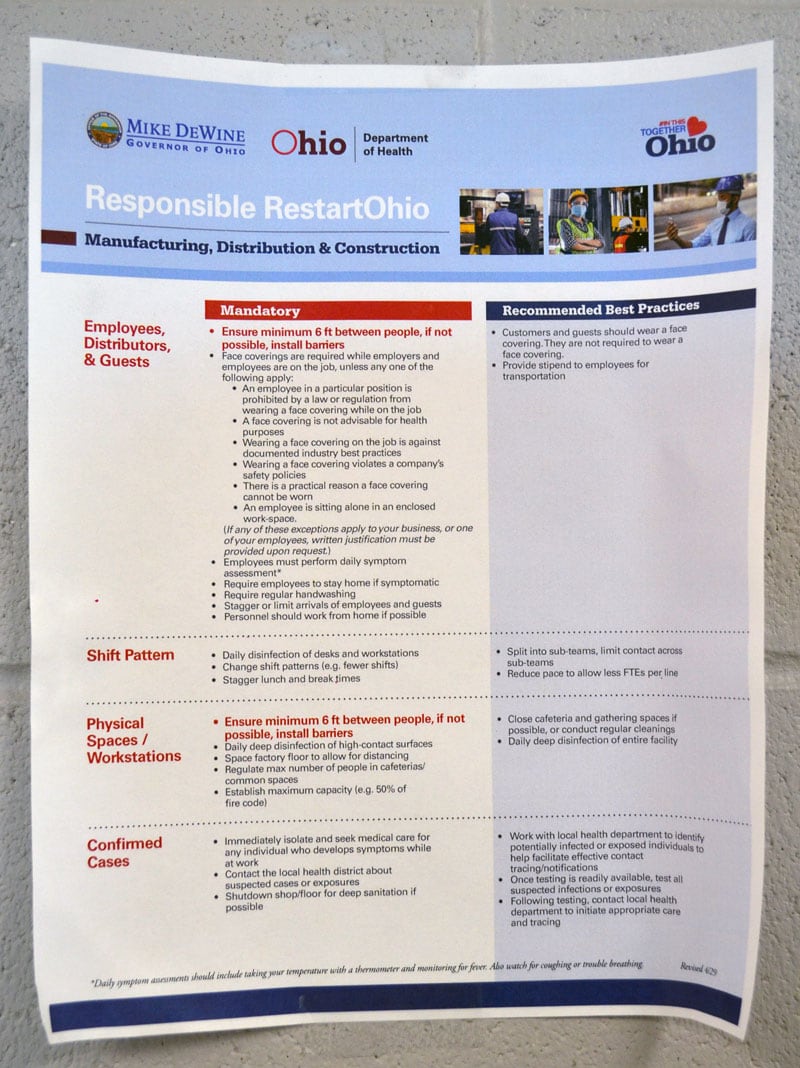 Did nuCamp have an official reopening plan?
Scott: We didn't have a document for everyone to review and sign, but we had established safety protocols to comply with Ohio state orders.
Are you having any supply issues?
Scott: As far back as January we had put the emerging Covid-19 situation on our radar screen.  In the weeks leading up to the shutdown, we were talking to our vendors and accelerating orders in materials, parts, and appliances as possible – just as a potential buffer.
That allowed us to return to production on May 4th and ramp-up to full capacity almost immediately.  It wasn't until about two weeks ago that we started to see supply issues.  Specifically, we're having issues getting enough glass top stoves.
Hopefully, the supply issues are worked out in the coming weeks and we can maintain our peak production and efficiency.  That's the goal.
There has been a lot of back and forth reporting about the possibility of a second wave of Covid-19. Are you ready if that happens?
Scott: I always say, "Yes!" to questions like that.  We had a successful test run and passed with flying colors.  If there is a situation where Covid-19 morphs into something different, all bets are off.  If we get another round of the same virus, we know exactly what to do.  We are ready.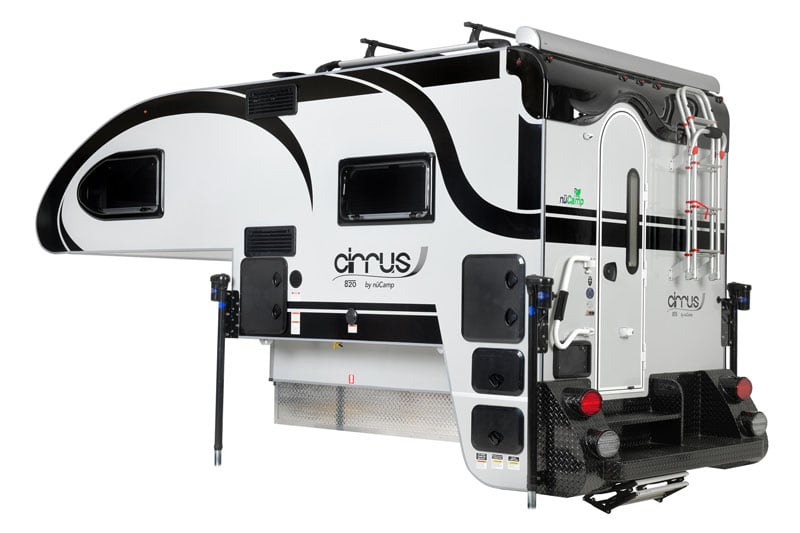 Above: 2021 Cirrus 820
If I may be so bold to ask a normal Truck Camper Magazine question, how's the 2021 Cirrus 820 performing?
Julie: They have been received very well.  We're very pleased with demand.  It's been far better than expected.
Scott: We have already increased production of the 2021 Cirrus 820 models.  When the Truck Camper Magazine article hit, and dealers and customers saw it in person, the feedback was that we got it right.
Based on the demand, we have dealers who have ordered six identical 820 units.  I see the warranty registrations and they have been coming in steady for the new 820.  It's been our most successful truck camper launch, no question about it.
What's going on with the Cirrus 620? Is that camper still on track to debut this fall?
Scott: Yes, the Cirrus 620 should be revealed at the Hershey show in September.
Are you still on target to keep the 620 under 1,500-pounds dry?
Scott: One-thousand percent.  It will not go into production if it does meet the 1,500-pound weight target.  We will meet it.
The Cirrus 620 will have the same structural foundation as the 820.  We are not altering our build quality to lighten the unit.
It appears that nuCamp has discontinued the 720.  The unit was launched just last spring.  What happened?
Scott: The Cirrus 720 design needs an overhaul in two key areas.  We constantly assess where market demand is for the products we offer.  With reduced resources due to the shutdown, we have taken out of production for now.  We want nothing more than to get the 720 redesigned, but with a couple of items on the front burner, it will be a while before we have the time to make that happen.
Before we bring our focus back around to the 720, we are working on an update 920 and 920 slide-out model.  It is our intent that those models debut in 2021.
We have new processes in place and restructured our research and development division.  We've got a quality standards team in place and a litany of other projects going on in our towable lines.
As it sits, we can effectively produce two new designs per year.  For the Cirrus truck camper line, the all-new 620 is on tap this fall.  In 2021, it's our aim to debut a completely redesigned 920 and 920 slide model.
Looking back over the past three months, how do you view the Covid-19 experience as the CEO of nuCamp RV?
Scott: There are always silver linings.  We had a couple of departments that were buried and didn't have enough time or resources to get ahead.  With the six-week shutdown, they stopped treading water and got caught up.
From a broader market perspective, the entire RV industry is excited about the surge in demand right now.  A lot of people are looking at truck campers who haven't before.
I like where we are positioned with small trailers and truck campers.  We have a good niche for this opportunity.  The extra attention is a long-term gain for all of us.
As a company, we have also proven our ability to get through a shock like this.  There may be other events in the future. Now we have a blueprint to go by and the experience to move forward with confidence.  That's a plus.
The shutdown also gave us time to increase communications with our dealer partners.  Now that the demand has returned, it's up to us to come through with the product.  That's where we are focused.
For more information on Cirrus Campers, visit their website at nucamprv.com/cirrus-camper.  Click here to get a free Cirrus truck camper brochure.