nuCamp's 7-year Ultimate Protection Plan is a potential RV industry game changer. Managed directly by nuCamp, the extended warranty covers everything 'tip-to-tail' on a nuCamp camper or towable. No deductibles. No funny business. 7 years. The works.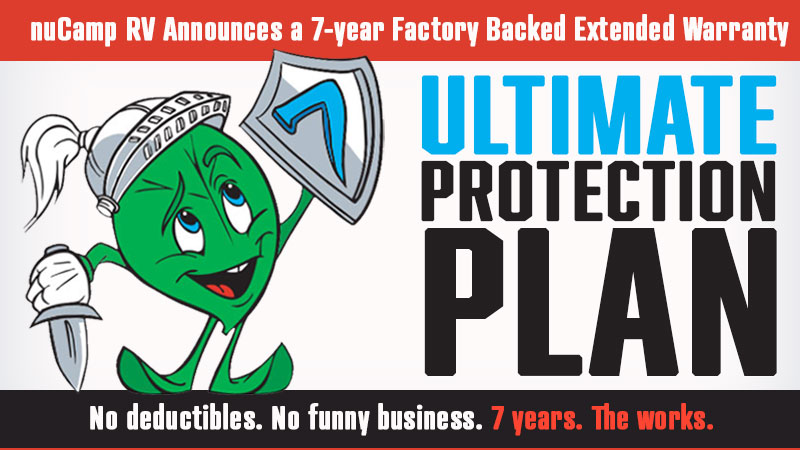 Nearly every RV manufacturer offers only one or two years of factory warranty coverage. Beyond that, a few have five or even ten-year limited warranties on basic structure, but you'd practically need your unit to break in half to qualify.
No RV manufacturer in our research offers a company-backed extended warranty. Not Winnebago. Not Airstream. Not Jayco, Newmar or Tiffin. In fact, the only extended warranties we found we offered by third-party companies. Even the most premium and vaunted brands left their owners with twelve or twenty-four months of factory-backed coverage. That's it.
In contrast, Ford Motor Company (Ford Protect), Chevrolet (Chevrolet Protection Plans), and Ram (Mopar Vehicle Protection), offer factory-backed extended warranties. In 2021, we bought a Mopar plan for our current Ram 3500 and have used it for two antilock brake repairs. With the complexity of modern trucks and their computers and sensors, an extended warranty is becoming a no-brainer.
Truck campers may not be as complex as a modern pickup, but they have an enormous amount of features and components and are nearly 100-percent hand made. That means maintenance and service are almost guaranteed to be required within the first seven years of ownership. Find me a truck camper owner that didn't need to maintain or service their camper in the first seven winters, springs, summers, and falls they owned the product. It's not impossible, but I'd be dumbfounded if anyone stepped forward.
Enter nuCamp's Ultimate Protection Plan. This plan extends the nuCamp warranty to seven years and includes every feature, option and component. You read that right. From the camper structure, to the plumbing and electrical systems, to the built-in generator, absolutely everything is covered by nuCamp. Buy nuCamp's Ultimate Protection Plan and a new Cirrus 620 or 820 today and everything is covered until 2030. Let that sink in.
Yes, nuCamp's extended warranty comes at a considerable cost, and you are required to perform basic maintenance to qualify for coverage, but that's it. There are no extra fees or deductibles. And it's worth repeating that nuCamp itself is offering the Ultimate Protection Plan. There's no third-party insurance bureaucracy to deal with. nuCamp is offering this warranty, and will handle the claims. Game changer, indeed.
To learn more about nuCamp's UPP, we talked to Scott Hubble, CEO, and Julie McComb, Marketing Manager, of nuCamp RV.
Above: The nuCamp Service Center (shown above) is located across from the nuCamp factory in Sugarcreek, Ohio
nuCamp is the first manufacturer we are aware of to offer its own extended warranty. Where did the concept for the Ultimate Protection Plan (UPP) come from?
Scott: We have undertaken a number of forward-pushing endeavors over the past two to three years. The UPP is the latest. It's an extension of our core values, identity, and promise to our end users.
The Ultimate Protection Plan is our opportunity to multiply our industry-leading, one-year 'tip to tail' warranty by seven. If anything goes wrong in your nuCamp towable or truck camper in that period of time, we've got you covered.
Are you making any changes to the base nuCamp warranty?
Scott: We are going to continue to offer our standard one-year tip-to-tail warranty that we've offered since we launched thirteen years ago. UPP takes our industry-leading warranty coverage and extends it to every component. While most of our components come with one to two-year warranties, the UPP extends every component in a nuCamp product to seven years. We're really excited about it.

To be clear, the UPP covers all components and workmanship for a full seven years?
Scott: That's correct. Yes.
Does that include the Alde hydronic heat and hot water system, water pump, refrigerator, microwave, cooktop and oven, television, audio/video system, air conditioner, and built-in generator?
Scott: Yes. It's an extension of our one-year tip-to-tail warranty. For example, a Dometic stove may quit working during the first eight months of ownership. Dometic will cover that under their warranty. However, if that same stove quits working in year six, Dometic is not going to take care of it. With UPP, nuCamp will take care of that component as if it was under the original manufacturer's warranty.
We're also extending the nuCamp structural warranty and all of our supplier warranties. If your Alde hydronic heating system has a problem six years and eleven months after you take ownership, we will take care of the issue.
Does the 7-year UPP start after the 1-year base nuCamp warranty?
Scott: No. It's a six-year extension of our standard warranty.
Above: A video with Scott Hubble, CEO of nuCamp, explaining the Ultimate Protection Plan
What does it mean that the UPP is backed by nuCamp?
Scott: We want our customers to understand that there is not a potentially disinterested third party involved with the UPP. There is no anonymous entity or process that could potentially deny claims.
The UPP program is 100% managed by nuCamp and will directly handle all claims. We have a reputation of standing behind our product and UPP will be no different. We are stepping up to the plate and we are going to be accountable.
Does the workmanship covered under the UPP extend to all plumbing and electrical systems?
Scott: Yes, all plumbing and electrical is covered. Whether it's workmanship or a fried wire, you're covered.
As long as it wasn't an act of God, vandalism, user error, or an accident, it's covered. In that way, UPP is no different than any other warranty extension program.
What about structural issues? Truck campers in particular are often subject to rigorous off-road conditions.
Scott: Those are absolutely covered. We have been building truck campers for eight years. There are Cirrus truck campers in the field that have traveled thousands of miles. We have learned a lot of lessons in that time. We are confident in our infrastructure, construction, and choices of screws, glues, materials, and components. Every aspect has been refined and dialed in. If you have a structural issue, it's covered.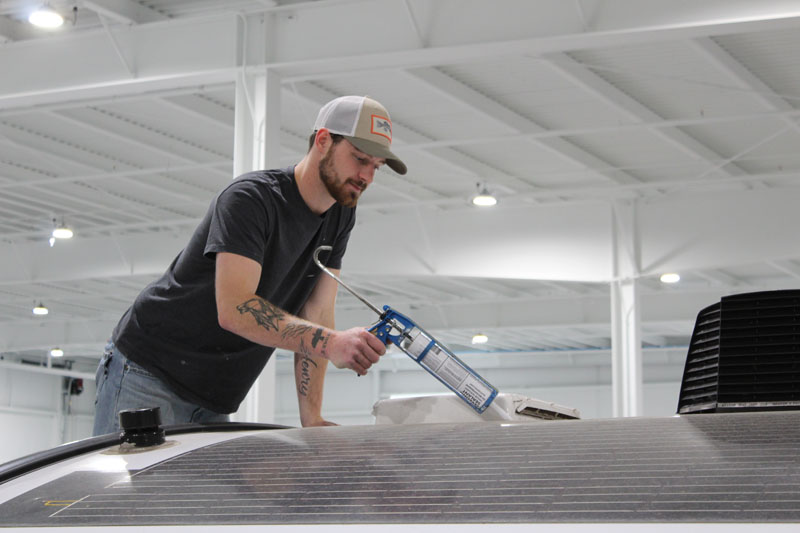 What about leaks or resulting water damage? Leaks often go undetected for extended periods of time.
Scott: In every owner's manual, there is a scheduled maintenance program. With that, every owner has to do their part. To be covered under UPP, you need to keep up the required scheduled maintenance program.
This is really no different than a warranty for your vehicle – you are required to get scheduled oil changes for your truck to qualify for your truck's warranty coverage. With a camper or towable, you need to check and maintain your seals; roof, sides, and underbody. Just like the truck, the customer needs to take some ownership. As with anything you own, you need to take care of it.
The UPP requirements are clearly described in the terms and conditions. If you get your seal maintenance done yearly,and can back up that the seal maintenance was done, then you're covered.
Where can someone read the UPP terms and conditions?
Julie: The terms and conditions are on our website now.
Scott: The website also lists the major things that are covered – including systems and assemblies. We touch on the big items on our website, and the terms and conditions go into more detail.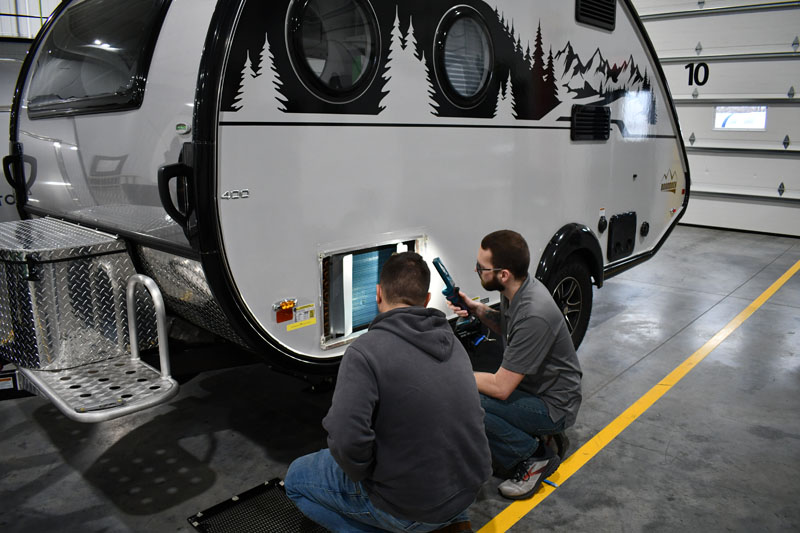 What about diagnostics? For example, sometimes an electrical problem isn't clear.
Scott: It's all covered. We have dealt with haunted units with hard-to-find electrical problems. It can be dozens of diagnostic hours to find the problem. Even if that happens, we will stand behind the UPP and the products we build.
Could there be a situation with 30 hours of diagnostics? Yes. We are going to stand behind it. In our terms and conditions, there are some limits, with collective payouts over the length of the plan, so it's not a blank check. We are expecting that there are some claims bigger than others. We are going to jump in and take care of our customers.
Is there someone at nuCamp that the consumer should contact if anything goes wrong?
There's not a specific individual, but our customer experience email is [email protected]. You can also call in and be transferred to our Customer Experience Team. They are there to answer questions and help people with any product issues.
Where does a customer with the UPP go to get service?
UPP warranty work can be done by a nuCamp dealer or a non-nuCamp dealer who agrees to work with nuCamp on the repairs. We will also offer UPP customers priority scheduling and preferential treatment at the nuCamp Service Center in Sugarcreek, Ohio.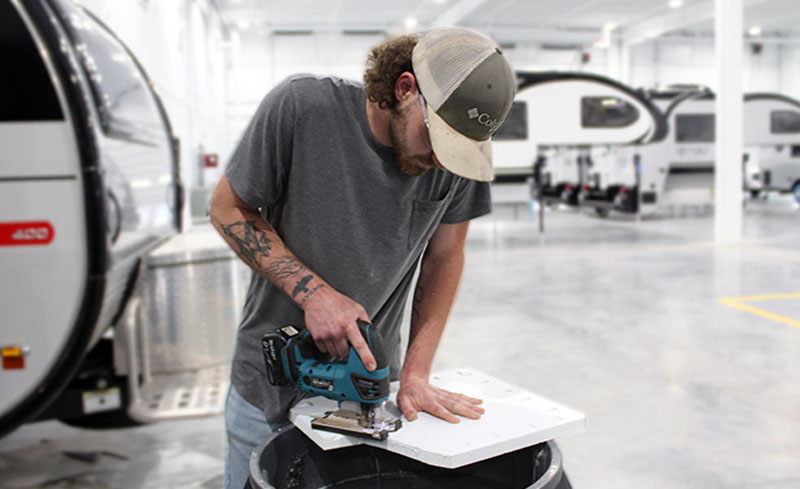 Is the nuCamp Service Center where a nuCamp owner gets the best possible work done?
Scott: nuCamp dealers offer first-rate work, but there's an inherent advantage to bringing a nuCamp product – or any RV for that matter – back to the manufacturer. We have the best possible expertise, access to materials and components possible.
Julie: Our Service Center opened about a year ago and has twenty service bays that service all nuCamp products; truck campers and towables. Our service staff has grown in proportion.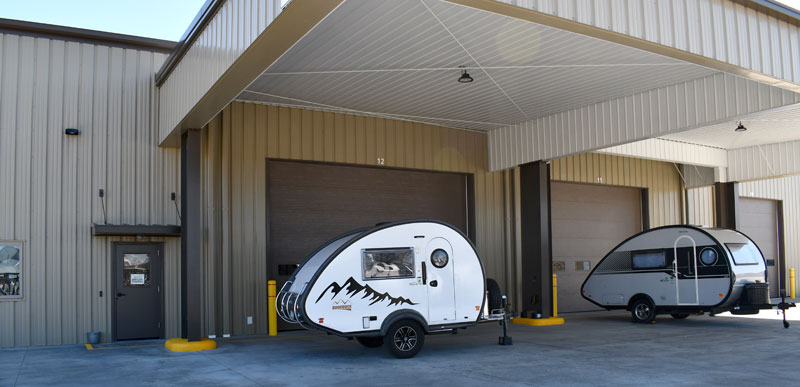 Does priority scheduling mean the next day, next week, or next month?
Scott: I can't promise you same-day or next-day service. What I can tell you is that we've built slack into our schedule so we can accommodate UPP owners with an appointment. We are customer-centric and want to make sure that no one is waiting months for simple maintenance. With UPP you get in at a faster rate than anyone else.
We highly recommend calling as far ahead for an appointment as possible. We want to be prepared when you show up, including having the right parts on hand. You can submit a work request on our website with a description of the problem and photographs. That really helps the process for everyone involved.
Can someone get UPP service in Canada?
Scott: For now, the UPP is only for sale in the United States. We are working on a solution for Canada so that it is applicable for sales within Canada. There are some Canadian-specific requirements we are navigating through, but we see it becoming a reality. You will be covered in Canada if you buy the UPP in the United States.
Julie: We'll work with any RV company and repair center in the United States and Canada that will work with us. We want to fulfill and provide excellent service.
How much is the UPP for a Cirrus 820 or 620?
Julie: As we've talked about in this interview, our UPP is a top-of-the-line extended warranty with our abilities and our guarantees of a high-quality product. For the Cirrus 620, the MSRP for the UPP is $4,995. For the Cirrus 820, the MSRP for the UPP is $5,495. The 820 is a bigger unit with more components, so the warranty costs extra.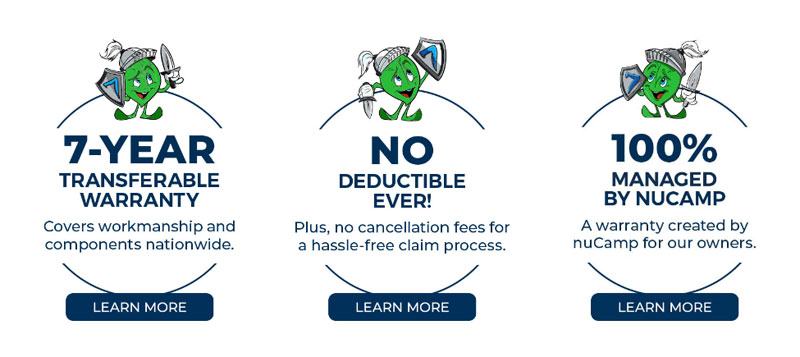 Are there any hidden fees or deductibles?
Julie: There are no hidden fees or deductibles. It's that easy.
Can someone with an older nuCamp product purchase the UPP?
Julie: If you are still under your one year nuCamp warranty, your camper was built after January 1, 2022, and you are the original owner, you qualify for the UPP.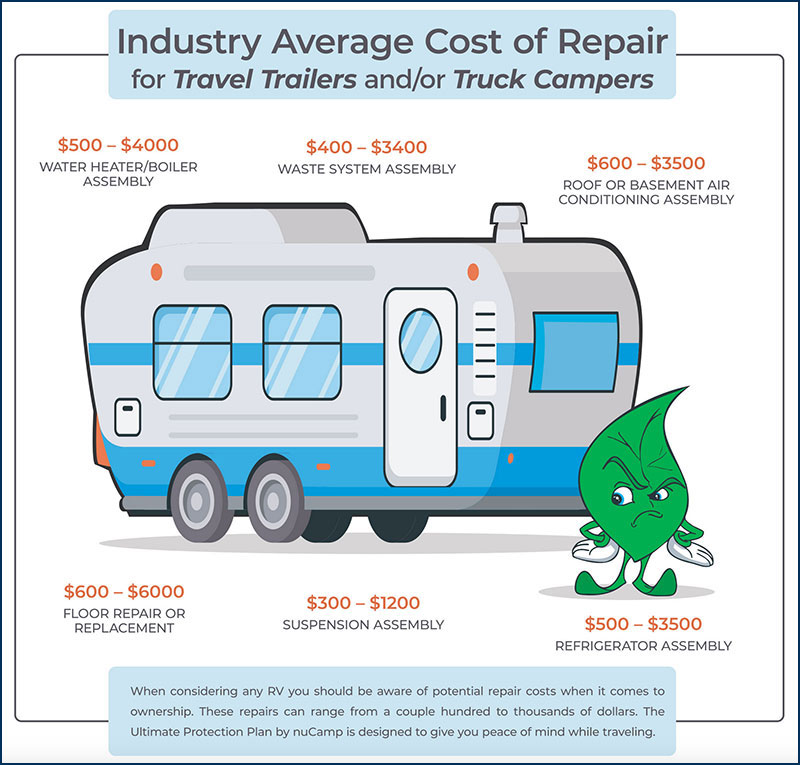 So a nuCamp owner has a year to purchase the UPP?
Julie: Yes. You don't have to buy it the day you buy your camper. You have a year to decide if you want it.
How does someone purchase the UPP?
Julie: Simply reach out to a nuCamp dealer to purchase your coverage. They will be able to give you a copy of the terms and conditions and will submit the warranty registration to us. We process it from there.
Is there a way to get a copy of the UPP warranty – with the fine print – before purchase?
Julie: The complete warranty is available on our website. We know nuCamp customers do their research before purchasing.
The UPP is described as transferrable. Does it matter how many people own a UPP-covered camper during the 7 year term?
Scott: There's no limit to how many people can own a camper under UPP coverage as long as they're all private sales. If someone sells or trades in a UPP-covered unit to a dealer, the dealer will cancel the UPP warranty. In that scenario, the selling owner gets reimbursed for the remainder of the coverage.

Tell us about the limited-time bonus Harvest Hosts membership. How long will that be included with the UPP?
Julie: When you buy the UPP, one year of Harvest Hosts membership is included. If you want, you can renew it on your own after that. We intend to offer a one-year Harvest Hosts membership with UPP, but that offer may change.
Is there anything else about UPP that you want people to know?
Scott: The UPP has coverages for required towing and lodging. It's not strictly unit based. The main thing is that you get our renowned nuCamp tip-to-tail warranty for a full seven years. There are no fees or deductibles. The UPP is the premier extended RV warranty on the market.
How's it going with the new Cirrus 920?
Scott: The first Cirrus 920 prototype will be done in a month. The final engineering and implementation will be done for the Elkhart Open House and Hershey RV Show in September. We'll be taking orders at that show.
The new Cirrus 920 will be all-electric but with backup LP systems and a generator. We're installing high-end cabinetry and working with partners like Battle Born to take the all-new 920 to the next level. It's going to be a show-stopper.
For more information on the nuCamp RV Ultimate Protection Plan, visit their website at nucamprv.com.  Click here to request a free Cirrus brochure.