Doug Karr of Northwood Manufacturing presents the all-new Wolf Creek truck camper line and gives us the inside story on the first Wolf Creek model, the Wolf Creek 850.

In late 2009, Doug Karr told us in an interview that he would, "like to see the Northwood camper line get expanded".  It turns out he wasn't kidding.  About a year later, we started to hear about a brand new truck camper line from Northwood, Wolf Creek.  The first model in the new line debuted just a few weeks ago, the 2011 Wolf Creek 850.
But before we get too excited about this new brand and camper, we have a few questions.  First, why not keep the new campers under the Arctic Fox name?  What makes a Wolf Creek Camper different than an Arctic Fox?  Are Wolf Creek campers made with the same materials, on the same production line, and by the same Northwood production team as the Arctic Fox campers?  How about quality control and warranty?  And what's the vision for Wolf Creek?
To get some answers about the Wolf Creek brand and model 850, we went back to the source, Doug Karr.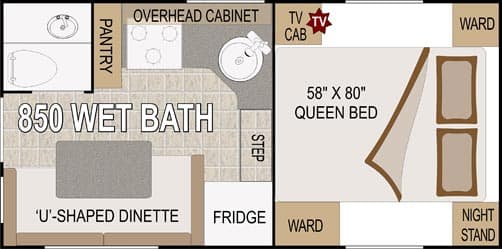 2011 Wolf Creek 850 Specifications:
The 2011 Wolf Creek 850 is a hard-side, wet bath truck camper designed for short or long bed trucks.  The interior floor length of the 2011 Wolf Creek 850 is 104″ and the interior height is 78".  Northwood is reporting the dry weight of the camper at 2,008 pounds with standard features, dual batteries, and full propane.  The tanks in the 2011 Wolf Creek are 36 gallons fresh, 22 gallons gray, and 20 gallons black.  The camper accommodates two batteries and two twenty-pound propane tanks.  The MSRP for the 2011 Wolf Creek 850 is $20,400.
The following is an interview with Doug Karr of Northwood Manufacturing on Wolf Creek and the all-new 2011 Wolf Creek 850.
TCM: It's been a little over a year since Ron Nash, the Founder of Northwood Manufacturing, suffered a stroke.  In our interview with Jim Jones, Northwood's CEO, and Ward King, Northwood's COO, last August, we learned that Ron was at home and making lots of progress.  How's Ron doing today?
Doug: Ron's doing well.  He's probably in better physical shape now than he was fifteen years ago.  I talk to him every night.  He's not yet 100% and is still in recovery.
TCM: Is he coming back?
Doug: Ron has not yet made that decision, when he does we will let you know.  He currently participates in weekly managers meeting here at the plant.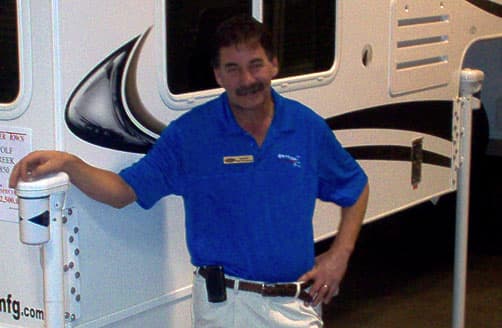 Doug Karr, Northwood Manufacturing's Camper Guy
TCM: When we visited the Northwood Manufacturing factory this past Summer, you camped next to us in an Arctic Fox 990.  Have you been camping this winter in La Grande?
Doug: Yes.  I have a 2011 Arctic Fox 992 now.  It's a very nice floor plan.  I learned so much by living in the 990.  For example, I put clear glass in the back door, a light in the exterior dump valve area, and moved the medicine cabinet over after living in it for a few months.  Those are all production line changes based on my experience in the camper.
I even use my truck camper when I'm on the road at RV shows.  In fact, I'm going to take it to a RV show this weekend.  Having the camper is so much better than a hotel.
TCM: Do you have a problem keeping warm while you're on the road?
Doug: Not at all.  I have a portable electric heater and I just run the furnace if the camper is not plugged in.

TCM: You commented in your December, 2009 TCM interview that you would, "like to see the Northwood camper line get expanded".  Is the new Wolf Creek line what you had in mind?
Doug: At that time, we were still in the concept stage of developing a lighter camper line.  At first we thought the new line might be called Little Fox because it's not as deluxe, but we didn't want to compare Arctic Fox to the new line.  The name Wolf Creek came from Lance Rinker, Northwood's Director of Purchasing and Marketing.
The concept of Wolf Creek is that not everyone wants to pay $25,000 to $30,000 for new camper.  I've met a lot of people who are looking for something for the weekend that's around $20,000 nicely equipped.  The Wolf Creek 850 is perfect for them.  We are selling Cadillacs with the Arctic Fox campers.  Not everyone wants a Cadillac.
With the Wolf Creek line, I'm also working towards the lighter duty truck market.  The Wolf Creek is 2,008 pounds dry without options.  A new 2011 Ford F-150 has a payload of up to 2,840 pounds.  You still need to do your homework on which half ton you get, but many of the new 2011 half-ton trucks can offer enough payload for the Wolf Creek 850.
TCM: The new half-tons are certainly offering more and more payload.  And we agree that you need to verify the exact payload your half-ton truck offers.  How are the Wolf Creek and Arctic Fox lines different?
Doug: The Wolf Creek line has a one inch aluminum framed wall instead of a two inch wall like Arctic Fox campers have.  We also went with flat cabinet doors rather than the raised cabinet doors on Arctic Fox models.   There are also half inch exterior access doors instead of one inch doors.
To keep weight and cost down, much of the equipment is optional on the Wolf Creek campers.  Our standard Wolf Creek refrigerator size is three cubic feet rather than five cubic feet in an Arctic Fox.  And the oven is not standard in the Wolf Creeks.
The Wolf Creek 850 has a four inch heated basement, which gives it the biggest tanks in the industry for a camper of it's size.  The Arctic Fox campers have an eight inch basement.
TCM: Are the aluminum frames in the Wolf Creek line stuffed with wood like the Arctic Fox camper frames are?
Doug: We still use wood fill inside the aluminum frame on the Wolf Creek at key structural areas.  Light weight and affordability are important, but structural integrity is more important.
TCM: What did you do to reduce weight on the Wolf Creek campers?
Doug: We did a little bit of everything.  Ten pounds here, twelve pounds there, fifteen pounds there; it adds up real quick.
It wasn't all about reducing weight.  For example, I'm excited that we were able to make the Wolf Creek 850 dinette 78 inches long.  Most dinettes in smaller campers are only 64 inches long, so you hardly have any room.  I'm 6'2" and I can lay down in the Wolf Creek 850's dinette.
TCM: Do Wolf Creek campers use the same aluminum frame as Arctic Fox campers?
Doug: Yes.  We use .060 aluminum on the Wolf Creek campers, which is the same quality of aluminum that we use on our Arctic Fox slide-outs.
TCM: Tell us about the development of the Wolf Creek 850.  How did you design that camper?
Doug: We did not want to operate in a vacuum so we brought in Kevin Baker from Apache Camping Center to help us with floor plan, specifications, and guidelines. Kevin truly understands the camper market – the product and the customer.  Our engineering and product group worked through the development of a prototype with our team on the production line.
We evaluated the product, kept what we liked, and changed what we didn't like.
TCM: What kinds of things needed adjustment in the prototype?
Doug: When we first did the prototype, the bathroom was too high so we had to re-adjust.  We were also initially thinking about a double sink, but went to a single sink which I like much better because it maximizes counter space.  We have some of the best camper designers and builders in the country.  We're very fortunate to have that kind of talent.
Additionally, in October we invited our Arctic Fox dealers to the plant for a product unveiling to get feedback and to determine their interest level.  It's important that we hear from the dealers on what they think about our products.  The dealers asked us to re-adjust some of the cabinet doors and make a few other minor changes, but overall they really liked the Wolf Creek 850.
TCM: There's a "Coming in Spring 2011" teaser on the Wolf Creek website for a 816 model.
What can you tell us about this new camper?
Doug: That's really going to be a camper for half-ton trucks.  When it's completed, we're hoping it will weigh around 1,600 or 1,700 pounds dry without options.
To reduce weight, we went to a narrower width; 76" instead of 80".  The floor plan is similar to the Wolf Creek 850 with a rear dinette, side kitchen, and rear bath.  To further reduce weight, the 816 is a non-basement camper.  It has conventional holding tanks.
TCM: One concern is that these lighter weight campers will quickly loose their light weight advantage as consumers add options.  How are you helping the consumer to figure out the weight of the options you offer?
Doug: In our brochure we list the weights of all the options so people can figure out the weight.  All manufacturers are required to put a tag on the back of their campers and consumers often believe that's exactly what the camper weights.  Unfortunately, these labels identify only the weight of the camper with the standard equipment, full propane cylinders, and a full tank of fresh water.  It does not include the weight of any options.  With Northwood, consumers can use our brochures to add the option weight to the camper they want.
TCM: Are there more Wolf Creek models on the way for 2011?
Doug: We have the 850 available in a long bed version and a short bed version.  The 816 is in the prototype stage and will be available in about sixty days.  We will probably expand to a maximum of five models, but that's undetermined at this point.
TCM: Will there be slide-out Wolf Creek campers?
Doug: No.  The Wolf Creek line will be non-slide campers only.
TCM: Are the Wolf Creek campers built on the same production line as the Arctic Fox campers with the same production team?

Doug: Yes.  Wolf Creek and Arctic Fox are built on same production line with the same team and the same quality control.
TCM: We were very impressed by your quality control and wrote about it extensively for your factory tour last August; "2010 TOUR: Northwood Manufacturing / Arctic Fox".  Let me switch gears to the Arctic Fox line.  Are there any changes to the Arctic Fox camper line for 2011?
Doug: For the 2011 Arctic Fox models, we went to a pillow top mattress, clear glass in back door, a bigger window in the dinette, and a new dinette table.  There's also a light in holding tank area, magnified lights in the dinette, and an exterior patio light and awning light.  We're always making improvements.
TCM: Northwood Manufacturing purchased the SnowRiver name from Bob Mehrer, the former President of SnowRiver/Interior RV.  So far, Northwood has only produced four models of SnowRiver travel trailers.  Are there plans to build a SnowRiver truck camper?
Doug: I doubt we'll do that.  We don't want to create any confusion regarding truck campers and our Arctic Fox has earned the reputation as the industry's premier camper.  We do believe that the quality that people associate with the Snow River brand is clearly demonstrated in the new travel trailers and fifth wheels that we are building under that nameplate.
TCM: Recently the dry weights for Arctic Fox truck campers have decreased across the board by exactly 595 pounds.  Where did this weight reduction come from?
Doug: The weight change is a result of a shift in our marketing approach. The actual landed weight of the campers is unchanged when equipped the same.
We introduced the Fox Value Package.  This is a bundle of features that add function and convenience that we have grouped into a mandatory option.  We have done this to draw attention to these features.  The Fox Value Package is itemized in two places on the Arctic Fox brochure.  The first is included as part of the 111 Reasons to Buy An Arctic Fox.  The second location is on the Features and Options page that provides the weight of available options.  The Value Pack shows a weight of 595 pounds.
The published dry weight indicates the weight of the camper with standard features only, no options.  To get the landed weight of the camper, take the published dry weight, add the 595 pounds of the mandatory Fox Value Package and the weight of any additional options desired as identified in the option weight table.
TCM NOTE: The Fox Value Pack includes Rieco-Titan remote electric jacks, large Carefree rear awning (7' x 8'), sliding storage "Joey" tray, two seven gallon LP tanks, dual battery compartment with slide-out tray, exterior diamond plate armor, basement sliding roof access ladder, 7" tall roof rack, exterior marine speakers, three burner high-output range with 22" oven (most models), microwave, six-cubic foot refrigerator (LP/110), deluxe refrigerator doors, dinette storage drawer, dinette storage door, pull-out pantry, TV antenna, Fantastic reversible multi-speed fan, coordinated bedspread and shams, and bedroom front shelf.
TCM: Is the Fox Value Pack truly mandatory, or could a customer special order an Arctic Fox camper without it?
Doug: Based on the incredible value it is difficult to imagine a customer not wanting it.  However, if you called me and said I don't want an air conditioner, or television antenna, or oven or electric jacks, we can delete those items for you.
TCM: Is there a mandatory options package for the Wolf Creek line?
Doug: There is no Fox Value Pack with the Wolf Creek campers.  They are pre-wired for electric jacks, so you could put on electric jacks.  They are pre-wired for a microwave, so you could put in a microwave.  Look at the weights of the options in the brochure and you can figure out the weight of the camper.
TCM: What is the MSRP for the Wolf Creek 850?
Doug: It all depends on options of course, but base retail is $20,400.
TCM: Is the warranty for the Wolf Creek line different than the Arctic Fox warranty?
Doug: There's a one year full warranty on all Northwood truck campers.
TCM: Where can people see the Wolf Creek 850?
Doug: Right now the Wolf Creek 850's are going to dealers in Montana, Idaho, Washington, California, Arizona, and Oregon.  They are currently being delivered to the majority of Arctic Fox dealers.
TCM: Is there anything we didn't ask that you would like included with your interview?
Doug: At the Pleasanton RV Show, the truck campers were a magnet.  They were the strongest thing going.  What's fun is that when people go to a RV show and look at hundreds of campers and then they come to me and say, "You have the nicest camper on the market".  I enjoy hearing that.  It warms my heart.
TCM: Thank you Doug.  And good luck with your new Wolf Creek line.
Doug: You're welcome.
For more information about Northwood, Arctic Fox campers, and Wolf Creek campers, visit www.northwoodmfg.com.