Doug Karr of Northwood Manufacturing presents the all-new Wolf Creek truck camper line and gives us the inside story on the first Wolf Creek model, the Wolf Creek 850.

In late 2009, Doug Karr told us in an interview that he would, "like to see the Northwood camper line get expanded".  It turns out he wasn't kidding.  About a year later, we started to hear about a brand new truck camper line from Northwood, Wolf Creek.  The first model in the new line debuted just a few weeks ago, the 2011 Wolf Creek 850.
But before we get too excited about this new brand and camper, we have a few questions.  First, why not keep the new campers under the Arctic Fox name?  What makes a Wolf Creek Camper different than an Arctic Fox?  Are Wolf Creek campers made with the same materials, on the same production line, and by the same Northwood production team as the Arctic Fox campers?  How about quality control and warranty?  And what's the vision for Wolf Creek?
To get some answers about the Wolf Creek brand and model 850, we went back to the source, Doug Karr.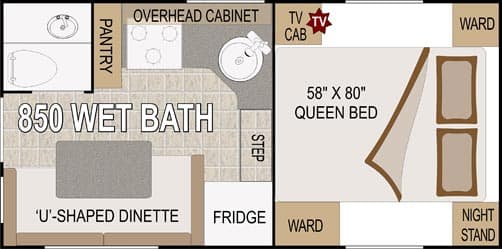 2011 Wolf Creek 850 Specifications:
The 2011 Wolf Creek 850 is a hard-side, wet bath truck camper designed for short or long bed trucks.  The interior floor length of the 2011 Wolf Creek 850 is 104″ and the interior height is 78".  Northwood is reporting the dry weight of the camper at 2,008 pounds with standard features, dual batteries, and full propane.  The tanks in the 2011 Wolf Creek are 36 gallons fresh, 22 gallons gray, and 20 gallons black.  The camper accommodates two batteries and two twenty-pound propane tanks.  The MSRP for the 2011 Wolf Creek 850 is $20,400.
The following is an interview with Doug Karr of Northwood Manufacturing on Wolf Creek and the all-new 2011 Wolf Creek 850.
TCM: It's been a little over a year since Ron Nash, the Founder of Northwood Manufacturing, suffered a stroke.  In our interview with Jim Jones, Northwood's CEO, and Ward King, Northwood's COO, last August, we learned that Ron was at home and making lots of progress.  How's Ron doing today?
Doug: Ron's doing well.  He's probably in better physical shape now than he was fifteen years ago.  I talk to him every night.  He's not yet 100% and is still in recovery.
TCM: Is he coming back?
Doug: Ron has not yet made that decision, when he does we will let you know.  He currently participates in weekly managers meeting here at the plant.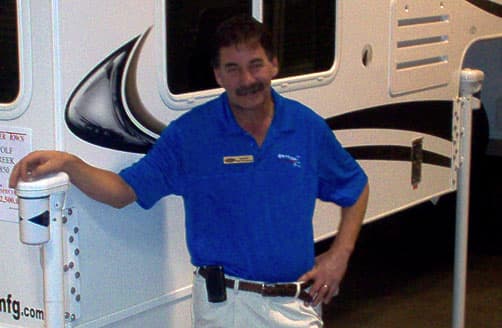 Doug Karr, Northwood Manufacturing's Camper Guy
TCM: When we visited the Northwood Manufacturing factory this past Summer, you camped next to us in an Arctic Fox 990.  Have you been camping this winter in La Grande?
Doug: Yes.  I have a 2011 Arctic Fox 992 now.  It's a very nice floor plan.  I learned so much by living in the 990.  For example, I put clear glass in the back door, a light in the exterior dump valve area, and moved the medicine cabinet over after living in it for a few months.  Those are all production line changes based on my experience in the camper.
I even use my truck camper when I'm on the road at RV shows.  In fact, I'm going to take it to a RV show this weekend.  Having the camper is so much better than a hotel.
TCM: Do you have a problem keeping warm while you're on the road?