Northwood Manufacturing celebrates its 15,000th truck camper and announces a list of 2019 updates for Arctic Fox and Wolf Creek.  One of these features is both an industry first, and a sign of the times.

Go back in time about ten years and cars still had single and multi-disc CD players.  Starting around 2008, car companies started to integrate auxiliary input or 30-pin dock connectors for iPods.
A few years later the flood gates opened and you couldn't find a car company that wasn't heavily promoting their compatibility with iPods, then iPhones. Today, cars aren't viable unless they have hands-free and voice-activated smartphone technology.
The same trend is starting to take hold in the truck camper marketplace.  Ten years ago we were happy to find two 12-volt outlets in a truck camper.  Today, we want to see those same two 12-volt outlets, and then multiple USB outlets throughout the unit for our smartphones and tablets.  I may be typing these words on a laptop, but chances are you're reading them on a phone or tablet.
For 2019, Northwood Manufacturing is adding features that take our tech addictions even further.  Not only are they adding USB outlets on both sides of Arctic Fox and Wolf Creek cabovers, but they're also installing an industry first; WIFI extenders.
Northwood also has a number of other non-tech updates that improve the overall functionality and aesthetics of their campers.  Get ready for larger refrigerators, more counter space, new interiors, new graphics, and a larger solar option.
The bigger news out of Northwood Manufacturing is a major milestone; the production of their 15,000th truck camper.  That's quite an impressive number for a company that's been building truck campers for 20-years.
For the story behind the 15,000th unit and the 2019 changes to the Arctic Fox and Wolf Creek lines, we talked to Donald Cochran, Northwood's Chief Sales Officer.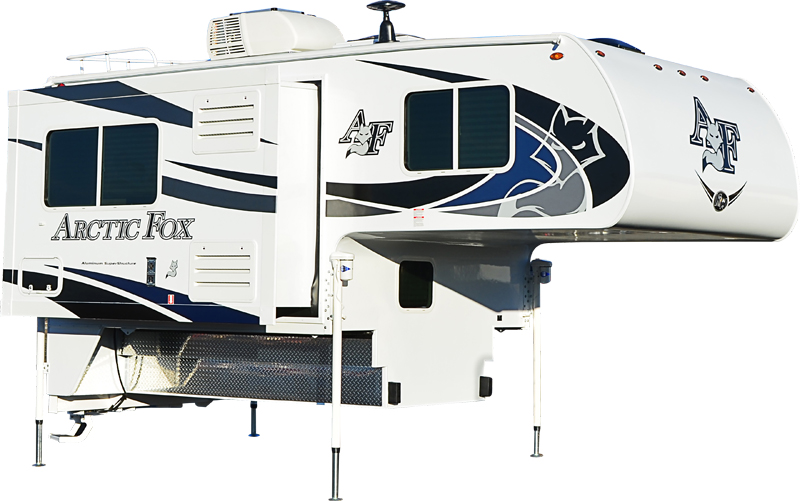 Above: A 2019 Arctic Fox 811, all images courtesy of Northwood Manufacturing
Northwood Manufacturing is celebrating 15,000 truck campers. Before we talk about that, when did the first truck camper roll off the Northwood line?
Ron Nash, the Founder of Northwood Manufacturing, started the company in 1993 with travel trailers. The first Arctic Fox truck campers followed in 1998.
From the beginning, Ron Nash recognized the opportunity for a well-built, full-wall slide truck camper. In the late 1990s, slide-outs were just starting to come to the forefront in the truck camper marketplace. Our very first truck camper had a full-wall slide.
That first unit was very similar to our current best seller, the Arctic Fox 990. The layout was nearly identical with a 10-foot floor and a full-wall slide. Over 20-years, we made countless improvements to evolve that floor plan into the modern camper it is today.
It's interesting to look back at some of the more significant iterations the Arctic Fox 990 has been through. We built a dry bath model for a few years. We added a second slide to create the now-discontinued Arctic Fox 996. Those versions did well, but consumer demand for the single-slide wet bath 990 is always the sales leader.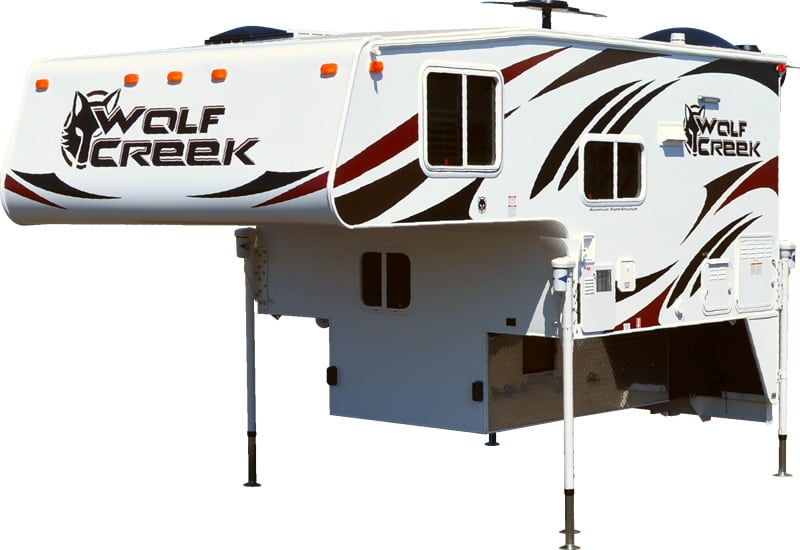 When was the Wolf Creek line added to the mix?
Wolf Creek truck campers started in 2010. Given the consistently strong demand for the Arctic Fox slide-out campers, there has always been ever-increasing consumer and dealer pressure to produce a non-slide truck camper line that was built to Northwood's exacting quality standards. We responded with Wolf Creek.  The response since has been phenomenal.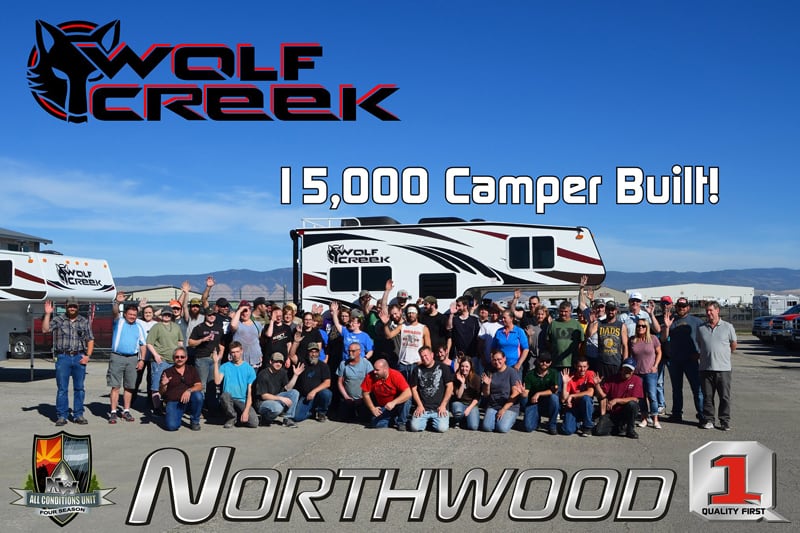 What model of truck camper was the actual 15,000th unit?
It was a Wolf Creek 850. I would say about 15% of our truck campers are Wolf Creeks. Because of the success of Arctic Fox, we can't build enough of that brand. The demand for Arctic Fox has impacted Wolf Creek, which means that we are constantly juggling all the different models on the production schedule. We wish we had more capacity.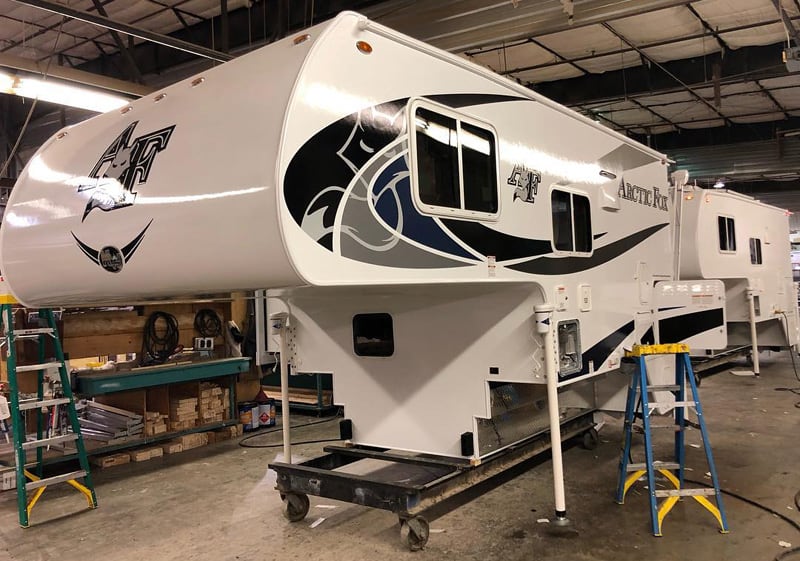 That's a good problem to have. What are the challenges to expanding your truck camper production?
We are committed to building in La Grande, Oregon, but there is very little unemployment here. We are fishing in a limited pool.
In the last few months, we sent out fliers and advertised on the radio to every surrounding community talking about the employment opportunities at Northwood. That campaign has worked and we have seen an increase in hiring over last four months.
We're also finding opportunities to improve production efficiencies including high-quality outsourcing. Our selected vendors understand our strict quality requirements and we monitor their work with the utmost attention.
Truck camper manufacturing is unique because of a camper's size. More employees don't necessarily mean more efficiency. Due to space constraints, three people in an eleven-foot camper may not be as efficient as two. We can fit many more team members on a travel trailer or fifth wheel allowing those units to be produced faster.
Another challenge is that every model of truck camper requires unique cabinetry sizes to maximize storage. For example, the cabinetry in the short or long bed Arctic Fox 811 is smaller than the cabinetry in the long bed only Arctic Fox 990. Even though the floor plan is essentially identical between these two models, everything is custom built to fit either the 811 or the 990.
There are more opportunities in travel trailers and fifth wheels to use the same-size cabinetry across several floorplans, which we do where possible. The larger size of a travel trailer or fifth wheel allows us to do that. That enables us to build and install travel trailer and fifth wheel cabinetry with much more efficiency.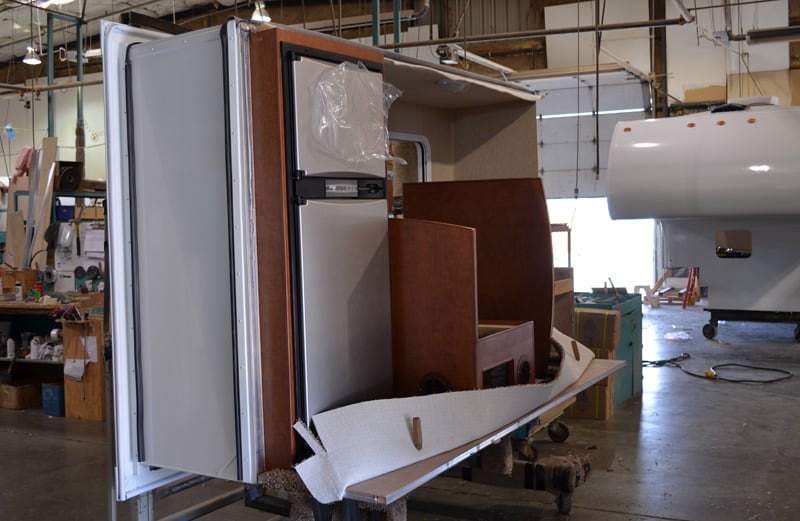 The one advantage we have over smaller manufacturers is that we have eleven stations on our truck camper line. By having more stations, our team members can specialize in a couple different things. For example, they can be experts in side wall construction and molding.
Smaller manufacturers might only have five or six stations on their production lines. That means their team needs to specialize in many more things. We can train folks to specialize in less tasks, and build at a higher quality standard.
The way the plant is set up, we can concentrate employee training and they can contribute almost immediately. A worker can be precise on what they're working on because they are doing the same thing six or seven times a day. We're manufacturing about 20 campers a week, on average.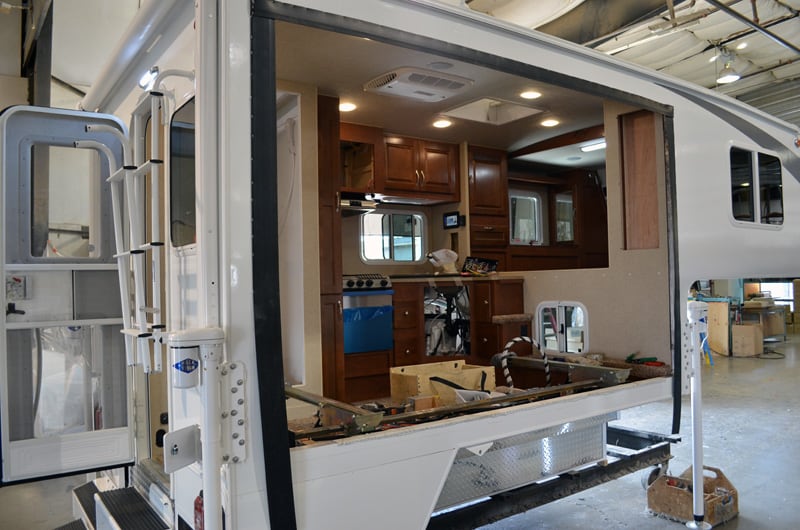 That's really interesting. We have been to the Northwood truck camper plant many times and never considered the training and quality advantage of more stations. Getting back to the 15,000th unit, does it have a unique serial number?
Yes, it does. It has the serial number 15000. Every unit off the truck camper line is serial numbered in sequential order. So, the 15,000th unit is serial number 15000.
Every camper we build is special in that it is built Absolute Northwood tough.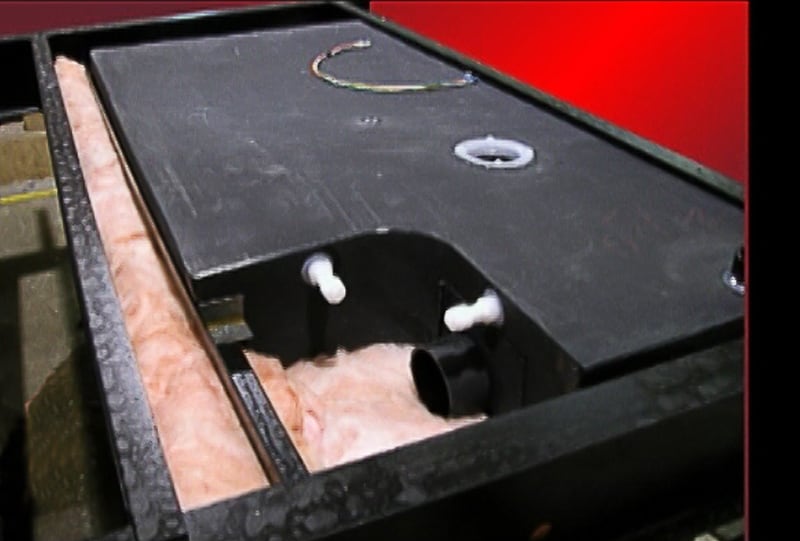 What does Absolute Northwood mean?
When we talk about Absolute Northwood, we are talking about the features and construction techniques that are consistent throughout all of our lines; truck campers, travel trailers, and fifth wheels.
These are features like tanks that are heated and enclosed, dual-pane windows, and insulation values. You will get these Absolute Northwood features whether you buy a Wolf Creek or an Arctic Fox. The standard we build to is called Absolute Northwood.
How do you determine what to make an Absolute Northwood feature?
Absolute Northwood means that we build the best RV we possibly can based off of diligent research coupled with 25 years of manufacturing experience. We approach that from several perspectives. First and foremost, by what our customers feel is important. Second, we build products that are ready for the mountain roads and colder and warmer climates we encounter in the Northwest. Third, we check our features against the competition – but that's not our primary driver.
We build campers that we are going to use here in the Northwest. It's December and I want to go camping – what camper do I want to be in? Of course, the same level of build quality and features is ready for the climates throughout the United States and Canada.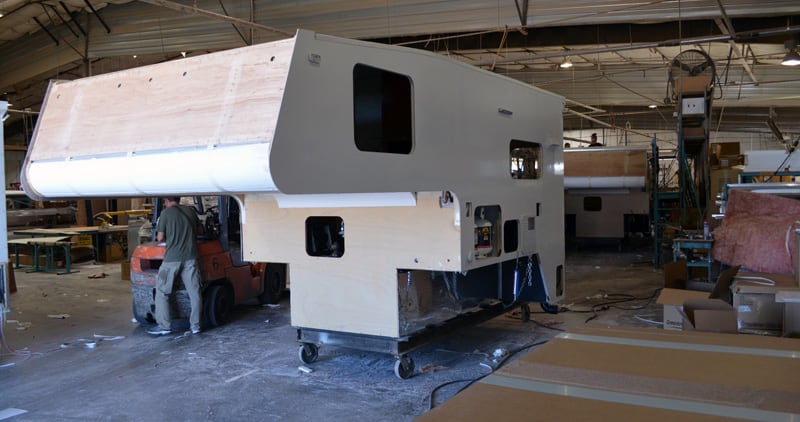 It would be easy to load up on Absolute Northwood features and possibly price your campers too high, or make them too heavy. How do you approach that balance?
Feature for feature, we want Arctic Fox and Wolf Creek campers to be price and weight competitive, while producing the volume we need and the quality we demand.
We believe Arctic Fox and Wolf Creek are high quality well featured units that are built the right way and priced competitively. Truck campers need a strong foundation.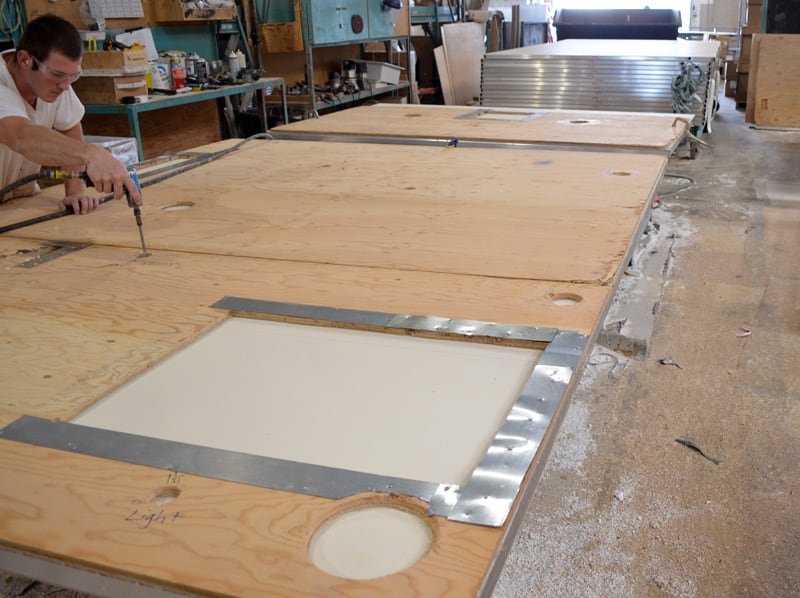 When it comes to Arctic Fox, we don't hide the fact that they are heavier than our competitors. Arctic Fox campers have a 2-inch aluminum framed and bonded wall. We have wood inside our aluminum frames so that we can anchor screw into the wood and make our units significantly stronger. Building the way we do adds weight.
Arctic Fox and Wolf Creek campers are tougher. We are quality driven and as a result that makes us a little heavier. We do not cut corners. Fortunately, trucks now have more capacity and features than ever as well. There are trucks out there that handle our campers extremely well.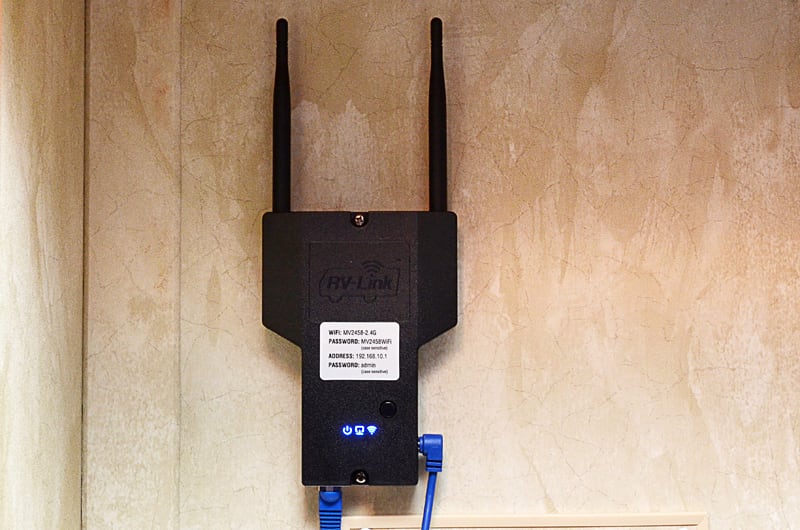 Let's talk about the updates for 2019. In Wolf Creek and Arctic Fox you now have a WIFI Extender Ready TV antenna. That's a unique feature we haven't seen before.
We use a Magnadyne TV antenna. It works by adding a booster in the base of the television antenna and connecting it to a router installed inside the coach to extend the user's WIFI capability.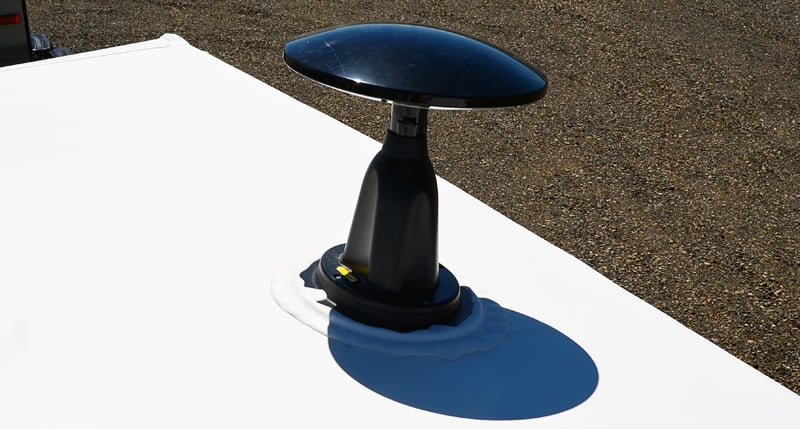 The WIFI extender strengthens signals and gives you more options. If you had two WIFI signal options before, you may have four with the extender.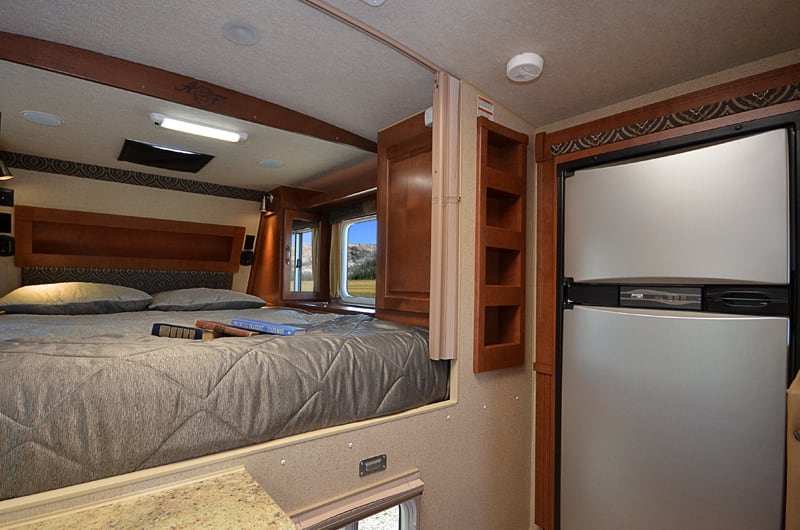 That's a neat feature. We see that you increased the standard refrigerator size to 7-cubic feet in your truck campers for 2019. How did you do that with the available space?
Norcold came out with a 7-cubic foot refrigerator in the same footprint as their old 6-foot refrigerator. They are using smaller components and insulation and are using a new design the maximizes space.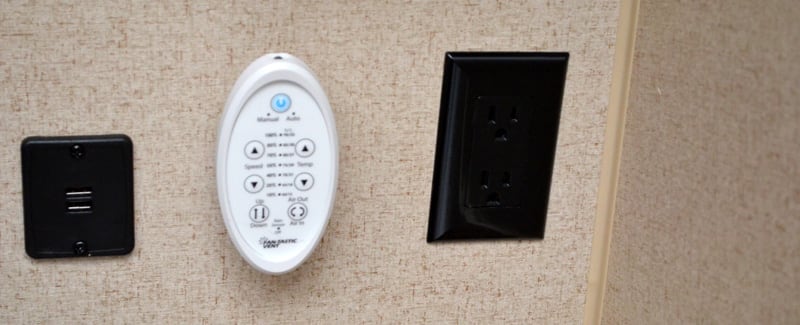 Northwood is adding USB charging ports on both sides of the bed. Is that something customers asked for?
Yes. With the increase of technology our customers are bringing with them, there is a need for more USB ports. Whichever side of the bed you are on, you will now have your own USB outlet to plug into.
We are installing more and more 12-volt and USB outlets, but we are careful to not overload the circuits. Even if you are plugged into two different USB outlets, you will still get the correct amperage for a fast charge.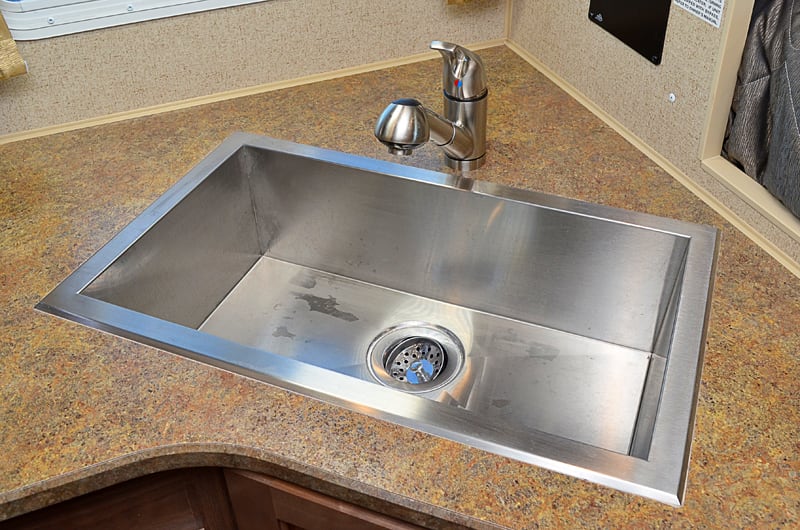 Why is Northwood going to a single bowl, stainless steel sink in 2019?
Doug Karr, our in-house truck camper expert, camps in his Arctic Fox quite a bit. He suggested that we offer more counter space versus more sink.
By having a single bowl, you have a lot more counter space. The single bowl sink is the right size for washing dishes, pots and pans. We found the trade-off to be favorable.
We are always looking at the usability of our campers. For example, we used to have a clip latch with a button to hold the bathroom door. If the door had play as you were going down the road, it could potentially come undone. Now, we have a travel lock that goes into the ceiling on the bathroom sliding door. You can positively latch it into the ceiling securely. We pay attention to usability and customer feedback and make improvements as soon as we become aware of them.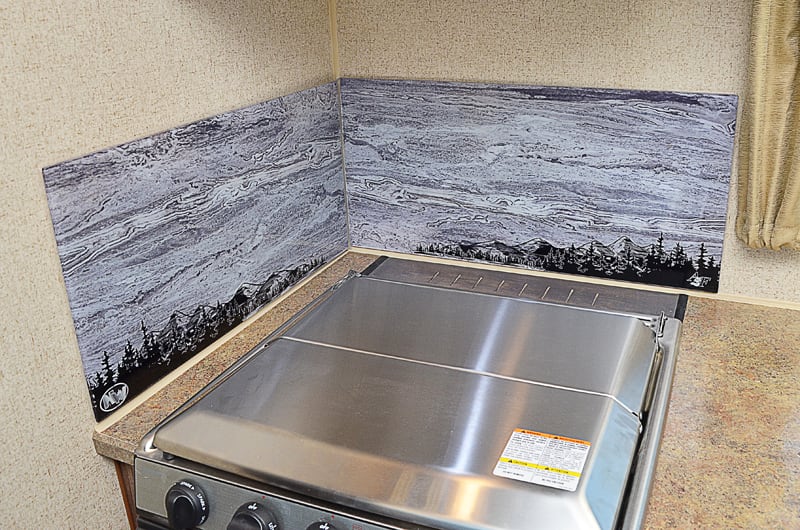 Tell us about the new glass backsplashes in the kitchen.
Before we had a clear plastic backsplash that was easy to clean and served its purpose but it was no longer what we wanted aesthetically in the Arctic Fox. The new backsplash adds color and style to the kitchen. It's an etched glass backsplash that adds to quality to the coach and is also durable and easy to clean.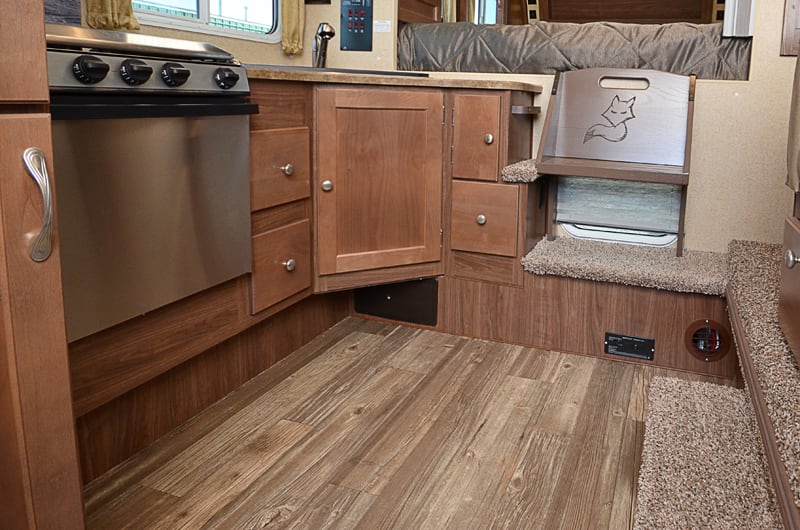 You've changed the cushions, valences, cabinetry and floors for 2019. Let's start with the floors.
It's the same high-quality linoleum that we've used in the past. It's an aesthetic change that gives our campers a different look.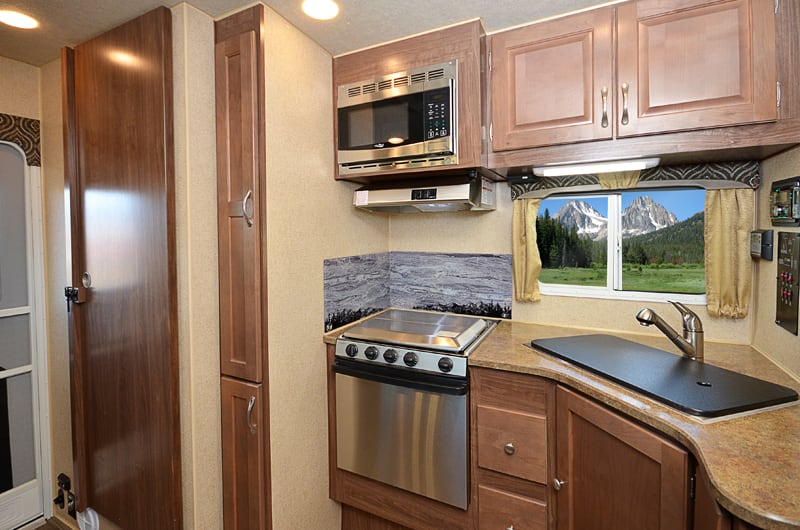 We also changed our cabinetry to a very on-trend color and of course we ensured that the new linoleum matches well with it. The new Persian Walnut cabinetry is not really darker or lighter, but it does pull out more of the greys that are more popular, and it really complements the stainless appliances. You get nuances of the greys as opposed to the browns.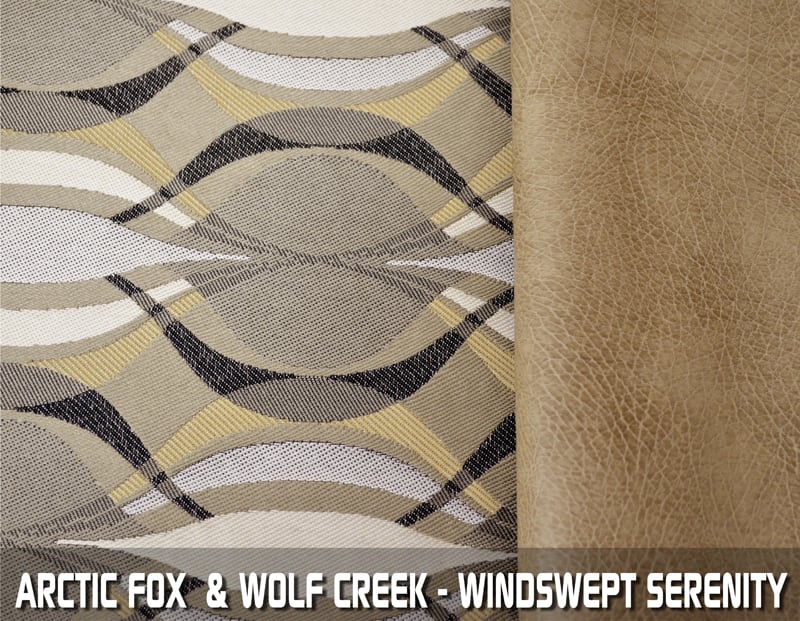 You are also changing up the decor for 2019 with two new interiors. You kept the Solitaire Azul interior, but now have the two new interior decors called Windswept Serenity and Desert Palms. How did you decide about the new decors?
We get as much of a consensus as we can. Almost everyone in the plant is involved.
We started with 50 different decors. As a design team, we get that down to the top 12. Then we talk to the people who make the valances, and they look at the feel and how the material folds and lays. We also look at the durability and aesthetics.
Next, we get folks on the line, upper management, and office workers to vote. Everyone puts a sticky on back of the interior that they like the most. That's how we find the most popular ones. Everyone shares their opinion.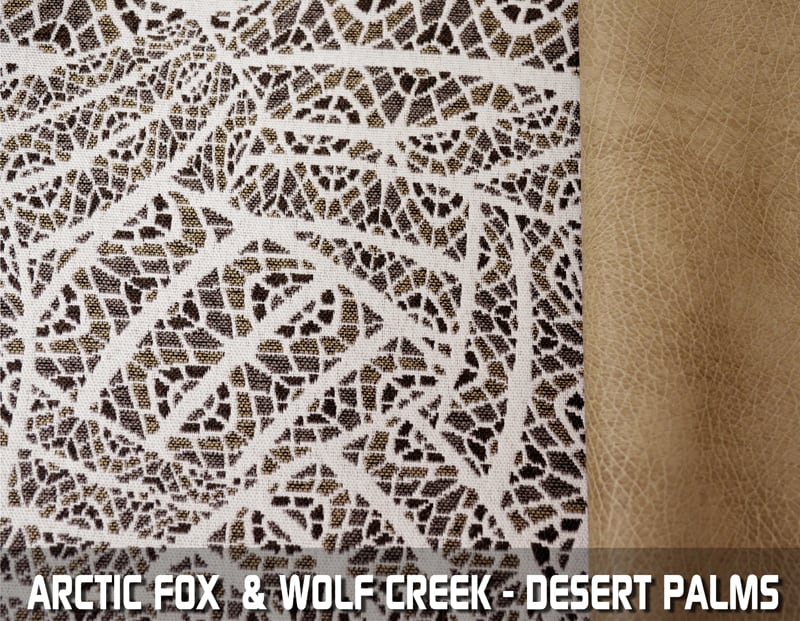 From there we build a prototype to see what a unit will look like with the most popular interiors. When that's completed, we evaluate the finished unit. We showed our dealers the new decors at our Dealer Showcase in October and they were very pleased and excited.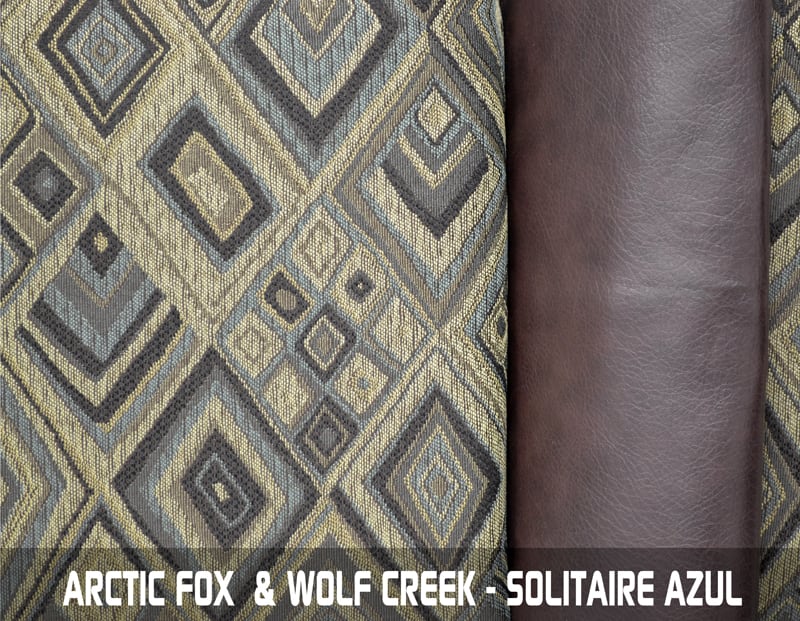 Interiors have changed in the past ten years. Now it is more about small feature accents playing off of the primary leather-color pallet of the unit. Together, the leatherette and feature fabric work form the core look of the interior decor.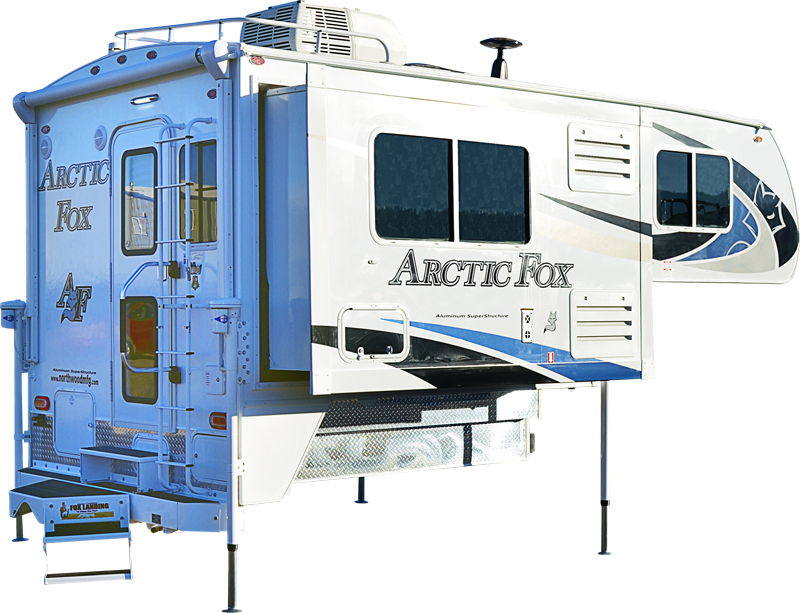 The exterior graphics have also been updated for 2019. Does that go through a similar process?
Yes, it does. Our big fifth wheels had a change in graphics and we put the same pattern on our campers. To do that, we made mylars in the proposed pattern and taped them to the side and back of a blank unit. That allowed us to see what it would look like.
Then we make sure the new graphics package would be feasible cost wise. We also make sure it will be application-friendly for production. Once that's settled, we work on the accent colors. For instance, "What if we made the accent stripes blue or maroon?" Our design team makes a computer rendering to help us make that decision.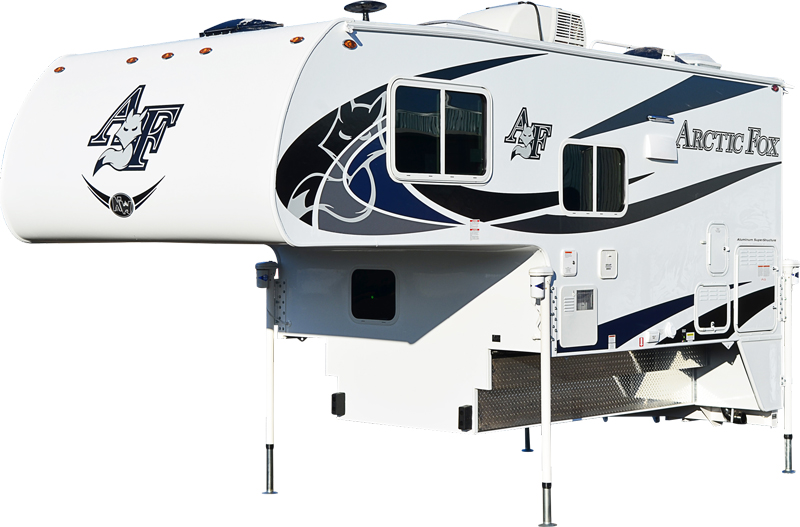 Once we like what we're seeing, we'll look at the graphics package on different floorplan lengths. It could look great on a small camper but, on a larger camper, it might look sparse. There's a lot we go through to make a change.
Like the new interiors, we debuted the new graphics package at the dealer showcase. Everyone was excited about the bold new look.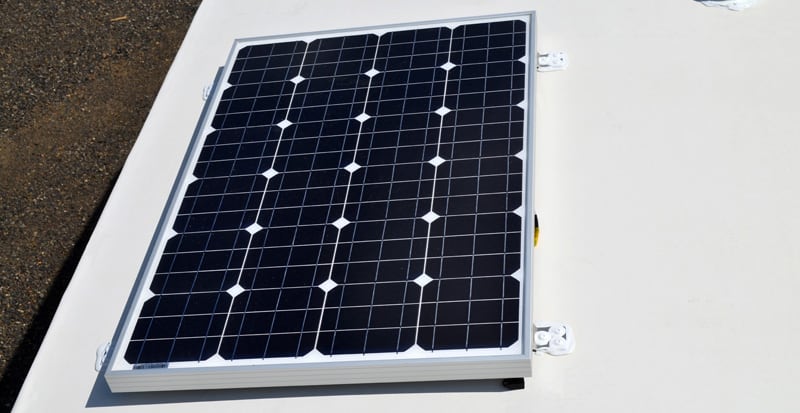 For 2019, customers can get an optional 170-watt solar panel kit on Arctic Fox and Wolf Creek campers. Is this a single or double panel installation?
It's a single-panel system made by US-based Zamp Solar. Zamp is able to give us more power out of the same size panel. For the same size of our previous 150-watt panel, we now get 170-watts.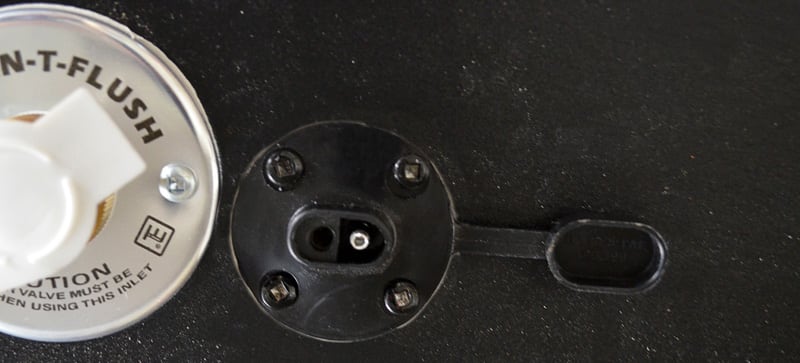 In addition to the new 170-watt panel option Wolf Creek, like Arctic Fox, now has a sidewall solar port which is great for a portable solar panel. The sidewall solar port is an Absolute Northwood feature for 2019.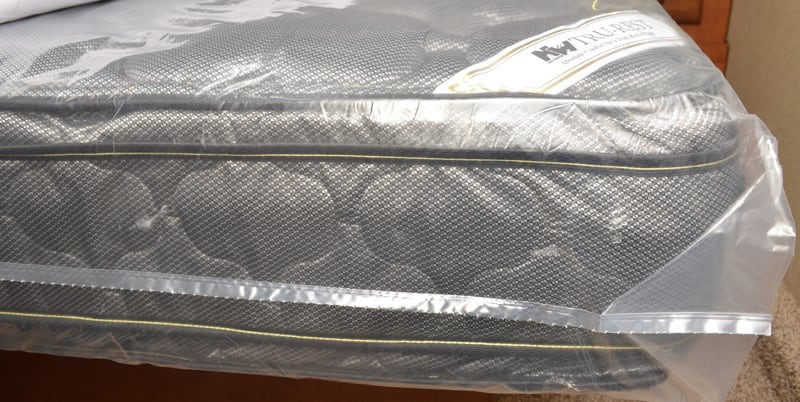 The mattresses have also changed in the Wolf Creek models to a Northwood TruRest memory foam mattress.
That's another Absolute Northwood feature. We previously used a mattress in the Wolf Creek line that was right for the brand at its launch but like all our products, it evolved. Our dealers and customers let us know that they love our Northwood exclusive TruRest mattress and they wanted to see it in Wolf Creek as well.
Our TruRest memory foam mattress features a pillow top and it doesn't intrude with the cabinetry. It's a high quality, residential-grade mattress, and matches the design and aesthetics of the campers.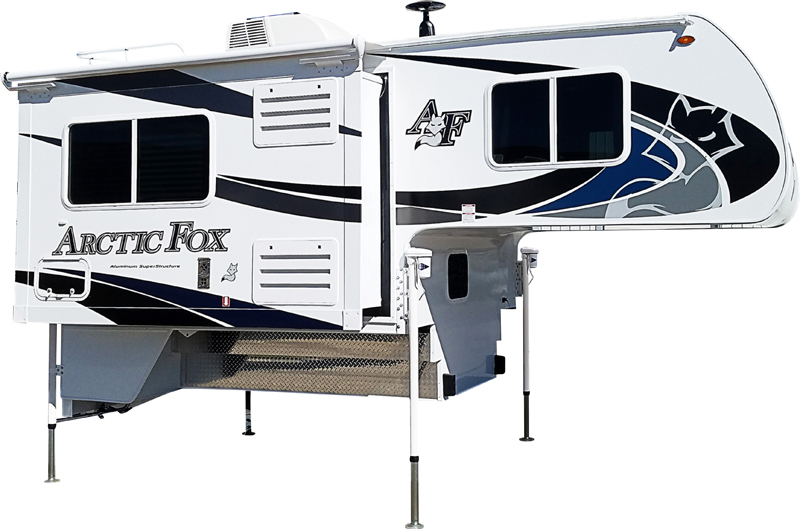 Thank you for the 2019 updates. We hear that you have a new position at Northwood. What's your new title?
I have been promoted to Chief Sales Officer. I am now responsible for sales at Northwood Manufacturing and Outdoors RV, which is our other RV company here in La Grande. I look for ways to maximize the efficiencies between both companies.
Our success is all about team work. It's people like Lance Rinker, Doug Karr, Tony Carman, Jim Baehmann, and Lonnie Savage who do a fantastic job and make us successful. As a team we do a tremendous job – together, we succeed.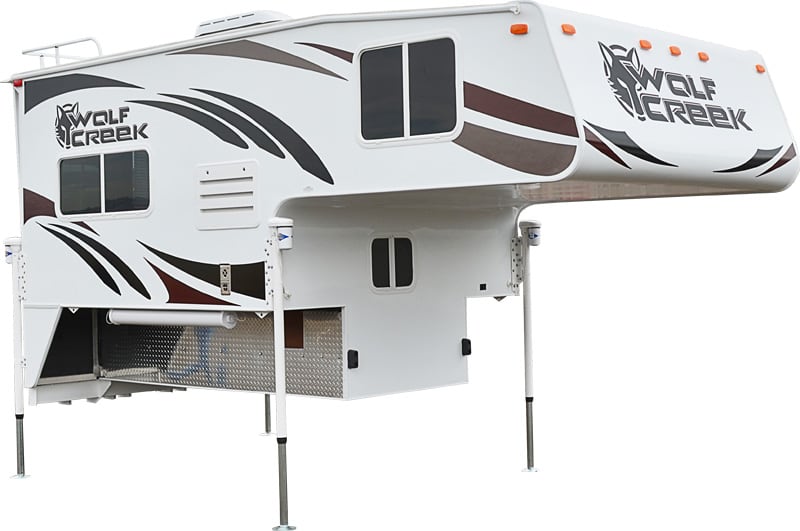 Will we be seeing any new Arctic Fox or Wolf Creek truck camper models in 2019?
We are always looking at new things. We have a short list of three strong floorplans that we want to implement at some point for Wolf Creek and Arctic Fox. Because of our high demand and 2019 updates, we are seeing unprecedented orders. We want to innovate and launch new products, but we have a pretty full plate right now.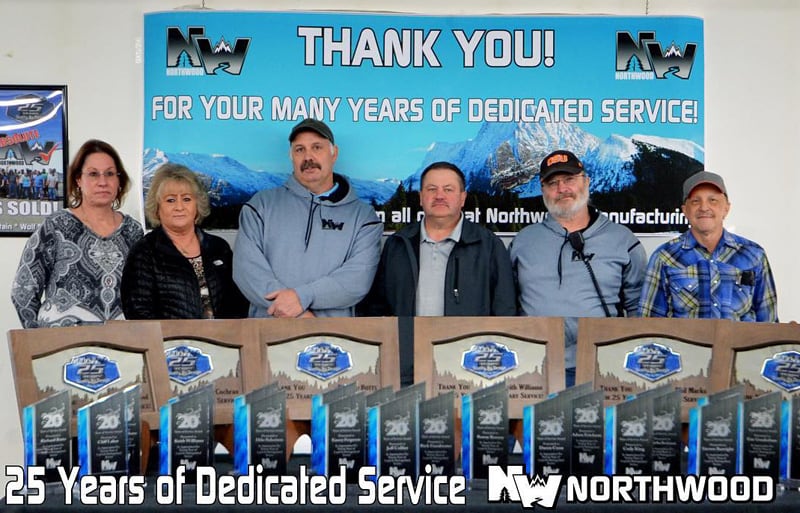 There's magic to building here in La Grande. The people who are here at Northwood have been doing it and doing it right for a long time. We are about to recognize people who have been with the company for 20 to 25 years, and we are only a 25 year old company.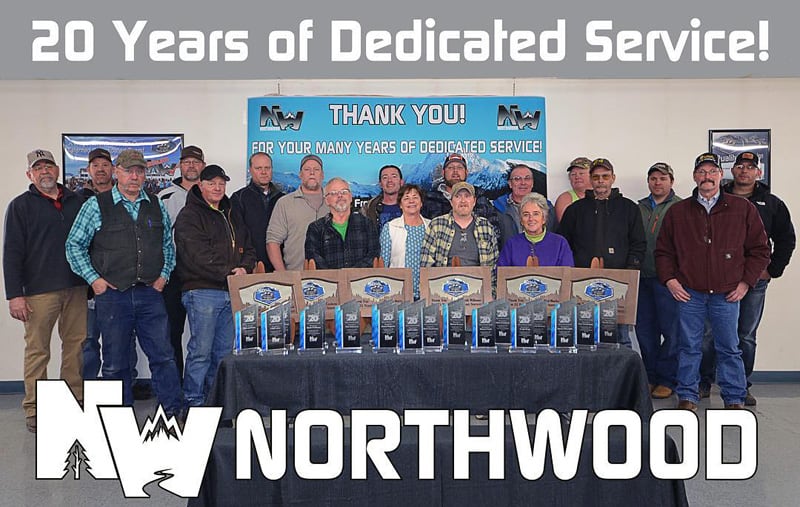 That's where the magic that Northwood Manufacturing has comes from – hard-working, thoughtful people who genuinely care about what they do.
For more information on Arctic Fox and Wolf Creek campers, visit their website at northwoodmfg.com/truck-campers.  Click here for a free Arctic Fox brochure and/or Wolf Creek brochure.