Northstar has completely redesigned the 650SC including a new floor plan, 30-gallon fresh tank, capacity for three Group 31 batteries, a Rec Pro 12-volt compressor refrigerator, 175-watt Renogy solar panel system, Sub Zero soft wall, and more – all standard. And this camper is priced to compete.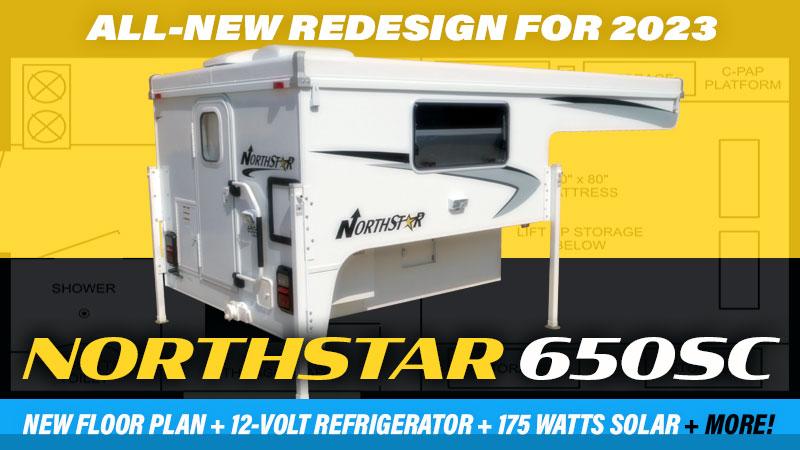 So much of what goes into the design of a new camper boils down to the company leadership and culture behind it. As a result, some camper manufacturers approach a new model purely based on what they believe will sell, or what their dealer networks are asking for. This is both a logical and presumably profitable strategy for any camper manufacturer, but it risks leaving out the end consumer experience.
As you read the following interview, it will become increasingly apparent that Rex Willett, President of Northstar Campers, is firmly focused on the end consumer experience. As a third-generation camper business owner, he grew up truck camping, working at the Northstar factory (then Texson), and talking to fellow truck campers at RV shows. This personal history has fundamentally shaped the entire Northstar product line and had an obvious impact on the 650SC.
Nearly all of the 650SC changes are designed to make ownership a more convenient, more accommodating, less maintenance, and more enjoyable experience. The challenging part of these product design decisions is that they don't always make sense at first blush. Why is the roof a bit taller in profile? Because it allows owners to keep their pillows in bedding in place during travel. Why is there a narrow two-burner cooktop? Because it gives you four inches more counter space for meal prep. Nearly every facet of this redesign has a story based on the consumer experience, and Rex's own.
What we are most excited about with the 650SC is Northstar's laser focus on value. Rex has made more features standard – including a 12-volt compressor refrigerator and 175-watt solar panel system – while keeping the final MSRP in check. The 650SC was already a value leader with its built-in wet bath and cassette toilet, and it's even more so now. With the jaw-dropping price increases we've all endured on practically everything, it's refreshing to have a camper manufacturer stay focused on value.
For a deep dive into every aspect of the new Northstar 650SC, we talked to Rex Willett, President of Northstar Campers.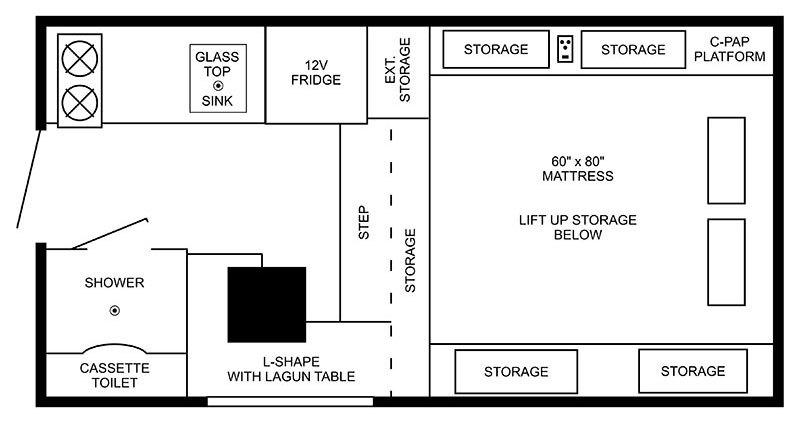 Northstar 650SC Specifications
The Northstar 650SC is a wet bath pop-up truck camper made for short bed trucks.  The interior floor length of the Northstar 650SC is 7'0" and the interior height is 6'5″.
The Northstar 650SC has a 30 gallon fresh tank, 4 gallon water heater, 4 gallon cassette reservoir, 13 gallon grey tank, and 5.3 gallon cassette black tank.  It can accommodate up to three Group 31 batteries and has one twenty-pound exchangeable propane tank.
The base weight of the Northstar 650SC is 1,650 pounds.  The base MSRP for the Northstar 650SC is $29,995.  Click here for more information about the Northstar 650SC.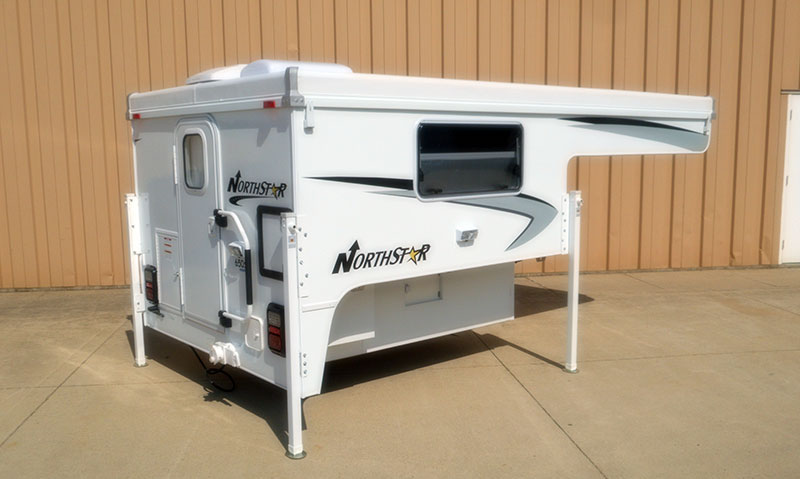 Above: The 2023 Northstar 650SC; photos courtesy of Northstar Campers and Truck Camper Warehouse
Northstar discontinued the 650SC a few years ago and is now debuting a major revision to that model. Why are you bringing back the 650SC?
The main objective of the new 2023 Northstar 650SC is to meet the demand for a self-contained small pop-up camper with a large standard equipment list at an affordable price. The 650SC offers more features and standard equipment than our competitors and at a lower overall cost.
I am astounded at some of the asking prices I see in Truck Camper Magazine and at RV shows for essentially shell campers. It seems popular to hang a shovel and gas can on the side and expect the customer to hang a bag of water to shower and a bucket for a bathroom. And then they ask $50,000 dollars for it. That may be trendy, but it's financially out of bounds.
We see the 650SC bringing back common sense, adding back all the comfort and convenience, and doing it at a price the average hard-working person can afford and justify. For $29,995 US, the 2023 Northstar 650SC comes standard with a queen gel foam bed, 30-gallon fresh tank, cassette toilet, solar panel with Bluetooth, deadbolt entry door, screen door, swing-away assist handle, decent storage, big battery capacity, an exchangeable 20-pound LP bottle, and more. Everything is built-in and ready to use.
"We see the 650SC bringing back common sense, adding back all the comfort and convenience, and doing it at a price the average hard-working person can afford and justify."
Was the new 650SC started with a clean slate or with the original model?
It's a blend. The overall dimensions are identical to the previous 650SC. The only thing that changed with the dimensions is that the camper base is taller. No riser kits will be needed for the 650SC.
Other changes include adding more standard features and offering fewer options. That makes the camper much easier and faster to build on our production line while improving quality. We are now building runs of twelve to eighteen at a time. We have become more efficient which makes the camper a better value.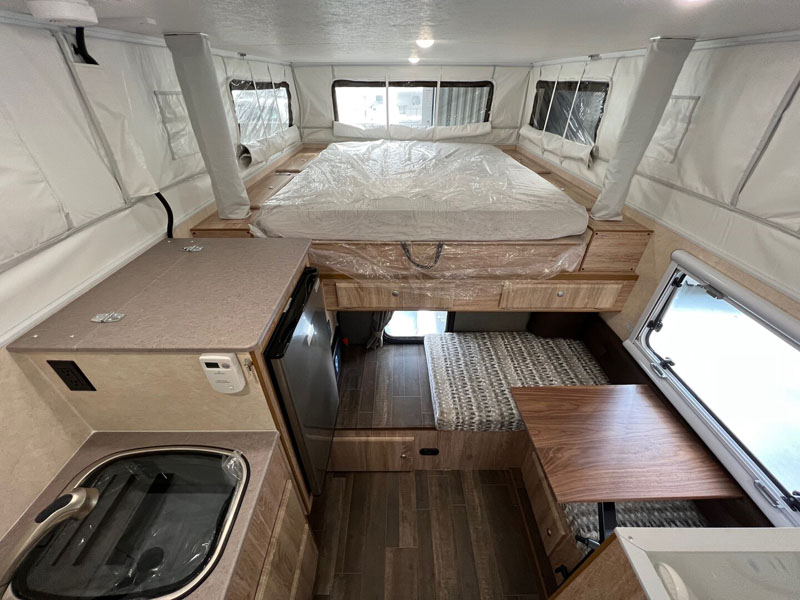 It sounds like this redesign started with a specific wish list.
It did. The dinette, water capacity, and battery capacity were the three main things that I wanted to 100-percent improve. In the updated 650SC, you can carry three batteries versus two. Version one of the 650SC had 20 gallons of water. The new version has 30 gallons. To achieve the larger tank, the floor drops down 5.5-inches from the rest of the camper floor. The new 650SC is full of important details like that.
Some ideas occurred during my own experience shopping for a destination trailer. I am a CPAP user, so I was looking at the bedroom area and discounting units because they didn't have the outlets or space for a CPAP machine. I ended up buying a model with a USB and 110-volt outlet right beside the bed and a shelf for the CPAP. That influenced my decision. I wondered how many people are looking at Northstars who use CPAPS, so I wanted that to be incorporated in the new 650SC.
How did you go about the redesign; CAD, drawings, prototypes?
We approach design with old-school paper, pencil, and physical prototypes. The dimensions of the 650SC are the same as our TC650 non self-contained. That allowed us to make drawings, go to a TC650 shell, cut wood, and study the results.
We had an early version of the cabinets and I said it was not going to work because there was no drawer in the camper. It was a dead duck. Where are people going to put their utensils? Back to the board we would go. As a team with decades of truck camper design experience, we try this, move this, try that. It's a process.
The 2023 Northstar 650SC is available with or without a wrap-around rear that includes tail lights on the camper. How does a customer choose between the 650SC with or without the wrap-around rear section?
The wrap-around rear end works well for super short bed trucks and standard short beds that are just over 6 feet. Longer short beds that run 6'10" in length would want the 650SC without the wrap-around rear end.
Many people are ordering the 650SC without the wrap-around tail lights and just lay their tailgate down. That way they don't have to unhook the tailgate wiring for the back up camera or take the tailgate on or off. For towing, the tailgate would need to be removed unless you're using an extension for a small boat or trailer.
Did you make changes to the core 650SC construction or materials?
We upgraded to Clear Select Lumber seven months ago. It's an amazing material. There are no knots or intrusions. It's very expensive and used as finish lumber inside new home builds. We love the strength and straightness of the product. It allows us to use most of it without hardly any scrap. We bring it in from the mills by the truck load.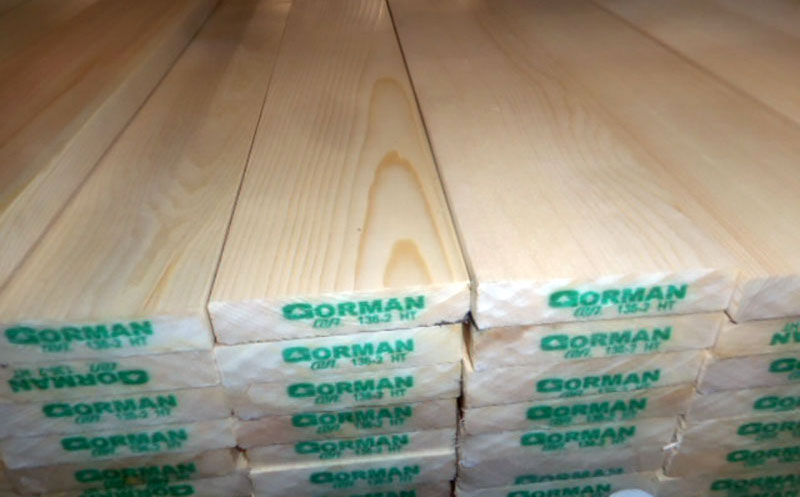 Talk to us about why you choose to frame Northstar campers with wood and use hung wall construction.
Many people struggle with what a wood-framed hung fiberglass wall is, especially when compared to an aluminum-framed laminated wall. The laminated aluminum walls are basically a sandwich of materials glued together with water-soluble glue. Decades ago, petroleum base adhesives were used and they stuck great. Unfortunately, the vapors were rightfully outlawed as dangerous to breathe. So they went to water-soluble base adhesives to eliminate the vapors.
To clean petroleum-based adhesives you would use something petroleum based, like lacquer thinner. For water-based glues you would – you guessed it – use water. That's where water infiltration and physics come into play causing delaminations on aluminum-framed laminated walls.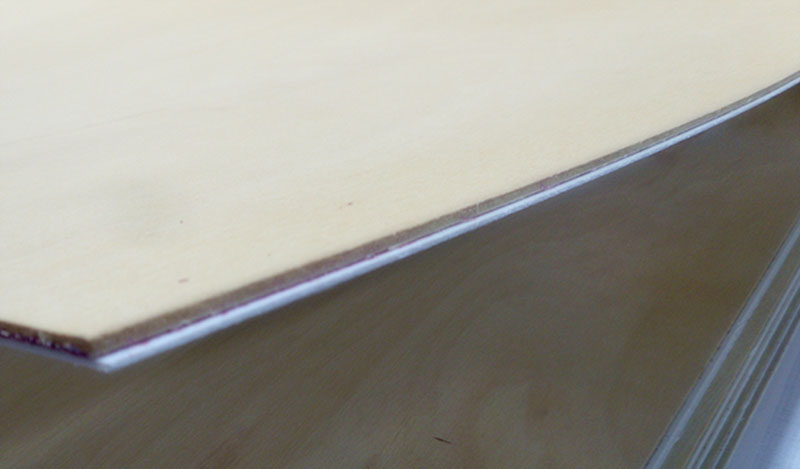 The Northstar hung wall uses Lamilux 1000 fiberglass (shown above fiberglass side down) hot melt adhered to luan. The Lamilux 1000 hung fiberglass walls come to us on huge pallets. Then it is slid into storage racks and pulled out to be adhered to the wood-framed structure of a Northstar.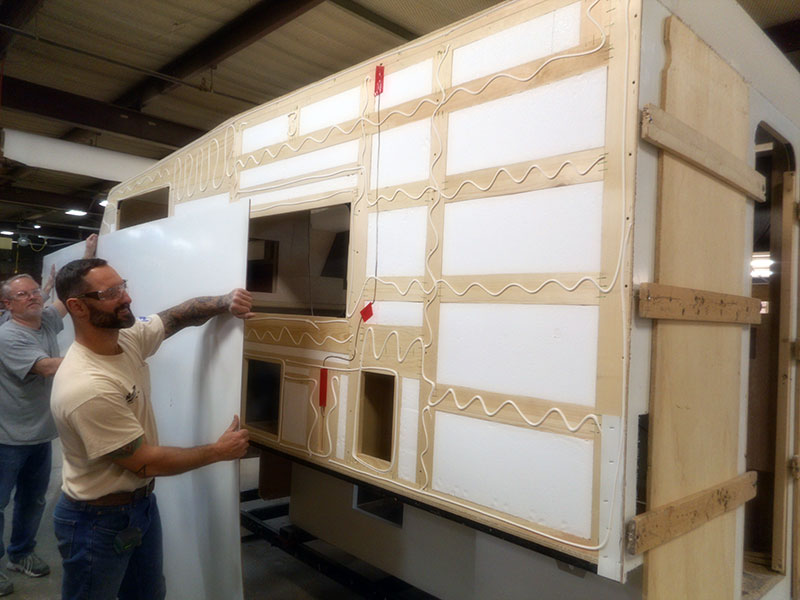 Sikaflex specialty adhesive is used for this application. The term, 'hung wall' is from the staples at the top of the camper wall. It's 'hung' from the top. No other staples are used on the wall; just the ones at the top it is hanging from. Then the camper is clamped up with pressure on all walls and allowed to set overnight. The pressure clamps are removed in the morning, openings are routed out, and a couple of staples are placed on those new openings. A layer of protective plastic is peeled off the Lamilux 1000, and then the wall is cleaned and graphics are applied.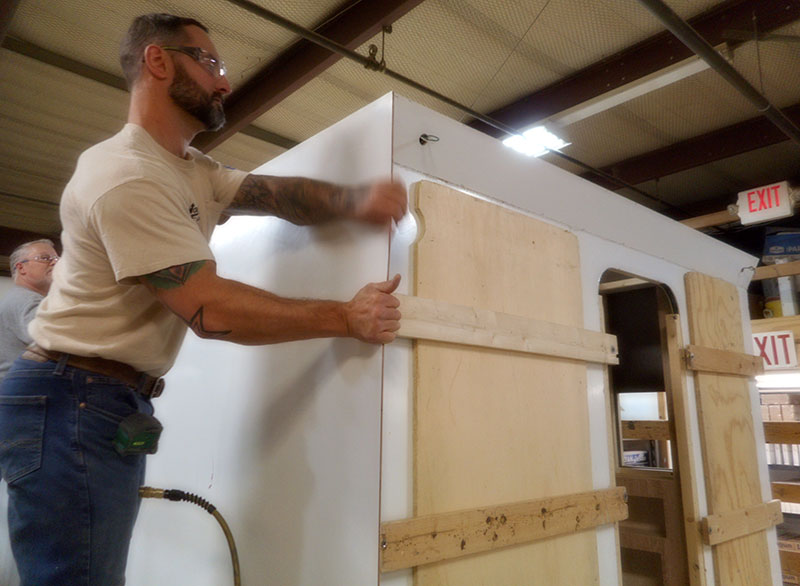 This approach makes for a much stronger wall compared to an aluminum framed and laminated wall. The sheer strength added to a Northstar body that's screwed and glued together is crazy. Our build stops a lot of twisting associated with campers and keeps the seals intact.
We like hung wall because we can't change physics. If a person has an aluminum tube inside their wall it's going to frost. It can't be stopped. The aluminum will also expand and contract and sweat as it adjusts to changing temperatures. This happens more in late fall and winter, or early spring when temperatures fluctuate above and below freezing daily. Over time the water-soluble glue that adheres to the aluminum lets go. I am sure many people have seen an RV with a bubble on the side and wondered what that is and why it let go. It is going to happen on all aluminum-framed campers. It's only a matter of time.
With hung wall using hot melt adhesives and a natural quality wood frame, you stop the terminal wall failure and gain the benefit of strength. Granted, if a camper has water infiltration, it will kill aluminum-framed and laminated, and wood-framed hung wall – doesn't matter. The advantage of hung wall is that water intrusion isn't created by the aluminum material.
At Northstar, we use the highest-grade putty tapes and incorporate Eternabond under moldings and fixtures. All openings and holes drilled into the sidewall of a Northstar has putty tape under it compared to many who just clear seal with silicone after screwing something onto the camper. That works for a couple of years, but the silicone pulls away putting the unit at risk.
We have been using hung wall for decades and have had incredible success with it. Plus the Lamilux 1000 adds a sheen to our sidewall that keeps its pop and shine for years. We recommend waxing it quickly a couple of times a year with a polymer wax. Polymer wax can be applied to the acrylic of our windows as well.
Northstar is also moving from painted moldings and frames to powder coating these components. How does powder coating improve these items?
Our roof molding, exterior moldings, entrance door frames, window frames, and exterior moldings are all powder coated now. Powder-coated finishes are easier to clean, stay newer looking for a longer period of time, and keep their visual pop and shine. Powder coating costs us more money, but we are building exactly what we want to produce and offer the public; simply the best-built and featured camper available today at the best value.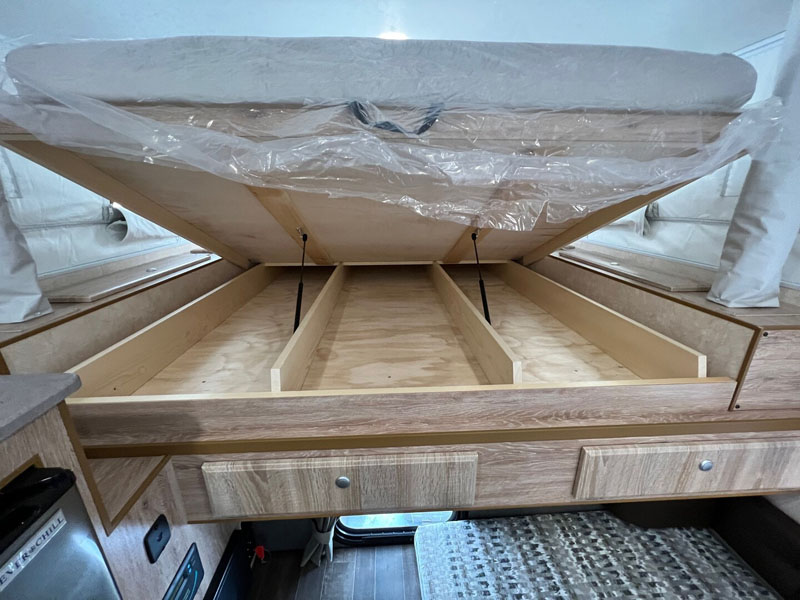 Has the cabover in the 2023 Northstar 650SC changed?
Yes. The cabover features a new gel foam 60 by 80-inch queen mattress and two storage doors on either side of the bed. The bed lifts up for more storage underneath all the way to the front of the cabover. In between the storage doors is a 110-volt/USB charging station for the CPAP machine and personal devices. We also offer a 1,000-watt pure sine wave inverter if you need two 110-volt inverted outlets.
Many people buy clear plastic totes and store clothing and items they don't need all the time under the mattress. This area can also be used as a food pantry.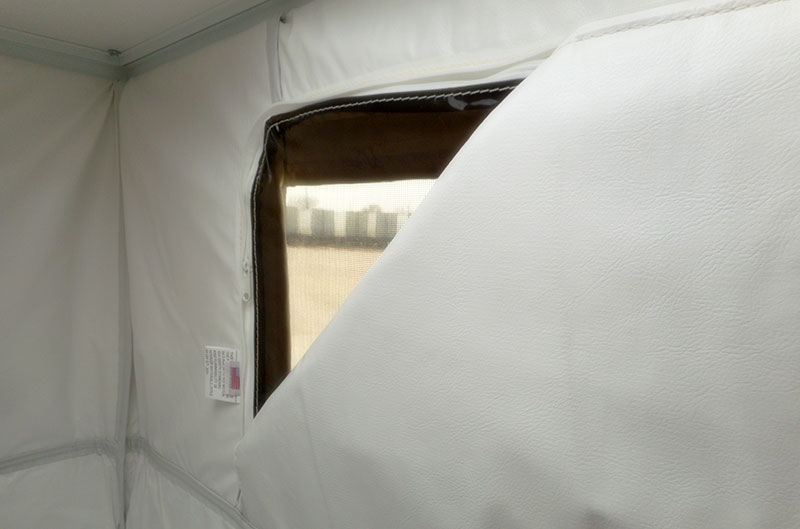 Did you make any changes to the pop-up roof or soft wall?
For 2023, Sub Zero canvas is standard on the Northstar 650SC. The interior zippered flaps are also insulated, and zip down to expose a grey-tinted plastic window. When that layer is zipped down, you have a bug screen. The 650SC offers a 360-degree panoramic view if all of the windows are opened up; two side windows on each side and one on the front and back. The canvas has pockets for storage at the foot of the bed on each side for magazines, maps, or sightseeing brochures.
Our pop-up roofs are designed to last for decades with a baked enamel aluminum exterior. I have seen our roofs come in 30-plus years old and look very similar to new when properly maintained. The overhang on the roof design acts like an exterior drip edge all the way around the camper helping to limit the amount of water running down the sidewall. The rolled roof edge without molding cuts the maintenance to a minimum. It's just a superior approach.
The 2023 Northstar 650SC leaves 6-inches above the cabover bed mattress. Why did you make this design decision?
We leave 6 inches so you can leave your pillows and bedding in place. Many of our competitors don't have that space requiring you to pull your pillows and bedding down to close the roof.
The 2023 Northstar 650SC also features a 49-inch tall screened entrance door. The 49-inch door height allows owners to go into the camper even when the roof is down, access the refrigerator, and load or unload items. These are the kinds of design choices that are hugely appreciated when you own and use a pop-up camper.
What electric lift system are you using now?
Rieco-Titan came out with 2.0 version of their electric lift-eliminating limit switches. It's a way better design and we don't have any problems with it.
You centered the front wall pop-out window on the 2023 Northstar 650SC. Why did you make this change?
The centered front wall pop-out window matches up to the truck's rear sliding window and works perfectly with our best-in-the-business vinyl foam boot. The foam boot is wedge-shaped and compresses between the truck cab and camper forming a tight seal. You can pop out the centered front wall window allowing pets and smaller people to pass through between the truck and camper.
Pet owners can crack their truck windows and turn the Maxx fan on in the camper for safe airflow through the front wall pop-out window. As long as it's not too hot, the airflow and insulated and shaded camper will keep your pet comfortable with their food and water dishes and favorite place to lay down. That leaves you with the peace of mind to hike around the lake, explore the museum, or enjoy a dinner out. It's one less thing to worry about knowing our furry family members are safe.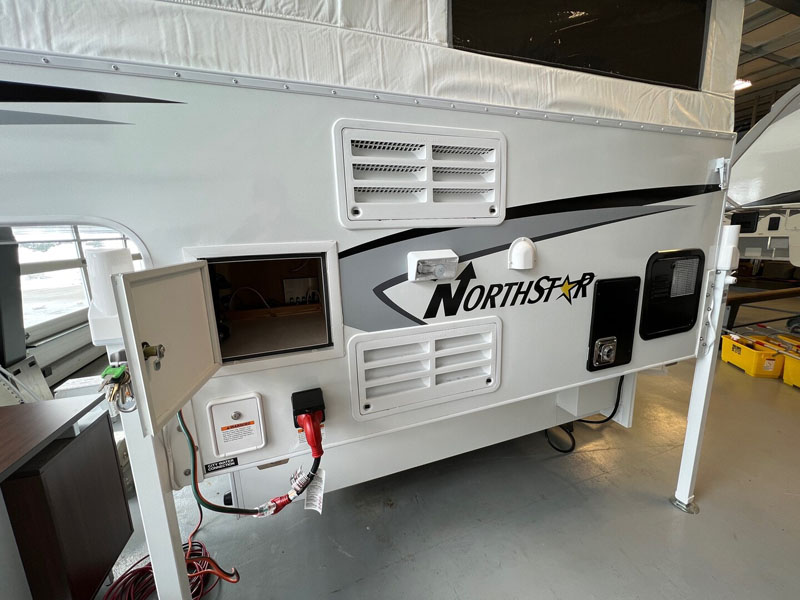 Did you make any changes to the furnace or water heater?
We went from a 16,000 BTU furnace to a 12,000 BTU furnace by Dometic. The 16,000 BTU model draws 3.8 amps. The 12,000 BTU model draws 1.8 amps and puts out more than enough heat for the 650SC. And it's very efficient and quiet. The Dometic is pretty much perfected. You can Google about anything on this furnace and there are step-by-step videos. All of the information is there.
We are using a four gallon Suburban water heater that's also very serviceable and easy to replace. Suburban has water heaters down. Except for one board going bad in the last five years, we haven't had any problems with Suburban water heaters. They are easy to operate, easy to work on, and simple. In fifteen minutes the water is hot and you can shut the switch off. It's styrofoam jacketed, so it will stay hot almost all day. If it gets lukewarm, turn it back on, and in five minutes it's warm again.
We also have a bypass for the water heater, shower, and a winterization bypass kit. You can winterize a Northstar 650SC in minutes.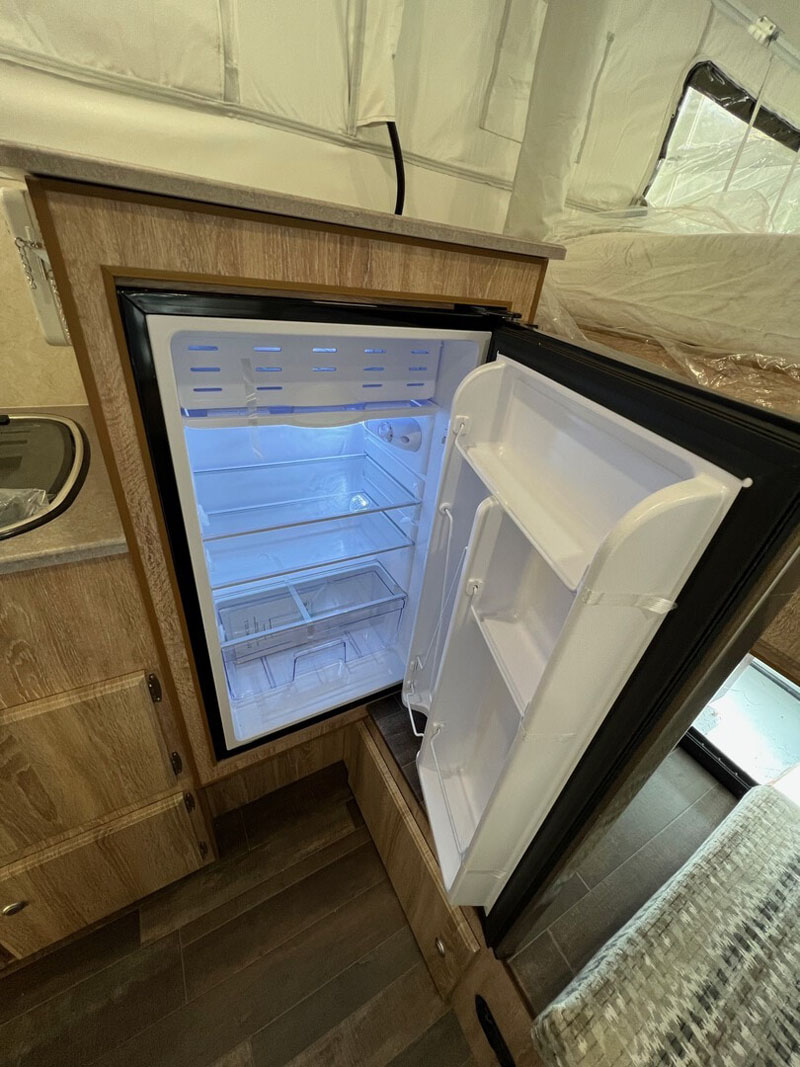 For 2023 you're changing to 12-volt compressor refrigerators. Tell us about the refrigerator make and model in the updated 650SC.
The refrigerator is one of the biggest changes to the new 650SC. The 650SC is using the Everchill 12-volt compressor refrigerator by Rec Pro. It has a rotational beverage cooling feature in the door.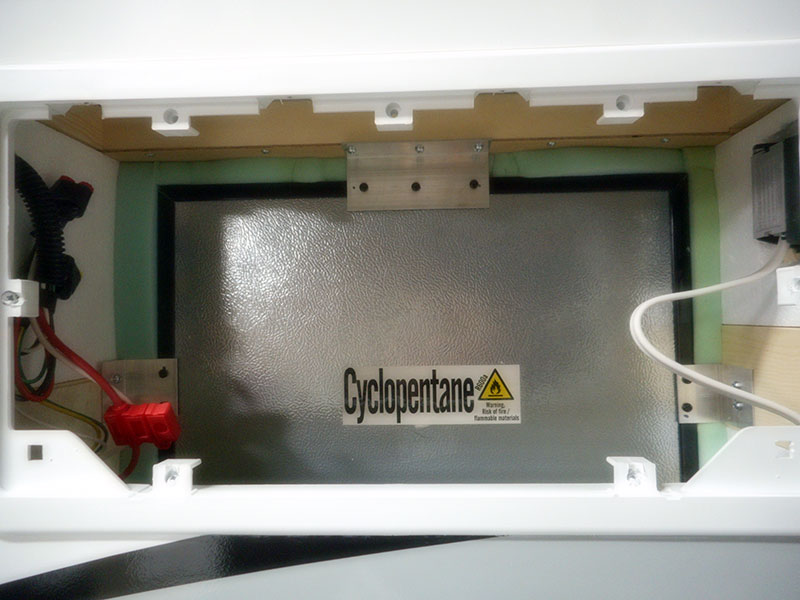 Above: The refrigerator exterior access compartment
We have shipped truck campers to Australia with compressor refrigerators for years. We know they need a lot of air. The area around the back of the refrigerator is open, clean, and simple (see picture above). A 650SC owner can open up that area and understand it.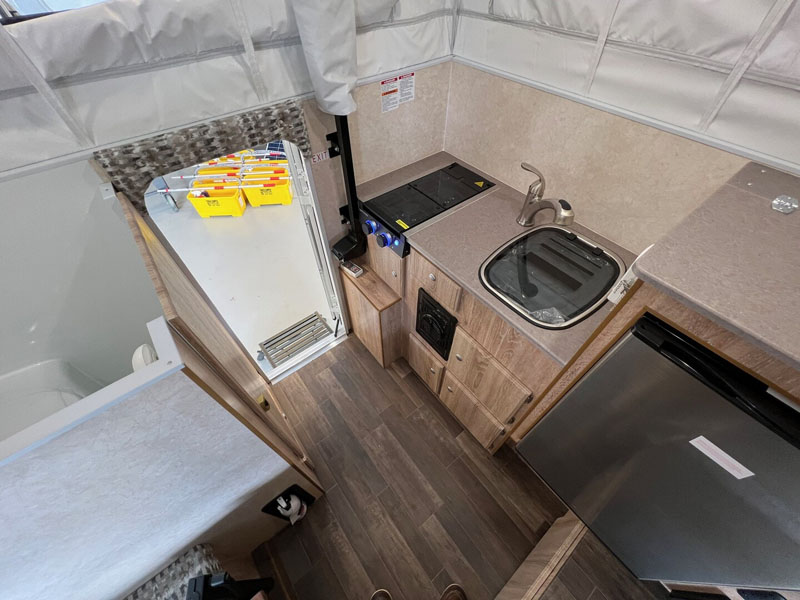 The two-burner flush mount cooktop is something we haven't seen before.
The two-burner cooktop is also from Rec Pro. The slim design gave us a whopping four inches more countertop width. It has lighted knobs to prevent propane leakage. If the valve is open, the knob is lit. The iron grates are easy to remove and clean. You can easily wipe around the sealed burners. It's quick and easy clean up. This cooktop is a great value and very functional.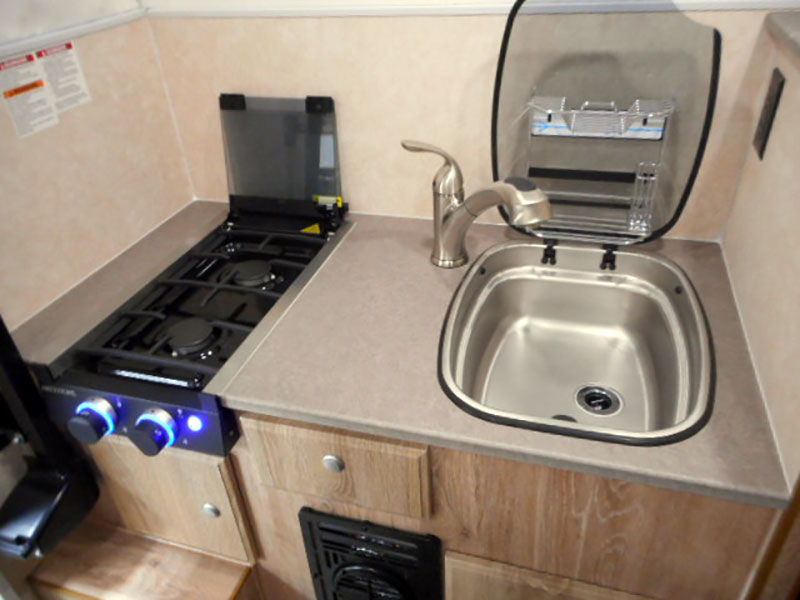 You also changed to a new sink and faucet.
Yes. We had a plastic sink in the first 650SC. The new 650SC comes standard with a stainless steel and flush mount glass top sink. It's the only Northstar camper that comes standard with a glass top sink. The glass top matches the Rec Pro cooktop and is deeper and more European in aesthetic. A cutting board can be stored inside the sink as does a toothbrush holder and soap dish.
On the refrigerator cabinet wall, you have a dual 110-volt receptacle to use in the galley area and the thermostat for the 12,000 BTU forced air furnace. An optional 36-inch wide single-door overhead cabinet is also available there and above the galley.
Tell us about the refreshed cabinetry, countertop, and flooring.
We used oak for many years and I wanted to change to something fresher. I didn't like the flat grey and silver look, so we went with a grey wood color made in Japan. I like this wood color because it's brighter than the dark grey that is so popular. I also wanted a cabin feel, but not a bleached look.
Our interior doors are made by a company that also supplies Winnebago motorhomes and vans. Again the design and color lightens up the interior. There are also more interior lights in the 650SC to give the inside more pop. The changed radius of the window privacy flaps and screens makes them easier to operate.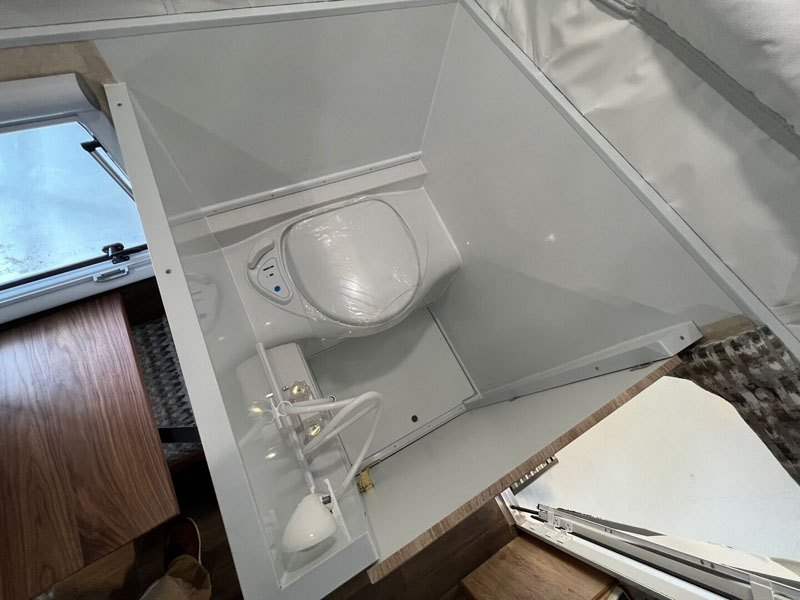 Are there changes to the wet bath as well?
It's an evolution of the already refined and proven 650SC wet bath. The Northstar 650SC features a Thetford cassette toilet and an interior shower with solid laminated fiberglass shower walls. Solid plastic flooring can be removed to expose the shower pan.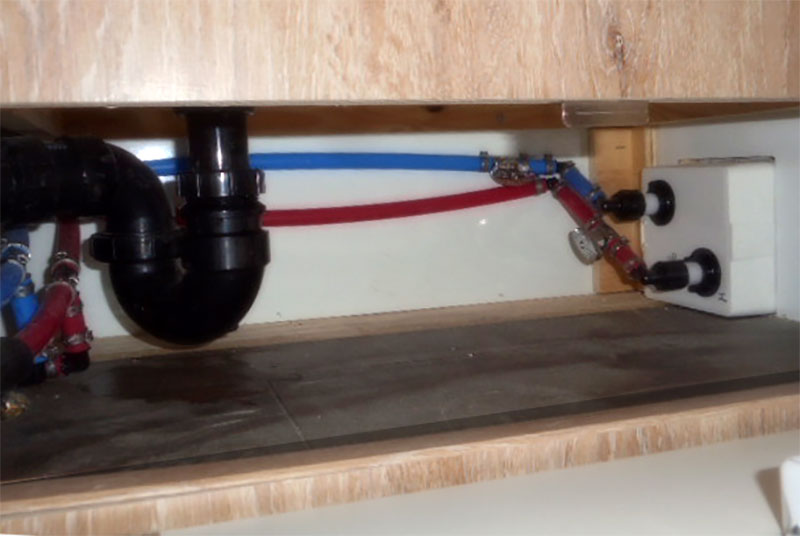 Underneath the wet bath is a compartment with shower bypass valves and a bit of storage that's accessible from the rear entry doorway. This area is perfect for shoes, toilet paper, chemicals, a flashlight, a dog leash, a small umbrella, and more.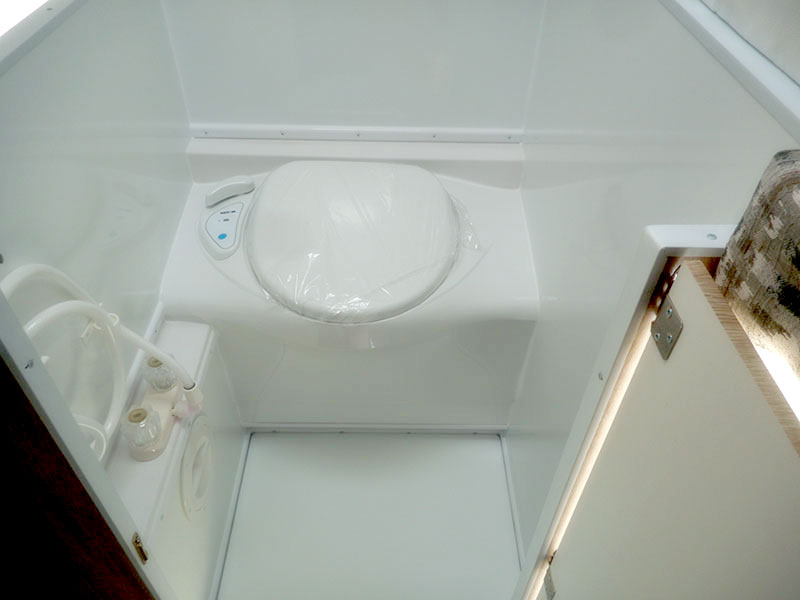 The cassette toilet tank slides out the rear wall of the camper and can be dumped in any toilet. Once the tank is emptied, you slide it back into the camper, add a biodegradable tablet and a shot of water, and you are good to go again. The exterior shower connection comes with a coiled hose and sprayer. You can use this hose to fill the fresh tank of the cassette toilet if needed.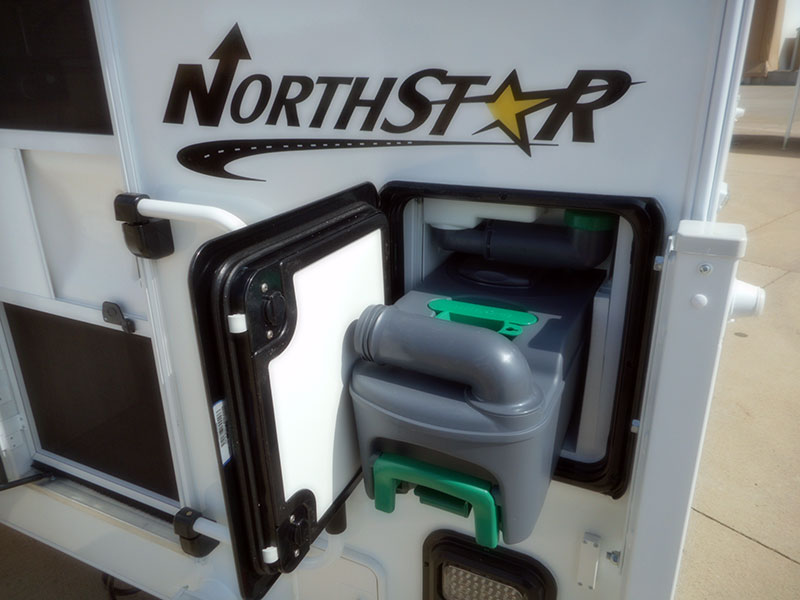 An important advantage of cassette toilets is the ability to use them year-round without needing to heat the camper. The cassette has its own fresh tank, water pump, and black tank. If you're camping in below-freezing temperatures, you can add windshield washer fluid to the fresh tank and never worry about the system freezing.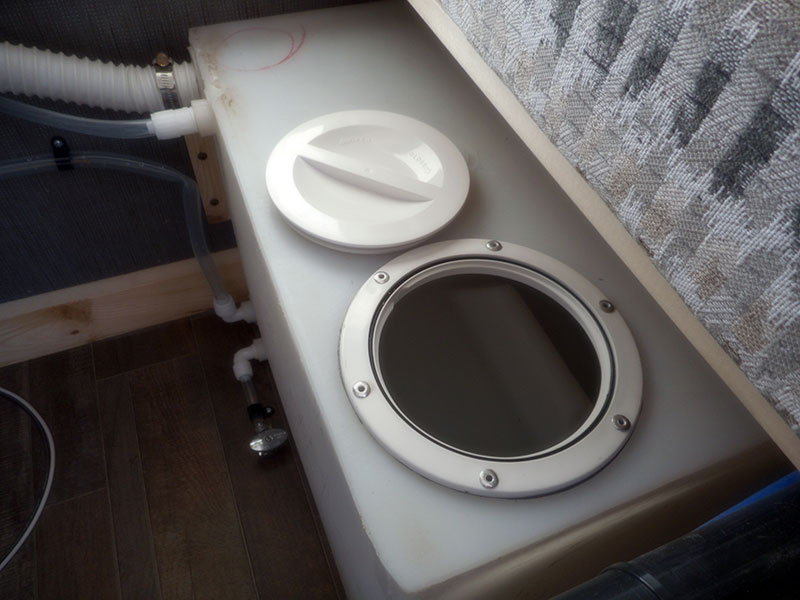 The water tank has also been significantly expanded.
That was another major design goal for the new Northstar 650SC. The fresh water tank is a massive 30 gallons. The tank also features a tank access port. To clean the tank, you turn a valve just outside the tank on the floor. If you tilt the camper to the passenger side by about an inch, almost all of the water will drain out the floor drain. Then you can clean out the tank and keep your fresh tank actually fresh. It's such a great feature that we've put it into all Northstar models.
The water pump has the hand-tightened filter inline before it and also a winterization bypass valve with a clear hose that sticks into an antifreeze jug. Turn the black bypass valve and the pump sucks from the clear hose inserted into the antifreeze jug instead of the water tank. It only takes a couple of minutes to winterize this camper.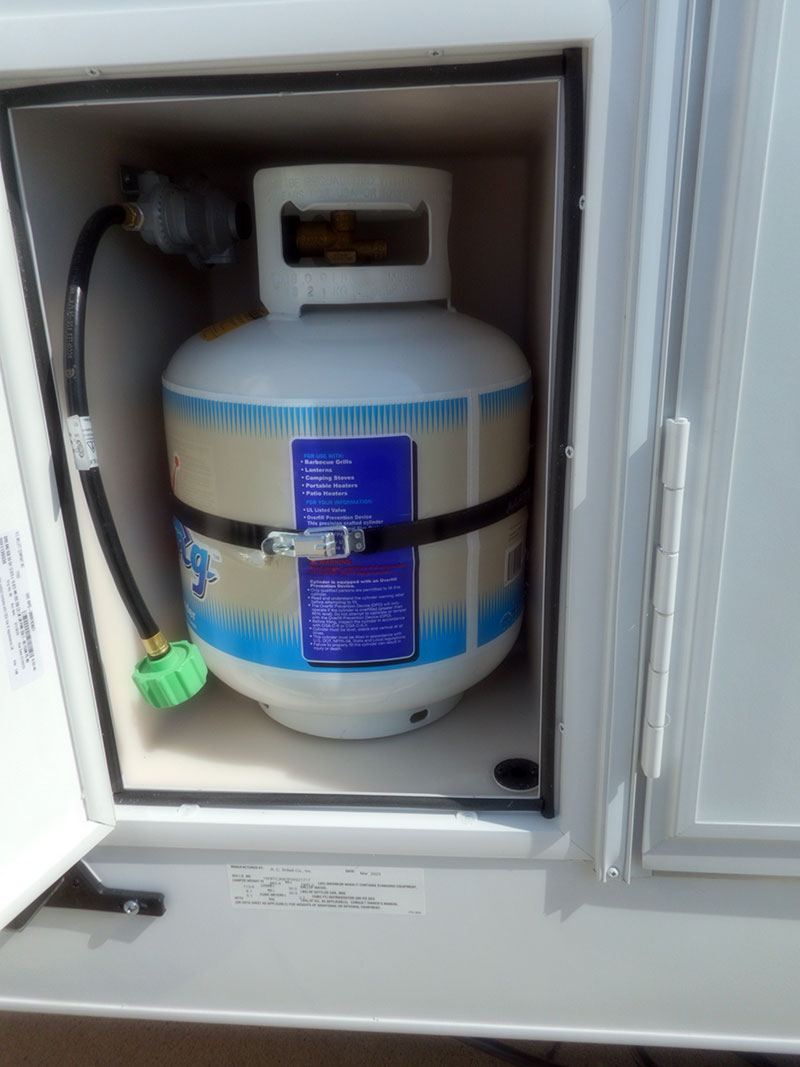 You have long been a proponent of 20-pound exchangeable propane tanks and locking water fills. Are these features found in the 2023 Northstar 650SC?
Yes. An exchangeable vertical LP tank is a must as is a locking water fill in today's world. I'm also a proponent of removable power cords. When the 650SC 12/3 power cord is wound up, it will easily fit in the propane compartment with the LP tank.
By selecting a high-efficiency air conditioner and LED lighting, we can use a high-quality 15-amp cord. The 650SC comes with a 25-foot, 15-amp, 12/3 (12-gauge, 3-wire) lighted extension cord with a twist-lock adapter. No more wrestling with a 30-amp cord.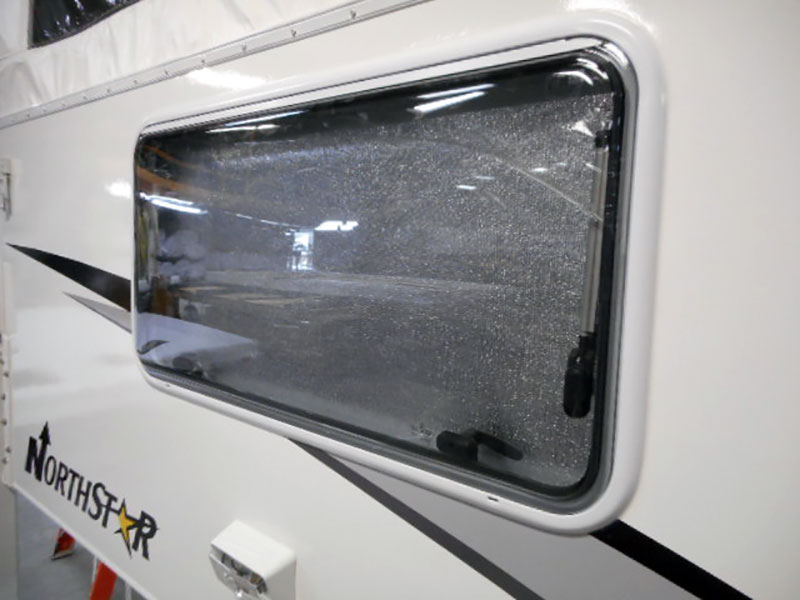 Did you change the window type or size?
The window type and size are the same. We have windows made exclusively for us and we import them by the container load.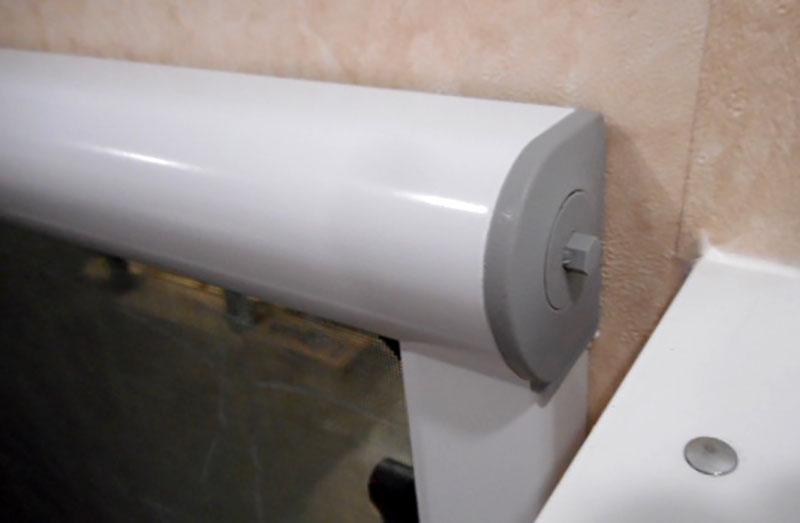 Our window design walks all over everything. The shade is tighter, the end caps are removable (shown above) so one can add lubricant or vacuum them out.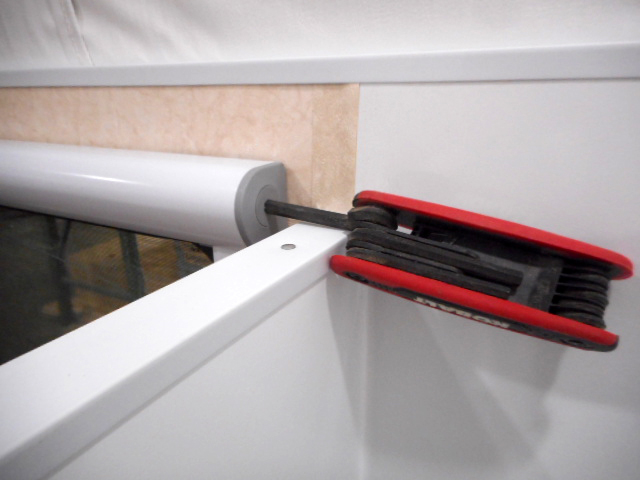 Above: The Northstar window shade can also be wound tighter as the camper ages to keep them taut
Other windows hang on the awning rail and swing down. Our windows sit in their own frame. They are more structurally sound and better built. The edge of the window recesses inside the frame. You never risk a branch popping your window off.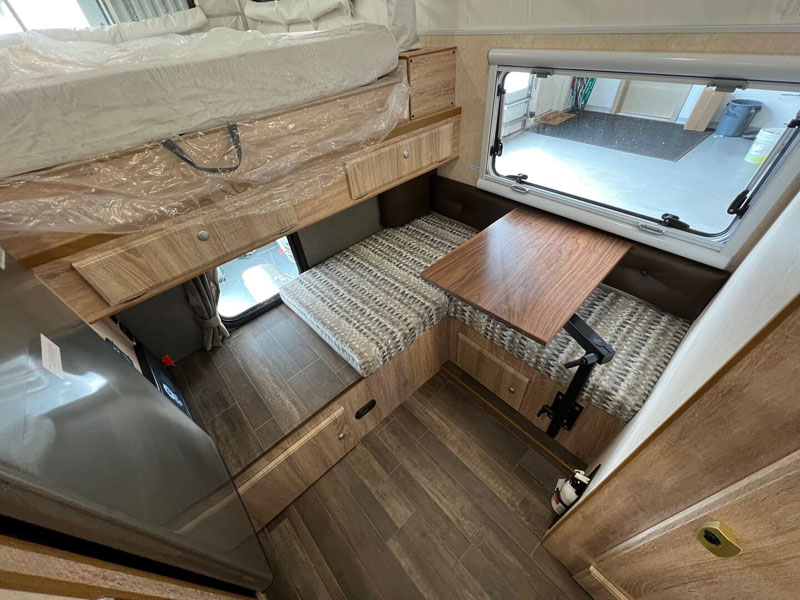 The black Lagun and walnut table top are quite striking. Tell us about the dinette.
Another goal for the new 650SC was a longer dinette that would be comfortable for two decent-sized adults. The 650SC now has an L-shaped dinette and the new cushions are 53-inches. Someone can sit back up against the foot of the cabover bed comfortably and someone can sit back against the passenger's side wall.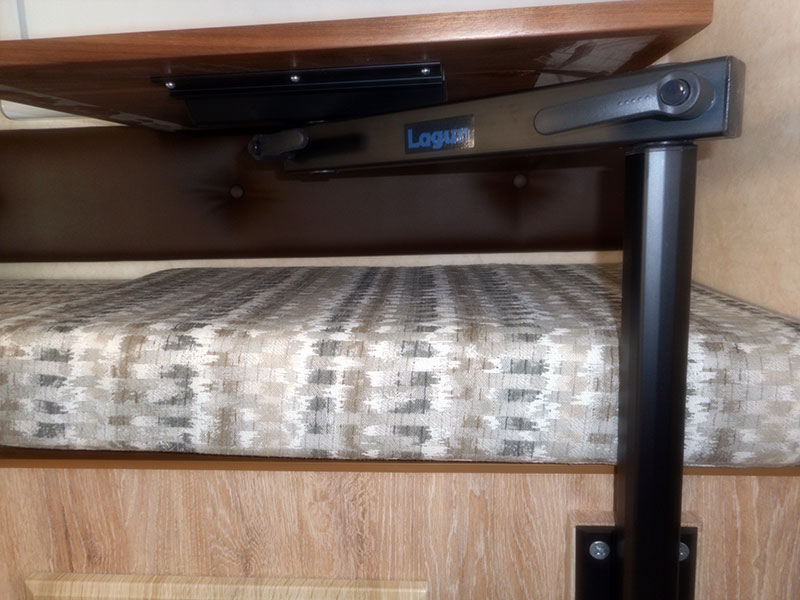 The Lagun table system is featured here for the first time in the new anodized black finish. On top of the Lagun is the new solid Walnut table featured in all 2023 Northstar Campers. The wood is just so interesting to look at; truly Mother Nature's art. I don't know of anyone who doesn't like the look or feel of real wood in their camper.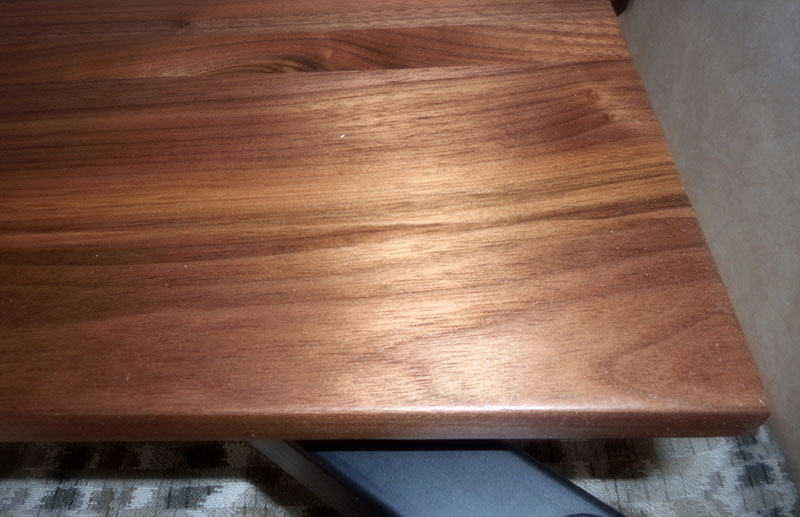 There are a couple of imitation copies of the Lagun system that have hit the market, but none can come close to the long-term quality and ease of function. Lagun has been made in Sweden and assembled in the USA for almost 7 years. Lagun has sold for over 50 years in Europe. Because it's anodized, it can be taken outside with the purchase of an additional bracket, which comes in handy. A steel knockoff can't do that, nor can a painted aluminum copy. We prefer not to have issues or cut corners there, so we opt for the best in that category.
Does the dinette make into a bed?
No, but it's good for stretching out. You can put a pillow against the shower wall, and sit and read or look out the window. There is a lot of comfortable space for two people. The first 650SC had a 40-inch bench, so this is a huge improvement.
The new 650SC can fit three Group 31 batteries. Where do these batteries go?
Under the step-up to the cabover. Three Group 31 batteries will fit in that area and still have room to access other items.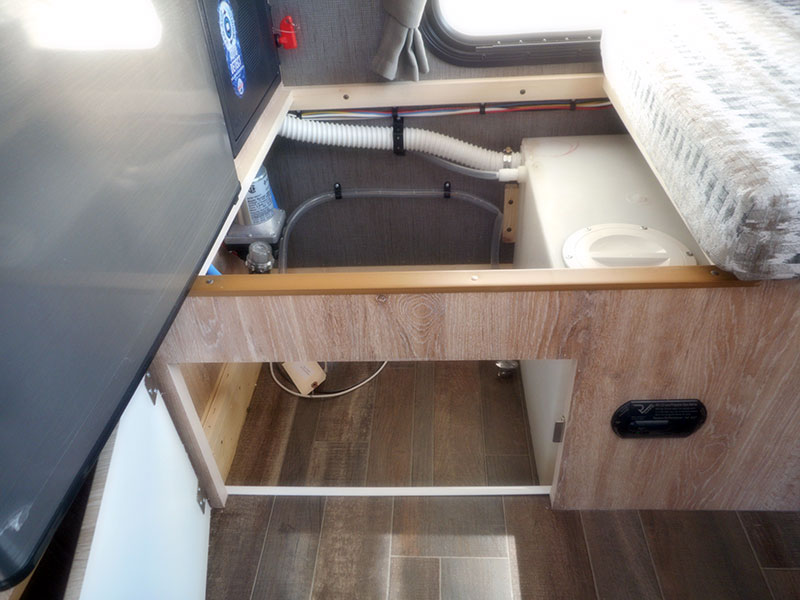 The cabover step-up is removable so it is so easy to install and check the batteries.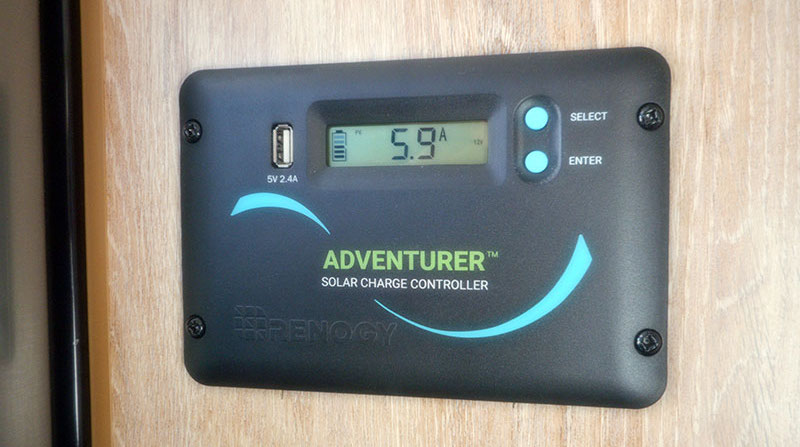 Northstar is including a 175-watt solar panel and solar controller standard on the 650SC. What panel and controller are you using?
We are using Renogy 175-watt solar panels and Renogy Adventurer controllers for 2023. Owners can easily add an additional solar panel if desired.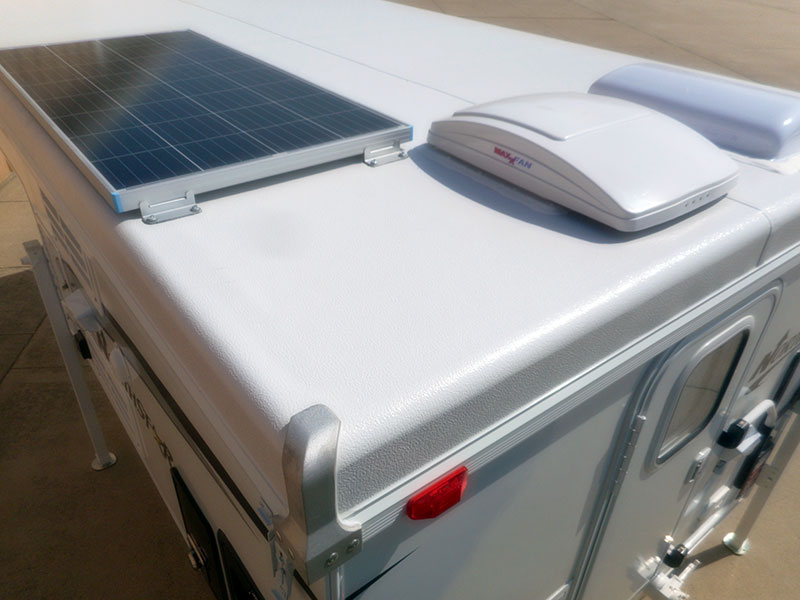 The Renogy Adventurer includes standard a Bluetooth module. You can download the Renogy app on your phone and check your battery status, charging rates, and hours to full. It lets you know exactly where your battery status is at all times even sitting outside the camper or when moving down the road. Your co-pilot can check the solar and battery system on his/her phone.
We have also upgraded the converter to 35-amps. The new converter will automatically detect what battery type you're using and adjust accordingly. When plugged into shore power, the converter will charge your batteries and help maintain them. The solar will charge all the time if the sun is shining and the power cord for the Northstars plugs into the towing plug of the truck. The truck will also charge the battery when the engine is running.
Can the optional air conditioner run on a portable 2,000-watt generator?
Yes. We are using an 11,000 BTU Dometic Penguin high-efficiency low profile air conditioner. It's nine inches tall with hand controls on the inside. It will run on a 2,000-watt generator or better.
What is the base dry weight of the 2023 Northstar 650SC?
The 2023 Northstar 650SC in the photography had eight pounds of options bringing the total camper weight to just under 1,650 pounds including standard equipment.
Where is the center of gravity on the 2023 Northstar 650SC?
The center of gravity is 26-inches.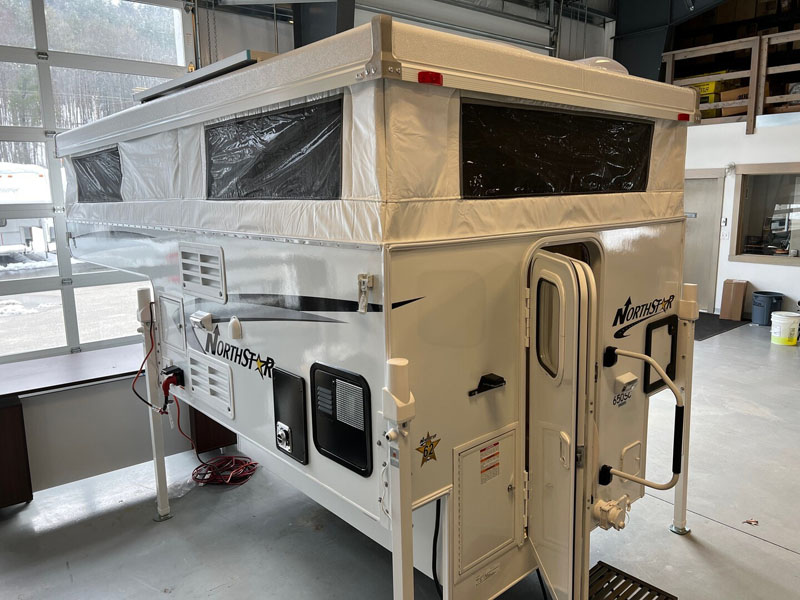 What is the MSRP for the 2023 Northstar 650SC with standard build features?
It's $29,995.
When you look at the retail sheet, it lists seven standard items that were previously optional, and are optional on our other pop-up models. By integrating these features as standard, we were able to reduce the price by about $3,000 from the old 650SC with the same options. The new 650SC is one heck of a value.
Another way we're keeping our pricing in check is through purchasing in volume. Ten years ago I hired Kristy Schmitz.  She is a really amazing purchasing agent. Together we have trimmed down our offerings so that the number of items we needed to produce a camper went down. We also order items by the container load. It's all about efficiency. By ordering parts and materials this way, we can offer better value to our customers.
Hopefully, the value we're offering with the new 650SC applies some pressure on the other manufacturers to come down a few floors in the price elevator. Some of the prices I see from other camper companies are out of hand.
What is the warranty for the 2023 Northstar 650SC?
Every Northstar has a two-year structural warranty and everything else has its own warranty.
When will the 2023 Northstar 650SC be available?
It's available now. We already have about thirty new 650SC in stock at our dealers in Denver, Colorado, West Chesterfield, New Hampshire, Jacksonville, Florida, and Apex, North Carolina. In the next two months, we will build another 650SC run. I wanted the new 650SC to be available the day people read your article. It's an amazing camper.
Are there any other new models coming from Northstar in 2023?
Yes. We are going to introduce a new hard wall in the next sixty days. At that point, we'll have four pop-tops and three hard wall campers. Since pairing down our model offerings, we have had the time to look at every model and make improvements. We'll be announcing more model changes later in the year.
Northstar has been in business for 62 years. My youngest daughter is now working here which means that we have the opportunity for Northstar to go to the fourth generation.
The 2023 Northstar 650SC is a true traveling or off-road companion that will perform for years to come and build memories that you experience joy and laughter. I think we have accomplished our goals with the 650SC, and I invite everyone to consider one as we would love to have you as our customer.
For more information about Northstar Campers, visit northstarcampers.com. Click here to request a free Northstar brochure.