Imagine having a power source trickle charge your camper batteries twenty four hours a day, for free.  Introducing Free Spirit Energy Windwalker wind generator systems for truck campers.

Jack Wright, Co-Owner of Free Spirit Energy, contacted us in the fall of last year about his wind generator systems designed for truck campers.  At first we were skeptical.  Free power from the wind?  That sounds too good to be true.
Then Jack explained how he initially invented the Windwalker wind generator system for his own truck camper use.  In a nutshell, he wanted a free power source that worked 24/7, not just when the sun was out.  He envisioned a small wind generator as the solution, but couldn't find a commercially available mounting system or kit to make his dream a reality.
Like many truck camper owners we know, he decided to create what he needed.  Jack found the right wind generator and designed two mounting systems to accommodate a truck camper installation.  He kept the system simple and affordable and successfully tested it for over a year in all kinds of weather conditions.
During that time, folks began to notice the spinning device on his truck camper.  As more and more people began to inquire about the wind generator, Jack and his wife realized they might just have a business opportunity.  That was the beginning of Free Spirit Energy and the Windwalker line of wind generator kits for truck campers and RVs.
We have yet to experience Jack's wind generator system, but it's clear that the concept has tremendous potential to extend the power source options available to truck campers.  We are especially excited about the idea of generating power at night, a time when solar panels are inactive.  After talking to Jack, we have no doubt we'll start seeing wind generators spinning over truck campers in the very near future.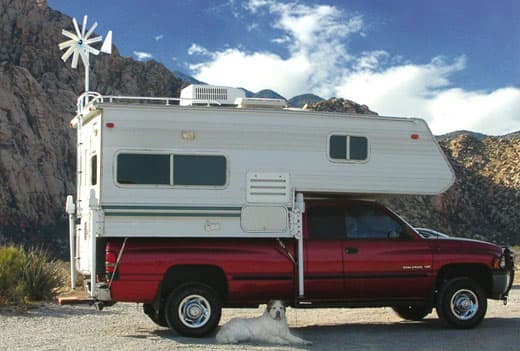 Above: Jack's Great Pyrenees, AJ, enjoys the shade under Jack's Lance Camper and Windwalker wind generator system.
The following is an interview with Jack Wright, Co-Owner of Free Spirit Energy, on the Windwalker 150 and 250 wind generator systems.
TCM: Before we talk about Free Spirit Energy and wind generators, tell us how you got into truck camping.
Jack: I got into truck camping in the 1980s when I bought an used Six Pac camper and put it on my Ford Ranger truck.  Before that I was a tent camper, but I got tired of being cold and wet.  The truck camper changed everything.  I could go anywhere, park anywhere, and explore.  It was a revelation.  I took that Six Pac from Seattle to Montana and down to Baja to camp and fish.
I eventually sold that rig and really missed it.  I later moved to Las Vegas where there are lots of camping opportunities in the nearby southwest.  Finally, I bought a used Lance and took off around the southwest to explore the many points of interest.
I never go to KOAs where I could plug in.  I like boondocking.  I could always take enough water on trips with my camper, but I often needed more power.
A couple of years ago, my wife Crystal and I were camping with our dog at Navajo Lake.  It was beautiful, but we only had a 15 watt solar panel.  Naturally, that solar panel was not able to restore the batteries.  After three days at the campsite, I started up the vehicle to charge the camper.  Running my truck for twenty to thirty minutes at a shot got to be expensive because it burns up a lot of fuel.
I thought there had to be a better way to get power into my camper batteries.  I considered a larger solar panel system or a portable gas generator, but then I started thinking about wind generators.  After some research, I discovered that no one had figured out how to mount a portable wind generator to an RV.
When we got back to Las Vegas, my wife and I began development of the wind generator mounting systems.  Once we had the prototype made for the roof mounting plate, we went back to Navajo Lake and stayed for two weeks.  For the duration of our stay, the wind generator trickle charged the batteries.  I no longer needed to start the truck.  We continued to test the wind generator for about a year in horrendous weather.  During that testing, there were no problems, no failures, or glitches.  We also developed a ladder bracket as a mounting option for campers without a roof railing.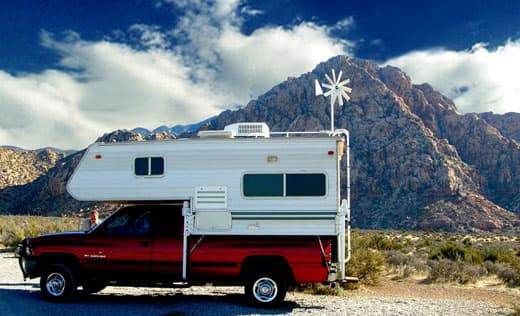 TCM: When did you realize that this could be a business?
Jack: We would be dry camping and people would come up to our rig and look at our wind generator spinning around.  They were absolutely amazed.  That's when Crystal and I decided to start up the business offering wind generators and mounting systems to RV owners.