Today we debut the Torklift Quick Disconnect StableLoad, a product designed to engage your truck's stock overload system.  Take this Torklift to your overloads.  And roll the video!

It never fails that someone challenges me at a RV show about how their ten year old half-ton truck can carry any truck camper made.  Sure it's a short bed.  Yes, it's a crew cab.  No, he has no idea what his truck's payload is.  But this guy has hauled a load of lumber across town once and he just knows his truck can handle anything.  6,000 pound long bed triple-slide with a full seventy-five gallon fresh water tank?  No problem.
Early in my tenure as Publisher of Truck Camper Magazine, I would engage these knuckleheads and advise them how to properly match a truck and camper.  I would tell them that their safety is my top priority and how an overloaded camper can destroy a truck through excessive wear and tear on the engine, suspension, and brakes.  I would even tell them stories about distressed readers who contacted me after having made a truck and camper mismatch.  They often end up losing a lot of money trading in their truck and/or camper to fix the mistake.  Worse, they sometimes lose their enthusiasm for what they purchased the truck and camper for.
Thankfully, most folks are not knuckleheads.  We want to assemble a safe truck and camper rig and hit the road to fun and adventure.  For the non-knuckleheads, there's a new product to help us build and operate safe truck and camper rigs, the Torklift Quick Disconnect StableLoad.  We have not yet had the opportunity to test and evaluate this product, but the premise is rock solid.  As we like to do, we contacted the top dogs at Torklift for an inside perspective on this new product.
The following is an interview with Jack Kay, Vice President of Torklift International, and Jay Taylor, General Manager for Torklift International about the Torklift Quick Disconnect StableLoad.
TCM: Let's start from the beginning.  What is the Quick Disconnect StableLoad and what does it do for truck camper users?
Jack: For the truck camper owner who often uses their truck without the camper, the Torklift International Quick Disconnect StableLoad is a suspension enhancement product that allows truck campers to run their stock suspension without expensive suspension add-ons.
With a camper loaded, Quick Disconnect StableLoad owners will have the suspension they need to control the load.  Without the camper loaded, StableLoad owners will enjoy the comfort of their factory suspension system.  The Quick Disconnect StableLoad gives you the best of both worlds.
It only takes a few seconds to activate the Quick Disconnect StableLoad system and it has virtually no negative impact on the handling characteristics and ride quality of your truck.  You're going to love it.
TCM: There are so many aftermarket suspension enhancement products on the market today.  How does a customer know they may need Quick Disconnect StableLoads versus the other suspension enhancement products, like traditional air bags?
Jack: Traditional suspension enhancement products that address heavy loads include air bags, sway bars, shocks, and add-on leaf springs.  All of these products are designed to be added to the stock factory suspension, but don't necessarily work in conjunction with a truck's stock factory suspension.
In contrast, the Quick Disconnect Torklift StableLoad is designed to work with the factory suspension by allowing it to engage the factory overload springs more effectively.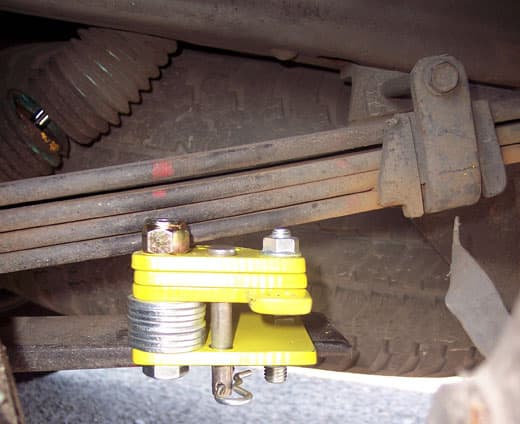 Above: The Torklift Quick Disconnect StableLoad engaging the overload springs
TCM: How does the Quick Disconnect StableLoad system work?
Jack: From the factory, most light duty pickup trucks, like our half tons, three-quarter tons, and one tons, come with overload springs on the rear axle.  The way these overload springs are designed is that they are not engaged until the truck physically drops in the rear from a load.  Most trucks are designed to drop between four and six inches before the factory overload spring is engaged.  The truck manufacturers design their suspensions this way to balance the ride quality loaded and unloaded which in some cases, depending on the load, ends up being a bit of a compromise.
Anyone with a truck camper has experienced this if they have not addressed their rear suspension.  The problem is that a squatting truck will be more difficult to stop and steer as it lifts weight off the front tires, suspension, and brakes.  This can lead to camper owners having a white knuckle driving situation as they experience oversteer and headlights pointing to the sky.
Traditional air bags help to level the truck, but they actually unload the truck's factory suspension right at the time you need it the most.  Essentially, air bags are like footballs between the axle and frame of the truck.  The air bags lift the truck off the spring.
Sway bars and add-on leaf springs will help to stiffen a suspension and reduce sway when the camper is loaded, but will make the truck much less comfortable to drive when unloaded.  They're not easily disengaged or removable like the Quick Disconnect StableLoad.  They can also fight a factory suspension causing other unwanted side effects.
The Quick Disconnect StableLoad is different because it pre-loads the existing factory suspension to gain all of the positive characteristics engineered into the factory suspension system.  The Quick Disconnect StableLoad system works with the truck factory suspension without any negative side effects.
Our recommendation is that people look at our Quick Disconnect StableLoad system as a starting point for economic reasons due to its low cost.  It also has significant stabilizing effects that can, in many cases, be enough overall improvement in their rig's handling.  More expensive suspension enhancement products can be added later if their particular rig still needs further augmentation.
Feedback from Quick Disconnect StableLoad owners has been that people have reduced their airbag pressure, in some cases, from 100 to as low as 20 psi.  We feel there is a place for air bags and other suspension products, but starting with the Quick Disconnect StableLoad system is our recommendation.  Add air bags to your rig if you need further level out your truck after installing the Quick Disconnect StableLoad system.  If your particular rig still needs more control, then you may want to look into a sway bar.
TCM: I always recommend truck camper owners address their truck tires first.  It's critical to make sure your tires are appropriate for the payload as tires are potentially a point of failure.
Jack: Gordon, you are right about tires.  The absolute first thing the customer should be looking at is his or her tires.
Jay: Yes, look at the payload capacity of your truck and then make sure the tires are not a weak link in the payload capacity.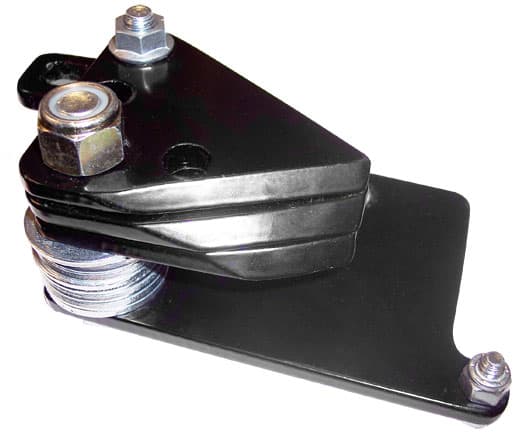 TCM: Tell us about the design and development of the Quick Disconnect StableLoad system.
Jack: The Torklift Quick Disconnect StableLoad system was designed by our staff engineers.  Not only do they model every new Torklift product in SolidWorks, but they also run a battery of extensive physical tests over thousands of miles in different weather and road conditions, with loaded and unloaded vehicles, and in multiple vehicle types.  This testing process that we go through can be related to molasses.  It's very slow.
Jay: We continue to test and stress our products long after the product introduction.  We're always evaluating our products and looking for ways to improve them.  Even now, as we're talking, the Quick Disconnect StableLoad system is running through vigorous stress tests.
TCM: What trucks is the Quick Disconnect StableLoad system compatible with?
Jack: Any truck with a lower overload built into the spring pack is compatible with the Quick Disconnect StableLoad system.  Before you order a Quick Disconnect StableLoad system, look for holes in the lower overload of your truck's factory spring pack.  Some trucks have holes and some do not.  Sometimes they have a plastic plug that you would need to pop out.  It's pretty simple.
Half-ton, three-quarter ton, and one ton Chevrolet trucks have holes pre-drilled into their lower spring pack from 1995 to current models.  With Ford trucks, it depends on the year prior to 2009.  Starting in 2009 through current models, Ford lower overloads also feature pre-drilled springs including the F-150, F-250, and F-350 trucks.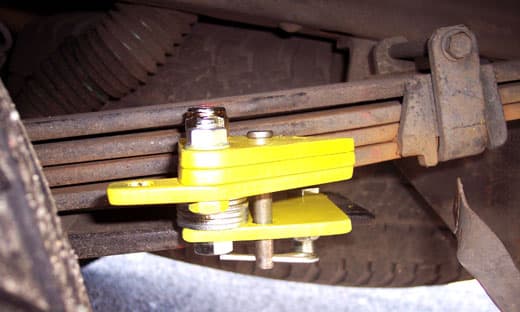 Above: The Torklift Quick Disconnect StableLoad is disengaged when your camper is unloaded
TCM: This may be an obvious question, but do you need to engage the Torklift Quick Disconnect StableLoad system before loading your camper?
Jack: Yes.  You will engage or activate the Quick Disconnect StableLoad system prior to loading your camper.  The owner then disengages or deactivates the system when the camper is unloaded.
TCM: Talk to us about the installation process for the Quick Disconnect StableLoad system.  Is it a product the average consumer can install?
Jay: On the Quick Disconnect StableLoad video we made, you can see how easy it is to install.  However, if it were going on my truck, I would prefer a dealer install it.  The installation would be easy for the do-it-yourself folks out there.  If you're unsure, please watch the video, read the included paper installation instructions, and call us at 1-800-246-8132 for live technical support.  We're always here to help.
Jack: It should take about an hour to install the Quick Disconnect StableLoad system.  You won't need any special tools, just basic hand tools.
TCM: Will the original Torklift StableLoad go away now that the Quick Disconnect StableLoad is available?
Jack: The original Torklift StableLoad will remain a Torklift product because it is a distinct product.  Some truck suspensions will only work with the original StableLoad.  We have an application guide on our website to help find which version of the StableLoad is right for a customer's truck.  Link: http://www.torklift.com/s.php?w_page=qdsl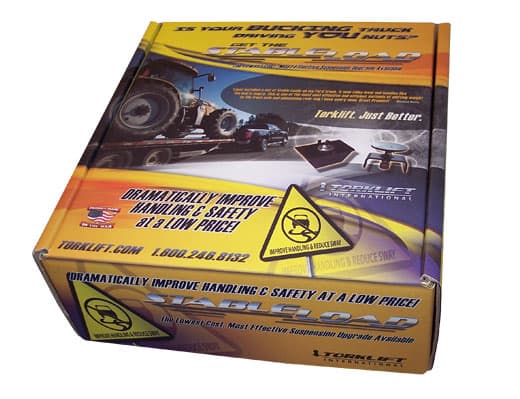 TCM: What is the MSRP of the Quick Disconnect StableLoad system?
Jack: The MSRP for the Torklift Quick Disconnect StableLoad system is $245.  That includes a set of four.
We're excited that the Torklift StableLoad system and Quick Disconnect StableLoad system bring balance to a truck's suspension at such a low price point than many competing suspension products.  Compared to many of the after market suspension enhancement products available, the StableLoad systems are 50% less.
TCM: Does the Torklift Quick Disconnect StableLoad system feature the Torklift lifetime warranty?
Jack: Yes.
TCM: Thanks Jack and Jay.  Keep us in the loop with your new product development.  We know you guys are always up to something.
Jack and Jay: You're welcome.