TCM talks to Scott Tuttle, President of LivinLite RV, about the 2012 CampLite 6.8 and 10.0 truck campers.  Scott also talks about LizardSkin, Jeff Foxworthy, and a future slide-out model.

For a RV manufacturer, truck campers require a different design, manufacturing, retail, and marketing approach than towables or motorhomes.  Truck campers are not just smaller wheel-less travel trailers.  They require an intimate knowledge of the niche and dedication to the truck camping community if success is to be had.
LivinLite excited us greatly when they announced their first truck camper to the marketplace two years ago at Louisville.  Perhaps what excited us the most about LivinLite's announcement was their keen interest in listening carefully customer and dealer feedback for direction.  While LivinLite was unwavering in their no-wood, all-aluminum construction technique, everything else was on the table.
Fast forward two years and we find that LivinLite is still listening carefully as they design and refine their CampLite truck campers.  They've made some important changes along the way including considerable effort to warm up their interior aesthetics.  For 2012, they're debuting two new models that further address customer and dealer requests, the CampLite 6.8 and 10.0.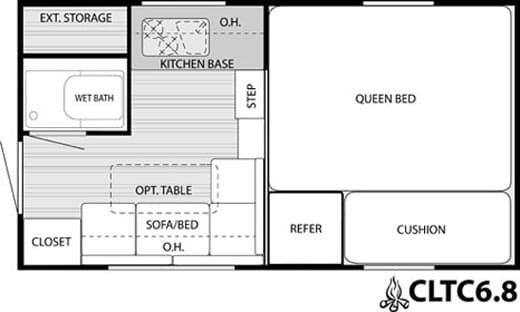 CampLite 6.8 Camper Specifications
The 2012 CampLite 6.8 is a hard side, non-slide, wet bath truck camper made for short bed trucks.  The interior floor length of the 2012 CampLite 6.8 is 80″ and the interior height is 80″.  LivinLite is reporting the dry weight of the CampLite 6.8 at 1,625 pounds.  The CampLite 6.8 has a 13 gallon fresh tank and a 32 gallon combined grey/black tank.  The CampLite 6.8 can accommodate one battery and has a twenty pound propane tank.  The MSRP for the 2012 CampLite 6.8 is $16,239.
Click on the thumbnails above to see the photos larger.
The following is an interview with Scott Tuttle, President of LivinLite RV, on the 2012 CampLite 6.8 and 10.0 truck campers.
TCM: LivinLite has been building hard side truck campers for over two years.  What have you learned about designing and manufacturing hard side truck campers in that time?
Scott: We've learned that truck campers are definitely not travel trailers.  We can't take our travel trailer technology and put it into a box on a truck and call it a truck camper.
Through the past two years, we have learned how to adapt and translate our unique construction technique into a truck camper.  It's been a been a great learning curve, but we're doing well, building a better product, and our hard side campers are selling quickly.  CampLite truck camper sales have far exceeded my expectations.
Our driving force in the truck camper marketplace is our unique no-wood, light weight aluminum construction.  We now have Azdel, a composite panel that goes on our sidewalls and ceiling.  We also now have an Azdel panel with a wood grain look on the interiors of our campers as an option, which is very popular.
TCM: What brought about the new 2012 CampLite 6.8?
Scott: Our dealers told us that we needed to develop a self contained truck camper that would fit the Ford F-150 with no overhang.  It's not a concept that's completely new.  Others have built a similar floor plan, but they built it out of wood.  It's a nice size camper with some neat amenities, and the weight is right.  We're happy with how that turned out and it's already a hit.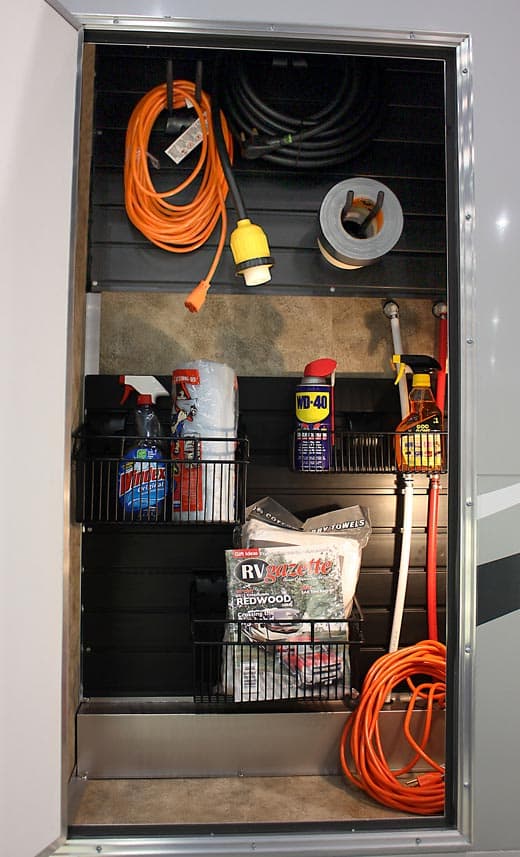 Above: The exterior storage space available in the CampLite 6.8.
TCM: Tell us about the design and development of the 6.8.
Scott: There were challenges for sure.  For example, we needed to incorporate a basement for the plumbing and holding tanks.  Originally we were looking at a more conventional non-basement approach, but then we would not have been able to incorporate holding tanks.
Designing the bathroom in the 6.8 was also a challenge.  We actually ended up designing the bathroom two ways.  In the first design, the bathroom is moved inward a few inches allowing for a large exterior storage space.  In the second design, the bathroom uses all of the available space and is a few inches deeper in size.  Both designs will be available depending on whether you want a larger bathroom, or a large exterior storage area.