TCM talks to Scott Tuttle, President of LivinLite RV, about the 2012 CampLite 6.8 and 10.0 truck campers.  Scott also talks about LizardSkin, Jeff Foxworthy, and a future slide-out model.

For a RV manufacturer, truck campers require a different design, manufacturing, retail, and marketing approach than towables or motorhomes.  Truck campers are not just smaller wheel-less travel trailers.  They require an intimate knowledge of the niche and dedication to the truck camping community if success is to be had.
LivinLite excited us greatly when they announced their first truck camper to the marketplace two years ago at Louisville.  Perhaps what excited us the most about LivinLite's announcement was their keen interest in listening carefully customer and dealer feedback for direction.  While LivinLite was unwavering in their no-wood, all-aluminum construction technique, everything else was on the table.
Fast forward two years and we find that LivinLite is still listening carefully as they design and refine their CampLite truck campers.  They've made some important changes along the way including considerable effort to warm up their interior aesthetics.  For 2012, they're debuting two new models that further address customer and dealer requests, the CampLite 6.8 and 10.0.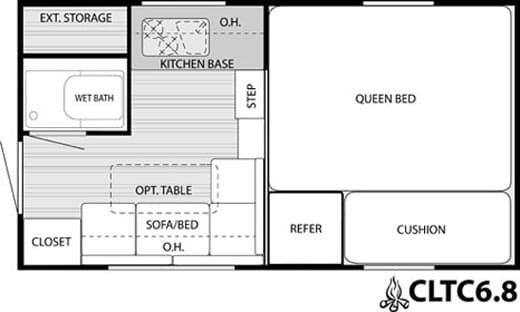 CampLite 6.8 Camper Specifications
The 2012 CampLite 6.8 is a hard side, non-slide, wet bath truck camper made for short bed trucks.  The interior floor length of the 2012 CampLite 6.8 is 80″ and the interior height is 80″.  LivinLite is reporting the dry weight of the CampLite 6.8 at 1,625 pounds.  The CampLite 6.8 has a 13 gallon fresh tank and a 32 gallon combined grey/black tank.  The CampLite 6.8 can accommodate one battery and has a twenty pound propane tank.  The MSRP for the 2012 CampLite 6.8 is $16,239.
Click on the thumbnails above to see the photos larger.
The following is an interview with Scott Tuttle, President of LivinLite RV, on the 2012 CampLite 6.8 and 10.0 truck campers.
TCM: LivinLite has been building hard side truck campers for over two years.  What have you learned about designing and manufacturing hard side truck campers in that time?
Scott: We've learned that truck campers are definitely not travel trailers.  We can't take our travel trailer technology and put it into a box on a truck and call it a truck camper.
Through the past two years, we have learned how to adapt and translate our unique construction technique into a truck camper.  It's been a been a great learning curve, but we're doing well, building a better product, and our hard side campers are selling quickly.  CampLite truck camper sales have far exceeded my expectations.
Our driving force in the truck camper marketplace is our unique no-wood, light weight aluminum construction.  We now have Azdel, a composite panel that goes on our sidewalls and ceiling.  We also now have an Azdel panel with a wood grain look on the interiors of our campers as an option, which is very popular.
TCM: What brought about the new 2012 CampLite 6.8?
Scott: Our dealers told us that we needed to develop a self contained truck camper that would fit the Ford F-150 with no overhang.  It's not a concept that's completely new.  Others have built a similar floor plan, but they built it out of wood.  It's a nice size camper with some neat amenities, and the weight is right.  We're happy with how that turned out and it's already a hit.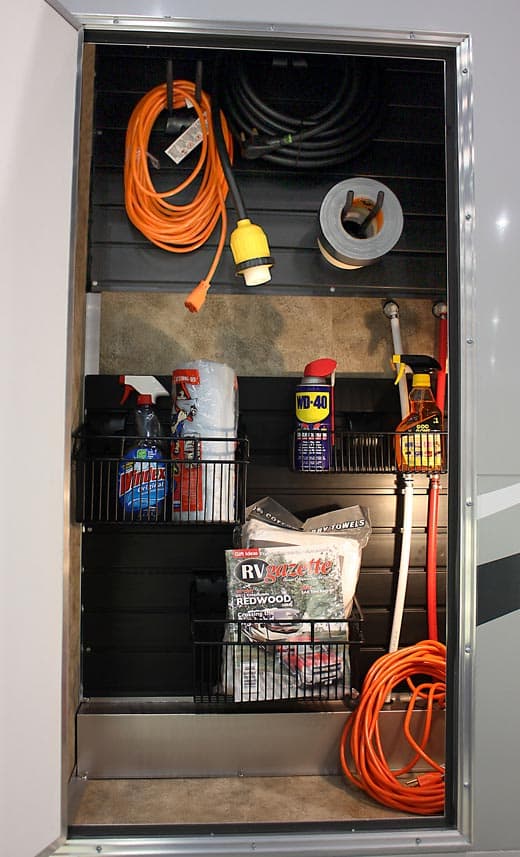 Above: The exterior storage space available in the CampLite 6.8.
TCM: Tell us about the design and development of the 6.8.
Scott: There were challenges for sure.  For example, we needed to incorporate a basement for the plumbing and holding tanks.  Originally we were looking at a more conventional non-basement approach, but then we would not have been able to incorporate holding tanks.
Designing the bathroom in the 6.8 was also a challenge.  We actually ended up designing the bathroom two ways.  In the first design, the bathroom is moved inward a few inches allowing for a large exterior storage space.  In the second design, the bathroom uses all of the available space and is a few inches deeper in size.  Both designs will be available depending on whether you want a larger bathroom, or a large exterior storage area.
For its price point, the CampLite 6.8 offers some of the largest facilities for a camper this small.  It has a standard 6'5" north-south bed, a nice size LP refrigerator, elbow room in the bathroom, and no overhang in the back.  The kitchen is compact in the 6.8, but it is a compact camper.
TCM: Why did you want no overhang for the 6.8?
Scott: From our customer emails, we know a lot of truck camper owners tow things.  Not having an overhang makes it easier to pull boats and trailers.  You don't have to worry about tail lights and license plates, the center of gravity is better, and it's easier on your suspension.
TCM: What trucks were you targeting with the CampLite 6.8?
Scott: First and foremost, the Ford F-150 short bed.  The 6.8 is also well suited to other half-ton makes and models, but our primary target is the Ford F-150, the number one selling truck in the country.
TCM: What is the MSRP and base dry weight of the 6.8?
Scott: The MSRP for the 6.8 is $16,239.  The base dry weight of the 6.8 is 1,625 pounds, loaded with everything but the air conditioner.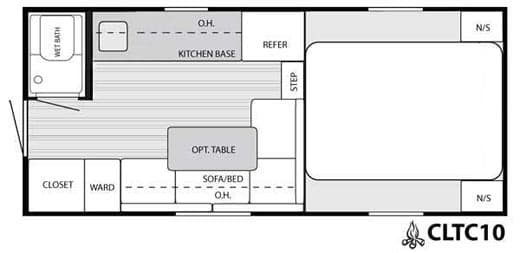 CampLite 10.0 Camper Specifications
The 2012 CampLite 10.0 is a hard side, non-slide, wet bath truck camper made for long bed trucks.  The interior floor length of the 2012 CampLite 10.0 is 127.5″ and the interior height is 80″.  LivinLite is reporting the dry weight of the CampLite 10.0 at 2,190 pounds.  The CampLite 10.0 has a 32 gallon fresh tank, 7 gallon gray tank, and 7 gallon black  tank.  The CampLite 10.0 can accommodate one battery and has a twenty pound propane tank.  The MSRP for the 2012 CampLite 10.0 is $21,699.
Click on the thumbnails above to see the photos larger.  Thank you to Princess Craft Campers for the exterior photos of the CampLite 10.0.
TCM: Let's move to the CampLite 10.0.  Why did you decide to bring the CampLite 10.0 model to market?
Scott: The driving force behind the CampLite 10.0 was a long list of customer and dealer requests for a full size truck camper using our construction methods.  The 10.0 is designed for long bed three-quarter ton and one ton trucks.
For the 10.0, we put in nicer equipment and amenities knowing the owners would have more capacity and payload.  The 10.0 features two LP tanks, a larger refrigerator, and a larger kitchen area.  Electric jacks are also standard on the 10.0.
We just tried to stick with a fairly traditional floor plan and to meet the wish lists of dealers and consumers.  For example, there is storage for a portable generator, significantly more countertop space, and a convection microwave.
TCM: What is the MSRP and base dry weight of the 10.0?
Scott: The MSRP for the CampLite 10.0 is $21,699.  The dry weight of the CampLite 10.0 is 2,190 pounds.  Almost everything is standard on the CampLite 10.0 so that dry weight is with most amenities included.  The only available option is an air conditioner, which adds approximately $600 to the price and sixty pounds to the weight.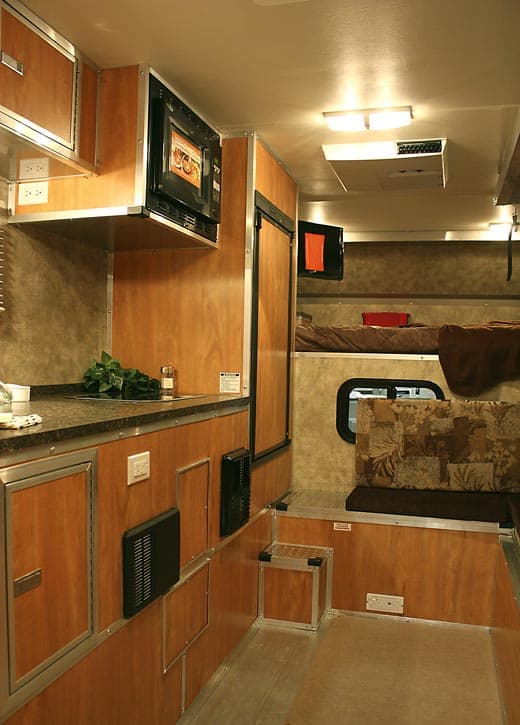 Above: Interior of the CampLite 10.0 with the Azdel option.
TCM: Tell us about what you've done to warm up the interior aesthetics of your truck camper line.
Scott: Since launching our hard side truck campers two years ago, we've had consumers and dealers ask us for warmer, more inviting interiors.  Our first change was to go with a champagne metal in our camper interiors last year.  While that certainly moved our interiors in the right direction, some people wanted an even warmer, more traditional wood cabinetry look.  You know we're the "non-wood" company, so using wood cabinetry was out of the question.
That's when we looked to composites and found Azdel's medium cherry color, maple wood grain panels.  Azdel gives our camper interiors the warm look of wood, but it's actually a water proof composite panel.
Azdel costs us more money than using traditional luan plywood and pine, but it's worth it because it will retain its rigidity and aesthetics for years to come.  With Azdel, our products also retain the ability to be washed out with a hose.  You probably remember at Louisville that we submerged an Azdel panel in a fish tank to show people that you can't affect it with moisture.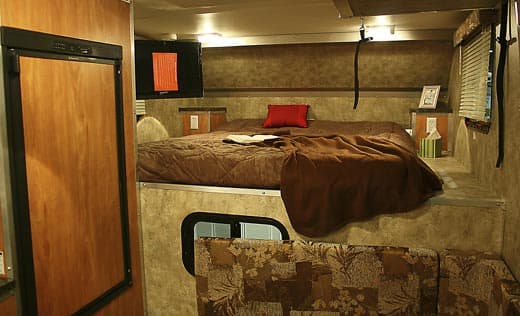 TCM: And we thought you were just looking for fish donations!  Do you see more Azdel in future CampLite designs?
Scott: I think we're maximizing our use of Azdel in the CampLite walls, roofs, and cabinets.  It's too soft for countertops.  One interesting detail about Azdel is that we can do all sorts of interior finishes with it.  You could do almost anything.
TCM: Even turquoise or fuchsia?  We have a Canadian reader who is waiting for those colors.  I also think a truck camper would look particularly ravishing in leopard print.
Scott: We can do turquoise or fuchsia with Azdel.  If someone orders it, you can even get leopard print.  That might be a Truck Camper Magazine special order, of course.
The real point is that people have been waiting for lightweight composite materials in truck campers for many years.  Until now, most of these materials have been prohibitively expensive.  Now that many of the larger towable and motorhome RV manufacturers have adopted Azdel, it's helped to drive the cost down.
TCM: We are still hearing from consumers their concerns about an all-aluminum truck camper being too hot in the summer and too cold in the winter.  How do you address this perception?
Scott: We use the same vacuum bond lamination that most other manufacturers are using.  We have one inch block foam insulation in our side walls and three inch insulation our roofs.
The only possible concern is our all aluminum floors.  For people who plan to camp in colder conditions, we use an optional spray on ceramic insulation called LizardSkin.  LizardSkin is normally used in automotive applications, but works well to insulate the underside of our truck campers.  We would also recommend an interior carpet.  Beyond that, the Azdel we're now using has an R2 insulation value.  Some people have asked for Azdel paneling on the outside to further increase insulation.  I recommend your readers check out Azdel at azdelonboard.com.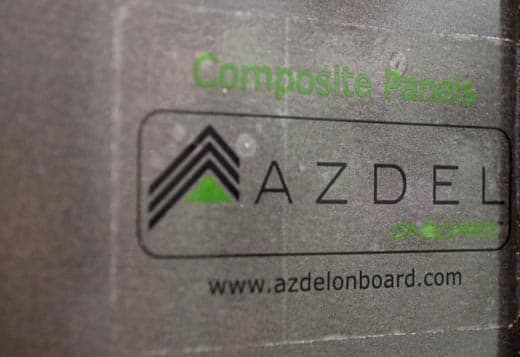 TCM: Currently CampLite offers four models; the 10.0, 8.5, 6.8, and 5.7.  Will you be debuting any additional models in 2012?
Scott: We have a 10.0 dry bath camper on the drawing board and we're hoping to have it available by late Spring.  The floor plan may have to change a little to accommodate a dry bath, but the general layout will be the same.  We may have a split a bath with the shower on one side and the commode on the other.
We're also going to do a slide-out camper this year.  The slide out system we've chosen is a great system, and it's very light weight being made from aluminum.
We are now trying to accommodate ladders and roof racks on our existing hard side campers.  The other focus is to bring in a lot of new truck camper dealers this year.  We're particularly interested in dealers who are not currently truck camper dealers but will find our unique construction method interesting.
TCM: We already discovered that you can get a leopard print interior, but what colors are available for the exterior?
Scott: Our metallic colors are silver, bronze, azure blue, charcoal, pewter, champagne, dark blue, and dark green.  Our solid colors include black, white, red, yellow, brandywine, and orange.  The aluminum is pre-painted and then we laminate it to our side walls.
We can even custom paint your truck camper to match your truck if you want.  Because a camper is not as large as a motorhome or fifth wheel, it's relatively inexpensive.  We have an automotive paint shop next door.  It's about $1,500 dollars for a full size truck camper that exactly matches the automotive color of your truck.
TCM: Have you painted many LivinLite products in the past?
Scott: Not a lot, but we certainly have painted a few.  Some of the requests are quite interesting; dark green, purple, etc.  We'll do whatever color you want.  It's really not that hard for us.  We fabricate the entire camper on our premises and then send it to the paint shop next door.
Speaking of interesting, we have a Foxworthy Outdoors edition available in camo metal.  It comes with the Foxworthy Outdoors logo.
TCM: There goes the neighborhood.  It's bad enough that people think truck camper owners are rednecks.  Now they'll have proof.  Thanks Scott.
Scott: Jeff Foxworthy is a big outdoorsman and actually sought us out about a year ago.  You can see information about the Foxworthy Outdoors edition on our website.
TCM: How is LivinLite doing?  Are you hiring?
Scott: Yes, we are hiring.  We have six to seven weeks of orders.  We are working on a lot of dealers.  Currently truck campers and trailers are about fifty-fifty on our production line.
TCM: Is there anything else about CampLite truck campers that you would like to add to your interview?
Scott: I think we have jumped into the mainstream with consumers and dealers coming to accept our product and our unique construction.  A lot of dealers have thought our stuff was neat, but maybe too much of a niche.  We have removed those reservations with continued improvement of our products.
We are also building and selling truck campers internationally.  Orders are now coming in from Germany and Australia, and I'm signing up a new dealer in Korea and another new dealer in the UK, so we are helping to introduce the truck camper lifestyle to people all over the world!
I have to say that getting involved in designing and manufacturing truck campers was one of the best decisions we have ever made.  We are excited about the future as we look to make a lot more truck owners happy!