Gene: We wanted to keep the 2910 on a ten foot floor and make it as light as possible.  Our market research shows that customers are purchasing truck campers to either tow a trailer behind them or to use them to get into remote locations.  We felt that keeping the 2910 on a ten foot floor would allow both of these applications to work well.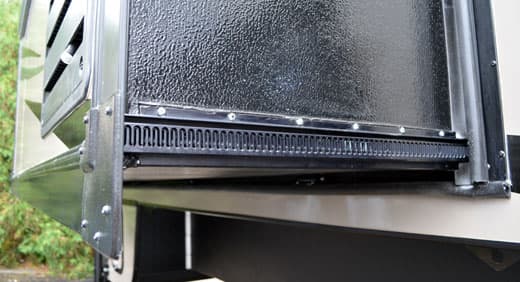 TCM: Palomino is using the new Schwintek slide system on the 2910.  Why are you using this system?
Gene: We use the Schwintek slide system on our truck camper slide-outs.  This slide system is very durable and easy to operate.  The best feature about the system, from our designers stand point, is that it has a very small footprint with the motor built into the sidewall and the extruded aluminum worm gears attached to the slide out walls.  It is a very solid system and extremely light weight.  The Schwintek system also allows our engineers to design our slide-outs to be deeper allowing for increased interior room.
TCM: Tell us about the size of the holding tanks and why you made the tanks that size.
Gene: When we designed the basement for the Max platform, we designed it knowing that we would use that platform for different Max models.  We designed the tanks to use all the available space in order to make them as large as we could.  We also knew height was going to be an issue and we did not want a huge step at the entry of our campers.
TCM: What changes did Palomino make with the interior aesthetics for 2013?
Gene: For 2013, we added new glazing to our Maple cabinet doors.  It is an updated look and a very modern design.  We have added new back splashes in our kitchens and tweaked our interior soft goods.  The interior lighting is now all LED including 12 volt LED televisions.
We are also adding an Elite Package option for 2013 that includes solid surface counter tops, wireless back up camera, motion detector exterior light, black Rieco-Titan jacks, Mocha infused fiberglass, and a Line-X sprayed underbelly.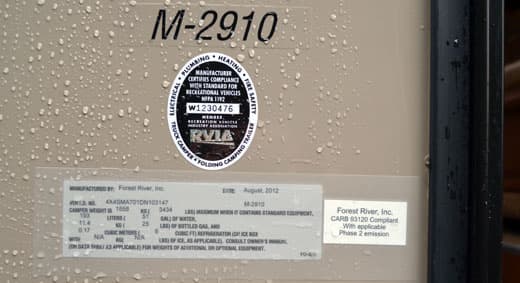 Above: The sticker from the Palomino Maverick Max 2910 Elite (optioned out) that we saw in Elkhart weighed 3,434 pounds
TCM: What does the Palomino Maverick Max 2910 weigh?
Gene: The base dry weight is 3,140 pounds.
TCM: What is the MSRP for the Palomino 2910, base, and with typical options.
Gene: The MSRP of the base model is $22,379, plus freight.  Nicely equipped, the 2910 MSRP is $25,172 plus freight.  The MSRP of the Elite Package option is $2,795.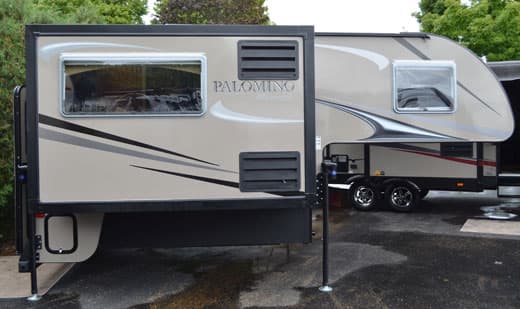 TCM: When will the 2910 be available at Palomino dealerships?
Gene: The 2910 started shipping to dealers in October.
TCM: Will Palomino be debuting any additional campers for 2013?
Gene: We are constantly listening to customer and dealer feedback and always working to improve our products.  As far as new models, you will just have to wait and see.