TCM: The 2910 has a common floor plan in the truck camper marketplace.  What distinguishes the 2910 from its competitors?
Gene: Again, it is all the little things that we are able to build into this Max platform at a fraction of the price of our competitors.  Palomino RV is a division of Forest River Inc., a Berkshire Hathaway owned company.  Forest River Inc. is the largest RV and cargo trailer manufacturer in North America.
Being part of Forest River Inc. allows for great buying power which is passed right along to our dealers and customers.  I don't think many people realize just how important that buying power is.  Forest River builds thousands of RVs every week, which means we are buying thousands of parts like refrigerators, air conditioners, furnaces, fiberglass, lights, etc. every week from our suppliers and vendors.  This allows us to build exceptional value into our campers.  Just take a look at our 2902 on our Max platform.  I am sure you will be amazed at all of the high-end finishes and accessories for the price.
TCM: Tell us about the design and development of the 2910.
Gene: We have great production and engineering teams at Palomino RV.  All of the members have many years of experience designing and building campers.  New models basically start with our sales reps in the field.  They are the ones who talk with our dealers and customers on a daily basis.  They bring the suggestions and ideas back and we then start drawing out floor plan layouts.
Once the sales team agrees on a layout, the engineering and production teams start on the design.  This process typically takes some time as Sales, Engineering and Production all work together in the design stages to make sure we are designing and building in the features our customers are asking for.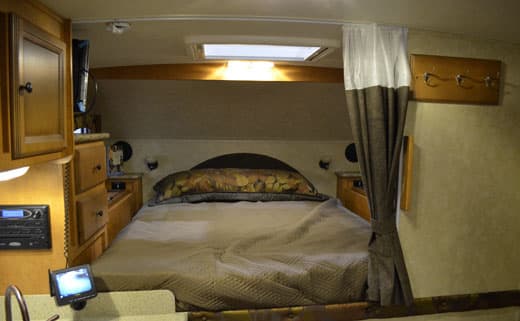 Above: The Palomino Maverick Max 2910 has a barrel roof
TCM: Tell us about the 2910 framing material, lamination, and other construction details.
Gene: The 2910 is built just like our other Maverick models.  It is a completely welded aluminum framed camper.  The aluminum frames are then matched with precision cut structural density R-value foam.  This is then laminated to our interior substrate décor panel and our exterior substrates of luan and Hi-Gloss fiberglass.  This is all done using our signature vacuum bonding lamination process.  At Palomino we laminate every part of our campers including our floors and roofs, not just our sidewalls.  This allows for increased weight savings on all of our campers.
TCM: Has Palomino used any new materials, components, appliances, or processes in the development of the 2910?
Gene: We like to keep our production process close to our chests.  We have some very experienced production employees in our weld shops, lamination departments, mill rooms and even our needle division that sews all of our soft goods.  With that said, we use top grade materials throughout.
TCM: Are you using CNC technology to build truck campers at Palomino RV?
Gene: We installed a large CNC router a few years ago and that machine runs constantly.  All of the radius parts in the nose, roof rafters, and rout frames are CNC routed.
TCM: Why has Palomino decided to use thermal pane acrylic Dometic windows for the 2910?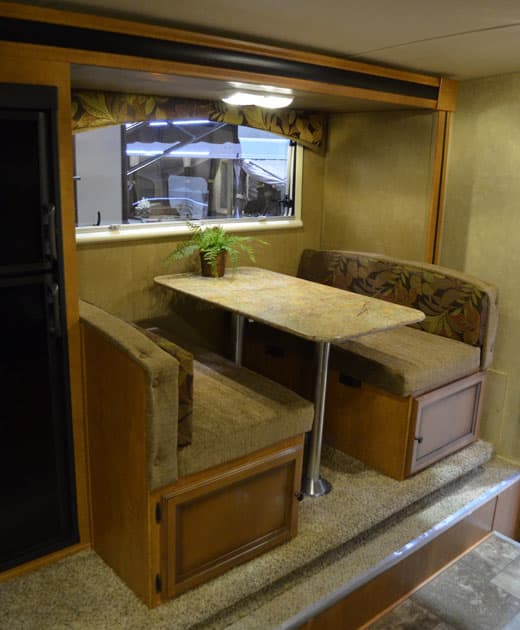 Above: The 2910 has a full-booth dinette and a large Dometic window
Gene: The Dometic thermo pane windows are standard on our Max platform.  These windows are brought over from Europe by Dometic USA.  This window design is the most popular used window with European RV manufacturers.
We chose the Dometic window because it is loaded with features.  It has a built-in roll away screen and a built-in roll away shade.  It opens in multiple positions and opens larger than any other window on the market allowing for increased air flow.  It is double pane acrylic so you do not have to worry about it shattering like a glass window.  Not to mention it is thermal pane constructed.  We feel it adds great value, especially when paired with the Heki sky light from Dometic which has all of the same features as the windows.
TCM: Why did Palomino go with a wet bath for the 2910?