Northwood Manufacturing added a kitchen slide-out to their most popular Arctic Fox 990 floor plan and created the 2013 Arctic Fox 996.  It's an Arctic Fox double slide!

Put a slide-out on a truck camper and you can often lure folks who wouldn't have otherwise considered a truck camper.  We've seen this first hand at RV shows as attendees will literally stop in their tracks and swim over to see a slide-out truck camper.  From a truck camper industry perspective, slide-outs reel in the fish.
Northwood is upping the slide-out ante for their Arctic Fox truck camper line by debuting the new 2013 Arctic Fox 996 double slide.  Essentially, the 996 is an Arctic Fox 990 with a kitchen slide-out.  The 990 has been Northwood's most popular model for many years allowing the 996 to start out on a tested and proven platform.
For more information about the 2013 Arctic Fox 996, we talked to Doug Karr, Northwood Manufacturing's Truck Camper Guy.  After spending over 200 nights in Arctic Fox truck campers over the past twenty-eight months, he has certainly earned his title, and has spent more nights truck camping in the past two years than many truck camper owners we know.  Now that's dedication!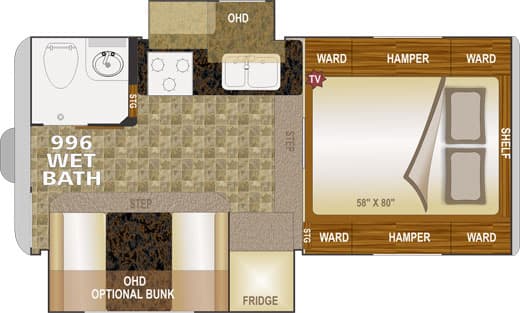 2013 Arctic Fox 996 Specifications:
The 2013 Arctic Fox 996 is a hard side, double slide, wet bath truck camper made for long bed trucks.  The interior floor length of the 2013 Arctic Fox 996 is 10'0" and the interior height is 6'7″.  The Arctic Fox 996 has a 55 gallon fresh tank, a 39 gallon grey tank, a 43 gallon black tank, and a 6 gallon hot water heater.  It can accommodate two batteries and has two thirty-pound propane tanks.  The base MSRP for the Arctic Fox 996 is $28,300.
The following is an interview with Doug Karr, Northwood Manufacturing's Truck Camper Guy, on the 2013 Arctic Fox 996 Double Slide.
TCM: Let's talk about the 2013 line-up for Arctic Fox.  We know that the 2013 Arctic Fox 996 was added.  Were there any other models added or deleted?
Doug: The Arctic Fox 865, our non-slide eight foot model, has been retired for 2013.
TCM: We really liked our 2010 Arctic Fox 865.  Do you think you'll build another non-slide Arctic Fox in the future?
Doug: We will certainly consider it, but it's not in the cards right now.  The demand for our slide-out models continues to be very strong.  Our 992 has really taken off, and the 990 and 811 continue to be our most popular Arctic Fox models.
TCM: Recently Northwood has been giving Arctic Fox truck campers an "All Conditions Unit Four Season" seal.  Tell us about this seal and what it means.
Doug: Arctic Fox truck campers feature high insulation values in the roofs and exterior walls and the holding tanks are heated and enclosed in insulated basements.  The "All Conditions" seal states that Arctic Fox truck campers are usable year round because of the insulation and heated basements.
Another fact some folks don't know about our fresh, grey, and black holding tanks is how they are mounted side-by-side lengthwise in the basement to help with center of gravity when they are empty or full.
TCM: Another seal that we've seen in the 2013 Arctic Fox brochure is a, "Certified Absolute Northwood Quality Construction" seal.  What does this seal mean?
Doug: With our "Absolute Northwood Quality Construction" we are highlighting our use of quality of materials across all of our brands and product offerings.  For example, we use only marine grade plywood in Northwood products.  The base quality of everything we build is universal.
TCM: With the new "Absolute Northwood Quality Construction" approach, how does Northwood differentiate the brands if they are all built with the same quality of materials and construction methods?
Doug: You are going to see the same materials and construction techniques in both our Arctic Fox and Wolf Creek truck camper lines.  Specifically, they both feature wood filled aluminum framing.  The difference is that the Wolf Creek campers have two inch roofs versus the three and a half inch roofs in the Arctic Fox models.  There are many more differences, but the quality of the materials and quality of construction are the same.  Both are, "Absolute Northwood".
TCM: Tell us how the 2013 Arctic Fox 996 double slide came to be.
Doug: At RV shows, people would walk up to us and say, "Your campers are great, but do you offer a double slide?"  We wanted to meet that demand.
Think of the new 996 as a 990 with a slide-out kitchen.  By having the kitchen slide-out, we really opened up the floor plan.  It's impressive to see in person.
The first place we debuted the 996 was at the Pomona RV Show.  The customer comments were positive.  They were complimenting the work space in the kitchen, the additional floor space, and the ample storage.
TCM: Tell us about the design and development of the Arctic Fox 996.
Doug: The first thing we do at Northwood when we're developing a new product is build a prototype.  For the 996, we started with a 990 and then re-engineered the driver's side wall to accommodate the kitchen slide-out.
Once the first prototype is complete, the Product Development Team looks at everything and readjusts the camper as needed.  We carefully engineered the water and gas lines so they can move on the slide.
TCM: Were there any challenges along the way?
Doug: We have a strong and experienced team, so it was one shot with the prototype and done. With the 996 prototype, we got it right the first time.
After a truck camper prototype is done, I'll take it out camping for four or five days.  We are not going to build a run of twenty campers and have problems.  We don't want our customers to be the guinea pigs.  After that test, the 996 was a winner.
The hardest Arctic Fox camper to design was the 992.  Getting the center of gravity right for that camper was a challenge.  Because of the already proven floor plan of the 990, producing a double slide version for the 996 wasn't rocket science.
TCM: You spend a lot of time camping in Arctic Fox truck campers.
Doug: I have lived in fourteen Northwood truck campers in the last twenty-eight months.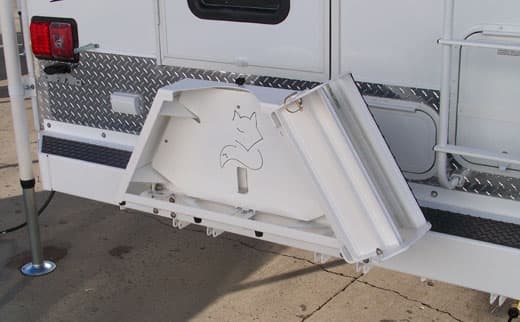 Above: The Fox Landing in the driving position
TCM: Why fourteen campers in twenty-eight months?
Doug:  They sell.  Customers want my campers.  I'll be at a dealer or an RV show and a customer will see my camper, and want to buy it.  That happened in Pomona this year.  Our dealer had one 992 at the show, two on the ground at the dealership, and I had one.  One guy wanted the options I had on my camper, so he wanted mine.  Of course, I was glad to accommodate both him and the dealer.
I stay in Arctic Fox truck campers when I'm on the road.  I'd rather stay in an Arctic Fox truck camper than be in a hotel because I have my own bed and my own shower.  You have all of your own stuff instead of packing in and packing out.  I also hate looking at restaurant menus.
Arctic Fox truck campers are magnets.  I warn my customers not to drive with their Fox Landing system down.  Not because it's unsafe, but because people will be flagging you to ask where you got it.  I'll pull into a campground, get my jacks down, my awning out, and put out my grill.  Then I have to put on my tour guide hat because people are looking in my camper and can't believe it's only a ten foot box.
This past Saturday night was my 209th night staying in a truck camper in twenty-eight months.  I would have stayed more nights in truck campers this year, but I keep selling the campers I'm in.  Once sold, it can take months to get another camper due to the high demand for them.
I gave up my camper in Pomona in October and didn't get a new one until end of December.  Then a dealer needed that one the third week of April.  And then I didn't have one until the third week of July.  Dealers and customers get truck campers before I do, and they're often sold out weeks and months ahead.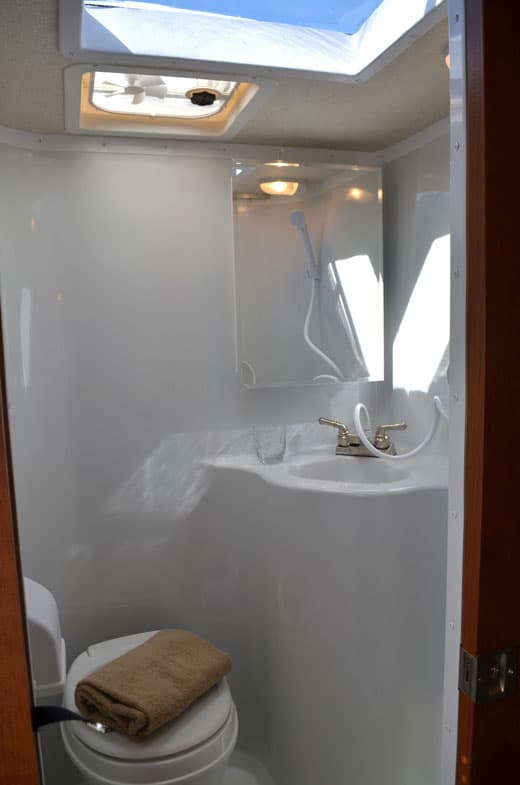 Above: The wet bath in the Arctic Fox 996
TCM: Let's get back to the 996.  Why have a wet bath in a double slide?
Doug: The plus about a wet bath is that you gain about fifteen inches of interior storage and space.  If you have a ten foot floor plan, that's a lot of gained counter space.
Naturally there are pros and cons to dry baths.  I like the 992 dry bath, but hate cleaning it.  With the wet bath in the 990 and 996, I have more room to shower and less to clean.  You really have to go to an eleven foot model to make a dry bath floor plan work well.
TCM: Tell us about the framing material, lamination, and other construction details about the Arctic Fox 996.  Any changes to reduce the weight of the campers?
Doug: The Arctic Fox materials and manufacturing process is the same for 2013.  The materials and manufacturing process is proven.
We do not know how to build a truck camper at the quality level of Arctic Fox any lighter.  If we knew how to build a better camper at a lighter weight, we would.
TCM: Are you still using the Power Gear slide mechanism for 2013?
Doug: The Power Gear system is a proven winner for us.  If it's not broken, don't fix it.
At Northwood we don't want to take a chance on quality.  There would be nothing more frustrating than being out camping, hitting the slide-out button, and having a problem.
TCM: Tell us about the size of the holding tanks in the 996 and why you made the tanks that size.
Doug: I've never had anyone say that they like to dump their tanks or complain that their tanks are too big.  For that reason, we make our holding tanks as big as possible.
A few years ago I was at a campground in Medford, Oregon and a retired couple with an older truck camper came to look at my Arctic Fox 990.  The lady was in love with the camper almost immediately.  I didn't tell them who I was and invited them to take a look inside the camper.
While she was in the camper I asked her, "Do you like your camper?"  She said the twelve gallon grey tank filled up too quickly from using the sink.  When I told her I had forty-four gallons of grey tank capacity, she said, "You've got to be kidding me".  Later that night I told them where to look at an Arctic Fox locally.
The next morning I went to a dealership for training.  Shortly after I arrived, the couple pulled in.  As they were parking, I told the manager, "They're going to buy a 990".  Sure enough, they did end up buying a 990.  When I finally told the dealer the whole story, he had to laugh.  Large holding tanks are important.
Above: The new fabric choices for 2013 Arctic Fox truck campers
TCM: What changes did Arctic Fox make with the interior aesthetics for 2013?
Doug: We went to a stain resistant microfiber on the dinette seat cushions.  The back cushions in the dinette are still cloth.  I talk to people at RV shows to see what they like and what needs to be adapted.  I'm also living in the campers, so I notice things that can be adapted and improved.
TCM: What does the Arctic Fox 996 weigh; dry weight, with options, wet with options.
Doug: The 996 weighs about 4,000 pounds loaded with options.  I always suggest taking the dry weight of a camper and adding 1,000 to 1,500 pounds to get a realistic wet and loaded with options and personal cargo weight.
TCM: What is the MSRP for the Arctic Fox 996?
Doug: The 996 base price is $28,300.
TCM: When will the Arctic Fox 996 be available at dealerships?
Doug: The 996 is in stock at most Arctic Fox dealers now.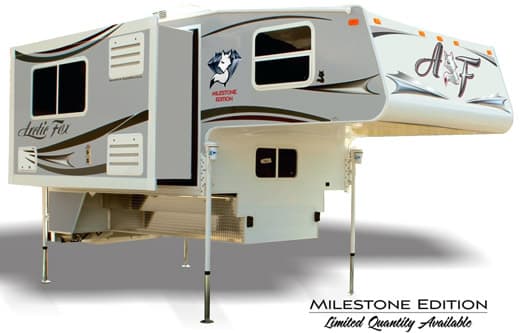 TCM: A few months ago, Northwood announced the Arctic Fox 990 Milestone Edition.  How was that model received in the marketplace?
Doug: The Milestone Editions were a hit.  There were only fifty of the Milestone Editions built and they're almost all sold.  They featured a lighted grab handle, electric awning, stainless microwave, stainless refrigerator, stainless oven, solid surface counters, all LED lighting, and a twelve inch mattress.  Now we're considering some of these upgrades for the future.
TCM: Is there any other Arctic Fox truck camper news?
Doug: Our owners, Ron and Sherry Nash, are the nicest people to work for.  Being in LaGrande, which is a small town, we are a higher pay employer in town, so we get little turnover at the factory.  The experience we have at Northwood is incredible.  Everyone at Northwood is passionate about the product.