Northwood Manufacturing added a kitchen slide-out to their most popular Arctic Fox 990 floor plan and created the 2013 Arctic Fox 996.  It's an Arctic Fox double slide!

Put a slide-out on a truck camper and you can often lure folks who wouldn't have otherwise considered a truck camper.  We've seen this first hand at RV shows as attendees will literally stop in their tracks and swim over to see a slide-out truck camper.  From a truck camper industry perspective, slide-outs reel in the fish.
Northwood is upping the slide-out ante for their Arctic Fox truck camper line by debuting the new 2013 Arctic Fox 996 double slide.  Essentially, the 996 is an Arctic Fox 990 with a kitchen slide-out.  The 990 has been Northwood's most popular model for many years allowing the 996 to start out on a tested and proven platform.
For more information about the 2013 Arctic Fox 996, we talked to Doug Karr, Northwood Manufacturing's Truck Camper Guy.  After spending over 200 nights in Arctic Fox truck campers over the past twenty-eight months, he has certainly earned his title, and has spent more nights truck camping in the past two years than many truck camper owners we know.  Now that's dedication!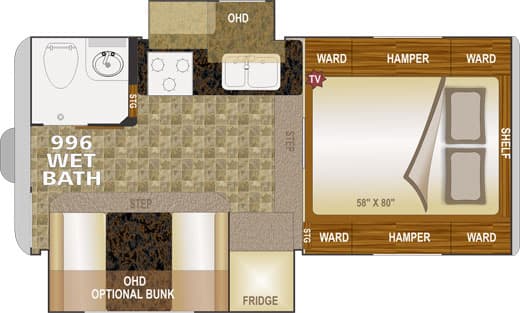 2013 Arctic Fox 996 Specifications:
The 2013 Arctic Fox 996 is a hard side, double slide, wet bath truck camper made for long bed trucks.  The interior floor length of the 2013 Arctic Fox 996 is 10'0" and the interior height is 6'7″.  The Arctic Fox 996 has a 55 gallon fresh tank, a 39 gallon grey tank, a 43 gallon black tank, and a 6 gallon hot water heater.  It can accommodate two batteries and has two thirty-pound propane tanks.  The base MSRP for the Arctic Fox 996 is $28,300.
The following is an interview with Doug Karr, Northwood Manufacturing's Truck Camper Guy, on the 2013 Arctic Fox 996 Double Slide.
TCM: Let's talk about the 2013 line-up for Arctic Fox.  We know that the 2013 Arctic Fox 996 was added.  Were there any other models added or deleted?
Doug: The Arctic Fox 865, our non-slide eight foot model, has been retired for 2013.
TCM: We really liked our 2010 Arctic Fox 865.  Do you think you'll build another non-slide Arctic Fox in the future?
Doug: We will certainly consider it, but it's not in the cards right now.  The demand for our slide-out models continues to be very strong.  Our 992 has really taken off, and the 990 and 811 continue to be our most popular Arctic Fox models.
TCM: Recently Northwood has been giving Arctic Fox truck campers an "All Conditions Unit Four Season" seal.  Tell us about this seal and what it means.
Doug: Arctic Fox truck campers feature high insulation values in the roofs and exterior walls and the holding tanks are heated and enclosed in insulated basements.  The "All Conditions" seal states that Arctic Fox truck campers are usable year round because of the insulation and heated basements.
Another fact some folks don't know about our fresh, grey, and black holding tanks is how they are mounted side-by-side lengthwise in the basement to help with center of gravity when they are empty or full.
TCM: Another seal that we've seen in the 2013 Arctic Fox brochure is a, "Certified Absolute Northwood Quality Construction" seal.  What does this seal mean?
Doug: With our "Absolute Northwood Quality Construction" we are highlighting our use of quality of materials across all of our brands and product offerings.  For example, we use only marine grade plywood in Northwood products.  The base quality of everything we build is universal.
TCM: With the new "Absolute Northwood Quality Construction" approach, how does Northwood differentiate the brands if they are all built with the same quality of materials and construction methods?
Doug: You are going to see the same materials and construction techniques in both our Arctic Fox and Wolf Creek truck camper lines.  Specifically, they both feature wood filled aluminum framing.  The difference is that the Wolf Creek campers have two inch roofs versus the three and a half inch roofs in the Arctic Fox models.  There are many more differences, but the quality of the materials and quality of construction are the same.  Both are, "Absolute Northwood".