Jody Bolin, Hallmark RV's Production Manager, gives us the inside scoop on the new design, development, and features of the 2011 Hallmark Everest.

There's a significant and important trend emerging in the truck camper marketplace and it's all your fault.  Yes, I said it's your fault and don't look over your shoulder for someone else to blame.  It seems that you, Mr. and Mrs. truck camper consumer, have been telling the industry exactly what you want in a truck camper.  And while there are some trends in what you and others are asking for, much of what you want is unique to you.  Geez you're picky.  And stop pointing at the cat.  We know who's causing trouble.
Seriously folks, many of our recent conversations with industry leaders have revolved around how manufacturers are finding more and more ways to customize their truck campers to meet your requirements.  Not every manufacturer is set up to do this, but those who are, are making customization of their camper models part of their culture.
As you're about to read, Hallmark RV falls into the camper customizing camp.  Want to customize a Hallmark model?  Hallmark says, "Bring it on" – within reason, of course.   Just in the past two years, Hallmark has introduced the K2 (January, 2009), La Veta (March, 2009), and Nepal (April, 2010).  Today, Jody Bolin, Hallmark RV's Production Manager, introduces the Everest and further expands the palette that you can choose from to start your very own custom Hallmark camper creation.
2011 Hallmark Everest Specifications:
The 2011 Hallmark Everest is a pop-up, wet bath truck camper.  The interior floor length of the 2011 Hallmark Everest is 102" and the interior height is 80" with the top up, 64" with the top down.  Hallmark is reporting the dry weight of the camper at 1,709 pounds with standard features, dual batteries, and full propane.  The tanks in the 2011 Hallmark Everest are 30 gallons fresh, 10 gallons gray, and 5 gallons black (cassette toilet).  The camper accommodates two batteries and three propane tank options.  The MSRP for the 2011 Hallmark Everest is $24,995.
The following is an interview with Jody Bolin, Production Manager of Hallmark RV, on the 2011 Hallmark Everest.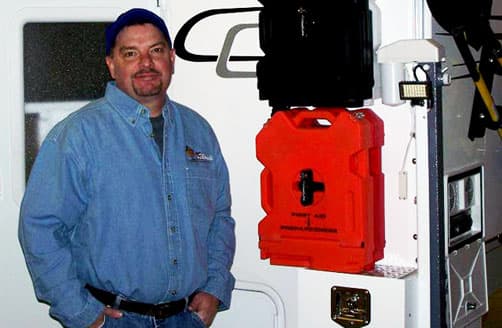 TCM: How did you come to work for Hallmark?
Jody: Fourteen years ago, I was looking for a job and came upon a hiring center where  Hallmark had a listing.  Originally I was hired to do inside finishing.
Before I was promoted to Production Manager, I had decided I would leave Hallmark and go back to what I was doing, but they asked me to stay on and gave me a pay raise.  So I'm still here.
When I took over as Production Manager, our crew was about thirty-five people.  At the time, we were also building hard side campers and there were two shop foremen.  That didn't last long because in 2001 we stopped building the hard sides.  Our hard side campers were considered top of the line, but the pop-ups have always been the niche.
TCM: What did you do before working at Hallmark?
Jody: Prior to working at Hallmark, I had my own construction company and paint company.  I also worked with my dad to finish basements, so I knew construction.
TCM: Do you go camping in Hallmark truck campers?
Jody: Yes.  I go elk hunting and camp up to ten days in the snow.  I don't get a lot of summer time off to go camping because we are so busy in the summer.  My brother and I go out and I take a Hallmark rig off the lot.  Every camper that I take sells within a couple weeks.  It's kind of weird.  They're are great campers.
TCM: Did you ever make a change to the campers based on a camping experience?
Jody: I changed to the Progressive Dynamic converters because the old converter fan kicked on and would drive me nuts when I was sleeping.  You can't honestly tell people how good our campers are unless you camp in them.
TCM: What do you do in a typical day at Hallmark?
Jody: I organize the shop and get the production team going.  I also do the production schedules, order the fiberglass walls, tell C.F. Maier what roofs to build, and tell the crew what campers to build.  I also still do inside finishing and get the campers ready for inventory and delivery.
TCM: Let's talk about your new camper, the 2011 Hallmark Everest.  What brought Hallmark to develop this camper?
Jody: The Everest started as a joint effort.  Our eight and a half foot Hallmark Ute XL long bed didn't sell well because of the small dinette.  A 5'6" or taller adult couldn't sleep in the dinette bed.  Matt said we should stretch the dinette, so we have taken a Ute long bed and stretched it.  The dinette is 6'2" in the Everest.
The Everest also has a bigger area for a cassette toilet and shower stall.  There's a cool cabinet in the back and we designed new fiberglass walls for the Everest.  It's got a nice kitchen side with a double sink.
TCM: Did you say you made new fiberglass walls?  Does that mean you made new molds for the Everest?
Jody: We actually took the original models used to make the Guanella long bed and the Ute long bed and intertwined parts of each camper.  We have even made the Everest to put the K2 boxes on the ends to make it a short bed, so the Everest can be a short bed or long bed camper.  It's a really roomy camper.
TCM: How did you combine the different molds?
Jody: We had some models that we had prior from the Ute XL long bed and took them and cut them.  Then, we took bottom off and filled the holes to make new molds.
We have been playing around with fiberglass for so many years, we're getting pretty good at it.  C.F. Maier is so good at it.  They work with us and without them this wouldn't be possible.  Even though the molds are sourced from different models, they turned out perfect!
TCM: Is the Everest the next evolution of a Hallmark overland camper?
Jody: Yes.  We're always coming up with new ideas.  We try to stay ahead of the game.
There are a lot of possibilities for the Everest.  Back where you could have a bathroom you could also have a double door storage area or two thirty pound propane tanks.  There are so many different options on this camper.
TCM: I worry that there are so many different models and different options that the customers may be confused as to which model and what options are right for them.
Jody: What we're really providing the customers is custom campers.  We want customers to contact us and tell us what they want and give us their ideas.  Our campers and the camper options we offer were brought to us by our customers.  Of course we can't do everything but we know what we can do and what we can't.  We always try to please the customer and custom units are what people are buying.
TCM: Are you still building non-custom production campers?
Jody: Absolutely.  We are still building production units that are typical Hallmark campers.  When you come here, you will see that we don't fill the campers with all the appliances.  We let the customer pick those things.  We can have a basic camper and add the options to it.  By us not putting all that stuff in, you can take typical camper and upgrade it.  It's actually more efficient to install those items after the customer has decided what appliances and options they want.
TCM: Looking at the production photographs Matt sent us, there are a few things that we would like to know more about.  First, what is that "purple" Dow Corning material on the interior wing walls?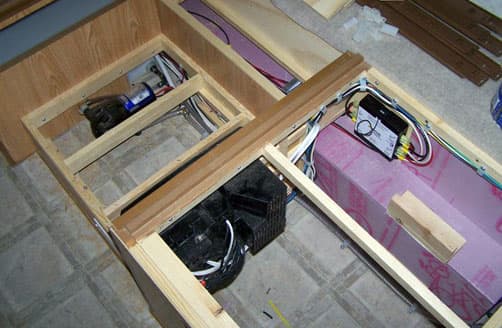 Jody: Our 2011 campers are now fiberglass on the floor sides.  Fiberglass alone is not the best insulator so, if you don't have something behind it, it can be cold.  That material you see is insulation.
TCM: Tell us about the Master Control Vision X box on the inside of the camper.  It says it's for automotive installations.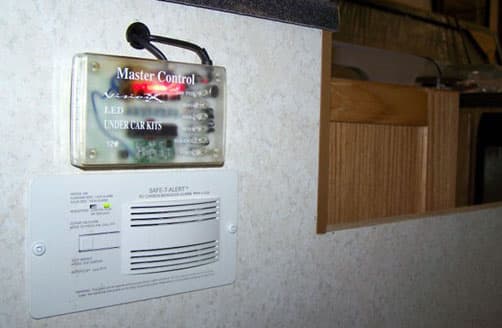 Jody: That's a Matt Ward LED thing.  When I first installed one I had a interesting experience.  I connected one too many LED lights and burnt the box.  Now we use them for just eight LEDs which light inside and outside storage compartments including generator compartments and the propane bottle compartment.  Yeah, we're a bit crazy with LED lights.  Like I said, it's a Matt Ward thing.
TCM: What does the small solar panel on the refrigerator vent do?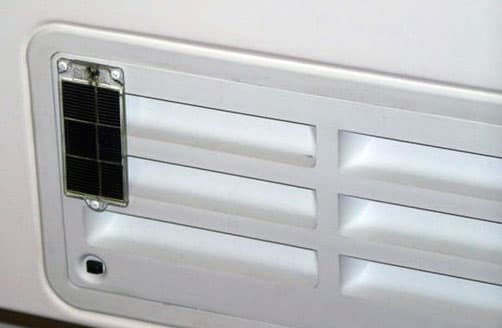 Jody: That's a solar fan for the refrigerator.  It helps the refrigerator cool better.  This solar fan moves cool air through the fins on the backside of the fridge.  It has a thermostat and once it gets to a certain temperature, the solar unit sends electricity to turn the fan on and help the refrigerator stay cool.  It's an after market product and anyone can put on.  There's another kind that goes on the inside of the refrigerator.  That solar fan has been out for a long time.  Every person that we've put them in for says they work great.
TCM: What is the small monitor on the front wall?
Jody: That's a seven inch DVD monitor.  We have two of them; one in the back passenger area and one near the bed.  They are automotive headrest monitors.  They have a great picture, they're out of the way, and you don't have to worry about them bouncing around when driving.
For our 2011 campers we've also upgraded all of our stereos to Jensen.  With the new Jensen stereos you are able to run your computer, iPod, or Sirus radio through them and charge your cell phone.  And they play DVDs, MP3s, and CDs.  Instead of running a lot of cables we just upgraded the stereo.
TCM: Are the blue "insulation" covers for the windows in the Everest a new feature?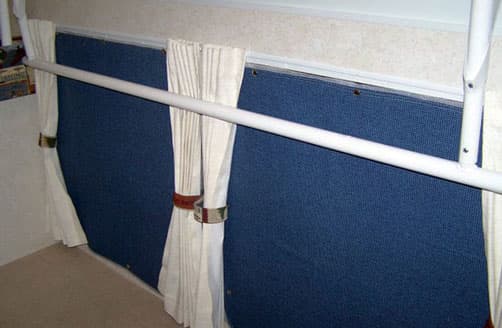 Jody: Every camper has a polar cover and curtains.  They're made from soft wall material including quarter-inch closed cell foam.  The foam goes in between layers of the soft wall.  It's very pliable like seat cushion material.
TCM: Tell us about the outside stereo compartment with the 120v outlets and cable connection.  Is that compartment sealed against dust and moisture?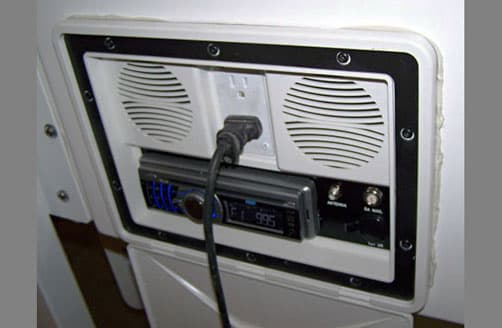 Jody: Yes, the compartment is sealed with a double rubber seal, plus the Jensen unit uses all water and dust proof circuits.  It was built for outdoor use.
TCM: Why are you using Scorpion lining on your Happijac jacks?
Jody: Camper jacks often have problems in the Colorado winter or in salt water environments.  For years we've had customers using bed liner on their jacks to better protect them from these extreme environments.
When a local bed liner company approached us for business, we asked them to show us what they could do with our camper jacks.  We had the company line the jacks in grey so it would be easier to see.  The result is a coated jack that can better resist the elements.
You could also get any color you want from white to the color of your truck.  It is now something we can offer customers that can further customize their camper right from the factory.
TCM: What do the different colors mean on your rear mounted tanks; white, black, red, and orange?
Jody: Those are Rotopax.  The orange is first aid kit and folds down and has all the first aid stuff in there.  Red is for two or three gallons of gasoline for your generator.  Black is storage for jumper cables or tools.  White is for water.
Rotopax makes so many different versions of their product.  For example, green is for diesel.  They have some that are bigger.  Two cans together is five gallons and we can mount them as well.  They have a really cool locking system.  You see a lot of those in the off-road industry.  Matt is always researching off-road products.
TCM: Tell us about the fiberglass propane tanks.
Jody: We're considering going to fiberglass propane tanks.  The biggest benefit is that you can see the propane fluid in them.  With standard steel propane tanks, the gauges don't always read correctly.  The propane tanks are also lighter weight and are extremely durable.  I like them because you can see when you're getting low and they're lighter weight.  The Everest is available with 10 pound, 20 pound, or 30 pound propane tanks.
TCM: The Everest in the photographs features a Blue Sky solar controller and a small solar panel on the roof.  Tell us about the solar system available for the Everest.
Jody: People don't realize that you don't need a giant panel on a pop-up camper.  If you get a good regulator, you're good.  Generally you can get a solar regulator and a decent panel from $500 to $700 dollars.  An inverter, solar panel, and charger will be less than $1200 dollars for the good stuff.
TCM: When will the new lift system be completed and ready for customers?
Jody: We're developing that now.  It should be pretty sweet and we use Happijac crank to crank it up.  I can't tell you much more than that, but we'll let you know when it's ready.
We have been so busy that we haven't been able to devote much time to it.  It's often shocking to say that to people.  There's so much that goes on here with our small crew.
TCM: Let's get back to the Everest.  What does the Everest weigh?
Jody: With standard features, dual batteries, and full propane, the Everest weights 1,709 pounds (center photo).  Fully loaded with options, dual batteries, and full propane, the Everest weighs 2,390 pounds (right photo).
The options on the loaded camper example include dual TVs, power jacks with liner, rear bumper, two aluminum work boxes, one aluminum step pad, exterior LED lighting system, ladder, Yakima rack, microwave, inverter, shovel and axe, four Roto Pax and mounts, four extra speakers, extra external stereo system, oven, extra interior storage pockets, three ten bound propane tanks, and extra fasteners.
TCM: What does the Everest cost?
Jody: It's going to fluctuate according to what you put in it.  $24,995 is the base price nicely equipped with a standard power roof.  It's going to be higher than a Guanella, which starts around $20,000.
TCM: Is there anything we didn't ask you that you want included in your interview?
Jody: People need to understand that the Everest is a camper you can do a lot with.  It's very roomy and you can design the back end.  For example, you can choose to have a shower or holding tanks.  If you want your camper built in a certain way, you can change it.  The Everest can also be lightened or made simpler for a customer as some folks want less.  Take out the dual batteries, six gallon water heater, overhead cabinets, and anything else you can live without and you can lighten up the camper quicker than you think.  The weights of the two campers really show how much options do make a difference in weight. Simpler will always be lighter.
I'll be at the Denver International Sportsman's Expo this weekend, January 6th-9th.  It's a great show and we would love to meet Truck Camper Magazine readers.
TCM: Angela and I will be there too so we'll see you there.  We can't wait to see the new Everest and get an in person tour.  Thanks for the interview Jody.
Jody: You're welcome.  See you soon.
For more information about Hallmark RV, visit hallmarkrv.com.