Jody Bolin, Hallmark RV's Production Manager, gives us the inside scoop on the new design, development, and features of the 2011 Hallmark Everest.

There's a significant and important trend emerging in the truck camper marketplace and it's all your fault.  Yes, I said it's your fault and don't look over your shoulder for someone else to blame.  It seems that you, Mr. and Mrs. truck camper consumer, have been telling the industry exactly what you want in a truck camper.  And while there are some trends in what you and others are asking for, much of what you want is unique to you.  Geez you're picky.  And stop pointing at the cat.  We know who's causing trouble.
Seriously folks, many of our recent conversations with industry leaders have revolved around how manufacturers are finding more and more ways to customize their truck campers to meet your requirements.  Not every manufacturer is set up to do this, but those who are, are making customization of their camper models part of their culture.
As you're about to read, Hallmark RV falls into the camper customizing camp.  Want to customize a Hallmark model?  Hallmark says, "Bring it on" – within reason, of course.   Just in the past two years, Hallmark has introduced the K2 (January, 2009), La Veta (March, 2009), and Nepal (April, 2010).  Today, Jody Bolin, Hallmark RV's Production Manager, introduces the Everest and further expands the palette that you can choose from to start your very own custom Hallmark camper creation.
2011 Hallmark Everest Specifications:
The 2011 Hallmark Everest is a pop-up, wet bath truck camper.  The interior floor length of the 2011 Hallmark Everest is 102" and the interior height is 80" with the top up, 64" with the top down.  Hallmark is reporting the dry weight of the camper at 1,709 pounds with standard features, dual batteries, and full propane.  The tanks in the 2011 Hallmark Everest are 30 gallons fresh, 10 gallons gray, and 5 gallons black (cassette toilet).  The camper accommodates two batteries and three propane tank options.  The MSRP for the 2011 Hallmark Everest is $24,995.
The following is an interview with Jody Bolin, Production Manager of Hallmark RV, on the 2011 Hallmark Everest.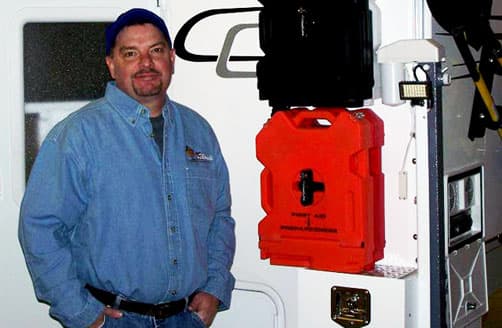 TCM: How did you come to work for Hallmark?
Jody: Fourteen years ago, I was looking for a job and came upon a hiring center where  Hallmark had a listing.  Originally I was hired to do inside finishing.
Before I was promoted to Production Manager, I had decided I would leave Hallmark and go back to what I was doing, but they asked me to stay on and gave me a pay raise.  So I'm still here.
When I took over as Production Manager, our crew was about thirty-five people.  At the time, we were also building hard side campers and there were two shop foremen.  That didn't last long because in 2001 we stopped building the hard sides.  Our hard side campers were considered top of the line, but the pop-ups have always been the niche.
TCM: What did you do before working at Hallmark?
Jody: Prior to working at Hallmark, I had my own construction company and paint company.  I also worked with my dad to finish basements, so I knew construction.
TCM: Do you go camping in Hallmark truck campers?
Jody: Yes.  I go elk hunting and camp up to ten days in the snow.  I don't get a lot of summer time off to go camping because we are so busy in the summer.  My brother and I go out and I take a Hallmark rig off the lot.  Every camper that I take sells within a couple weeks.  It's kind of weird.  They're are great campers.
TCM: Did you ever make a change to the campers based on a camping experience?
Jody: I changed to the Progressive Dynamic converters because the old converter fan kicked on and would drive me nuts when I was sleeping.  You can't honestly tell people how good our campers are unless you camp in them.
TCM: What do you do in a typical day at Hallmark?